INTERVIEW WITH SUSANNE MORNING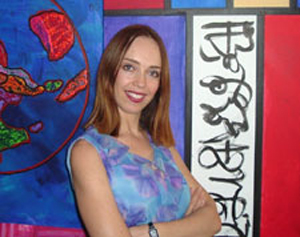 Write a Bio
New Zealand, clean green and the pearl of the Pacific is my home. I was raised in the dense tropical bush where parrots, wood pigeons and peacocks entertained me by day, possums and owls sang to me at night. Nature has always been my solace, my church.
Just recently I bought a house back in the same area. Cottages that were selling for a dime back then are now going for the price of a diamond mine. Oh hindsight I wish I had bought a house when I was 5 years old.
I was bought up in a very strict Baptist home. After an early marriage and a late divorce, I set off on some serious self-discovery. This led me into a decade of painting, house renovating, fashion design, make-overs and styling in the wonderful city of Wellington. Wellington (location and production of Lord of the Rings which I assisted in) is full of creative beings. Soya milk drinks with Spirulina hits ( Spirulina is a plant algae, famous in NZ, like a natural Red Bull substitute) colored our lips while we dissected plays, films and books in one of the many cafes Wellington is known for. My fascination with other cultures started with my immigrant mother and the indigenous people of New Zealand (I remember at 7yrs old, standing on a chair in class performing a Maori War dance for the class "show and tell" wearing a grass shirt and coconut cups).
So far I have visited 30 countries, prayed with Tibetan monks on The Great Wall of China, talked to survivors from the Cambodian Kymer Rouge, yodeled in Austria, got lost in Venice (oh to be lost there for ever), and collected a souvenir kiss from each country ( in Switzerland, I nearly forgot and had to accost a handsome man at the border!) Having a goat herder in the northern tip of Vietnam offer to take me to Market to find a husband was one of the most unusual offers I've had. Sadly at 42, my prospects were a little dim as most prospective brides in the hill tribes were married and mothers by 13.
I am currently living in Korea (now my 7th yr). This experience has proved to be the antithesis of New Zealand, a country who has never seen war, worships trees and was the first country to give woman the vote (we have and have had for the last decade a woman Prime Minister). By contrast, Confuscian Korea (as expressed to me just yesterday by a Korean man), is man first, children second, woman last. In the Korean version of The Titanic, the woman go down with the ship. It is a country torn by war, and still under threat by Nuclear North Korea. A country of tenacity who rebuilt itself in 50 yrs, (historically one of the fastest to do so), after the annihilation of the Japanese occupation/pillage and soon after the North Korean attack. It is a land of gentle people whose doors have only been open to the West in the last decade. It has been a place of spiritual revelation for me, untold stories and secret gardens.
Describe the room you write in.
The room I write in is small, but not so tiny as my last apartment, which was almost the size of a generous bathroom (yes the entire apartment). Being a hoarder this has been a huge lesson in downsizing, especially being raised in a country where we had so much space we had to shout across the house to hear each other (consequently you will find many New Zealanders know how to whistle loud and long.)
My current room overlooks skyscraper apartments, winding roads packed with concrete rundown houses and car parks. A few pot plants, my pollution battle strategy, stand by a little wilted after combating the toxic yellow dust that comes from China every spring. I am surrounded by a phone, fax, exercise machine, t.v., and a wall of colorful scarves and pillows( I bought back from Thailand). Small postcards by Mattise, Kandinsky and other Fauvists, litter the cracks in the wall. Beside me is a cup of ginger tea and my lunch of seaweed soup.
You are from New Zealand. Why the move to S. Korea?
South Korea was initially a stop over on the way to Paris. Only after I did a world tour did I realize I would need more funding and returned here. My job here also gives me the time to write and support myself. Plus there is also the bizarre and unexpected element that appealed to my adventurous side. Korea is a buried treasure chest of untold stories. I have dirt under my fingernails and calluses from working the soil to free these gems.
How long have you been living there?
7 years. Any film producers out there who want to do a version of Seven Years in Tibet in Korea?
Has this different environment away from home influenced your writing?
Living here as certainly influenced me and consequently my writing. I have met people who have lived through extraordinary circumstances to achieve their goals, odd ex-pats like myself (odd is good), and have had a lot of my cultural and value system challenged. It's a Buddhist culture, fortune tellers, past lives, ancestral worship and Shamans. I had to change my class once because a student had seen a ghost there. The department secretary who reassigned a new room, took it in the same context as if I had ordered new textbooks.
Other differences in the environment that were conspicuous to me on my arrival were eating dog, whale and wriggling squid, the cultural normalcy of eating with your mouth open and slurping, drinking as a cultural pastime, (late, lots and most nights) and the worship of pigs (revered as symbols of financial favor).
Who are some of your favorite writers?
There are a lot of American authors/poets I enjoy, Yusef Komunyakaa and Ellen Bass' work, Arundhati Roy's original prose like style ( The God of Small Things) and just recently I read a very interesting collection of poetry in the latest Atlanta Review issue from Iraq. The collection was bought together at much risk to the poets themselves and is a poignant reflection on life there. However as I am a New Zealander and you may not have interviewed a "kiwi" before, let me mention a few Kiwi authors.
I have just finished reading a book called "Here at the End of the World" by Lloyd Jones which takes the reader through NZ to Buenos Aires. Described as a sensual literary work (by national award review), the intense feelings left me wanting more. I had to ring my empathetic gay surrogate "husband" to process it after I had finished reading it, such was my emotional reaction. Glenn Colquhoun is a popular NZ poet, his accessible work is about patients written from a doctor's experience. Jan Fitzgerald and Owen Bullock are a couple of other gifted NZ writers I enjoy as well.
Oh yes and I must mention lately I have fallen in love with the works of the creative and "terrifying" talent of Llya Kaminsky, a Russian deaf poet who lost his hearing at four years old and started seeing voices instead.
You teach at a university in S. Korea. Which one? What things do you try to teach your students? What are some challenges you face?
I have taught at a few universities and colleges here in Pusan, the second biggest city in South Korea. I try to teach my students to have more of an international approach to life, and encourage them to travel. Being bought up in a homogonous society, they are not aware of other cultures. I try to teach them the benefit of diversity.
I also try to raise the self esteem and aspirations of the female students. In a culture that actively discourages female independence, (not long ago it was illegal for a female to travel abroad alone), it is expected the female employee will resign upon marriage, bear children and stay home. I try to teach other life models they can choose from. Women here receive 30% less pay for the same job, and statistically outstrip the men in qualifications and performance yet are still denied equal opportunities in the workplace.
As a single woman pursuing my dreams, I try to role model other options. I teach the male students that an egalitarian society benefits everyone. Having an economic partner in marriage is a bonus and would help with the financial stain Korean men feel and aid in reducing the consequential depression and drinking binges.
What is the writing scene like in S. Korea and in New Zealand. Any favorite hang-outs?
Its very small in South Korea, I rely on a few contacts back home to give me feedback by email. NZ is small too but packed with creative genius. There are many times I miss the café hangouts and the creative sessions that we have over cheese, wine, and in winter in front of a burning fire. I think because we are an island, small population and a relatively new country, we have learnt to be multi-skilled and are original.
You also are a painter and designer. How long have you been painting? Do you ever use written words on any of your paintings?
I have been painting for about 15 years. Mostly abstract expressionism, fauvist style, art in the house that would wake you with a jolt in the morning. I have done exhibitions in Korea and back home.
I sell a lot of work to the ex- pats here which is quite exciting to think it is being hung around the world. Some of my friends call me Crazy Suzy. In winter if I am in a painting mood, you can find me on the roof of the apartments, big quilt on the floor, paints placed between all the heating and water pipes, splashing away like a frenzied composer.
Sometimes I used words but usually I let the canvas speak to the soul. Sometimes I bless the canvases, ask they will reach the right owner (the Shaman thing is rubbing off on me)
On your Website gallery, I have seen many of your paintings. They are absolutely beautiful. What painters influence you?
I love the fauvists. This is a French word meaning wild ones, it was given to describe the new unscripted images the pioneering artists who were the social catalysts.
I fancy in a past life, I drank and painted at the Moulin Rouge which may account for my in explainable passion for France and the feeling I must one day go there and live.
How do you find time to balance teaching, painting and writing?
Sometimes I don't, I take a lot of vitamins, eat healthy, and cram in life. My creative mind has trouble realizing it works within a finite body and is continually pushing me with yet another "brilliant idea" I must try. I do a lot of telephone relationships and email. Sometimes my friends stage interventions and take me out.
Červená Barva Press recently published your chapbook, Land of the Morning Calm. Please talk about these poems.
I have been writing these poems over the last several years. They are all poetic screensavers of my journey here. I have tried to make them accessible so people can pick up the story behind each one and get a feeling for this unknown culture. The poems reflect my experiences, touching, humorous and at times bewildering. I'm currently seeking a publisher for my next book Morning Calm, a continuation of this theme.
Any last comments?
I think as poets, we are observers, recorders of life, and for myself the question "why" hovers constantly on my pursed lips. Often prayers are written on tiny pieces of paper and tied to temple trees, tangled bows of hope. Poetry is my prayer.
TEMPLE PRAYERS
White coiled leaves
cling to winter limbs.
Like piles of dirty laundry
traffic skidmarks
past eight lanes of agitation,
soils the air.
She soothes the bark.
Remembers whitewashed prayers
hanging from a temple tree,
bleached butterflies inscribed with hopes
fluttering in the breeze.
And monks, dressed in hymns of spring
who gently set them free.

---