INTERVIEW WITH BERISLAV BLAGOJEVIC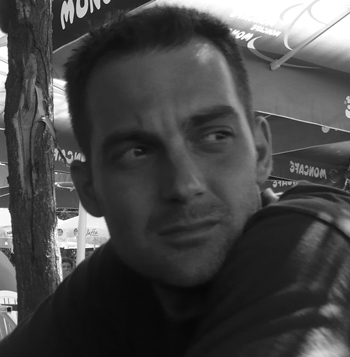 Write a bio.
My name is Berislav Blagojevic. I'm a writer and geographer. Born and raised in a little town in Northern Bosnia, I live and work in the second largest city in Bosnia & Herzegovina called Banja Luka, for over a decade. Three of my books were published during last five years: "Lamentacija po Sofroniju" (prose, 2005), "Trebao sam biti rijec" (poetry, 2005), and "Ja, revolucionar" (short stories, 2010). My writings were also published in a great number of literary and cultural magazines in my country and abroad. Some stories have been translated into English, Spanish and Macedonian.
Talk about the publishing scene where you live.
There are very few "serious" and large publishers in B&H. They publish mainly world bestsellers and have the ability to translate established authors from around the globe. However, these publishers don't pay a lot of attention to domestic authors and their work. I presume the main reason for that is hard competition with large publishing houses from neighboring countries (Croatia and Serbia) so publishers from B&H need to publish famous and known names that can bring a profit. On the other hand, there are a great number of smaller publishers, but they have small budgets and depend on grants and donations, sometimes from the local government, and sometimes from higher institutions like the Ministry of Culture. For all these reasons, many writers from B&H also publish their work in Croatia or Serbia, and that's possible because of the similarities between languages, naturally.
What is the writing scene like in Bosna / Hercegovina
Uh… This is a hard one. Many recognized authors that are originally from B&H now work/publish in other countries (for example Miljenko Jergovic in Croatia, Aleksandar Hemon in USA). During and after the war, there were many writers that wrote almost exclusively patriotic prose/poetry. Nowadays, the writing scene is going forward, towards new horizons and global movements in literature. Young talented people are emerging from all around the country writing and publishing in and outside B&H. There are several very interesting poets that won numerous awards not only in B&H but also in the region and Europe. In addition, there are quite a few young authors writing mainly short stories, but also novels. Unfortunately, most of these authors are coming from just a few cities - Sarajevo, Banja Luka and Mostar, although there are many talented people writing in smaller communities but can't break through.
Where do you get your writing ideas from?
To be honest, most of my ideas are driven from life in or out of Bosnia and Herzegovina. I like to deal with humans and humanity in my writing - humans in the past, present and future; boundaries (in all its meaning), lessons learned, or wisdom that just slipped through our fingers and it shouldn't. Some stories I wrote were autobiographic and inspired by living in war and post-war B&H. The Balkans in general is geographically, religiously, ethnically and culturally diverse in a way that it can be writer's polygon for thinking and inspiration for several lifetimes. However, I like to use my geography/history knowledge to place my plots in various spaces - in the USA, (Republic of) Georgia, Germany, England, Spain… Sometimes I get an idea for writing by reading other authors, but this happens pretty rare.
Talk about your book, Ja, Revolucionar. I love the cover. It is absolutely great!
Yes, everyone is saying how good the cover is, no one is saying that for the content of my book. HaHaHa! I had an idea for a cover based on the title and one more story from the book called "First ant." My dear and talented friend Dragana Nikolic from Belgrade made it happen. The book contains 52 short stories that were divided into three chapters. First chapter contains very short stories, second one what I like to call "real stories" while the third chapter contains stories about writers and writing. Stories in this last chapter were written in a humorous way with the intention to demystify the writing process and to represent all problems that writers confront during writing and publishing activities. The end of the book also contains selection of eleven short stories translated into English. This was done by Branislav Blagojevic, my brother and translator, but we were given a very short period of time to do this, so we both think we could do this task better. Hopefully, we will have another chance to translate more stories and do it with more care and detail…
Recently, I read some of your stories that were published in Diogen: Pro Culture Magazine. Please discuss the work that was published in this issue. I think the stories are amazing.
The Diogen Magazine from Sarajevo is, as long as I know, the only magazine in B&H that is bilingual (or to be exact it publishes work in Bosnian, Croatian, Serbian and English). I wanted to use this opportunity to make a wider audience aware of my writing. Thanks to Sabahudin Hadzialic, editor of Diogen Magazine, because it is possible for other authors to do the same thing (and vice versa - foreign authors can present their work to our public). Five short stories were included in the issue. Four of them are short-short stories, while the story entitled "Meeting" is a bit longer. "Meeting" was awarded at last year's "Sea of Words" international short story competition in Barcelona.
You mentioned in an e-mail that you were getting ready for a book fair in Belgrade. Tell us about this book fair.
It is a great privilege for any author to present his/her book at the Belgrade book fair, since it's the biggest one and the most important one in Southeast Europe. This year, a book fair gathered over 800 exhibitors from almost 20 countries. Since the presentation of my book was scheduled for 12:30 on a Wednesday, I thought there would be no people interested or present. Fortunately, I was wrong and that means that this book fair really has its visitors throughout the day! Thus, I would say the presentation was successful. This book fair is also a good place to meet other authors, to make new contacts and friendships.
One of your stories was picked as the top 15 in the Goethe Institute Competition. You are attending a 5 day workshop because of this honor. Please discuss your thoughts on this.
Yes, I should participate in this workshop in Sarajevo and it will be a great chance to learn something new and to meet other young writers from B&H. Workshop will be led by Velibor Colic and Marica Bodrozic - writers from B&H that now live and work abroad (Colic in France and Bodrozic in Germany). I suppose they will bring some new facts about literature scene in Europe, and that should be interesting.
As long as we speak of workshops, I just finished a 3 day long creative writing workshop in Sofia (Bulgaria) which was really good and inspiring. This workshop was a continuation of "Sea of Words" competition in 2009. It was a great experience and it was really nice to have a chance to meet with friends I met last year during my stay in Barcelona and Toledo for the first time.
What writers influence you?
I don't have a specific role model in a traditional way, but I surely like some writers and their work. Since I read a lot and not just a particular genre, I like very diverse writings. For instance, I like the work of Danil Harms, Kurt Vonnegut, Borges, Thomas Bernhard, Ephraim Kishon, but also some writers from ex-Yugoslavia countries like David Albahari, Mirko Demic, Milos Crnjanski, Ivo Andric, Milorad Pavic, Danilo Kis, and others. It's pretty hard to name every writer whose work I like and whose work influenced my way of thinking and writing.
Why is it important to have your work translated into other languages for you?
I think it is important to try to reach as many readers as you can. The best way to do this is to translate your work - into English in particular, since English is the most popular and world wide spread language. This also gives an opportunity to enter English language based magazines and journals. By doing so, a writer can get important feedback from the public/critics/readers outside his/her homeland. It's important to me to know what people outside B&H think about my writing and how do they react to stories that are in a way bonded with the Balkans. I was always wondering, can I reach those people, can they comprehend some issues I'm talking about.
What are you working on now?
I have a lot of ideas cooking right now. However, most of my work nowadays is on a manuscript about young couple and their everyday problems and issues. The idea is to write a collection of stories that would be "light" and fun reading, but at the same time to picture the hard reality of life for young people. Considering the global crises and globalization in general, I think people will easily relate with these stories. Stories will also have the exotic aroma of the Balkans' spices, that's for sure…

---