WORKSHOPS
ČERVENÁ BARVA PRESS hosts workshops all year long. These workshops cover a wide variety of topics such as: writer's block, poetry workshops, how to submit to magazines, presses and what editors look for. For many of these workshops, there will be guest instructors.
---
ČERVENÁ BARVA PRESS STUDIO
THE CENTER FOR THE ARTS AT THE ARMORY
Arts for the Armory
Basement, Room B8
191 Highland Avenue
Somerville, MA
---
CERVENA BARVA PRESS WORKSHOP
Pastry with Poets with Martha Collins

BEYOND THE LYRIC I: USING RESEARCH IN POETRY
Saturday, October 26th at 2:00PM-3:15PM
Admission: $10.00
Limited to 12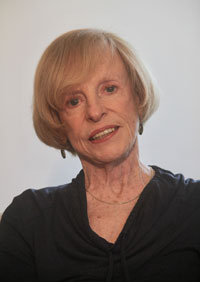 In this workshop, we'll look at some poems that move beyond personal experience and into material that involves historical, social, nature-related and/or other research, without sacrificing personal involvement and feeling. We'll discuss some strategies for transforming documentary material into poetry, and I'll invite you to answer some questions that might give you starting points for writing these kinds of poems yourself.
Martha Collins' tenth book of poetry, Because What Else Could I Do, is being published this fall in the Pitt Poetry Series. Her previous volumes include Admit One: An American Scrapbook, White Papers, and the book-length poem Blue Front, as well as the paired volumes Night Unto Night and Day Unto Day. Collins founded the Creative Writing Program at U.Mass.-Boston and taught at Oberlin College. She lives in Cambridge, Massachusetts.
Saturday, October 26th at 2:00PM-3:15PM
To register and pay for this Workshop securely using your Paypal account or a Credit Card, please click the Pay Now button below...
Sorry this workshop is now sold out!
BEYOND THE LYRIC I: USING RESEARCH IN POETRY: $10.00
Limited to 12 participants
---
Directions & parking:
The Center for the Arts is located between Davis Square and Union Square. Parking is located behind the armory at the rear of the building. Arts at the Armory is approximately a 15 minute walk from Davis Square which is on the MTBA Red Line. You can also find us by using either the MBTA RT 88 and RT 90 bus that can be caught either at Lechmere (Green Line) or Davis Square (Red Line). Get off at the Highland Avenue and Lowell Street stop. You can also get to us from Sullivan Square (Orange Line) by using the MBTA RT 90 bus. Get off at the Highland Avenue and Benton Road stop.
---
Other Services
Manuscript help by appointment
Poetry Critique by appointment
Short story or novel critique by appointment
---
Need help with your manuscript?
Not sure what order your manuscript should go in? I can help you with that for a reasonable rate. Manuscripts will not be critiqued but I will help you place your poems in the best order for your collection.
---
Index | Bookstore | Our Staff | Image Gallery | Submissions | Newsletter | Readings | Interviews | Book Reviews | Workshops | Fundraising | Contact | Links
---
Copyright © 2005-2019 ČERVENÁ BARVA PRESS - All Rights Reserved