"There is nothing to writing. All you do is sit down at a typewriter and bleed. "
~Ernest Hemingway
---
New Release April 21, 2015: Almost Too Much by Barbara E. Murphy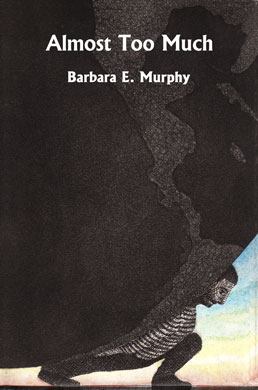 Barbara Murphy's work has appeared in several literary journals including New England Review, Green Mountains Review, The Threepenny Review, and Michigan Quarterly Review. She was nominated for a Pushcart Prize and is the recipient of a Vermont Council on the Arts fellowship. Murphy has worked as president of Johnson State College in Vermont since 2001 and has been recognized for her leadership roles in higher education. She lives and works in northern Vermont with her husband Tom Garrett.
---
Almost Too Much both tactfully and relentlessly interrogates our human experience in these dehumanizing times. There's not a sliver of false hope in these pages, but reading them, we catch glimpses of the paradox of our lives, that "The sound of geese /overhead, their thin cries clear /as night through the ceilings and roof / of the house, is either the saddest /sound [we] will ever know / or one of great lifting joy." Barbara Murphy's quietly brilliant poems move us readers toward usable truth.
—David Huddle Author of Glory River and Blacksnake at the Family Reunion
Murphy's lyrical narratives, lively and exact, speak of braveries and hesitations, fugitive beauties and stations of calm. A lifetime of truths take the reader through first games of hide and seek, the boys so far away/lost in their secret places/there was no way/they'd ever get home in time; first loves and second marriages where desire is more of a casual friend./It will not/always be there breathless and flushed; loving children and step-children with different needs in different time zones. These poems should be read aloud for their honesty and musicality. They do the heart good. Almost Too Much is a stunning debut.
—Dzvinia Orlowsky Author of Silvertone and A Handful of Bees
Deeply intimate, each line a breath. In flashes of brilliance against a landscape of existential dread, these poems flare up and stare down this given world until it surrenders its grace.
—Nancy Mitchell Author of The Near Surround and Grief Hut
$17.00 | ISBN: 978-0-9861111-3-6 | 70 Pages
---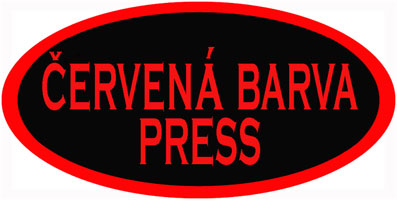 ČERVENÁ BARVA PRESS STUDIO
THE CENTER FOR THE ARTS AT THE ARMORY

Červená Barva Press Studio
Basement Room B8
Center for the Arts at the Armory
191 Highland Avenue
Somerville, MA
---
CERVENA BARVA PRESS READING SERIES
WEDNESDAY APRIL 29, 7:00PM
Featuring: Julia Lisella | Lisa Sewell
Julia Lisella is the author of Always (WordTech Editions 2014) and Terrain (WordTech Editions, 2007) and Love Song Hiroshima (Finishing Line Press, 2004), a chapbook. Her poems have been widely anthologized and appear in such journals as Alaska Quarterly Review, Valparaiso, Prairie Schooner, Crab Orchard Review, VIA: Voices in Italian Americana, and on line at Antiphon, Literary Mama, Pebble Lake Review and other sites. She has received residencies from the Millay, Dorset and MacDowell Colonies for the arts and has held several grants from the Massachusetts Cultural Council. In addition to writing poetry she is a scholar of American modernism and teaches American literature and writing at Regis College.
Lisa Sewell is the author of several books, including Impossible Object, which won the 2014 Tenth Gate Prize and is forthcoming from Word Works Press. She is also co-editor,with Claudia Rankine, of American Poets in the 21st Century: The New Poetics (Wesleyan 2007) and Eleven More American Women Poets in the 21st Century: Poetics Across North America (Wesleyan 2012). New work is appearing of forthcoming in Drunken Boat, Prairie Schooner, Crab Orchard Review and Mead. She lives in Philadelphia and teaches at Villanova University.
Admission is $3.00. Refreshments served.
---
Directions & parking:
The Center for the Arts is located between Davis Square and Union Square. Parking is located behind the armory at the rear of the building. Arts at the Armory is approximately a 15 minute walk from Davis Square which is on the MTBA Red Line. You can also find us by using either the MBTA RT 88 and RT 90 bus that can be caught either at Lechmere (Green Line) or Davis Square (Red Line). Get off at the Highland Avenue and Lowell Street stop. You can also get to us from Sullivan Square (Orange Line) by using the MBTA RT 90 bus. Get off at the Highland Avenue and Benton Road stop.
Inside the Armory:
Go inside main doors and walk straight ahead about 30 feet, look for the door on the right to the stairs down to the basement. (There is an elevator just after the stairs.) Once in the basement walk through the basement lobby straight ahead about 20 feet, first door on the right is the Červená Barva Press Studio.
---
New Release February 18, 2015: some words suicidal by Stella Vinitchi Radulescu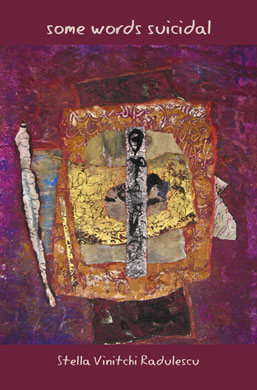 Stella Vinitchi Radulescu, Ph.D. in French Language & Literature, is the author of numerous collections of poetry published in the United States, Romania and France. She writes poetry in English, French and Romanian and her poems have appeared in Laurel Review, Asheville Poetry Review, Wallace Stevens Journal, Seneca Review, Pleiades, Rhino, Louisville Review among others, as well as in a variety of literary magazines in France, Belgium, Luxembourg, Québec and Romania. She is the winner of several International Poetry Prizes awarded for her French books, including the Prix Amélie Murat (2013) and the Grand Prix de la Francophonie (2014). A collection of her New & Selected Poems is forthcoming from Orison Books Press. At the present she lives in Chicago.
Cover Art: Icône en confidence by Michel Bénard
---
Poetry is the record of hidden things in commerce with one another, and only that mystery allows us to live. Stella Vinitchi Radulescu's poetry is an alchemy, a magic of restraint and exposure, revealing the machinations of our invisible feelings, motives, appetites and fears. That she is a master of her condensary goes without saying, for this is a consummate language shaped with remarkable skill, and the voyages that these poems take are brilliant excursions into our inner lives, secret things pushed into the subconscious, broken promises and whispered asides. I have long admired Radulescu's bilingual ability to bend sentences to her will and those constructions are filled with a cross-cultural understanding that is consistently transcendent, that builds bridges into the landscapes of our shared interior lives.
—Keith Flynn, author of Colony Collapse Disorder
Some Words Suicidal, Stella Radulescu's newest poetry collection, is all at once experientially effusive and parsimonious, and is bravely so, both on and off the page. The meditative remittance of these works reminds us just how language means. Radulescu is not afraid to insist her readers subsist on the unnamable, in the spaces between ideas. The poems here thread rather purposefully through dimensions, all the while rending artifice's will without the prudence of architecture, where "words are bees stars ants roaming / on the page / beyond understanding" into truth. Radulescu takes nothing and everything for granted, and at her behest, every word, every line, every stanza and poem reminds us we should too. And, yes, every time, with absolute devotion.
—Ralph Pennel
$17.00 | ISBN: 978-0-9861111-1-2 | 100 Pages | In Stock
---
ABOUT THE PRESS
ČERVENÁ BARVA PRESS was founded in April of 2005. The press solicits poetry, fiction, and plays from various writers around the world, and holds open contests regularly for its chapbooks, postcards, broadsides and full-length books. I look for work that has a strong voice, is unique, and that takes risks with language. Please see submission guidelines for current information. I encourage queries from Central and Eastern Europe.

---
---
---