"There is nothing to writing. All you do is sit down at a typewriter and bleed. "
~Ernest Hemingway
Červená Barva Press books
and chapbooks for sale at
The Lost Bookshelf.




Welcome to the Cervena Barva Press Newsletter for August, 2016.
It has been awhile since a newsletter reached your way!

Some catch up news.
In 2015, we published 10 full-length books and 5 chapbooks.
So far this year, we have released:

Fire Tongue by Zvi A. Sesling (March, 2016)
Cimmeria by T. M. Devos (March, 2016)
The Last Gun by Anne Harding Woodworth (March, 2016)
Secret Letter by Erika Burkart, translated from the German by Marc Vincenz (June, 2016)
Duino by Martin Burke (June, 2016)
No More Happy Endings by Milan Djurasovic (July, 2016)
---

Here we go: The next Read America Read Project is Saturday, August 27th.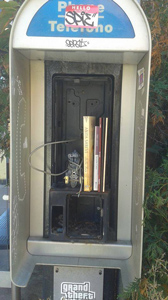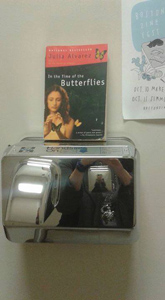 Leave a book for someone to take anywhere you want. This time, ask two people you know to do this also. This way the project will grow each month. I would like a book marker to go in every book so people know where they are coming from. Please e-mail me at the following e-mail address and I will send you an e-mail back with the book marker for you to print out and cut. Thank you for being a part of this project. Lets make August 27th great! Send me photos too. I have a list of names of who participated and as this grows, keep letting me know you are doing this. Thanks a zillion. You all rock. Lets get America reading!!!!
e-mail: gloria@read-america-read.org
Thanks so much,
Gloria

---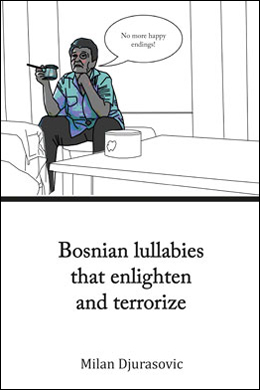 Milan Djurasovic is a Bosnian Serb from Mostar, the descendant of delightful peasants and modest working-class stock. He lives in northern California, where he works as a paraeducator. No More Happy Endings is his first collection of poems and short stories.
"The bedtime stories of my grandmother, Baba Jela, changed after the Bosnian civil war. Before the shooting began, her stories were ordinary, positive, life-affirming, with a clever hero or good-natured idiot overcoming challenges and a greedy foe soon reduced to a pitiful scrub. At the end, the world would turn out rosy and just, and taking part in it made sense. But after a war of nearly 100,000 deaths, millions of displaced bodies and souls, and decay peering out of every crevice, such propriety seemed unnatural. So Baba Jela decided to get rid of it. While other elderly men and woman decided to end their own lives after realizing that nothing would ever again be the way it was before the war, Baba turned her stories and lullabies dark and horrifying, her own way of refusing to play along with uncontrollable circumstances."
Cover Design: Aleksandra Djurasovic
$12.00 | ISBN: 978-0-9966894-8-9 | 30 Pages
---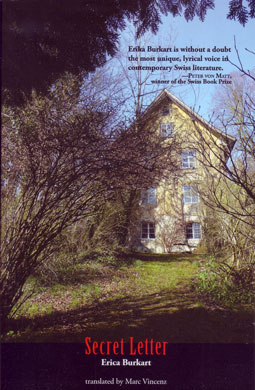 Swiss poet Erika Burkart (1922-2010) has been compared to the likes of Ingeborg Bachmann, Friedericke Mayröcker, and Rainer Maria Rilke. During the latter half of her lifetime, the Swiss literary establishment perceived her not only as the grande dame of German- Swiss poetry, but also as an elusive, metaphysical, at times eccentric enigma of contemporary German-language literature. Born in Aarau, Switzerland, Burkart published over 24 collections of poetry and nine prose works, writing for the most part in the house of her childhood (the former summer house of the Prince-Abbot of Muri), Haus Kapf in Althäusern, Aargau, which was run as a tavern by Erika's parents.
Burkart received numerous literary prizes during her lifetime, including the Johann-Peter-Hebel-Preis (1978), the Wolfgang-Amadeus-Mozart- Preis (1990), the Joseph-Breitbach-Preis (2002), and the Gottfried-Keller-Preis (1992). To date, she is the only woman ever to have been awarded Switzerland's highest literary prize, the Grosser Schiller-Preis (2005).
Born in Hong Kong, Marc Vincenz is the author of nine collections of original poetry; his latest are This Wasted Land, and Its Chymical Illuminations (Lavender Ink, 2015), Becoming the Sound of Bees (Ampersand Books, 2015) and Sibylline, a book-length poem (Ampersand Books, 2016). The Washington Independent Review of Books recently called Vincenz "[a] peripatetic linguist... [he] prospers through travel like a psychoactive medicine man. Each poem is an open environment where anything can happen-a ceremony of advanced thinking-where a pilgrim of great altitudes accepts life's vagaries." Vincenz is also the translator of many German-language poets, including the Herman Hesse Prize winner, Klaus Merz, Werner Lutz, Erika Burkart, Alexander Xaver Gwerder, Robert Walser and Jürg Amman, and has published ten collections of translations-the latest is A Late Recognition of the Signs by Erika Burkart. His translation of Klaus Merz's collection Unexpected Development, was a finalist for the 2015 Cliff Becker Book Translation Prize and will be published by White Pine Press in 2018. He has received several grants from the Swiss Arts Council and a fellowship from the Literarisches Colloquium Berlin. His own work has been translated into German, Russian, Romanian, French, Icelandic and Chinese; Bucharest's Tractus Arte Press released a Romanian translation of his collection The Propaganda Factory, at the 2015 Bucharest Book Fair. He is International Editor of Plume, Executive Editor of MadHat Press, and Plume Editions, Co-Editor of Fulcrum, and lives and writes in Western Massachusetts. Recent and forthcoming publications include The Nation, Ploughshares, Guernica, Washington Square Review, The Common and World Literature Today.
---
"Erika Burkart often evokes darkness, all the while "recu[ing] / fragments of images / from the dark chambers"-and these bits and pieces of the world, which she gathers with such care, gleam with a lasting, even healing light in her work. A precise and loving observer of nature, this major Swiss poet is especially sensitive to the question of how perceptions can be written down to "find [her]self / [...]-a language / no one knows anymore." For her, words raise no insurmountable barriers between the self and outside reality, but rather encourage her, as it were, to examine how one might more fully live."
"With Secret Letter, Marc Vincenz has gracefully and accurately rendered one of the last and most important books written by this philosophically minded poet. Hats off to him, for these full-fledged English poems express all the discreet music, subtle emotions, and thought-provoking qualities of the originals."
-John Taylor, poet, translator of Philippe Jaccottet, Jacques Dupin, and Jose-Flore Tappy
"Secret Letter by Erika Burkart offers lyrics so pristine and resonant in English that it's hard to fathom that these are translations. Marc Vincenz has done a great service for English-speaking, opening our shutters, our vistas onto the light- rich work of this amazing poet. Each poem mirrors creation and the birth of poetical language, without affectation or even extra syllables. The ensemble remins us of why we turned to poetry in the first place, for its spare, lyrical power, its shock of beauty, emotion, and insight."
-Marilyn Kallet, poet, translator of Paul Eluard, Benjamin Peret, and Chantal Bizzini
"Burkart's poems leave behind much more than a fleeting trace in the snow. Her delicate poetic footsteps have long since inscribed themselves in the memory of nature and her readers."
-Deutschlandfunk
"Erika Burkart possessed something like a second sight. She saw people, nature, the world, with both an inner and outer vision."
-Bieler Tagblatt
$15.00 | ISBN: 978-0-9966894-3-4 | 83 Pages
---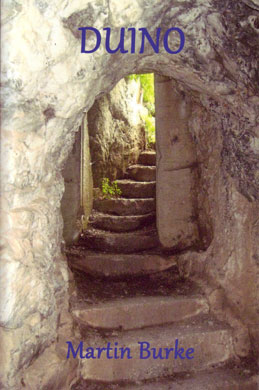 Poet and Playwright Martin Burke is from Ireland but has lived for many years in Flanders (the northern Flemish speaking part of Belgium) a region with which he strongly identifies. More akin to the broad European visionary tradition than to any form of social realism, his work is noted for his insight and lyricism, qualities which are to the forefront in this version of the famous work by Rilke. He is currently working on a book-length poem The April Calends.
---
1
Who from the angels will hear me?
Into what existence may I vanish?
Why is it that, though it can, beauty does not destroy us?
Why does terror spring from every angel's mouth in joy?
Yet this is the world's landscape where, somehow, we endure
And the lovers, who annihilate annihilations
Lock time like a prisoner in their arms but their hearts are birds in air
Spring and its stars require us and the mission of music also
As we require mirrors to hold our expectations
As sinful and profane are our chosen companions
Where Antaeus is livid in air but renewed on the ground (oh let there be praise for such falling for this is no elegy)
As lovers are (oh pleasurable earth that such joy be yours!)
Sap to earth-mould that love rise again in any space, region or occasion through which its arrow passes
To focus on the unseen voice prompting a saints' ecstasy
Listening only to the secretive breath of the world
Speaking histories and chronicles-but what will they tell of you?
Let them tell that you were enraptured and quivered
In the arrows flight within you.
$7.00 | ISBN: 978-0-9966894-9-6 | 22 Pages
ABOUT THE PRESS
ČERVENÁ BARVA PRESS was founded in April of 2005. The press solicits poetry, fiction, and plays from various writers around the world, and holds open contests regularly for its chapbooks, postcards, broadsides and full-length books. I look for work that has a strong voice, is unique, and that takes risks with language. Please see submission guidelines for current information. I encourage queries from Central and Eastern Europe.

---
---
---