POETRY READINGS
---
Writing and Editing Poetry Workshop
Saturday 11/14/15, 10AM - 12PM
Ames Free Library/Queset House,
51 Main St., N. Easton, MA , 2nd Fl Conf Rm
Series: 2nd Sat/Month, Sept – May
Dates: Sept. 12, Oct. 10, Nov. 14, Dec. 12,
Jan. 9, Feb. 13, Mar. 12, Apr. 9, May 14
Instructors: George Comeaux & Rich Berg
Session 3: Everyday Life
Discussion: -Travel, Food & Shopping
- Making Memories, Quiet Moments
Editing Techniques: Time is not of the essence
Read your poem, hear your poem read (both optional)
Email: beachchair@verizon.net
---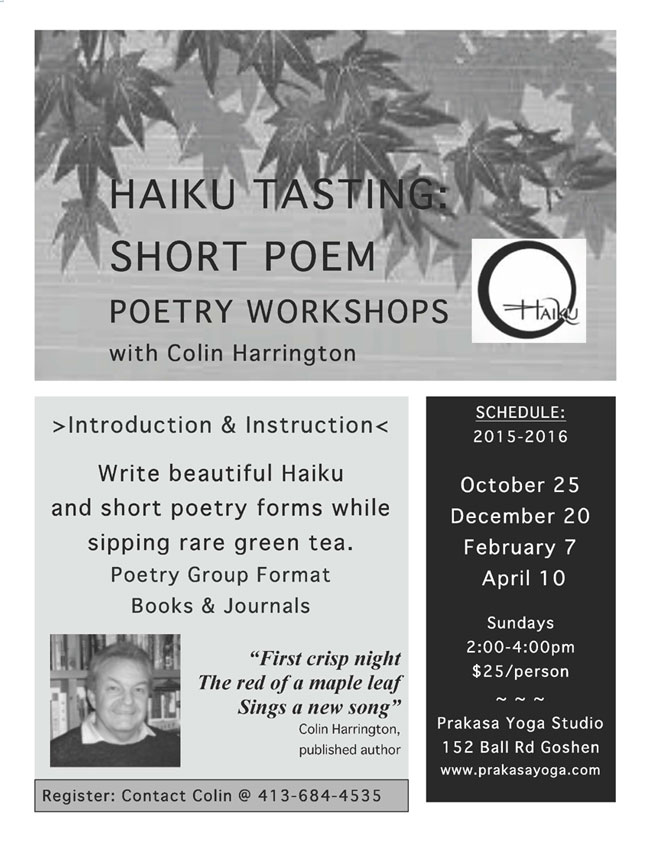 ---
Most of these submissions I get are from a Facebook Group called 'Call for Submission,' so join to get daily updates. There will only be 7-10 submission notices per month beginning this month and in the further.
---
Submissions will soon be open for the third volume of the Cape Cod Poetry Review, beginning April 1st through May 15th. Check out the guidelines on their website, www.capecodpoetryreview.com before sending up to three poems or 4500 words of prose by email to capecodpoetryreview@gmail.com.
---
Off The Coast, Maine's International Poetry Journal, published by friends and former Mass residents Valerie Lawson and Michael Brown deadline for submissions are March 15, June 15, Sept 15 and Dec 15. Check them out at www.Off-The-Coast.com, this is a printed journal.
---
Another good friend Zvi A Sesling is the publisher of the Muddy River Poetry Review an online journal out of Brookline Ma. The reading periods for this ezine are Dec 1 to March 1 and June 1 to Sept 1, they are located at http://www.muddyriverpoetryreview.com/
---
Semaphore Magazine is looking submissions of Poetry and Short Fiction. We are a small literary magazine out of Mansfield, Ohio. Please visit our website for information on how to submit. http://semaphoremagazine.org/
---
WORDPEACE is a new quarterly online journal of literary response to world events in the spirit of promoting peace and hope for all people. We are looking for previously unpublished articles, interviews, fiction and poetry (or mixed media) to publish which reflect this aim. We want work that asks for positive change and is forward thinking. We publish writing that takes a stand against corruption and greed, brutality, genocide, and oligarchy. Submissions are accepted through Submittable at https://wordpeace.submittable.com/submit
---
THE JOURNAL OF APPLIED POETICS: We're excited to announce that Issue 11 will be released Wednesday, April 15. We're currently reading submissions for Issue 12. You can send your poems and essays to SUBMISSIONS@POETX.ORG or submit via our submission manager: http://www.poetx.org/index.php?id=submissions. No fees, and all published poems and essays are considered for end-of-year $$$ prize
---
Share please http://goldsmithsremind.com/…/the-spectrum-poetry-by-jonat…/ "Jonathans work examines the relationship between mental health and disability. We would love to publish more work whether creative work for our magazine or opinion pieces to our blog that focus on mental health but examine its intersection with other oppressions such as disability, race, gender, sexuality or class. You can email submissions to anomaliesubmissions@gmail.com. If you wish to make creative work to be published in the magazine (poetry, art, prose, photography etc), the deadline is April 25. The blog mainly looks for articles, opinion pieces or videos on a rolling basis"
---
Hi, writey friends. I'm just starting up a new online literary journal devoted to poetry and short prose (fiction/nonfiction, >1000 words) inspired by comics, anime, manga, cosplay, and other aspects of geek culture. I can't pay, but there's no submission fee either. I'm accepting submissions for the first issue until Sept. 1. I'd love to see some of your work!
https://therubyspellbook.wordpress.com/
---
Have you ever, as a new writer, felt intimidated by the contributor bios you read in the back of your favorite magazines? Have you ever, as a well-established writer, wondered how well your manuscripts would fare if they were separated from your name and list of previous publications? We here at Blinders Literary Journal hope that we have found a solution for writers and poets, new and advanced. We never want to see your cover letter, only your fiction, creative nonfiction, poetry, and artwork.
Blinders Journal is taking submissions of fiction, creative nonfiction, poetry, and art for its third issue until April 15, 2015. Please visit http://www.blindersjournal.org to view our latest issue or our submission guidelines.
---
Hi all, I'm the editor of Hypothetical: A Review of Everything Imaginable, an online literary magazine of prose, poetry and conversations (aka interviews) with creators. We are currently taking submissions for Issue Three (Spring 2015) and would love to read your work. Please read our inaugural and second issue for a sense of what we are loking for, as well as our Creed. Translations into English from other languages are especially welcome. Please forward! https://hypothetical.submittable.com/submit
---
Sleeve is a brand new lit mag dedicated to publishing short, yet emotionally charged poetry. We are open for submissions! Send up to 5 poems in the body of an email with a short bio to sleevelitmag@gmail.com
You can check out the full list of guidelines at http://sleevemagazine.weebly.com/submissions.html
---
Hello! I'm the editor of the Minnesota Review. We're looking for excellent poetry, creative non-fiction, and fiction. When it comes to prose, we are especially interested in flash pieces. https://minnesotareview.wordpress.com/…/minnesota-review-n…/. Submit here: http://theminnesotareview.submittable.com
---
Hi all - I'm an editor on two new literary journals. One, the Gyroscope Review, is a quarterly digital poetry journal currently accepting contemporary poetry submissions. Guidelines are available at http://www.gyroscopereview.com/home/guidelines/. The other is Fine Linen, a quarterly print journal of flash fiction and art. Guidelines for Fine Linen are available at http://www.fl-mag.com/guidelines/ and we are now reading for our spring issue.
---
Barking Sycamores seeks poetry, artwork, and short fiction (1,000 words or less) for its unthemed Issue 5. Deadline: 3/19/15. Sycamores is a literary journal primarily featuring neurodivergent (autistic, ADHD, bipolar, dyslexic, etc.) writers and artists, however anyone may submit. Please review our guidelines before submitting. https://barkingsycamores.wordpress.com/submission-guidelin…/
---
Please visit the Website of GNOSIS (An International Journal of English Language and Literature). The last date for submission of Research Papers, Poems, Short Stories, Book Reviews, Plays etc. for April 2015 Issue is February 28, 2015.
---
Got a full-length collection of poetry ready to go? Submissions are now open for the 2015 Main Street Rag Publishing Company Poetry Book Award contest. First prize wins $1200 and fifty books. Postmark deadline January 31, 2015. $25 reading fee. Full details: http://www.mainstreetrag.com/PoBkCont.html
---
Peacheslitmag, a literary and visual arts online magazine wants your original Flash Fiction/non fiction, poetry, visual arts/photography, grocery lists, personal essays, diary entries and interesting forms of media for our inaugural issue! Peaches is a literary and visual online arts magazine about PLAY! We love to accept work from artists and authors who push the boundaries. We search for both clarity and ambiguity, and believe the two make beautiful babies together. Above all, it is curiousness that we search, for from chaos comes new order and from audacity comes discoveries. Please visit www.peacheslitmag.com for submission details. Deadline is February 25!
---
Transcendence is seeking dedicated, passionate individuals to join their staff. Positions are available in poetry, prose, and art, and people aged 16 and older of all backgrounds are encouraged to apply. Deadline January 15th. More details can be found on the website: http://www.transcendencemagazine.com/#!apply/c1y8b
---
Still taking submissions for Strike #7. www.ccstrike.wordpress.co
---
Catch and Release, the online literary journal of Columbia University Writing Program, is accepting submissions in fiction, poetry, nonfiction, art criticism, and book reviews. Please visit the journal for more details on how to submit. We look forward to reading your work.
http://catchandrelease.columbiajournal.org/submit/
---
Calls for Submissions from The GoldenPoet, a digitally evolving art piece combining all disciplines of art. You can submit anything from a quote, original photograph, poem, short story or a video showcasing what you do. If you're interested, please visit www.thegoldenpoet.com and click on the "Submit" tab on your left hand side of the screen. If you have any questions, please forward them to admin@goldenpoet.com. Thanks.
---
Parts of the Whole: Poetry of the Body is looking for poems about the body Please submit up to 4 poems in any style to the editors at potwanthology@gmail.com between now and September 15. No poem should exceed 80 lines or approximately 2 pages. Include a brief 150 words or less bio and attach poems in Word or RTF. Also, we would like to see a brief explanation of how the poet believes this work fits into our theme. We will consider previously published poems so long as you acknowledge it was previously published in the cover letter and let us know if the anthology can obtain reprint rights for free or low cost.
---
Hi all, IDK Magazine is looking for submissions of fiction, poetry, creative nonfiction, and art for its inaugural reading period ending June 15th!
IDK seeks primarily to publish emerging writers/artists and Millennials (writers/artists born 1980-1995), but is willing to read any submissions related to contemporary culture. Up to 5 poems and prose pieces up to 4,000 words. You can find more info and guidelines on IDK's website at http://www.idkmagazine.com.
No submission fees and no payment for publication.
---
The Oddville Press is back! With a jam-packed first edition to celebrate our re-launch, we continue on our quest to promote today's geniuses and tomorrows giants. Download your copy here: http://oddvillepress.com/ Take a journey through the pages of our historic re-launch issue to see just what floats our boat. Maybe you've got the perfect story, poem or image to feature in the next issue. Why not give it a try. You can read our submissions guidelines here.
Readers, writers, poets and artists; spread the word near and far: The Oddville Press is back!
---
CALL FOR SUBMISSIONS - to First Literary Review-East. Guidelines at website: www.rulrul.4mg.com. Please send 3 poems, under 16 lines, to firstliteraryreview@yahoo.com. Thanks!
---
No restriction on previously published, no reading fee, payment of 2 contributors copies- http://www.timberjournal.com/submit/
---
Pithead Chapel is a monthly online journal of short fiction and nonfiction. We're currently seeking gutsy narratives up to 4,000 words, and are particularly interested in essays (personal, memoir, lyric, travel, experimental, etc.) that move. Please visit us at www.pitheadchapel.com to learn more about us and our submission guidelines.
---
Lyre Lyre is accepting submissions for its next issue! Read past issues and send us your work! www.lyrelyre.com
---
Submit to Extract(s)
Extract(s) is looking for submissions for our Poems, Stories, and Haiku features, as well as excerpts from upcoming novels, memoirs, and poetry and story collections. We will take submissions via our online submission manager only. We are not yet accepting self-published work.
If you are interested in having "In Place" feature your writing program/group, please send a formal query to us here.
https://extracts.submittable.com/submit
Guidelines for Submission
Poetry
Please submit up to five (5) poems. We are looking for smart, fresh,well-crafted pieces to consider. If you took a look through our personal poetry collection you would find writers who challenge us, who move us, and who we cannot help but share with others. Do you think you have a poem that will take off the top of our head? Submit now! Our submission period is always open, but please wait at least six months before sending another.
Prose
Please submit one short story (fiction or non-fiction) of no more than 1,000 words. We are looking for fresh, well-crafted stories that make us cry and laugh and think. We want to be moved in some fundamental way in as few words as possible. Our readers should carry your characters with them as they go about the rest of their day—or longer. Our submission period is always open, but please wait at least six months before sending another.
Haiku
Please submit up to three pieces of original artwork in any medium with an original haiku for each. The haiku need not be an explanation of the image, merely a companion to it. As Japanese and English syllables are not the same, do not worry about meeting the "5/7/5? syllable count. Instead, think of the lines as "short/long/short."
Excerpts
Please submit no more than 1,000 words of prose and three poems from a book that has been published in the past three months or will be published in the coming weeks/months/year. We will accept excerpts from publishers and writers, but are not yet accepting self-published work.
https://extracts.submittable.com/submit
---
Zero Point
We are looking for writers that would like to have their work workshoped with our staff. Send us your work and we will set-up a reading and discussion at Zero Point's downtown office. This also applies to works of poetry. Our office is located at 265 Franklin St, Suite 1702 Boston. E-mail it too Emil@zptheater.com.
For more info visit http://www.ZPTheater.com or email Emil@zptheater.com Read the rest of the posting at http://www.stagesource.org/postings/show/8733/
---
Poetry
Send 1-3 previously unpublished poems, any subject or style, using our submission manager.
Postal submissions with SASE with sufficient postage for return.
Please include contact information and brief bio with submission.
We accept simultaneous submissions, but please inform us if your work is accepted elsewhere.
Long Poem Library is now accepting poems of any length
Revolution Poesy revolutionpoesy@GMAIL.COM
Poetics List (UPenn, UB)
Parts/Attachments:
text/plain
The Long Poem Library is now accepting poems of any length.*
*Please submit you work to the
Long Poem Libraryfor consideration.
---
Muddy River Poetry Review Guidelines
Reading dates for Muddy River Poetry Review are December 1 to March 1 for spring issue and June 1 to September 1 for fall issue. Poems received on other dates will be deleted.
1. Submit 1-3 poems. NO PREVIOUSLY PUBLISHED POEMS.
2. No attachments. Please paste poems into body of email. Include a short poetry (and/or other) bio.
3. Prefer free verse.
4. Do not want "mushy" or religious poems.
5. Do not want porno, sexist, racist or biased poetry relating to politics or ethnicity.
6. Simultaneous submissions okay, but please let me know which ones AND notify me if any are accepted somewhere else.
7. Future (other) publication should credit Muddy River Poetry Review.
8. Response time will be as close to 30 days as possible.
9. If you do not hear in 45 days, feel free to inquire.
10. Payment will be publication in MRPR.
11. Poems only accepted during open reading dates. Poems received on other dates will be deleted.
12. Submit all poems to mrpr@comcast.net only. All rights revert to author upon publication.
---
What Is Metaphor: The Poetic Genius Issue
The genius of poetry is many things, but it partly resides in the definition of poetry itself: communicating with metaphor. What do you think of that? We want to know! Submit your poems, prose, essays, flash-fiction, and artwork to Jessica Harman or The Editors at this email address: poptzine@gmail.com
---
Sleet seeks poetry, fiction, flash irregulars. For guidelines, please see www.fleetmagazine.com
---
The Pedestal Magazine is currently seeking submissions of poetry and fiction. Please visit their web site for more information www.thepedestalmagazine.com
---
New West Submissions
I have recently been named fiction editor for New West magazine, and we are welcoming submissions for stories or novel excerpts of up to 5000 words. New West has just added fiction to its format, so you can be among the pioneers. Please check out the submission guidelines here...
http://www.facebook.com/l/03282SNJ2faTKw-KVX690jbP44w/newwest.submishmash.com/Submit
---

Rozzie Reads Poetry: Featured Poets and Open Mic
Thursday, December 3, 2015
7 pm to 9 pm
Roslindale House, Community Room, 120 Poplar Street
Sponsored by Friends of the Roslindale Branch Library, a free event, contributions voluntary
Refreshments Served
David P. Miller's chapbook, The Afterimages, was published in 2014 by Cervená Barva Press. His poems have appeared in Meat for Tea, Ibbetson Street, Incessant Pipe, Painters and Poets, Fox Chase Review, Wilderness House Literary Review, Autumn Sky Poetry Daily, Oddball Magazine, "The Skinny" Poetry Journal, and Muddy River Poetry Review, among others. He was a member of the multidisciplinary Mobius Artists Group of Boston for 25 years, and is a librarian at Curry College in Milton.
Sandra Storey is the author of Every State Has Its Own Light, a finalist for the May Swenson Award, published last year by Word Poetry imprint of WordTech Communications. Her poetry has appeared in New Millennium Writings, THEMA and the New York Quarterly, among other journals. A Jamaica Plain resident for the past 42 years, she was founder, then editor and publisher, of the Jamaica Plain and Mission Hill Gazettes for 20 years and is currently a columnist for the JP Gazette. Sandee is a member of Jamaica Pond Poets.
Parking on Hawthorne and Poplar streets in unnumbered spaces and at rear of building.
---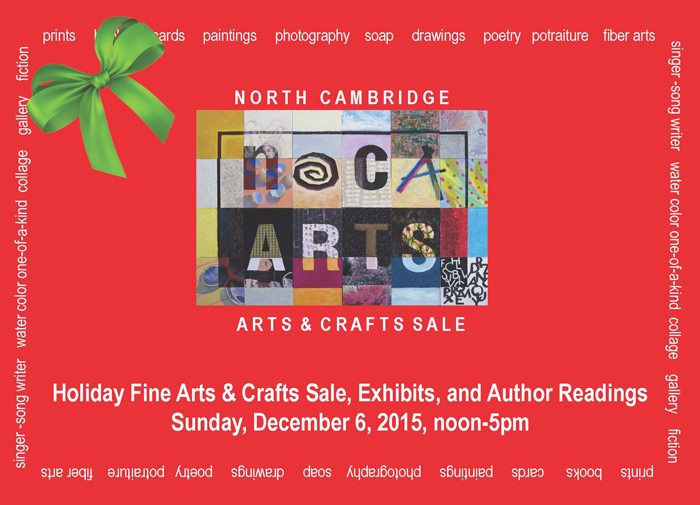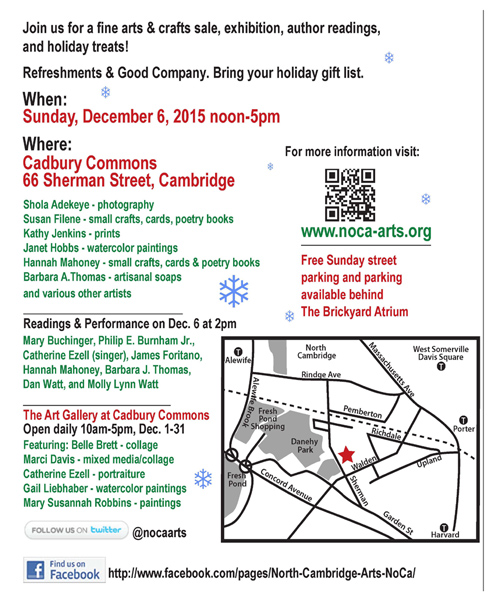 ---
Discovery Evening
Thursday, December 10th, 6pm Boston Public Library, Abbey Room
Join us in raising a glass to three new voices in poetry, fiction, and nonfiction. Danielle Legros Georges will introduce poet Enzo Silon Surin. Michelle Hoover will introduce fiction writer Lissa Franz. And Joan Wickersham will introduce essayist Walter M. Robinson.
Free and open to the public. RSVP recommended.
About the Writers:
Danielle Legros Georges, the current Poet Laureate of the City of Boston, is a professor in the Creative Arts in Learning Division of Lesley University. She also teaches in the Joiner Institute summer Writer's Workshop. Her poems have been widely anthologized, and recent essays of hers have appeared in Others Will Enter the Gates: Immigrant Poets on Poetry, Influences and Writing in America and Anywhere But Here: Black Intellectuals in the Atlantic World and Beyond. She is the author of the volume of poems Maroon. A second book of poems, The Dear Remote Nearness of You, is forthcoming from Barrow Street in 2016.
Enzo Silon Surin is a Haitian-born poet, publisher and Assistant Professor of English at Bunker Hill Community College. He is the author of the chapbook Higher Ground (Finishing Line Press) and his work is forthcoming and has appeared in a variety of publications, including Jubilat, Soundings East, The BreakBeat Poets: New American Poetry in the Age of Hip-Hop, sx salon, and Tidal Basin Review. He holds an MFA in Creative Writing from Lesley University and is founder and publisher at Central Square Press.
Michelle Hoover is the Fannie Hurst Writer-in-Residence at Brandeis University and teaches at Grub Street, where she leads the Novel Incubator program. Her debut, The Quickening, was a 2010 Massachusetts Book Award "Must Read." She won a 2014 NEA Fellowship for a portion of her second novel, Bottomland, which will be published by Grove/Atlantic in March 2016.
Lissa Franz's short fiction has appeared in The Missouri Review, The Crescent Review and Fogged Clarity. She is a past recipient of a Massachusetts Cultural Council fellowship, holds an MA in creative writing from Boston University, and recently completed the Grub Street Novel Incubator program. She lives with her husband and three children outside of Boston.
Joan Wickersham is the author of The News From Spain: Seven Variations on a Love Story, The Suicide Index: Putting My Father's Death in Order, a National Book Award Finalist, and The Paper Anniversary. Her work has been featured in Agni, The Best American Short Stories, The Los Angeles Times, The International Herald Tribune, and The Boston Globe. She is a recipient of the Ploughshares Cohen Award and has received grants from the National Endowment for the Arts, the Massachusetts Cultural Council, the MacDowell Colony, and Yaddo. She graduated from Yale with a degree in art history, and lives in Cambridge with her husband and sons.
Walter M. Robinson is a physician and writer in Boston. He received his B.A. in philosophy at Princeton University, an M.D. from Emory University, and an M.P.H. from the Harvard School of Public Health. His work has focused on the ethical dilemmas that arise in chronic illness and medical research. His recent and forthcoming work can be read in The Literary Review, Harvard Review, and The Sun.
---
BRIGHT SCYTHE Book Launch & Reading
Come and join Patty Crane (who read with Writers Read). . .
and her new book of translations: Friday, December 11, 2015 at 7 pm - The Bookstore, Lenox MA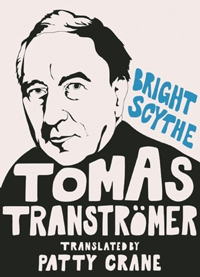 This is Patty's long-awaited book of translations
from Nobel Laureate, Tomas Transtromer's selected poems!
Check out Patty's website, too: http://www.pattycrane.com/new-page/
---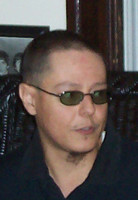 POETRY: THE ART OF WORDS
MIKE AMADO MEMORIAL SERIES
Poetry reading and Open Mic
The Plymouth Guild for the Arts
11 North St. Downtown Plymouth, MA [Downtown just off Rte 3A]
MIKE AMADO
---
Sunday DECEMBER 13, 2015 @ 12 NOON
Daniel Bouchard & Chris Warner
Daniel Bouchard's poetry collections include The Filaments (Zasterle Press) and Some Mountains Removed (Subpress). Recent critical essays of his have appeared in The Capilano Review (on George Stanley's Vancouver), Jacket2 (on Rachel Blau DuPlessis's Drafts) and Let the Bucket Down (on Fanny Howe's poetry). His chapbook Art and Nature was published by Ugly Duckling Presse in 2014. Recent poems have appeared in The Nation, The Brooklyn Rail, and BOMB (online). From 2003 to 2009 he edited the print-only poetry journal, The Poker.
Chris Warner, graduate of the Harvard University School of Education (M.Ed., '97), is an emerging poet, and the author of a micro-chapbook, Strokes (Mostly) in Silence; her poem, "Engulfed" was nominated for a Pushcart Prize. She co-led the creative writing program for inmates at MCI Concord for two years, until its cancellation in September of 2015 by the DOC. Chris hosts a monthly drop-in workshop, Writers Writing, and she also teaches mindfulness meditation, yoga, and core strength in West Boxford.
MUSIC FEATURE JIM PALANA
---
Upcoming Readings
Jan 10 Rona Laban & T Michael Sullivan
Feb 14 Gregory Hischak & Jennifer Markell
Mar 6 Jim Bronsan & Alex Ann Shaw
Apr 10 Lori Desrosiers & John Ronan
May 1 Ben Berman & Marguerite Bouvard
Jun 12 Susan Becker & Richard Berg
Doors open 11:30AM, Music Feature 12:00 noon, Poetry Features 12:45pm open-mic 1:15pm.
Free admission and refreshments.
FREE REFRESHMENTS! More info:
johnscully36@yahoo.com
visit us on-line www.ptaow.com
---
"THIS PROGRAM IS SUPPORTED IN PART BY A GRANT FROM THE PLYMOUTH CULTURAL COUNCIL, A LOCAL AGENCY WHICH IS SUPPORTED BY THE MASSACHUSETTS CULTURAL COUNCIL, A STATE AGENCY"
---
Out of the Blue Gallery
EVERY MONDAY NITE,
Stone Soup Poetry (Host: Chad Parenteau), a 38 year old venue, $4, sign up to be a feature - call Bill Perrault at 978-454-7423.
Starts at 7:30PM and don't forget to sign up!
Recorded on local t.v. station.
Stone Soup Poetry Series
Out of the Blue Gallery
106 Prospect Street
Cambridge, MA
Host: Chad Parenteau
Visit the Stone Soup web site: http://stonesouppoetry.blogspot.com
Stone Soup Poetry meets from 8-10 p.m. every Monday at the Out of the Blue Art Gallery at 106 Prospect Street with an open mike sign-up at 7:30 p.m.
http://stonesouppoetry.blogspot.com/
---

TIMOTHY GAGER'S DIRE LITERARY SERIES /Out of the Blue Gallery/
1st Friday- Cambridge, MA
(starts with four, 15 MINUTE OPEN MIC SLOTS AT 8 PM)
with SIGN-UP starting at 7 PM
FOLLOWED BY FEATURES
8 PM, 106 PROSPECT STREET, CAMBRIDGE, MASSACHUSETTS
For more info and to get on the mailing list: EMAIL
---
USUALLY the 3rd FRIDAY of the MONTH!
NOLA's TIGH FILI POETRY & OPEN MIC, $5, 8PM, Host: Nola, poems/prose.
---
OPEN BARK meets @ the Out of the Blue Art Gallery,
Open Bark "Candelite Poetry" with Hostess Deborah M. Priestly and Features!!!!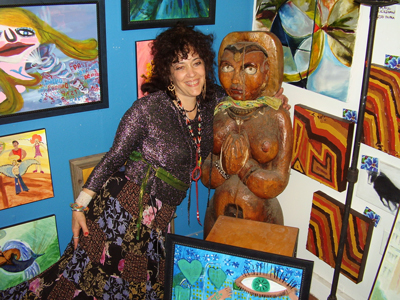 Out of the Blue Art Gallery
106 Prospect Street,
Cambridge, MA 02139
www.outoftheblueartgallery.com
Every Saturday Nite
Open Bark Features @ the Out of the Blue Art Gallery:
Time: 8PM into the night! Admission: $3-5 at the door (donations accepted & adored!)
Readers: Features are determined about 1 month in advance. If you want to be one, Deborah Priestly and Rob Russell (Feature Coordinator), will book you to be one. Call the gallery at (617)354-5287 and ask to speak to Rob Russell, Tuesdays, Wednesdays, Fridays and Saturdays from about 1pm to 8pm. Or email us at ootb@att.net and put your Poetry Feature Request to the Attention of Rob Russell, Feature Coordinator! Thank you!
Other info: We are a very laid back and creative Poetry Venue, "Open Bark Candelite Poetry Series" running on 11 (eleven) years strong now. We only ask that you bring original work and if you read someone else's work, like a famous poet or poetess' that you give recognition to their work by reciting first their name. Musicians, actors, mimes, dancers, drummers and others welcomed!!!!
Out Of The Blue Art Gallery
106 Prospect Street
Cambridge, MA 02139
phone: 617-354-5287
---
NIGHT SLAM
Every 2nd Thursday
Buckley Performing Arts Center,Massasoit Community College, Little Theater (Fine Arts building)
6:00pm: Doors Open, Sign Up, Refreshments
6:30pm - 8:00pm: Poetry Open Mic
8:15pm - 9:15pm: Poetry Slam
Address: 1 Massasoit Boulevard Brockton, MA 02302 (508) 588-9100
---
The Boston Poetry Slam Downstairs at the Cantab Lounge
every Wednesday night at 8 * open mic, featured poet, poetry slam *
738 Massachusetts Avenue, Cambridge, Mass.
There is poetry at the Cantab Lounge every Wednesday night, year-round. Our rotating cast of hosts is led by SlamMaster Simone Beaubien. Cover charge is $3.00 (unless otherwise noted on our schedule ).
Open mic for all begins at 8:00 p.m. Our doors and sign-up lists open promptly at 7:15. The open mic sign-up fills very quickly, so we recommend that you be prompt. Poems may be on any subject, and you may read more than one, but we ask that you keep your time on the mic to three minutes.
After the open, usually at about 10:00, our featured poet performs for half an hour. Click here to see our schedule of features.
The slam follows the feature, usually around 11:00. Most slams are open to the first eight who sign up; however, on some nights, we have semi-finals or finals in our slam series. Click here for slam details.
The Boston Poetry Slam at the Cantab Lounge is 18+, and you must have a photo ID to enter. (Note that the Cantab is 21+ for all other shows.) Feel free to email us at cantab@slamnews.com if you have questions about our policy. You can also check out the website for the venue, www.cantab-lounge.com.
Cantab Lounge
738 Massachusetts Ave,
Central Square, Cambridge, Mass
(617) 354-2685
Email: cantab@slamnews.com
(http://www.slamnews.com/)
---
Lizard Lounge Poetry Jam Sunday Night!
Every Sunday with a Poetry Slam co-hosted by Joyce Cunha and Jeff Robinson starting at 7:30pm and a Featured Poet and Open Mic accompanied by the Jeff Robinson Trio starting at 9:00pm – there's a $5 cover and you must be 21 to enter the venue – Sultry red lights, intimate tables, and wooden church pews give this small room one of the best ambiances in town.
Cambridge Common
1667 Massachusetts Avenue
Cambridge, MA. 02138
617-547-0759

---

The Parkside Lounge
Sunday, November 29
at 4:00pm - 6:00pm
The Parkside Lounge
317 E Houston St, New York, New York 10002
Join us at the Great Weather for Media event on Sunday, November 29, 2015, at 4 p.m, to celebrate the New York launch of my new poetry book To Part Is to Die a Little published by Červená Barva Press from Somerville, MA.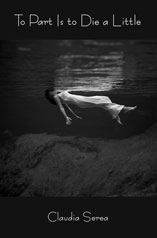 Claudia Serea is a Romanian-born poet who immigrated to the U.S. in 1995. Her poems and translations have appeared in Field, New Letters, 5 a.m., Meridian, Word Riot, Apple Valley Review, The Red Wheelbarrow, and many others. A four-time Pushcart Prize and Best of the Net nominee, she is the author of three other full-length collections: Angels & Beasts (Phoenicia Publishing, Canada, 2012), A Dirt Road Hangs From the Sky (8th House Publishing, Canada, 2013), and Nothing Important Happened Today (Broadstone Books, forthcoming, 2016). Her poem My Father's Quiet Friends in Prison, 1958-1962 received the New Letters Readers Award in 2013. Serea co-hosts The Williams Readings poetry series in Rutherford, NJ, and she is the founding editor of the National Translation Month. More at cserea.tumblr.com.
The series is hosted by the poet George Wallace. There will be music by The Podunk Throwbacks, a great atmosphere, and plenty of books to sign. I hope to see you there!
Order To Part Is to Die a Little here...
Warm regards,
Claudia Serea
---

All programs take place at Poets House, 10 River Terrace (at Murray St. ) in Lower Manhattan, unless otherwise noted. Directions are below.
Coming up
Exhibitions
Trevor Winkfield: The Collaborator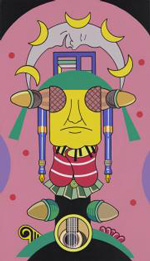 Best known for his paintings, Trevor Winkfield enjoys a parallel career as a book cover designer. This exhibition, spanning a thirty year period, showcases his visionary contributions to the over-all aesthetic of poetry publishing. Featured works include recent portraits of John Ashbery, Douglas Crase, Peter Gizzi, and Ron Padgett, and a selection of drawings and painted studies. The exhibition underscores the artist's significant connection to such New York School poets as Miles Champion, Larry Fagin, Barbara Guest, Harry Mathews, Charles North, and others.
On view September 29, 2015 - January 10, 2016
Free and open to the public during regular library hours
John Ashbery (2014, acrylic on linen) ©Trevor Winkfield
---
Poets House is located at 10 River Terrace at the corner of Murray Street in Lower Manhattan's Battery Park City.
Take the 1, 2, 3, A or C subway to Chambers Street. Walk west on Chambers Street (past West Street) all the way to its end at River Terrace. Turn left and walk two blocks south to 10 River Terrace (at the corner of River Terrace and Murray Street). The M22 bus runs along Chambers between North End Ave and the Lower East Side. The M20 bus travels from the Upper West Side and the southern tip of Battery Park City to North End Ave. The Downtown Connection, a free Lower Manhattan shuttle bus, travels to North End Ave from South Street Seaport and from Broadway along Murray Street; for more information, visit: downtownny.com.
All programs take place at Poets House, 10 River Terrace (at Murray St.) in Lower Manhattan, unless otherwise noted. For more information, call (212) 431-7920 or visit www.poetshouse.org. Join us on Facebook and Twitter.
---
LALITA JAVA READINGS
3rd THURSDAYS 7-9 PM
HOSTED BY DOROTHY F. AUGUST
Lalita Java
210 East 3rd St.
New York, NY 10009
(Btwn. B & C)
---
Every Monday: Louder Arts presents...

"The Slam"
Poetry, Spoken Word, Slams & Guest Poets.
Always an open mic
$5 students/ $6 regular
Sign-up at 7pm, show starts at 7:30 at:
Thirteen
35 E.13th St.
(between Broadway & University Pl.)
New York, NY
(212) 979-6677
Bar13.com
---
Every Thursday Mike Geffner presents...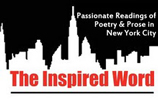 The Inspired Word
An all-star poetry/spoken word event
every Thursday
featured guests plus open mic
Cover Charge: $10
7pm (open mic signup starts at 6:30)
at:
One and One
76 E. 1st St. (corner of 1st Ave.)
New York, NY
212 598-9126
OneandOneNY.com
---
92nd Street Y Reading Series
92nd Street Y
1395 Lexington Avenue
New York, NY 10128
212.415.5500

---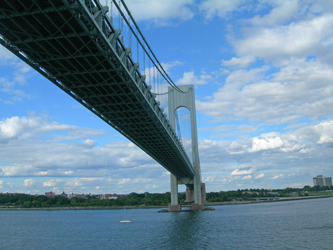 John Petrolino
Presents
The Frank Talk Reading Series

A New Poetry Reading Series
at
Frank Talk Art Bistro and Bookstore
Frank Talk Poetry Series Home Page
Click Here: Frank Talk Poetry Series
Poets.Org (Academy of American Poets)
Click Here: Poets.Org
Frank Talk Art Bistro and Bookstore
163 Shrewsbury Avenue
Red Bank, NJ 07701
$5.00 Cover
(includes food, beverages, and other goodies
supplied by Frank Talk owner Gilda Rogers)
Open Mic after the Feature
Contact: John Petrolino


---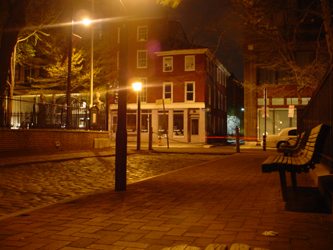 "Poetry & Prose & Anything Goes with Dr. Ni"
(radio show; internet radio)
Date, time, pre-requisites: Last Friday of every month, 1-3 p.m.
Address: 1303 W. Susquehanna Avenue, Philadelphia, PA 19122
City and State: Philadelphia, PA 19130-9998
Contact person and or URL/information: Dr. Niama L. Williams;
http://www.lulu.com/drni;
http://www.blogtalkradio.com/drni
One copy of book to be subject of interview must be mailed to address above if one would like to be considered for show Readers: International internet radio listeners
Dr. Niama L. Williams
1303 W. Susquehanna Avenue
Philadelphia, PA 19122
http://www.lulu.com/drni
http://www.blogtalkradio.com/drni
---
1ST FRIDAYS ON VINE
Hosted by Aziza Kintehg
Every First Friday of the Month
Be part of an Art Extravaganza * Spoken Word * Music Freestyle * Open Mike
Jose Sebourne Graphic Design
1213-15 Vine Street Philadelphia PA 19107
7-10pm $5.00 Cover
Contact info:
The Gallery - (215)564-2554
Aziza Kintehg(215)668-4500
Email: azizalockdiva@...
or check out the website: www.Josesebourne.com

---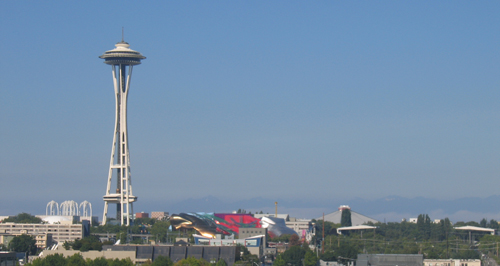 Poetry Readings and other events in Seattle
and around the Pacific Northwest

---

Southern California Open Readings
LOS ANGELES/ORANGE COUNTIES
Barnes & Noble Poetry and Verse with Bill Robertson every Tuesday at 10:30 a.m., open workshop/reading, 1201 Third Street Promenade, Santa Monica, (310) 260-9110.
---
Beyond Baroque Literary Arts Center presents an Open Reading, first Sundays monthly, free, 5:00, sign up at 4:45. Hosted by Marie Lecrivain. Beyond Baroque Literary/Arts Center, 681 Venice Blvd., Venice, (310) 822-3006, www.beyondbaroque.org.
---
Cobalt Poets presents open readings every Tuesday, hosted by Rick Lupert, with featured readers on the first Tuesday, featured regulars on second Tuesdays, Valley Contemporary Poets featured guest plus open reading on third Tuesdays, and Cobalt Classic All Open Reading usually every fourth and fifth Tuesdays, seven minute limit, 9:00, sign up 8:30-8:45, free, one drink minimum, all ages. The Cobalt Café, 22047 Sherman Way in Canoga Park (west of Topanga Canyon Blvd.), (818) 348-3789, http://poetrysuperhighway.com/cobalt.
---
Da' Poetry Lounge spoken word open mic, every Tuesday, 9:00-midnight. Greenway Court Theatre, 544 N. Fairfax Blvd. near Melrose, LA, free parking next door at Fairfax High School, early arrival is a must, www.dapoetrylounge.com.
---
Barnes & Noble Featured and open reading, every last Saturday, sign up 6:30, reading 7:00. Hosted by Ron Dvorkin. Barnes & Noble, 16461 Ventura Blvd., Encino, RONDVORKIN @ aol.com.
---
Poetry circle, second Wednesday, 6:30. Hosted by Ron Dvorkin. Encino-Tarzana Branch Library, 18231 Ventura Blvd., Tarzana, (818) 343-1983, RONDVORKIN @ aol.com.
---
Gypsy Den in Santa Ana hosts a featured poetry reading every first Tuesday and open mics every Monday and Thursday, sign up starts 7:30. 125 N. Broadway Avenue, Santa Ana, (714) 835-8840, www.gypsyden.com.
---
Emerging Urban Poets Saturday Afternoon Poetry presents featured readers and open mic, every first and third Saturday, including January 23, 3:00-5:00. Free, hosted by Don Kingfisher Campbell. Santa Catalina Branch of the Pasadena Public Library, 999 E. Washington Blvd, two blocks east of Lake Avenue, Pasadena, kingfisher1031 @ charter.net, emergingurbanpoets.blogspot.com.
---
Moonday, A West Side Reading Series, open reading followed by featured reading, second Monday monthly, come early to sign up, 7:30. Hosted by Lois P. Jones and Alice Pero, Village Books, 1049 Swarthmore Avenue, Pacific Palisades, (310) 454-4063, www.moondaypoetry.com, or pero @ earthlink.net.
---
La Palabra presents a featured poetry reading, plus open mic, usually every fourth Sunday, except January 31, 2:00-4:00. Co-hosted by Laura L. Longoria and Don Newton, Avenue 50 Studio, 131 N. Avenue 50, Highland Park, (323) 258-1435, www.avenue50studio.com.
---
Our Poetic Souls open mic, every third Sunday monthly, sign up 2:30, readings 2:45. Hosted by Jim Lyon, please use appropriate language. Home Brew Coffee, 661 West Arrow Highway, San Dimas, (909) 394-1964, www.chrystinedrums.com/PoeticSouls.
---
Psychobabble Cabaret open mic with teeth, every Sunday, sign up 8:00, reading 8:30, no cover. Psychobabble Coffee House, 1866 N. Vermont, at Franklin, LA, (323) 664-7500.
---
The Rapp Saloon spoken word open mic, every Friday, sign up 7:30, readings 8:00. Six minute slots, free, all ages, co-hosts Mani Suri, Dave Nordling, Brenda Petrakos, Joe Camhi. International Youth Hostel, 1436 2nd Street, Santa Monica, www.rappsaloon.com.
---
Redondo Poets featured reading and open mic every Tuesday, sign up 7:50, reading 8:10, free. Coffee Cartel, 1820 South Catalina Avenue, Hollywood Riviera, Redondo Beach, (310) 316-6554, www.redondopoets.com.
---
Tebot Bach presents featured readers and open reading, last Friday of the month, sign up 7:30, reading 8:00. Golden West College, Community Room 102, Huntington Beach, www.tebotbach.org.
---
Tía Chucha's Open Mic: Night of Music & Spoken Word, every Friday, 8:00-10:00, no cover, donations welcome. Hosted by Nery Boche. Tía Chucha's Centro Cultural, 13197-A Gladstone Avenue, Sylmar, (818) 896-1489, www.tiachucha.com.
---
Two Idiots Peddling Poetry featured and open poetry readings every Wednesday at 8:00, $2 cover or one drink minimum with student ID. Ugly Mug Caffé, 261 N. Glassel, Orange, (714) 997-5610, www.poetryidiots.com.
---
World Stage Anansi Writers Workshop presents a three-part evening beginning with a workshop session, followed by a featured reader and open mic, every Wednesday, 7:30-10:30, open mic 9:05. Literary Director: Jawanza Daumisani, $5. World Stage, 4344 Degnan Blvd., LA, (323) 293-2451, www.theworldstage.org.
---
SAN BERNARDINO/RIVERSIDE COUNTIES
Barnes & Noble "Valley Voices of the Muse" featured poet and open reading, first Friday monthly, 6:00. Westfield Shopping Center, 72-840 Highway 111, Palm Desert, (760) 346-0725. Patricia D'Alessandro, host: ciaopat9 @ gmail.com.
---
A Mic & Dim Lights presents spoken word and music open mic, every Thursday, 9:30, $3. Cal Poly Downtown Arts Theater (Pomona Arts Colony), 300 W. Second Street, Pomona (909) 469-0080.
---
SAN DIEGO AREA
Monday Montage, a support group for poets, readers, and writers, bring your own work, share your thoughts, or just listen, first Monday monthly, 7:00, if Monday falls on a holiday, reading will be held on the second Monday. Hosted by Curran Jeffery. Bluestocking Books, 3817 Fifth Avenue, Hillcrest, San Diego, (619) 296-1424, www.bluestockingbooks.com.
---
Lestat's Coffee House songwriters/poets open mic, every Monday, 7:30-11:00, sign up 6:00. Ten-minute slots. Lestat's Coffee House, 3343 Adams Avenue, Normal Heights, San Diego, (619) 282-0437, www.lestats.com.
---
The Off Beat Open Mic, second and fourth Sundays monthly, 5:00-7:00. Poetry, fiction. Rebecca's Coffee House, 30th and Juniper Street, San Diego, (619) 284-FOOD, www.rebeccascoffeehouse.com.
---
Dime Stories Open Mic for prose writers, first Friday monthly, 7:00. Hosted by Amy Wallen, $5. The Ruby Room, 1271 University Avenue, San Diego, (619) 299-7372, www.DimeStories.org.
---
Poetic Brew open mic poetry reading, third Thursday monthly, sign up 6:30, reading 7:00. Hosted by Eber Lambert, read up to three poems or for three minutes, thirty-three seconds. Rebecca's Coffeehouse, 30th and Juniper Street, South Park, San Diego, (619) 284-FOOD, sandiegowriters.org.
---
Sunset Poets presents a featured poet and open mic, usually third Sundays monthly, 3:00. Oceanside area, (760) 758-2410, or www.sunsetpoets.org.
---
Fallbrook's Writers featured reading and open mic for poetry or prose, once a month, usually on Thursdays, doors open 5:30, reading 6:00. Café des Artistes, 103 S. Main Street, Fallbrook, (760) 522-1064, www.kbgressitt.com/fallbrooks-writers-read.
---
the Vessel open mic features poets, singers, actors, comedians, every first and third Friday, 8:00. Live music, drinks, and refreshments, all ages, $5 cover. Canvas Cafe, 1370 San Marcos Blvd., Suite 120A, San Marcos, www.myspace.com/thevesselmovement.
---
Drunk Poets Society spoken word open mic, every Monday, 6:30-8:00. Hosted by Ola. Winston's Beach Club, 1921 Bacon Street, San Diego, (619) 222-6822, www.myspace.com/winstonsdrunkpoetssociety.
---
SAN LUIS OBISPO/SANTA BARBARA/VENTURA
Tuesday Night Poets featured reading with open mic, every Tuesday, 7:30. Hosted by Roe Estep. The Artists' Union Gallery, 330 South California Street, Ventura, (805) 320-3524.
---
Bell Arts Factory presents a featured poet and open mic last Saturday monthly, 7:30. Host: Friday Lubina. Bells Arts Factory, 432 N. Ventura Avenue, Ventura, www.bellartsfactory.com.
---
Corners of the Mouth! presents an open reading after the featured poets, limited to five minutes and original work every third Sunday monthly since 1984, free, 7:00. Linnaea's Café, 1110 Garden Street, San Luis Obispo. Kevin Patrick Sullivan, Artistic Director, (805) 547-1318, www.languageofthesoul.org.
---
Favorite Poems Project reading, poets and non-poets read favorite poems not their own, hosted by Lois Klein, third Monday monthly, 5:15-6:30. The Blue Agave, 20 East Cota Street, Santa Barbara. e-mail: loisklein @ verizon.net.
---
Friday Night AA Meeting plus Open Mic, every Friday, 6:30. Drug and alcohol free, 896 East Main Street, Ventura, (805) 794-9878, www.aplaceofpeace.org.
---
Poetry Zone featured reading and open mic, every second Saturday, 2:00-4:00. Karpeles Manuscript Museum, 21 W. Anapamu, Santa Barbara. Host, Suzanne Frost, (805) 252-1655.
---
Train of Thought open mic, every Thursday, 6:30, 856 East Thompson Blvd., Ventura, between Ash and Kalorama, behind Kids and Families Together.

---
Index | Bookstore | Our Staff | Image Gallery | Submissions | Newsletter | Readings | Interviews | Book Reviews | Workshops | Fundraising | Contact | Links
---