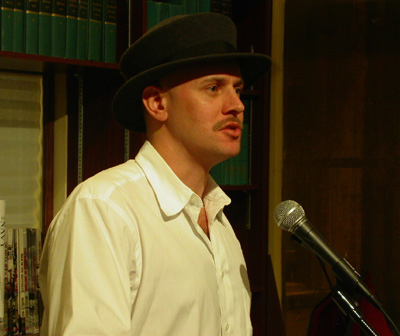 Write a bio.
I'm committed to green, red, black, and yellow. I like summer, but winter's growing on me. I'm probably at my best in crowds, though I resist the idea. Food still seems like the best thing since the wheel. I used to collect clocks and demerits, but I'm giving away my souvenirs now. Dusk is beginning to feel like a colleague.
Describe the room you write in.
I really like this room, my office. Great desk I picked up in New Orleans a few years ago. I just cleaned up, too, got my books organized, filed things, vacuumed. I look out a window at a beautiful pin oak. In spring and early summer, I can see blooming azaleas.
Talk about your books, Christening the Dancer (Ucelli Press, 2001) and More of Me Disappears (Cross-Cultural Communications, 2005).
I'm still amazed at how many of the poems still strike me as pretty well put-together and relevant. I don't feel like I could write those poems now, as many of the themes or issues or perspectives are no longer predominant in my life. But I'm happy that I was able to, in some way, document what my life was about, what was on my mind, during those periods.
What are you writing now?
I'm working on new poems. I'm also gearing up to write a novel. I've got a new CD, Ridiculous Empire, coming out this summer, so right now I'm working on putting together the artwork, writing the liner notes.
Name some of your favorite writers. Who inspires you?
It's hard to name them all, and they vary from day to day. I can say, though, that I continue to be inspired by Sappho, Catullus, various Zen poetry, Donne, Browning, Merwin, and Kafka.
You also are a musician. Do you sing, play an instrument, and compose? Your CD, All I'll Never Need, was released by Cool Midget in 2004. This must have been so exciting. Talk about your experience performing and having a CD out.
I play guitar, though some would debate that. I'm primarily a songwriter and singer. As I mentioned, my new CD will be coming out this summer. Actually, I just mastered the CD yesterday (April 17). Yeah, it's fun to write, record, and perform music. It's really visceral, organic, in the now. Collaborating with others can be quite an enlightening experience, too.
You are editor of Pedestal Magazine, which you founded in 2000. What sort of work do you look for? What challenges do you face as an editor, if any? What do you find rewarding about being an editor?
Pedestal launched in 2000. We publish the best poetry and fiction we can, as well as interviews and book reviews. We like to think that we cultivate and present excellence in a myriad of forms, an eclectic mix of work.
There are many challenges. There are obvious things, such as deadlines, budgetary matters, networking, corresponding, promotional concerns. There is also the challenge of making final content selections. I don't do that as much anymore. Nathan Leslie has been Pedestal's fiction editor for over two years. Arlene Ang is now one of our poetry editors, and we've had guest editors from time to time. These folks bring amazing integrity and skill to the project. At this point, I know we receive a great deal of exemplary work. It would probably be easy to publish twice as much as we do, so it's hard to narrow the work down to the final inclusions.
Editing is very rewarding to me. I love the sense of being on the firing line of creative endeavor. I like the communal aspect of editing and publishing a literary magazine. I love to see an issue come together. I feel that we are doing an important thing, and I relish the notion that in some way, however minor, we might be touching and impacting people's lives.
You also paint, mostly using acrylics on canvass. How long have you painted? What artists inspire you? List some of your favorites.
I enjoy painting very much, but I don't get to do it that often. I go on painting jags, but I'm not a consistent painter. I haven't done any shows in quite a while. It's a fantastic release for me, even more visceral than music. I sense that I'm somewhat limited as a painter, but I enjoy it all the same, and there are others who seem to be moved by my pieces.
I've always liked Bonnard very much. Also, Bosch. I have a deep respect for so many of the Renaissance painters. Botticelli, for one. I'd very much like to be able to paint or even draw realistically-render the human figure-but that's very difficult for me.
With being an artist in so many fields, do you favor one over the other? Does painting, writing, and music all intertwine for you? Meaning one area inspires and feeds the other.
I focus primarily on writing. That's where I feel the most expansive, the most able, the most transcendent, if you will. I also put a good deal of time into music endeavors, especially lately. Less so with painting. I'm hoping that I can paint some this summer.
I'm not sure, in my case, that the different mediums inspire each other or intertwine or overlap in any noticeable or significant way. Songwriting and writing poetry, for example, are very different processes for me. Songs and poems tend to deal with different themes, embrace different energies, operate on very different principles.
What are you working on now?
New poems. New songs.
Any last comments?
Thanks for interviewing me. I appreciate it. Thought I'd offer a couple of lines from a poem of mine titled "A Calling." They seem somehow apropos, what with all the strife and disharmony seemingly going on in the world and our lives:
I will celebrate your story.
You must celebrate mine.

---