INTERVIEW WITH John Dufresne
Interviewed by Mary Bonina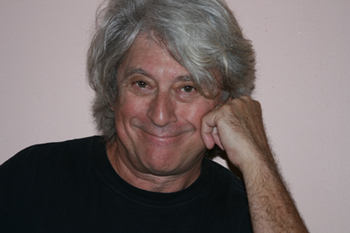 John Dufresne was born and raised in Worcester, Massachusetts. He is married to the poet, Cindy Chinelly and they have one son, Tristan. He has lived for two decades in South Florida where he teaches in the MFA Program at Florida International University. He has been editor of Gulf Stream magazine. Two of his novels, Louisiana Power and Light (1994) and Love Warps the Mind a Little (1997) were named New York Times Notable Books of the Year, and Deep in the Shade of Paradise (2002) was listed as a Book Sense Top Ten of the Year. Requiem, Mass. (2008) is his most recent novel. Dufresne is also the author of two collections of short stories: The Way That Water Enters Stone (1991) and Johnny Too Bad (2005). He has two guides to writing fiction, The Lie That Tells the Truth (2003), and the newly released Is Life Like This: A Guide to Writing Your First Novel in Six Months.
---
About the Interviewer: Mary Bonina got to know John Dufresne in Worcester, where she, too, was born, raised and spent her youth. They worked together in their early twenties, editing a small literary, community cultural magazine and were involved in many of the same community organizing projects in the City. Cervena Barva Press published Bonina's chapbook Living Proof and will bring out a full- length collection of her poetry this year.
---
Your first book was the short story collection The Way That Water Enters Stone. That was -- and subsequent novels, short stories, and books on the writing process --have been published by -- W.W. Norton. Don't publishers generally want a new writer to offer a novel for a first publication? Though we're seeing collections of stories published still, it seems they're interconnected or linked, as in the very popular, Olive Kittredge. If I remember correctly the stories in your first collection, published in 1991, were not linked. How were you able to find a publisher for that book?
I got lucky. My agent Dick McDonough shopped the collection around and got a bunch of nibbles but no bites until Jill Bialosky, a new editor at Norton liked it and was able to sell it to her editorial colleagues. I was Jill's first fiction writer and she's still my editor. McDonough is still my agent. I've been blessed in that way. The stories were not linked at all. Some were set in the South, others in the North. Some were long, others short. Some I had in the manuscript did not make the cut. I wrote "The Fontana Gene," the longest and last story in the collection when Jill said we needed one more story. I'm glad I did-that was the genesis of Louisiana Power & Light. At the time Jill said I was the last person who'd likely get a book of stories published as a first book. After Water came out, Jill asked me if I had a novel. I said, no, I have more stories. She said, "Do you have a novel?" And I got to work.
Your first novel, Louisiana Power and Light introduced your readers to the Fontana Family, taking us for a wild swim through their gene pool. What has been the source of inspiration for these characters?
I wanted to write about Monroe, Louisiana, where I was living at the time. I loved the place; it was so exotic to me, having come from New England via Arkansas. I'd always loved Southern literature and felt an emotional connection to a place I'd never lived. So I wrote about the town in my notebook, the flora and fauna, the cadence of the language, observations on foodways and folkways and all that. I needed a character, of course, and found one while watching the evening news when a story came on about a local man who'd kidnapped his boy at school and fled the area. I began to think about why he might do that and where he'd go, and then I realized he had two kids but only took the one-why was that? And so on. I figured this was the last act in a family that had been troubled from its start. And here was the last Fontana. The name came from a road in south Monroe. I knew the Fontanas would be my Snopses. So I went back to the first Fontana as he made his way out of the swamp before the Civil War.
Eudora Welty called place in fiction "heart's field." Since your successful first novel, in addition to using the South as a setting for your novels, you've also set them in Central Massachusetts, where you were born and spent your youth. What do you think these two landscapes share that inspires you to set your fiction in them? I guess I'm asking how place informs character and vice versa in your writing.
The setting of a story colors the people and events and shapes what happens. Place connects characters to a collective and a personal past, and so place is the emotional center of story. When you live in a neighborhood for decades, then practically every storefront, every tree, every corner has a memory attached to it. And the memories bind you to the place. It is this primal landscape of childhood, Worcester, Mass. for me that shapes us as it shapes our characters. "You write from where you are," William Stafford said. Everything in the Worcester of my childhood is sacred to me.
What attracted me to the South was what I first learned through its literature, specifically William Faulkner's, Flannery O'Connor's, Harper Lee's. Here were people writing about their hometowns in a part of the country that was undergoing enormous changes, that was in danger of becoming something it did not wish to be. These writers dealt with depravities and misfortunes of poor people, which other writers, in my experience, were not doing. I found the honesty attractive and familiar. I already knew the world was a mess because I looked around me and saw men, young men, grown pale soft, and cynical, all up and down Grafton Hill, in the Diamond Café, the Cosmopolitan Club, the American Legion, sitting with other men in the dark watching TV, smoking, drinking, reminiscing, wondering, some of them, where their dreams had gone. It just seemed to me that these Southern writers understood obsession and sin and grief and loneliness in a way that no New England writer since Melville and Hawthorne had. They acknowledged the human condition and made no apologies for it. There are some nasty and forlorn people in the world. There are zealous fools, and there are victims of tragic compulsions. Fiction begins with the senses, and the senses go to work in a place.
Your novels and stories are at times hilarious, but there is an underlying sadness in the situations and fate of the characters and families who inhabit them. Your characters are themselves limited, and these limitations are kicked up to the point of absurdity. Loss, especially the ultimate loss, living with the recognition of our own mortality, is ever-present - if not in fact --- in rumination or digression. Will you elaborate on the connection between humor and loss in your stories?
I believe that death is the central truth of our existence-the sadness at our core. Everything we love will vanish. We can't hold on to anything. It is this tragedy that accounts as well for the beauty and nobility of our lives because in the face of this knowledge, we go right on loving, trying to hold on to what we cherish, defying death with hubris and with faith. Eudora Welty once said that the only three words you can't use in fiction are "Once upon a time." I would add these six: "They all lived happily ever afterward." Nobody lives ever afterward and so there goes the "happily." Life is not a fairy tale.
We write about what we don't understand. We write about what keeps us up at night. Death keeps me up at night. I'm reminded of Philip Larkin's poem "Aubade" which opens:
I work all day, and get half-drunk at night.
Waking at four to soundless dark, I stare.
In time the curtain-edges will grow light.
Till then I see what's really always there:
Unresting death, a whole day nearer now,
Making all thought impossible but how
And where and when I shall myself die.
Arid interrogation: yet the dread
Of dying, and being dead,
Flashes afresh to hold and horrify.
He was writing about what he called "a special way of being afraid." I write about death and loss and loneliness and grief, and abandonment and doomed love, and all that because that's what I think is our lot and it's what I'm trying to figure. I suppose I'm obsessed. There's nothing funny about all of that.
Having said that I don't feel that I'm gloomy or depressed. I think I'm realistic. We've got a circumscribed time here and we ought to make the most of it. We're all brief candles, but we can light the darkness. Humor helps light the way in a story by letting the reader surface and take a breath. Humor also helps to endear a character to the reader. We like to laugh. We admire a graceful wit.
You have now published two collections of short stories and three novels as well as a a book on writing fiction and you've got a new one on writing the novel out this month (February 2010). I understand you are working on a television pilot as well and I believe you also write poetry. How do you manage to switch hats for the different genres you work in? Though I can't remember the writer I read this about --- I do recall she was a novelist and a poet, and in answer to the same question, she said that she worked on poetry in the winter and fiction in summer. That seemed to make some sense to me. Do you compartmentalize your work in different genres and if so, how?
That's a good question. Mostly I write fiction though lately the TV pilot has taken up a lot of time. You have to write the pilot and a bible for the series and an outline for the first five years with character arcs for all the central players. I'm writing it with a friend, Donald Papy-we did a movie together. Writing TV and movies lends itself to collaboration in a way the poetry and fiction do not. It's a different way of writing and a different way of telling a story. It's all about what you're looking at. The trick is to make the script engage the imagination of the reader (a producer or someone on her staff) so that she sees the movie that will be on a screen later in her mind now. I just write whatever I write going from one to the other. A little bit of the novel a couple of hours on a script, a while on a poem or a story, and after a while each piece gets finished. When I get up steam on a project I'll stay with that till it's done. I'm hoping that happens with the new novel soon.
Details as they pile up in your novels, accumulate at rocket speed. The pages are full of remarkable inclusions, like "the Song of the Shrimp Man" as he makes his way down Flandreau's streets in Deep in the Shade of Paradise. You mix the names and places of characters from your Massachusetts past with those of James Joyce's fiction and you regularly throw in scientific facts and explanations. I am very interested in how many hours you work at a sitting. The amazing profluence of your stories gives me the idea that you work for very long periods of concentration.
I work for as long as I can at a sitting. And I spend a lot of time in research and taking notes and keeping files on characters and themes, and so on. And I revise obsessively. Over and over, each sentence. And I let whatever's going on in my life, including whatever I'm reading or watching or listening to as I write, work its way into the novel. My dream might become my character's. That scientific theory I just learned about reading a physics book may become a metaphor I can use. Like that. I think I'm a maximalist. I try to put everything I know and everything I don't know and everything I'm worried about in every book. I want to suggest that every character, even the one who walks on and vanishes, is the central character of his own story-and I want to hint at what that story might be.
Your new release is a book on writing the novel in six months. This sounds like just another one of those "how-to" books. What makes this book different from others on the same subject? Is the title ironic? I have heard many novelists - friends and others I've heard speak -who've described the process as a decade-long commitment. What is the perspective of your new book? Do you really offer a viable plan for writing a novel in six months and if so, what kind of novel emerges from that process?
Have I ever written a book in six months? Not even close. It takes me usually four years to write a novel, but I'm trying to write faster or at least more efficiently. What I'm getting at in the new book is that the beginning writer can get past all the apprehension and the anxiety, the doubt and the misgivings, by following a plan I've laid out-a plan intended to get black on white without a lot of worry, with all the sturm and drang. You can get a decent first draft written in six months. Something you can be proud of, but something that is a failure for now. It's a first step. You can't revise without a draft-a draft with a beginning, a middle, and an end. And then the fun begins. Beginning novelists need to learn to finish. Need to learn to live with chaos, need to learn to fail, need to learn to write, as Chekhov put it, as calmly as if you were eating blinis. Writing a novel doesn't proceed in a linear and chronological fashion. It's so complex and textured. You come at it from different angles and write until your fingers bleed, and some of what you've written connects with something else you've written, and so on.
Some writers can write in coffee shops or libraries, while others demand complete isolation. Where do you write?
I can write anywhere-I write longhand with a fountain pen on lined white paper. Low tech. No batteries. I prefer to write at home in my office, a converted sun room, where all my reference books are, and where I'm only ten or so feet from the kitchen and the coffee, and where one or both of the cats are sprawled on the desk so I have to gently move them aside so I can write. But I carry a notebook with me when I'm out-sometimes just a memo pad, and I take notes wherever I need to.
I've recently read "Holdalls," your essay in a book called Writers and Their Notebooks. (University of North Carolina Press, 2010. Diana Raab, ed.) Will you describe the type of notebook(s) you keep and the value of such notebooks for creative writers?
I keep these hard-bound ruled notebooks like they sell at Border's. About 190 pages in there. I write, I paste in newspaper articles, photos, anything that might spark a story. I fill them up and move on to the next one. I have piles of them now that I've kept over the years-there is no order to them-just thoughts as they occur. When I'm up and about and not carrying a book bag, I slip a small memo pad in my pocket. I use that and then transfer the results to my larger notebook.
In Deep in the Shade of Paradise, Royce has advancing Alzheimer's and to help him, Adlai writes post-it notes and labels objects in the household. On the fridge: "What You Eat is in Here," "NO," on the knife drawer; and he labels all the kitchen canisters. Adlai also writes fortunes for the wedding cookies. But in your work, you play with the art of writing as well as using it naturally in the plot. In addition, the persona of The Writer appears directly in Deep in the Shade of Paradise, addressing the reader, even inviting and leaving space in the text for the reader to "Write about your first love" or "Write your own digression." Earlene, in the same novel, keeps lists like the "List of Silent Things" in a notebook. In Love Warps the Mind a L:itle, Laf is writing and submitting stories as his marriage is dissolving and he becomes more and more involved with Judi, who is dying of cancer. Not long ago, I heard Martin Scorsese talking about his art. He said, "There's no line between reality and pretend, there's only truth." This had some resonance for me, when I was thinking about the obvious presence of the writer in your work. Can you comment on the frequent appearance of The Writer and the act of writing in your work?
Writing is how I make sense of the world, how I think. Telling stories is how I make sense of my own life in that world. I think stories are as essential to life as breath. The narrative impulse is in our DNA-we cannot live without stories. In my own life I'm making up stories about everyone I see all day long. I'm always wondering about the private lives of people I observe. Part of this predilection might be that I want to live a thousand lives and I only have this one. I assume everyone has this constant narrative of their own lives going on. You're telling it as you live with a slight delay. Memory and imagination are the same thing to me-creative acts: you can see the past or you can see a world that does not yet exist. So anyway, I often use the metaphor of the writer to stand for what we all try to do to make sense of our lives, to order the chaos, to have our say, to stake a claim. We all have to do it one way or another.
Could you name a few writers --- especially post-modernist writers - who've had the most influence on your own development as a fiction writer and elaborate on some of what you have learned from each?
I don't think of myself as a post-modernist writer, but maybe I am. I like stories, plain and simple. I believe in the importance of plot even if I seem to struggle at my own. I'm always just trying to tell a story-or many stories at the same time. One of my favorite novels is The Life and Opinions of Tristram Shandy, Gentleman by Laurence Stern, the un-post-modernist, and it has had a great influence on my writing and my thinking about what a novel can be. The telling is as important as the tale, and we ought have fun unraveling our narrative. I'd put William Faulkner on the list of influences. The human heart in conflict with itself. Faulkner and other Southern writers I admire-O'Connor, especially, deal with evil and sin in a way that Hawthorne used to. Lewis Nordan with his expansive heart and lyrical grace is a powerful influence. I first understood the importance of voice when I read Salinger's stories and, of course, Catcher in the Rye. Every time I read Alice Munro or William Trevor I learn more about writing and about what a story ought to do and can do. But the most significant influence on my writing comes from Chekhov. His stories are sublime. We are not here to judge our characters. Tell the truth. Be interesting. Write about what's of crucial importance in your life. Write until your fingers bleed.
I had read earlier interviews and reviews, which focused on your Faulkner-like re-creation of life in small communities with all the attendant characters in glory and struggle, eccentric, displaying their flaws, broken, heroic, etc. But I hadn't ever seen a reference to any post-modernist connection, so I thought I'd ask, given the techniques you employ. I'll admit, I hadn't read recent reviews or critical commentary about your work, intentionally avoiding doing so before drafting my questions for the interview.
But I went looking after deciding that I wanted to ask you if you felt a connection to post-modernist writers, and I did find in the Dictionary of Literary Biography, a thirteen page, nearly 4,000 word entry about you and your work. Here's the way it begins: "John Dufresne's novels reflect the post-modernist themes apparent in the American Society at the end of the twentieth century. His work presents an interesting mixture of sociological determinism, combined with distinctly regional flavor. At the same time, Dufresne's novels provide dramatic contrasts between dream-like post modernism and the Southern literary tradition. He reconciles these contrasts through vivid descriptions of time and place, tying his characters and these elements to create worlds that are at once surreal and personally identifiable."
Would you care to comment on this, John?
Thank God I don't have to think about what I'm doing while I'm doing it. "Sociological determinism?" Maybe. Dreamy? Yes, I'll confess to that. I'm not exactly sure what all those po-mo themes are. I've certainly been influenced by linguistics and by psychiatry and by left-wing politics and by movies and would like to think of myself as a populist as opposed to an elitist storyteller. I do fool around with metafiction but that's more technique, I think, than theme. In the same sense I try to be playful and ironic and I take advantage of dark humor. But all I'm really trying to do, as I've said, is tell a story.
Yes, when I asked the question, John, I was thinking of technique as opposed to theme. And I think you make a very good point that it isn't the writers' job to figure out these kind of things when writing. Maybe never. Readers - whether they be those who buy your books because they love them - or critics trying to put names to your dreams and philosophical bent - will respond however they will. Not much to be done about that.
You teach at Florida International University and have been editor of the journal Gulf Stream published there. Can you talk about your faculty and editorial positions at FIU, what benefits in addition to financial, they've offered you as a writer? Has having an academic position been instrumental in helping you advance as a writer?
I've been here twenty years now. Came in 1989. I was very lucky to end up at FIU. I was hired to teach in the MFA program before I had a book out. I've had terrific colleagues-everyone likes each other-there are no political battles going on. And even the English Department is supportive-there are many contentious English departments around the country where creative writers get short shrift. And Miami is a great book city. We've got two MFA programs here, one of the country's best independent bookstores, Books & Books, the largest book fair in the U.S. There is at least one literary reading in this city every night of the year. I'm a creative writing teacher at a Research I university, so part of my job is to write-so I write and the publications pay off in terms of tenure, merit raises (when there were such things before the collapse of the economy), and all that. And I get to talk about stories and the writing process all day. I get to read stories and see how they work and how they fail. All of that helps me to become a better writer I think. If you have to have a job, then teaching fiction writing is the best job you can have. I tried those other jobs-driving cabs, factory labor, landscaping, and all I ever got was tired. Teaching class is exhilarating. Reading stories and talking about them is a passion.
As you know, self-publishing has become more commonplace as literary writers especially find it more and more difficult to interest established publishers in their work. Major publishers are looking for blockbusters and work from already successful writers and small press publishers are struggling financially. What do you think are the pros and cons of the self-publishing trend - and if a writer does choose to self-publish, how do you think that writer can distinguish himself or herself from the rest of the pack?
This is an important question. Self-publishing, unfortunately, might be in all our futures the way things are going-not John Grisham's future, but mine and yours and many of my friends'. More money to celebrity writers-you know who they are-and less money for struggling newcomers. An obvious detriment to self-publishing is you don't get paid-you pay. That sucks. Maybe in the long run you do make money, but your chances are slim. Still, the work is more important than the money. I'm judging the Florida Book Awards this year-general fiction category-and several of the entries are self-publications and some of those are very well written. If you're going to self-publish you need to spend money on copyediting for sure and design and print and not cut corners. Make the product look professional. Take care with it-your characters deserve the best. And then you'll have to hustle the book, hire a PR person, schlep the book to all the bookstores, read the damn thing everywhere they let you, and so on. Trouble is while you're doing all that, you aren't writing.
Thanks so much for your time, John, and best of luck with your new work.

---