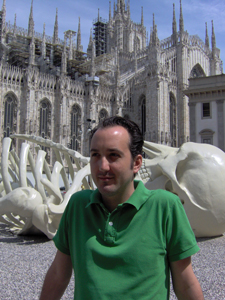 Write a bio.
I grew up outside of Houston near the Gulf of Mexico and attended the University of Texas at Austin where I studied English and Philosophy. Afterwards I took the requisite 'grand tour' of Europe before doing a three year stint in Seattle then I moved to Poland and have been here ever since.
Describe the places you like to write.
These days I write where I can: on the tram to work, at the kitchen table early in the morning or late at night, in the occasionally conference room or at a coffee shop. Serious work requires a modicum of silence and an uninterrupted hour which basically means early Saturday and Sunday mornings.
How long have you been living in Wroclaw, Poland?
I've been living here for six years now. I came here for work, liked it, decided to stay another year, and one thing led to another….
What Polish writers influence you? Name other writers whose work you respect.
I can't say that there are any Polish writers who have influenced me aside from Bruno Schultz whose work I admire. At various periods of my life I've been influenced by or interested in: Gaddis, Pynchon, Nabokov, Amis (Martin not Kingsley), William Gibson, China Mieville.
What other things have influenced you as a writer?
Travelling, music: (post-rock, electronica) also certain periods of history: (Soviet, 18th and 19th century European), art: (modern mostly - abstract and installation) and film (mostly European mostly black and white). As a child I read sci-fi & fantasy novels and comic books by the truckload. I also watched a ton of cartoons, and animation still interests me.
What are the differences in writing there as opposed to US writing?
I honestly don't know if there are any.
Describe the writing scene in Wroclaw.
This interview is as close as I've come to a writing community. I'm pretty much a lone wolf - not necessarily by choice but writing in English in a non-English speaking country doesn't lend itself to community-building.
I am very happy to be publishing your chapbook, Celebrity Slumbers. Talk about these poems. I find these poems absolutely amazing.
I'm flattered by your enthusiasm Gloria. I was having some dreams with celebrities in them and I wrote them down in a journal which I was keeping at the time. There was something I liked about them - their abruptness, their inherent logic, and the atmosphere which pervaded them. I wrote them quickly upon waking; making only minor changes later. It was only after I'd collected over half of them that it dawned on me that I could make a book out of them. All in all, it took about eight months to complete.
Do you write in other genres?
I've written a few short stories, one of which was editor's choice over at www.thievesjargon.com.
How long have you been writing? Talk about when you knew you were going to write seriously.
I started writing seriously when I came to Poland. There was a great deal of tortured juvenilia before that.
Who are you reading now?
I've just finished 'Darkmans' by Nicola Barker. And I highly recommend it to anyone who is interested in the modern novel; I've never read anything like it.
What is your favorite book and why?
I wouldn't want to single out just one. But there are only a handful of books I've read more than once 'Watership Down', The Secret History', 'Pattern Recognition', 'The Once and Future King' and 'Madame Bovary' come to mind.
Any last comments?
I'm both thrilled and honored to have Cervena Barva Press publish 'Celebrity Slumbers'. Thank you for the opportunity.

---