INTERVIEW WITH LISA BEATMAN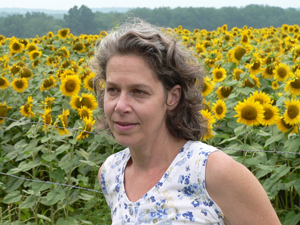 A brief bio, please?
I grew up in New London, CT, learned to swim in the Thames River, and now live surrounded by a leafy Roslindale cemetery, with a small orange cat named Gino and a large electrician named Rick. I have worked in adult literacy my whole career, in Boston and around Latin America (except for a happy stint as a hippy tree planter in the Pacific Northwest). I'm currently running a GED program at Harriet Tubman House in the South End, incessantly nudging students to write (read, multiply, etc.).
Describe the room you write in:
It's as big as all outdoors because it is the outdoors. Like Gino, I'm an outdoor cat, so there is always a note card and pen stashed in a back pocket. I find that the yogic breathing involved in walking, kayaking, bicycling, etc. seems to jumpstart a poem for me, so I scribble it down along the way and only then transpose it at home on a computer. I have a little writer's cabin, too, but it seems to inspire more hammering and painting than writing for now.
Oh, go ahead with some shameless self-promotion:
You know, for years I had great excuses for not submitting my work to journals. I was writing for me, I didn't have time, etc. When I realized it really boiled down to fear of rejection, I decided to go for it - I hate being governed by fear. Poet's Market was an invaluable resource, as well as many poetry mentors, and the few publishers willing to take the time to send "good" rejection letters with a little feedback.
So here's the brag list: First place winner of the Lucidity Retreat 2000 poetry prize, Honorable Mention for the 2004 Miriam Lindberg International Poetry Peace Prize, awarded a Massachusetts Cultural Council Grant, as well as a 2005 fellowship to Sacatar Institute in Brazil. My poetry and prose have been published in Lonely Planet, Lilith Magazine, Hawaii Pacific Review, Abiko Quarterly, South Boston Literary Gazette, Rhino, Manzanita, Pemmican, the Aurorean, Sport Literate Magazine, Alimentum, the Hazmat Review, Howling Dog Press, Dissident Editions, European Judaism, Voices of Israel, the Plaza, ShampooPoetry, Sprawlopolis, On the Page, and the Ibbetson Review.
I hear you're an artist residency junkie:
In 2000, I decided "to take my writing seriously", and took a writer's sabbatical year, attending artist residency programs around the world, including the Tyrone Guthrie Arts Centre in Ireland, the Writers Colony at Dairy Hollow in Arkansas, Dorland Mountain Arts Colony in California, Kalani Honua in Hawaii, the Dorset House for Writers, and Wildacres in N. Carolina. During that year, I wrote the manuscript for her first book, "Ladies' Night at the Blue Hill Spa" (Bear House Publishing 2002), inspired by an old-fashioned shvitz or communal steam room and also my mother's beehive hairdo. The conceit of women's beauty rituals as a door to their inner lives informed that collection.
I also spent a week living with and learning from Salmon Press publisher Jesse Lendennie in Ireland - at breakfast she would open a submission, glance at it, and toss it on the table with scorn, saying, "How could they think of sending that!" I would furtively retrieve it, and try to suss out from her how they'd sinned. Highly educational. And the time in Brazil was fascinating as well. I heartily recommend these programs - they get you out of your daily surroundings and responsibilities, pamper you like crazy including protecting your solitude, and bring together an international community of artists and writers. Here in Boston, I'm finding that community with the Bagel Bards and the JP Pond Poets.
And the new book?
So glad you asked! Manufacturing America: Poems from the Factory Floor (Ibbetson Press 2008), moves through the 'life cycle' of manufacturing - from its roots in the Lowell, MA textile mills, through downsizing, to the 'artist lofts' mined from the old buildings as manufacturing moves overseas. The collection was inspired by the immigrant assembly line workers I taught at a plant in Somerville, MA.
The manuscript took shape over the four years I worked there, as I got to know the always stirring and sometimes horrific stories of what brought the workers to this country and their struggles to build a life of dignity here. As I witnessed several rounds of layoffs within the plant (before succumbing myself), the meta-story of the rise and fall of manufacturing in America became the framework of my book, binding together the poems of individual people.
There is also a mouse running through the book, as there were occasionally mice scurrying through the factory. Mouse became a metaphor for the gritty dreams first realized, then dashed, of thousands of Americans in search of just the bare bones of the American dream - a safe home, an education, food on the table, a future for their kids.
How does a poet end up working in a factory?
Well, poetry doesn't exactly pay the rent, if you know what I mean. And I've always jumped at the chance to try something new. One thing that struck me while working there, and I've tried to capture that in some of the poems, is the music and dance - the interplay of machines and people, conveyor belts, products flying out, workers catching them and pivoting to pack them, the chunka chunka chunk of industry.
How was it received by the workers?
I always made a point of showing a poem inspired by a particular worker to that person. Although I've been accused of writing very accessible poetry, I discovered that language barriers limited not only their understanding of a poem, but more importantly, their ability to tell their own story. I started working at the plant literally one month after 9/11/2001, and as a creeping hostility toward immigrants spread throughout the country, I became determined to bring the silent voices of my students to life. I tried to replace common stereotypes of illegal freeloaders with strong images of tax-paying workers who often take on two or three jobs, working almost as"24/7" as the factory itself.
I'm very gratified that the book is touching a chord for many people who don't always read poetry, and that it is being used as a text in some college, high school, and adult education courses. So many people come up to me after a reading and mention a grandparent or other relative who worked in manufacturing. When I ask if anyone in their family currently works in manufacturing the answer is always "no". So much has changed in just a few short decades, and it's not like there's enough stable white-collar jobs out there for everyone.
What writers inspire you?
I tend to the "low-brow" in my literary tastes, or at least to writers who seem to work up a good sweat. Robert Service is a guilty pleasure. Irish poets like Patrick Kavanagh and Paul Muldoon - where you can smell the turf clinging to their boots. But I'm a slut for any kind of poetry that slaps me across the face. Marge Piercy's belly poem resonated during my Ladies Night period. Del Ray Cross writes wonderfully experimental poetry out of S.F. And (sorry Rick), my most steadfast bed companion is a wonderfully thick novel like Nobody's Fool by Richard Russo, which may have the most perfectly flawed protagonist ever.
What are you working on now?
My currently manuscript is based on a lifelong obsession with animal behavior, including homo sapiens as, rather than on top of the food chain, only one of the many species jockeying for position on this tenuous planet. There's a triptych of poems called "Lunch".

---