INTERVIEW WITH LO GALLUCCIO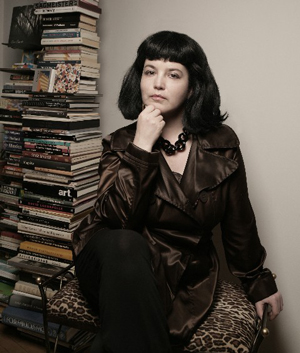 Bio
I grew up in Cambridge, MA, the daughter of a labor attorney who came from Italy when he was six and a New Jersey born mother of Welsh descent. At Harvard College I studied Social Studies (reading tons of social theory) and as an antidote, reading modern poetry and acting in mainstage and experimental theatre productions. I was awarded the David McCord prize for excellence in performance my senior year and headed off to Chicago to acting school after graduation.
Though it was recommended that I finish my MFA, I dropped out of school and got an agent, pursuing commercial work ("This isn't Medea, it's a Colgate commercial," is the kind of feedback I got.) After a close call understudying for Steppenwolf, I gained my Equity status and toured the South with Chamber Theatre Productions and later Greece, with a LaMama production of "Iphigenia in Tauris" - a show that "rocked my world."
To survive and stay grounded I've taught public night high school as a Social Studies teacher in Brooklyn, NY. I've also worked as a secretary, waitress, shoe model, public school teacher, and assistant to the Director of Economic Development for the City of Cambridge. Right now, I'm teaching ESL at Approach International in Allston, a funky school with a great curriculum and staff with students from around the Globe. For about four years I served as the poetry columnist for Neil McCabe's Alewife who gave me pretty much carte blanche to write what I wanted.
Leonard Cohen once said that he learned most of what he knows from the opposite sex. Unfortunately, I would have to agree with him. Though he stayed in the Tower of Song where "they don't a let a woman kill you" I've been a moving target for years. Many men/mentors have taken my head off. My first two songs/poems that I took real pride in were "Millennium" about a failed love affair at Harvard, for which I was nominated later for a Pushcart Prize, and "Queen of Mars" - a surreal ballad to my Dad, inspired by the Russian Film by the same name..That song wound up on my first solo CD, Being Visited, made on the Knitting Factory label in New York City. My Dad died when I was 15 and grief for him haunted me a long time. I put a snippet of an interview with him I did when I was 12 on the last track of Being Visited. I wish I'd made it much longer
Moving to New York in 1993, I holed up in sublets writing songs on an ex's 4-track machine and penning the poems that would later become "Hot Rain" - the chapbook published on Ibbetson St. Press and the spoken word pieces that would be part of Being Visited.
In New York, I had several bands, one with famed slide guitar wizard, and romantic partner at the time, Dave Tronzo, called "Fish Pistol." We played lots of different clubs, especially downtown. My second chapbook, a self-release, was dedicated to him. I've also published a memoir piece in the Audience Review about our relationship (or language it inspired, and break up) called, "Birdman." After we split, I engaged in an intense yoga practice and wrote some songs on piano, and then, well, had a terrible spell put on me by a Hindu deity….we won't get into it.
Anyway, I kept reading and writing (unpublished chapbooks too) and then in Boston got published and made a second CD, "Spell on You" after crashing an ART benefit party and meeting gospel/jazz pianist Geoffrey Dana Hicks. My publication credits include, "Night Magazine," "Lungfull!," "I am from Lower East Side," "The Heat City Literary Review," www.strangeroad.com, Luciole Press, HOME Literary journal by Eden Waters Press, among others. It's also been a great challenge and learning experience delving into other poets works as a reviewer for Doug Holder's Ibbetson St. blog.
Sarasota VII, the work at hand, is a prose-poem memoir, written in two parts about two lovers who are working together in the theatre in Houston, TX. It's about many things: the theatre, desire, how death can affect love and identify, etc. The style is experimental and interspersed with scientific descriptions of Saturn's rings and black holes. These are used metaphorically and as language. Warning to all those at home: this is in no way an objective work with well-drawn characters and a straight narrative. It's a fragmented journey, mostly backwards, and it's meant to be that, really.
I'm thrilled to be part of the Červená Barva Press family of published authors. I have a dream to read books on tape one day and of course to keep writing and to make another vocal CD. I've considered a low-res writing program for an MFA too. But I'm so leery of school, it's amazing. The things I've been most passionate about as an artist were learned through people in the real world, not in academia. But there's a definite value in structure and guidance too. There's also a market value to an MFA in the job world.
Where I like to read:
Cheap motels (if I can gain access,) my kitchen table with soft white light behind me, on trains and buses to New York City, like the Fung Wah and Lucky Star. I don't like to read in psych units but I've had to sometimes. Of course sometimes you get that dreamy experience on the beach or by a pool, and in certain coffee shops; actually I like Starbucks in both Central and Harvard Squares-- 1369 can be cool, and also the Clear Conscience Café at the Harvest. Sometimes I really like to read against and into the music they play. It creates an interesting juxtaposition and gives me ideas. Sometimes you need to tune everything else out to really absorb a text.
Do you ever put poetry or lyrics to music by other writers?
Well, yes. For instance, on Being Visited, I used the lyrics to two jazz standards, "Mona Lisa" and "You go to my Head" and re-wrote the music. Most people don't do that. They sample and they remix and they do covers, but that was kind of a downtown NYC trick at the time. (Plus I had a crush on John Lurie, the bandleader of the Lounge Lizards and star of "Stranger than Paradise") and he inspired "You go to my Head." My version uses a tritone and sounds more drunken than the original which is admittedly a beautiful up-beat sort of melody. With Mona Lisa, I re-harmonized the song and then added a rap section from my poem "I thought I was Mozart's Wife." Lately, I've been experimenting with an ee cummings poem, his most irreverent and crude, but it has a great rhyme scheme. It's titled "the boys I mean are not refined." The first verse goes,
"The boys I mean are not refined. They go with girls who buck and bite.
They do not give a f*** for luck. They hump them 13 times a night."
Hard to believe the man who wrote "My father moved through dooms of love" could come up with that. But I found that in an anthology years back and played around with a piano arrangement after that. I also did an arrangement of an old spiritual, "All the Pretty Horses" on Spell on You which I still like and I've collaborated with a number of people, for instance, the band Soultronix, putting words to their music. James "Bones" Tomaselli and I did a great mix of my poem "Times Square's a Shrine to Capitalisms" with spaghetti western samples and multiple voicings.. I loved what he did as producer and arranger - it's on my Myspace page if you want to check it out. I like to collaborate on songs since I'm not that great a player and can't read or write music. It's all by ear and instinct.
What do you like to do more, write music or poetry?
I love most, I suppose, to sing, to vocalize, to speak the language out loud. Maybe cause I was an actress first. However, there is sometimes a strange and beautiful gratification of just putting words to the page - shaping experience, emotion or perspective into poetry. I took a course on prose-poetry and even though that's really what Sarasota VII is, I'm still not sure how to define it properly. Upon re-reading Elizabeth Smart's By Grand Central Station I sat Down and Wept, I was alternatively struck by how crazy and how fiercely brilliant the writing was. I got it used in paperback on Amazon and the first owner of this copy had scribbled in the back cover, "I still don't get what all this is supposed to mean…. It just doesn't make sense." That really cracked me up since it had influenced me so heavily to write in a high-pitched and poetical fashion, some very personal prose.
Who are your favorite authors and why? Talk about who is your biggest influence.
My biggest influences as a poet are probably Anne Sexton and Lawrence Joseph. Anne Sexton's thyme schemes and formalized personal confessional poems are awesome to me. Larry taught me how to compress and displace ideas in poetry. There are certain books I've been blown away by, like Michael Cunningham's Specimen Days and his book/movie, The Hours.. I love William Gibson though I don't find enough time and space in my head to read him. Rare that I like Sci-fi stuff. As far as poetry goes, I was also influenced by Sylvia Plath and Stevie Smith and Anna Akhmatova. Usually I've been lead to great works -- like Pasolini, or Rene Char. - by mentors and artist allies. "Critique them to yourself.". "Try and figure them out." I'm partial to writers of my own gender in music and poetry Joni Mitchell and Suzanne Vega's lyrics stand up to the best poetry, as far as I'm concerned. Mary Margaret O'Hara, the Canadian singer phrases like no one else, with broken and repeated lines that are incredible. I sort of believe there's a different sensibility to both genders. On the male side, I could listen to Dylan all day, love Peter Gizzi's work-there are many and still coming -- Hugh Fox and I are mutual fans of each others' work, since he reviewed "Hot Rain" and called me a "vampira." I'm like a magpie and like to live in the present, collect what's now. There are a few books that go way back with me, like Duras' The Lover and Julia Kristeva's Black Sun." I also adore Joan Didion's work, especially her essays on the Sixties and California in Slouching Toward Bethlehem and The White Album.
What are you working on now?
Possibly doing an audio recording of Sarasota VII with some instrumentation. I'm writing poems and lyrics sporadically at the moment. I'm also looking to collaborate with musicians on some things. In addition, I've got two unpublished chapbooks that I might try and get around-one called, Terrible Baubles and one called, Not for Amnesia.. Because I'm in transition, I've been reading more and also focusing on-believe it or not - grammar and semiotics a bit, since I'm teaching English as a Second Language. I'll also be appearing with a text called, "Denebola" in Heide Hatry's new collection, Heads and Tales with some heavy hitting female writers. That should appear in the mid-winter, both here and in Europe.
What is your biggest challenges when writing reviews of books for Doug Holder's blog and others? Do you still write for the Alewife newspaper? What challenges do you face there, if any?
Trying to find the right structure, but still have your own voice and honestly cover the material well. That's the challenge in reviewing poetry books. Some, I get lost in - some are so inspiring, like Lifshin's The Licorice Daughter: My Year with Ruffian, that you're eager to write it up and it's really kind of a treat. I've reviewed all four issues of GUD magazine that have come out so far, and what's interesting is to analyze the fiction as well as poetry and graphics. It's both a thematic and varied collection every time of very cutting edge work. Ten Poems about East Asia and Kitsch Nebula Ampersands by Ralph Michael Chiaia was probably my fave poetry book this year - a trip-hoppy nocturnal voyage through Korea and Thailand.
The Alewife, sadly, went under about a year ago. I was sort of at the end of my tether with the paper though I had a good run for almost 3-4 years. Neil McCabe was great to me and let me pretty much go back and forth between reviews of local poets -like Irene Koronas, Coleen T. Houlihan, Richard Cambridge-and a Lo and Behold column which consisted of reflective and personal essays. One that became really important to me was writing a tribute or memorial for my first boyfriend in grade school who had committed suicide in East Asia several falls ago. The suicide wasn't mentioned in the review at all, but I happened to know him as a punk rocker and music engineer in New York City, years after we grew up together, and so I could put together a certain perspective on what a crazed rebel and artistically brilliant person he was - in addition to being a beautiful, and literally die-hard romantic. Many people that didn't know Eddie had passed on, caught that article on the internet and so they also got to go back in time and honor him.
Talk about the poetry community in the Boston area. How has the Bagel Bards been important to you?
Moving back to Boston in 2001 was probably the wrong move but as I wrote in Anne Brudevold's journal, "Here I am Anyway." It's just that Boston is so much more provincial than New York and yes, it's beautiful and yes, there have been many great literary figures to come through here - from Anne Sexton to ee cummings - but I always wanted wings not roots. For me, facing roots, being surrounded by the ghosty-head buildings of Harvard, etc. is a little tough. But I'm adjusting. I was lucky to get published here. I think it's easier to cut records in New York.
But the other truly remarkable thing is the poetry community here and getting involved through Deb Priestly with the Out of the Blue scene initially and then with Doug and the Bards, getting the first chap published, reading at various venues with that, and also, connecting the music with poetry at places like Squawk…. I recently took Tom Daley's poetry workshop after seeing him perform and he's a great teacher and artist. People in Boston are basically friendly and willing to share ideas. They're especially active as readers and the slam and the poetry for the page scene are both vibrant communities. The Bagel Bards has blossomed quite a bit since Doug and Harris started this little breakfast coffee clatch on Saturday mornings when most self-respecting artists would rather be asleep. Steve Glines and Irene Koronas and a score of the faithful have contributed time and energy into creating at least two great journals now from the Bards. Gloria, you're one of the people who's really made things happen for a lot of poets from the Boston and the international community. And Tim Gager's Dire series is a really great venue at Out of the Blue as well. I'll be reading there in February with the new book. Chad does a bang up job at Stone Soup these days for Jack Powers long-standing beat venue. I don't like to get stuck anywhere and I was like that in New York. I moved to the Nuyorican from the Knitting Factory and then to the Poetry Project and back again. If you're motivated there are many venues to explore in Cambridge, Boston, JP, Roslindale, Salem, Plymouth, etc. Maybe the worst thing is it's tougher without wheels.
Maybe I'll end with a favorite quote from one of Larry's poems, "Over Darkening Gold:"
I.
So here we are. Thieves stealing from thieves
in a society of complex spheres,
wondering what you should do. And still
stars blown outside the eyes corner.
And a short quote from Sarasota VII, as a teaser:
(From 23)
Lives are not separate. The living are not separate.
We wound and revive each other. The dead lie still.
While we live and breathe and mate, our lives spill.

---