INTERVIEW WITH MARTHA GREENWALD
by Catherine Sasanov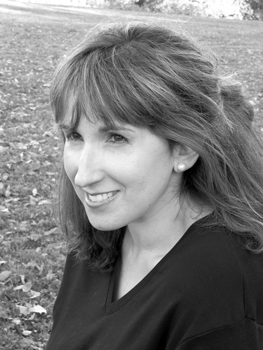 Martha Greenwald's first book of poems, Other Prohibited Items (Mississippi Review Press, 2010), won the Mississippi Review Poetry Series and was released in January. Her poems have appeared in numerous journals including Best New Poets 2008, Slate, The Threepenny Review, Poetry, The Sycamore Review and Shenandoah. A former Wallace Stegner Fellow at Stanford University, she has received awards from the arts councils of North Carolina and Kentucky. She currently teaches at the University of Louisville.
Martha will be reading in the Cervená Barva Poetry Series at the Pierre Menard Gallery in Cambridge at 7 p.m., March 24th, and her book will be available there for purchase and autograph. She will be joined by Catherine Sasanov (who conducted this interview), and Červená founder, Gloria Mindock, in a night of new book releases by the three poets.
---
How would you describe Other Prohibited Objects to those who haven't yet read the collection?
First of all, thank you for doing this interview with me, and thank you to Gloria Mindock for wanting the interview and asking me to be in the Červená Reading Series.
I've been thinking about this question for a week, and I think I finally figured out that the reason I was having difficulty answering is that I have been working on this book, in different ways and in highly altered versions, for a long time. I am at the age when some poets are more commonly publishing their second, (or even third) book. I am a slow writer, some poems in the book have taken me years to finish. (The newest poem, "At Bracknell," had been hatching for close to a decade, but I didn't know how to write it until last summer.) So, although this is my "first book," it feels, to me, like it's part of a process.
And there is another aspect to the book, a back story, that I couldn't have known, or anticipated, when I sent the manuscript to the Mississippi Review-a few weeks before I was told I had won, my father was hit by a car and killed while on his morning walk. A tactless person at the funeral said to me, "Now you're an orphan." An ill-timed and inappropriate comment, of course, but there are a lot of ways in which what this man said resonated deeply. We don't think of 'orphans' as women in their forties. Yet, there are several poems in the book that are directly or indirectly about both of my parents (my mother died a decade ago) and as I was proofing and editing the manuscript, I had to continually fight the urge to change tenses in some of the poems, to make the viewpoint reflect the new 'orphan' that I am. This might feel differently if this was my second or third book-but it is my first, and my father, who was a dedicated supporter of me and my art, didn't live to see what he had so anxiously awaited. So, in many ways, Other Prohibited Items, is an extended private and public elegy.
How did you come to poetry in your life? What drew you to writing?
Like many of my writer friends, I had the writer ID as soon as I physically learned to put words on paper. One of my more vivid childhood memories originates in first grade. I remember being called out into the hall so that my teacher could show the principal the little girl who wrote and illustrated the story of a Cuban hijacking, told from the first-person P.O.V. of the plane.
I wrote, rather obsessively, and illustrated books all through elementary school, graduating to full-length short stories in junior high. When I was 14, I went to an amazing place, Buck's Rock Arts Camp, in New Milford, Connecticut. It's still there and their website indicates its mission is still the same. They take teenagers and their art(s) very seriously. I spent my days in the Publication Shop where the geeky writer kids took workshops and published literary magazines every few weeks. A lot of my peers were writing poetry and I gave it a try. I was hooked instantly. It is so long ago and yet I still view that summer as one of the most important periods in my life.
With so many other things fighting for your attention (motherhood, teaching, the general visual noise of our culture, and all the shiny, new technological objects and their apps), how do you continue to focus on poetry? Why does it continue to be relevant for you?
Although this may sound obvious, I don't know how not to focus on poetry. I often don't have the time I need for the writing, though, because I am not someone who can write anywhere, anytime. I do feel, though, that I am a poet who often integrates the 'noise of our culture' into my subject matter. The title poem of the collection is utterly current, and is, in a way, about how technology has altered our lives, and about what it has taken away. I have several poems that spring from the experience of motherhood, too. So, I think that the things that fight for my attention often enter my writing work. It's how I survive.
Tell us a bit about your teaching as you have taught for a number of years now at the University of Louisville. Does it make a difference to your creative writing students, and the students in your literature courses, that you are a published author yourself?
I have taught creative writing in various incarnations (adjunct, term faculty) at the University of Louisville for ten years. I teach all levels of creative writing, and all genres. I am teaching a creative non-fiction class this semester that I love. Sometimes, I also teach lit classes. Currently, that's a class called "Women in Literature," and I choose to teach it as an introduction to short fiction by women, focusing initially on Eudora Welty. I adore Welty.
I've consistently had numerous journal publications for years, and I've never perceived that it changed how my students viewed me. The book, though, may make a difference in another way because I feel more confident and I can already see how that buoys my mood when teaching. In workshop, where group dynamics and psychology are often as influential as the writing, I would assume that this could be a beneficial element.
Like many lit courses, "Women in Lit" is classified in a way that qualifies it for a university-wide distribution requirement, so it's full of people who wouldn't take the course unless they had to. I'm not sure my book matters to them, at all. And to be fair, I can recall several courses I had to take as an undergrad about which I probably felt the same. However, I do have a few Sports Administration majors who claim to appreciate Carson McCullers-I take that as a good sign! We had a great discussion last week about her story, "The Sojourner," viewing it as an example of a piece of fiction that could not be composed in the age of Facebook.
Has it affected your writing at all (and perhaps your moving through the world as a poet) that you have lived in such different geographic locales and population centers: New Jersey, New York City, Boston, San Francisco, rural Iowa, Durham, North Carolina, and Louisville, Kentucky?
Absolutely. The places I've lived are inseparable from my poems, and it's probably true that "place" is my main source of inspiration. I was walking near fossil beds after my father's funeral and I realized something that, oddly, I had never consciously acknowledged before-I often get ideas when places half resemble the New Jersey of my childhood, although I may be the only person seeing that likeness. For example, when I moved to Iowa, the landscape felt comforting to me, because Middletown, NJ, was all farms, stables, and orchards in 1970. But then the unfamiliar appeared in the form of tornadoes and raucous thunderstorms-and entered my poems.
I like finding peculiarities in everyday places. The collection's title poem, "Other Prohibited Items," is set at an airport security kiosk. I also have several poems that occur in supermarkets, strip malls, fruit markets-places where the mundane is expected and where we all go regularly. Why shouldn't a Kroger manager's goofy attempt at trying out his beginner's Italian on the intercom be invited into a poem? I'm there, picking up my daughter's Allegra prescription and he's given me a story. I'm not in Tuscany gazing at a golden sunset, I'm in Louisville-that is my reality, my muse can be the manager's "Grazia."
I think of jobs as 'place,' too, and so my past employment has entered my poems. I had many jobs as a secretary in my twenties and thirties, and those offices, and especially my former co-workers, populate many poems in the book. I probably couldn't have functioned in those jobs unless the actual office was co-existing as an alternate narrative in my imagination. So, I wrote pieces set in offices long before Ricky Gervais and his brilliant BBC series appeared. I worried for a while that my poems would be seen as too pop-cultural, or as referencing the TV and film spin-offs that then transpired. But my poems aren't about a specific, concrete office-the setting is metaphorical, and so I hope they're read/viewed differently.
Is there a question that you wish interviewers would ask you about your writing (Or that you wish they would ask poets in general)? And if they did ask, what would you answer?
Here's a question:
What are some of the more important (but not poetry specific) influences/muses in your development as a writer?
A selected few of these influences/muses would be:
Weather, no matter where I am and whatever the season.
Sondheim's "Sunday in the Park with George."
Fred Astaire, when he sings.
Two exhibits I saw at the Whitney when I was a teenager: George Segal and Edward Hopper.
My allergies, which are profuse.
In childhood, long summer days spent at the Jersey shore (the true beach, not the current TV trash version).
Medical facts and articles having to do with vision. (My father was an optometrist)
Finding a publisher for one's book can be a daunting task, but you never let that fact discourage you. What advice would you give poets who may be receiving rejection slips for their book manuscripts right now?
My manuscript changed and changed and changed due to many factors. The biggest hurdle was the physical ordering of the poems. I believe that when a poet friend helped me re-order them a few years ago, it changed my perspective utterly. There were connections I somehow couldn't see. I think my main bit of advice would be to have someone you trust look at the book with you, then be willing to dismantle it and begin again. I took out some dud poems and wrote some new ones that became essential components, all due to the new order. The book was a finalist in several contests after its 'makeover' and then it was chosen by the Mississippi Review. I am eternally grateful to that writing friend, to contest judge Dara Wier, and to the editors and staff in Hattiesburg. It's changed everything.

---