"There is nothing to writing. All you do is sit down at a typewriter and bleed. "
~Ernest Hemingway
Červená Barva Press books
and chapbooks for sale at
The Lost Bookshelf.




Welcome to the Cervena Barva Press Newsletter for August, 2016.
It has been awhile since a newsletter reached your way!

Some catch up news.
In 2015, we published 10 full-length books and 5 chapbooks.
So far this year, we have released:

Fire Tongue by Zvi A. Sesling (March, 2016)
Cimmeria by T. M. Devos (March, 2016)
The Last Gun by Anne Harding Woodworth (March, 2016)
Secret Letter by Erika Burkart, translated from the German by Marc Vincenz (June, 2016)
Duino by Martin Burke (June, 2016)
No More Happy Endings by Milan Djurasovic (July, 2016)
---

Here we go: The next Read America Read Project is Saturday, September 24th.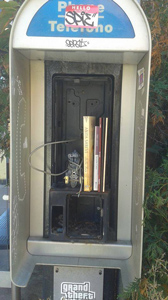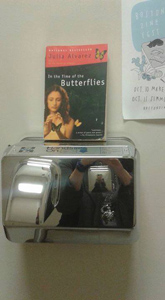 Leave a book for someone to take anywhere you want. This time, ask two people you know to do this also. This way the project will grow each month. I would like a book marker to go in every book so people know where they are coming from. Please e-mail me at the following e-mail address and I will send you an e-mail back with the book marker for you to print out and cut. Thank you for being a part of this project. Lets make September 24th great! Send me photos too. I have a list of names of who participated and as this grows, keep letting me know you are doing this. Thanks a zillion. You all rock. Lets get America reading!!!!
e-mail: gloria@read-america-read.org
Thanks so much,
Gloria

---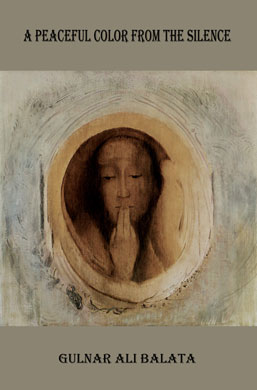 Gulnar Ali Balata is a Kurdish American poet, novelist, short-story writer, teacher, and translator. She was born in Kurdistan in 1974. Gulnar is the author of six books, three books of poems in the Kurdish language, Luna and Twelve Months (2006), Song of the Sad Ruins (2008), and A Breath from Letters of Borders Dream (2012) published in Duhok, Kurdistan. My Soul Still a Virgin is a collection of translated poems from Kurdish and Arabic to English by the author in 2010. My Poems Weep to the Seagulls (2014), is a book of poems published in Arabic, in Kurdistan. Kurdonya, a novel written in the Arabic language (2015), was published in Syria.
Gulnar has been published in numerous literary journals, websites and anthologies in Kurdish and Arabic languages, which are her first and second languages. Her work has been translated into many languages, and has been published in newspapers and magazines, in Kurdish and extensively on the internet.
She was a teacher in Kurdistan and taught English for three years before she left home in 1996. Gulnar received an Associate's degree in Art from Bunker Hill Community College in 2009.
She has participated in several poetry festivals within the Kurdish Region, and also abroad, in Turkey and Europe. From her outstanding cooperation, and successful writing, she has received awards from her work, and has been listed as one of the top Kurdish Women Voices in modern Kurdish poetry.
---
Gulnar Ali Balata's fourth volume of poetry, A Peaceful Color From The Silence, is an intimate gift by a mature poet infused with love for her tattered homeland of Iraqi Kurdistan. Her pen ripples with sparkling rivers and her expectant heart wrings with sadness as she infuses her poems in shooting stars and sweet dew, as "tears braid Fate's threads... shoulder/ the coffin of [her] childhood." The poet is "a weaned child," an "immigrant girl," a "lover," and "the melody for the executed." When "in exile... beyond the ocean... the coffins write [her] lines." This poet insists on the possibility of a "new page from a new sorrow/with a happy heart/ Make your name in my peace/symbol of a gorgeous love's spring." We take this journey with Balata and arrive strangely hopeful, crying tears of love for the resilience of the human spirit.
-Molly Lynn Watt, On Wings of Song and Shadow People
$17.00 | ISBN: 978-0-9966894-5-8 | 73 Pages
---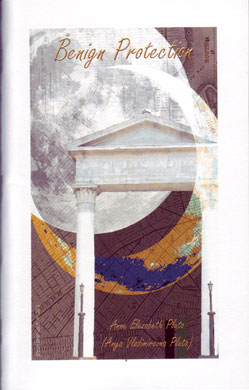 Anne Elezabeth Pluto is Professor of Literature and Theatre at Lesley University in Cambridge, MA where she is the co-founder and artistic director of the Oxford Street Players. She was a member of the Boston small press scene in the late 1980s and started Commonthought Magazine at Lesley 24 years ago. Her chapbook, The Frog Princess, was published by White Pine Press. She has been a participant at the Bread Loaf Writers' Conference in 2005 and 2006. Her ebook, Lubbok Electric, was published by Argotist ebooks in 2012. Her latest work appears in, The Buffalo Evening News, Unlikely Stories: Episode IV, Mat Hat Lit, nycBigCityLit, and Pirene's Fountain.
Cover Artist:
Bryson Dean-Gauthier has been an artist since childhood, and as an adult has worked in the fields of graphic design, corporate communications, television and education. She has been a graphic design teacher for 15 years, currently with the Art Institute of Pittsburgh Online Division, and is also an instructional design consultant at New England Institute of Technology in Rhode Island. Bryson's current creative work explores photography, digital imaging and mixed media, and takes inspiration from the intersections of fine art, design, mystery, spirit, the natural world and technology.
---
Benign Protection is a ripe and vivid collection of 32 poems fraught with multi-generational hauntings. "Each breath is a prelude," as Pluto "gnaws through me to my bone." The intricacy of her language is rich on the tongue. Pluto is meant to be read aloud. Resonant and unforgettable.
-Meg Tuite, author of Bare Bulbs Swinging, Artistically Declined Press (2014)
Anne Pluto is one of the finest poets I know. I highly recommend Benign Protection.
-Kay Kinghammer, author, The Wenachee River Anthology, Melinda Cochrane International (2014), Inside the Circus, Loyal Stone Press (2013)
From the opening poem, "The River Styx", in Anne Elezabeth Pluto's Benign Protection, we are led into a sphere of grief artfully rendered by Pluto's deft hand. There are poems of domesticity that are welcome relief, but the breathing room is small. Grief is Pluto's handmaiden and we are enriched by such an exquisite companionship in this finely-wrought volume.
-Clare L. Martin, editor, MockingHeart Review. Author, Seek The Holy Dark, Yellow Flag Press (2017), Eating the Heart First, Press 53, (2012)
$7.00 | ISBN: 978-0-9981027-0-2 | 55 Pages
---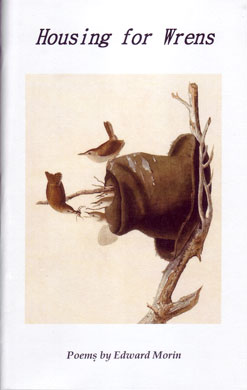 Edward Morin was born in Chicago and, while growing up, spent summers in the Upper Peninsula of Michigan. He has graduate degrees in English from The University of Chicago and Loyola University (Chicago) and has taught at seven Midwestern colleges and universities, including The University of Cincinnati, Wayne State University, and The University of Michigan.
His previous titles include Labor Day at Walden Pond (poems), The Dust of Our City (poems), and Transportation: Hot Tunes and Blues from Motor City (recorded songs). He is editor and co-translator of an anthology, The Red Azalea: Chinese Poetry since the Cultural Revolution (University of Hawaii Press). He has co-edited the anthology, Before There Is Nowhere to Stand: Palestine/Israel: Poets Respond to the Struggle (Lost Horse Press, 2012).
He has won prizes in nine national poetry contests and has had poems in Hudson Review, Prairie Schooner, River Styx, Poetry Northwest and many other magazines. His co-translations of Chinese, Arabic, and Greek poetry have appeared in Iowa Review, New Letters, Hayden's Ferry Review, and Banipal: Magazine of Modern Arab Literature. His articles and reviews have been published in The Georgia Review, Michigan Quarterly Review, and The Detroit News.
The author has worked as a writer for a few corporations. He has acted and sung in productions of several regional theatre and opera companies. He co-hosts The Crazy Wisdom Poetry Series in Ann Arbor, Michigan, and is editor of Peninsula Poets, the journal of the Poetry Society of Michigan. He lives with his wife in Ann Arbor.
---
Edward Morin has assembled lyrics and narratives touching on subjects you and I like to read about. The exquisite title poem prepares us for engagements with blue jays, bank swallows, wood thrushes—and also the pleasures of singing, fishing, even of aging. The language is to be savored and the hard-won wisdom taken to heart.
-Laurence Goldstein, author of Poetry Los Angeles: Reading the Essential Poems of the City
The poet uses eyes, "the most spiritual of the senses," and ears—"this recluse trills its two voice boxes / like Pan's double flute"—to present reflective narratives of the world in and around us, in backyards, at workplaces. Witnessing compulsions and hardships of contemporary life, Morin evinces winged sensibilities and deep-rooted compassion. His praise of a fellow poet ("Poetry Man") could apply to his own poems' "fire smoldering in the belly" rising "to enchant the heart and brain."
-Lyn Coffin, poet, playwright, fiction writer, and translator
Some of my favorite contemporary poems are in earlier books by Ed Morin, and this fresh chapbook offers several more, especially the family and love poems, poems of conscience and responses to the violence of needless war and domestic crimes. The poems have remarkable range in portraying a holdup, which almost cost his life, and his avocation as an actor and professor. This collection is a distinguished addition to the Cervena Barva Series. I hope it inspires a longer Collected Poems, for this poet deserves honors and attention.
-David Ray, author of 20 books including Music of Time: New and Selected Poems
$7.00 | ISBN: 978-0-9966894-7-2 | 44 Pages
---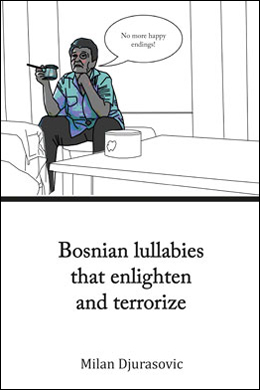 Milan Djurasovic is a Bosnian Serb from Mostar, the descendant of delightful peasants and modest working-class stock. He lives in northern California, where he works as a paraeducator. No More Happy Endings is his first collection of poems and short stories.
"The bedtime stories of my grandmother, Baba Jela, changed after the Bosnian civil war. Before the shooting began, her stories were ordinary, positive, life-affirming, with a clever hero or good-natured idiot overcoming challenges and a greedy foe soon reduced to a pitiful scrub. At the end, the world would turn out rosy and just, and taking part in it made sense. But after a war of nearly 100,000 deaths, millions of displaced bodies and souls, and decay peering out of every crevice, such propriety seemed unnatural. So Baba Jela decided to get rid of it. While other elderly men and woman decided to end their own lives after realizing that nothing would ever again be the way it was before the war, Baba turned her stories and lullabies dark and horrifying, her own way of refusing to play along with uncontrollable circumstances."
Cover Design: Aleksandra Djurasovic
$12.00 | ISBN: 978-0-9966894-8-9 | 30 Pages
---
ABOUT THE PRESS
ČERVENÁ BARVA PRESS was founded in April of 2005. The press solicits poetry, fiction, and plays from various writers around the world, and holds open contests regularly for its chapbooks, postcards, broadsides and full-length books. I look for work that has a strong voice, is unique, and that takes risks with language. Please see submission guidelines for current information. I encourage queries from Central and Eastern Europe.

---
---
---