Half my life is an act of revision.
-John Irving
---

Here we go: The next Read America Read Project is Saturday, September 30th.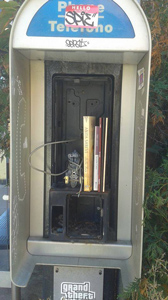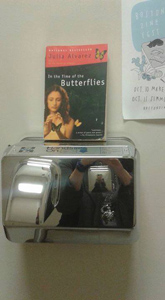 Leave a book for someone to take anywhere you want. This time, ask two people you know to do this also. This way the project will grow each month. I would like a book marker to go in every book so people know where they are coming from. Please e-mail me at the following e-mail address and I will send you an e-mail back with the book marker for you to print out and cut. Thank you for being a part of this project. Lets make September 30th great! Send me photos too. I have a list of names of who participated and as this grows, keep letting me know you are doing this. Thanks a zillion. You all rock. Lets get America reading!!!!
e-mail: gloria@read-america-read.org
Thanks so much,
Gloria

---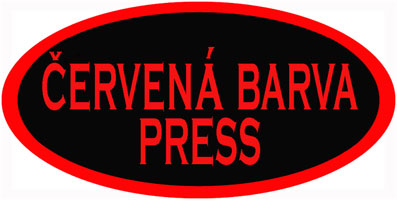 ČERVENÁ BARVA PRESS STUDIO
THE CENTER FOR THE ARTS AT THE ARMORY
Arts for the Armory
Basement, Room B8
191 Highland Avenue
Somerville, MA
"Look to Write:" An Innovative Surrealist Workshop

Saturday, September 30th-October 28th.
5 Saturday Sessions
10:00AM-1:00PM
Cost: $275. Limited to 12.

Instructor: Dr. Vassiliki Rapti

Session 1: Saturday, September 30th, 10:00AM-1:00PM
Session 2: Saturday, October 7th, 10:00AM-1:00PM
Session 3: Saturday, October 14th, 10:00AM-1:00PM
Session 4: Saturday, October 21th, 10:00AM-1:00PM
Session 5: Saturday, October 28th, 10:00AM-1:00PM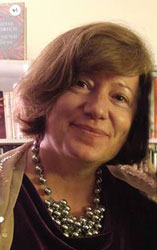 This course is intended for writers who wish to challenge themselves by exploring new ways of looking at subjects and objects, drawing on Surrealism. A hybrid of a writing workshop and a literary theory course focusing on Surrealism's main tenets, such as the "Surrealist object," "mad love," "objective chance," "Surrealist dialogue," "Surrealist games," "Surrealist look," it will stress the notion of visuality and will change the ways we write when looking at others looking. In a series of five meetings participants will be inspired by being introduced to the most intriguing Surrealist texts and works of art and will come up with five original works of theirs which will receive feedback for revision.
The course is open to everyone.
About the instructor
Vassiliki Rapti, Ph.D., is an expert on Surrealism. She is the author, among others, of "Ludics in Surrealist Theatre and Beyond" (Ashgate, 2013) and "Nightfall Hotel: A Surrealist Romeo and Juliet" (Somerset Hall Press, 2017). She is the Chair of the Ludics Seminar, Mahindra Humanities Center, Harvard University, and currently teaches World Literature and Reception of the Classics in the Department of Writing, Literature and Publishing at Emerson College. She also serves as Director of International Translation Committee of Levure litteraire.
To purchase through Paypal using your Paypal account or a Credit Card, click the Pay Now button:

By mail: Check or money order to: Cervena Barva Press, PO Box 440357, West Somerville, MA 02144
Cancellation policy: If someone paid and cannot make it, they will be given a full refund. If it is the day of the workshop, person will be given a 90% refund. The 10% will be split between the workshop teacher and press.
---
Directions & parking:
The Center for the Arts is located between Davis Square and Union Square. Parking is located behind the armory at the rear of the building. Arts at the Armory is approximately a 15 minute walk from Davis Square which is on the MTBA Red Line. You can also find us by using either the MBTA RT 88 and RT 90 bus that can be caught either at Lechmere (Green Line) or Davis Square (Red Line). Get off at the Highland Avenue and Lowell Street stop. You can also get to us from Sullivan Square (Orange Line) by using the MBTA RT 90 bus. Get off at the Highland Avenue and Benton Road stop.
---
Released July 11, 2017: Ruth Chad is a psychologist who works in the Boston area. Her poems have appeared in Montreal Poems, Lyrical Somerville, Ibbetson Street, The Bagel Bard Anthology, The Aurorean, Constellations and The Psychoanalytic Couple and Family Institute of New England, Connection, December 2015. Ruth grew up in Montreal, Quebec and now resides in Newton Highlands, MA. with her husband Mark Friedman.

---

"Ruth Chad is a poet of whispered intimacies, of living and of dying, of laughter and of sorrow, of the natural world and the metaphysical beyond. She writes as both observer and participant in the ordinary and extraordinary dramas of our existence. Her portraits of her family and especially of her dying father are poignant reflections of experience like our own. There is a tenderness in all of her writing as her short stanzas tumble out into our consciousness to demonstrate and to remind us of our human condition and the contexts within which we live. Hers is a sensitivity to the world about her as she answers the question posed to a spider in her poem 'The Children Have Grown.' She asks the spider to teach her to spin. She has, in fact, spun a web of poems full of insight, fine writing and intimacy."
-Philip E. Burnham, Jr., Winner of the Loft Poetry Prize "There is both deep sadness and sweetness in Ruth Chad's meditative, moving, imagistic poetry. The sadness comes from loss-lost youth, the change of seasons, children moving away, a parent dying-but that loss breeds a deeper appreciation of life's sweetness, often symbolized by affecting natural imagery. I can't imagine anyone reading these poems without feeling more alive."
-Lawrence Kessenich $7.00 | 39 Pages | In Stock
---
Released April, 2017: Susan Donnelly's latest publication is the chapbook Sweet Gooseberries from Every Other Thursday Press. She is the author of three full collections: Eve Names the Animals (Northeastern University Press), Transit and Capture the Flag (Iris Press), and three other chapbooks. Her poems have appeared in The New Yorker, The Atlantic Monthly, Poetry and many journals, anthologies and textbooks in the U.S. and abroad, as well as on websites, in academic courses, and on blogs. They have also been featured several times on Garrison Keillor's The Writers Almanac. A frequent reader of her poetry in the Boston area and beyond, Susan lives, writes, and offers poetry classes and consultations in Arlington, Massachusetts.

---

One writer's experiences finding a path in racially divided America. "The heart opens/ in such unlikely places" writes Susan Donnelly and her poems give us what she sees and understands in those moments, offering us a way to grasp the world in which the heart might stay open. These are poems to be shared across a table, to knit us together, to face us toward the truth of our common life. This is, as Roque Dalton suggested, "Poetry like bread." Wine, too. What a sublime and nourishing book of poems.
-Richard Hoffman, author of Gold Star Road and Emblem $7.00 | 27 Pages | In Stock
---
Released April, 2017: Michael C. Keith is the author/coauthor of 30 book volumes and dozens of articles on the subject of radio and broadcast studies. In addition to his non-fiction titles, Keith has published over a dozen creative works, including an acclaimed memoir: The Next Better Place-a young adult novel: Life is Falling Sideways-and 12 short story collections: most recently Perspective Drifts Like a Log on a River. His fiction has been nominated for several awards, among them the Pen/O. Henry Award, the Pushcart Prize, the National Indie Excellence Award, and the International Book Award. "Michael Keith is doing his part to keep the short story alive in this world of novel, novel, novel... Let us hope he keeps those original stories coming."
-Brad Watson, author Miss Jane "The characters in Slow Transit transport you to a universe of unfulfilled desires, doubts, and dreams made all the more terrifying by the author's keen sense of the dramas that make life worth living. Highly recommended."
-Ed Hamilton, author The Chintz Age "Keith's output and beautiful prose continue to rise."
-Adam Johnson, author Fortune Smiles $18.00 | ISBN: 978-0-9984253-6-8 | 226 Pages
---
Released December 2, 2016: Dennis Daly lives in Salem, Massachusetts with his wife Joanne. They have four adult children. Daly graduated from Boston College and has an MA in English Literature from Northeastern University. He has published three books of poetry: The Custom House (Ibbetson Street Press, 2012), Sophocles' Ajax, a Modern Translation (Wilderness House Press, 2012) and Night Walking with Nathaniel (Dos Madres Press, 2014). Daly's Sophocles' Ajax was subsequently performed at Skidmore College in a production sponsored by that college's Classics Department. Among other jobs Daly has worked as a Union Leader of a 9000 member industrial local, and as a city department head. He has traveled widely in Central Asia. Visit his blog at dennisfdaly.blogspot.com.

---

"Tulip fields blaze the face of my soul's fire?." So begins one of the twenty-one ghazals in Dennis Daly's elegant translation of the work of the fifteenth-century poet, Alisher Navoiy. The fire that burns through these poems is complemented by stunning illustrations from the era chosen with care by the translator that set off their own quiet conflagrations. In both illumination and interpretation, Daly's skill as wordsmith and designer is coruscating. We are indebted to him for introducing us to this poet and his passion.
-Tom Daley, author of House You Cannot Reach: Poems in the Voice of My Mother and other Poems Dark-eyed ones come, revealing their inner selves. Alisher Navoiy, or Nizam-al-Din 'Ali-Shir, a fifteenth century poet, mystic and artist, is reawakened in Daly's sublime translations. True to their spirit yet infused with a modern idiom, these ghazals tremble on the tongue, sparkle on the sheaf. A body in flames fires a path through the wilderness, a pinch of skin reminds how close we remain. Here at the source, a cloud hovers. Delectable, delicate, dangerous ... finally, a denouement.
-Marc Vincenz, author of Becoming the Sound of Bees $18.00 | ISBN: 978-0-9966894-6-5 | 62 Pages
---
Released December 2, 2016: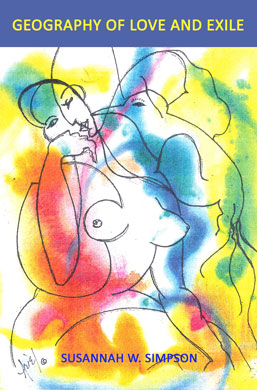 Susannah spent much of her childhood in Kabul, Afghanistan and spoke Farsi as a child. She has been a waitress, a founding member of the Ad Hoc Players, learned to wield a grease gun at at an auto repair garage, worked on locked psychiatric wards and as a Hospice nurse held the hands of the dying. She is the Expressive Writing Specialist at a residential treatment center in West Palm Beach,FL.
In Geography of Love and Exile, Susannah Simpson explores the deepest of human desires: to belong to this world. Through language translucent with longing, she introduces us to her many worlds. We walk with her through the bazaars of Kabul, experience the sensual pleasure of s'mores over a campfire in upstate New York, witness the red-shouldered hawk's shadow "looping across canal water" in Florida. All the while, Simpson's inner landscape-of loss, loneliness, love-accompanies us along the way. To read this remarkable collection is to explore how the places in our lives shape who we are-and sometimes, if we are fortunate, help us to feel a little less alone.
-Mary Reynolds Thompson, author of Embrace Your Inner Wild and Reclaiming the Wild Soul
I couldn't read Geography of Love and Exile without thinking of Zora Neale Hurston's line-"Ships at a distance have every man's wish aboard." Or, I would add, even ships at anchorage, ships moored to the quay, temporarily in port, poised to continue a voyage, contain our yearning, our restlessness, our hunger for both memory and renewal, for unchartered distance and unrelenting intimacy. This, then, is the spirit and the soul of Susannah Simpson's powerful work, each poem a vessel of a journey taken, lost, interrupted, unfinished, redeemed.
-Bob Shaccochis, author of Swimming in the Volcano; The Immaculate Invasion; The Next New World; Domesticity, and The Woman Who Lost Her Soul
$17.00 | ISBN: 978-0-9981027-2-6 | 67 Pages
---
ABOUT THE PRESS
ČERVENÁ BARVA PRESS was founded in April of 2005. The press solicits poetry, fiction, and plays from various writers around the world, and holds open contests regularly for its chapbooks, postcards, broadsides and full-length books. I look for work that has a strong voice, is unique, and that takes risks with language. Please see submission guidelines for current information. I encourage queries from Central and Eastern Europe.

---
---
---