About Gloria Mindock | Nothing Divine Here by Gloria Mindock | Blood Soaked Dresses by Gloria Mindock
"There is nothing to writing. All you do is sit down at a typewriter and bleed. "
~Ernest Hemingway
---
New Release December 10, 2014: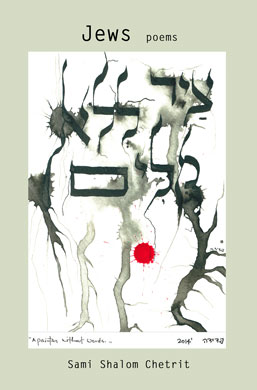 Teacher, poet, writer, filmmaker, and scholar Sami Shalom Chetrit was born in Morocco, raised in Israel, and lives in New York City. He has been writing and publishing poetry for thirty years, with five books in Hebrew: a new book, Broken Times, is due out from Bimat Kedem (2014); this was preceded by Yehudim (Jews), from Nahar Books (2008). Chetrit's Shirim BeAshdodit (Poems in Ashdodian) became a bestseller in Israel where a popular musical, based on the poems, was produced. He has published countless poems in literary magazines, periodicals, newspapers, and anthologies, as well as several performing shows with leading Israeli musicians. There is a growing body of critical work on his poetry in both Hebrew and English and a generation of younger poets and artists have been inspired by his work. He was recently included in a list of the top 40 Modern Hebrew poets. Though a selection of his work appeared in Ammiel Alcalay's Keys to the Garden, this is Chetrit's first full-length book of poetry in English.
Chetrit's novel Doll's Eye came out from Hargol Am Oved in 2007, and in English from Xlibiris in 2013. His groundbreaking study, Intra-Jewish Conflict in Israel: White Jews, Black Jews, was published by Routledge in 2011.
Producer and director of three documentary films, Chetrit's latest film, Shattered Rhymes: The Life and Poetry of Erez Bitton, depicts the renowned Moroccan born poet, an inspiration to Chetrit's generation. The film came out in January, 2014, appearing in festivals as well as broadcast on Israeli television, and is available in English. Chetrit is Associate Professor of Hebrew and Middle Eastern Studies at Queens College, CUNY, and is on the faculty of Middle East/Middle East in America Studies at The Graduate Center, CUNY. Cover Art: "A painter without words" water on canvas, 2014
by Igal Fedida

---

With unflinching courage, clarity, and wit, Sami Shalom Chetrit has gone places no contemporary Israeli Hebrew poet has dared venture. These are places in which the brutality of separatist ideology, enforced identity, militarism, and military occupation, have attempted to blot out the ethics of memory and human relations. It is in these ruins that Chetrit's rage, irony, and compassion create new ways of imagining realities we thought had reached a point of utter saturation. This collection finally allows English readers a chance to hear Chetrit's vital and inspiring voice.
—Ammiel Alcalay, professor of comparative literature Queens College and CUNY Graduate Center $17.00 | ISBN: 978-0-692-33628-1 | 100 Pages
---
New Release November 15, 2014: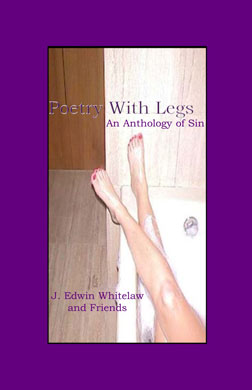 These pages that connect fourteen poets whose chance encounters with one who is no longer with us make fifteen. J. Edwin Whitelaw, obscure to all but those who knew him, provided a connection between those whose works and comments appear within, and to whom this anthology is dedicated.
Born in the Arkansas Delta near Helena in 1953 Whitelaw escaped, however the South's influence upon him for good and bad played an important role in all aspects of his life until his death on Christmas Eve in 2006. Near his death, he described himself as "a slightly older man" who had become a mere caricature of his former self.
His poetry ran the spectrum from bitingly cruel as you will find in "An Acute Friendship" to the painfully romantic "Icarus Dreams Of Aphrodite" that appear in this collection. And so say his ex-wives and lovers. Once asked for an explanation of his paradoxical approach to poetry, he would not give one.
After leaving the South he began working as an analyst for the Security Service, a branch of the National Security Agency during the early 70's in San Vito, Italy. "Cooling his heels from the Vietnam Era", as he put it, he developed a distrust of all things governmental. He later entered teaching on both the preparatory and college level. He held a doctorate from the University of Arkansas, and viewed his colleagues as "boors and pompous asses."
During the Bush Eras, he found an increasing and alarming distrust of Americans abroad. "This unholy alliance between the Patriots of the Religious Right and the Republican Party will push this country to the fascist brink. But hey, look on the bright side, oppression has always been good for poetry." according to J. Edwin.
He retired from teaching in the late 90's. Having lived in three foreign countries, he was conversant in five languages, and later worked as an independent consultant to international firms seeking to do business in the United States.
Divorced more times than he cared to discuss in detail, he once said he was destined to die alone surrounded by his books unless his large dog outlived him. It was a statement that proved to be prophetic. His dog in fact did not outlive him, and he was found dead in his rented flat in the Trastevere District of Rome on Christmas Day 2006 having apparently died the evening before quite alone.
In putting this collection together one contact led to another tied with the common thread of poetry. For his enumerable faults, defects and sins all of which he freely confessed, he with a few exceptions managed to salvage his broken relationships converting them into strange forms of friendships that included me.
Another acquaintance, who asked not to be identified commented to me, "J. Edwin had his share of baggage, but I have to say it was the Louis Vitton of emotional baggage. He suffered from potential." Not a religious man by any measure, he had somewhat of a distorted moral code that had at its core a disdain of hypocrisy. His take? "By and large self-professed born-again Christians have no sense of poetry, reflection or self examination. Show me one, and I will show you someone who gives Jesus a bad name."
Fittingly in his honor this anthology is subtitled "An Anthology of Sin" and dedicated to an extraordinary ordinary man. GISELA FALABELA $16.95 | ISBN: 978-0-9910091-9-0 | 121 Pages | In Stock
---
New Release November 15, 2014: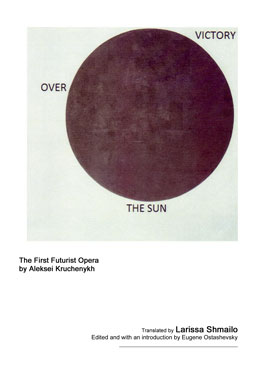 Victory over the Sun, one of the most important events in Russian Futurism and in the avant-garde in general, is not well recognized in the West. Now in a new edition of Larissa Shmailo's brilliant translation of the text, with a lively introduction by Eugene Ostashevsky, readers can appreciate the significance and innovativeness of the 1913 play. Using Shmailo's translation and Malevich's pathbreaking stage designs, the play was reconstructed and staged in 1980 to great acclaim and remains a signal accomplishment in the history of the avant-garde.
—Gerald Janecek, Author of Zaum: The Transrational Poetry of Russian Futurism (UCSD, 1996) and Sight and Sound Entwined (Berghahn Books, 2000)
Velimir Khlebnikov, literally, missed the train on co-penning this one, contributing only a poem to Kruchenykh's libretto. Staged alongside Mayakovsky's Vladimir Mayakovsky, A Tragedy, the 1913 original production of Victory is remembered primarily for Kazimir Malevich's costumes, lighting, and set design, instigations for the Suprematism and Constructivism still to come in 1915 and 1919, respectively…. Nothing is more fitting for this centennial of "Russian Futurianism" than a celebration of Kruchenykh's great contribution to poetry, his Zaum, and not just for its verbal play – the inventive neologizing and the épater-le-bourgeois utopianism – but for the underappreciated antilyricism of his verse, as well. In communicating to us his musicality in English, Larissa Shmailo has done a remarkable job in conferring on Kruchenykh his true due as a poet.
—Alex Cigale, Translations Editor of MadHat Lit
A century ago, Aleksei Kruchenykh was the way out writer's most way out writer. If publishing today, he still would be.
—Richard Kostelanetz, Author of A Dictionary of the Avant-Gardes (Routledge, 1993)
$16.00 | ISBN: 978-0-692-30231-6 | 56 Pages | In Stock
---
New Release October 7, 2014:
David P. Miller's poems have appeared in print in Meat for Tea, Stone Soup Presents Fresh Broth, Ibbetson Street, the 2014 Bagel Bards Anthology, and Durable Goods, and online in the Muddy River Poetry Review, Wilderness House Literary Review, Oddball Magazine, and the Boston and Beyond Poetry Blog. He has twice been a featured reader at Stone Soup in Cambridge, Mass., where he is a semi-regular on the open mike. His three "micro-chapbooks" - Caution: Many People Walking, Probably Not Haiku, and Reversible Folded Poem, are available online thanks to the Origami Poems Project. David was a member of the multidisciplinary Mobius Artists Group of Boston for 25 years, visits with the Bagel Bards in Somerville, Mass., and is a member of Tom Daley's Tuesday night poetry workshop at the Boston Center for Adult Education. He is a librarian at Curry College, in Milton, Mass.
Cover Art: Jane Wiley
---
SEE YOUR HEARING
Listener, burnish the sense
where it is felt, each jewel, sound-being.
Air's voices shift as skull pivots,
left side and right, six directions
set in unwavering mind.
My scatterhead's listening checklists
church chimes' humid auroras,
mosaic clatter of startled bird babies,
flat thump of cardboard on plastic.
Heard that. Heard this. The roster ticked.
Packed earbuds guard concentration's thin gate.
Play it again: repeat, fade, decay.
Repetition manufactures foreplay for the ears,
but with bare attention stillness' pulse shines.
Now you, see your hearing. Introspect
sound in your skull's heaven: lustrous percepts.
Each beat, rasp, slide, crack, sigh,
manifest like honey, like water, like night.
$7.00 | 43 Pages
---
New Release September 3, 2014: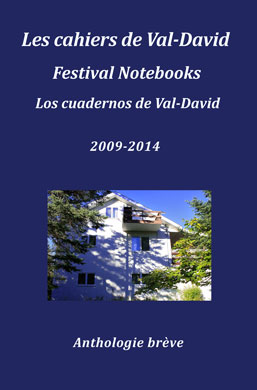 The Trilingual Anthology "Les cahiers de Val-David, Festival Notebooks, Los cuadernos de Val-David, 2009-2014" reunites, thanks to a generous grant from CLD Laurentides, some of the most talented international writers who participated so far in the Festivals at Val-David. (The International Writers' and Artists' Residence at Val-David, Quebec, Canada) The anthology is in English, French, and Spanish with many translators bringing the language of the International writers available for us to read. The International Festival of Writers and Artists is held twice a year at the International residence and is directed by Flavia Cosma, a well-known writer whose poetry, prose and children literature is published in English, French and Spanish, as well as her native Romanian. She welcomes at her residency, year after year, new talents from all corners of the world. They have the opportunity to share their poetical-artistic experience with other fellows through festivals where poetry and prose readings, book launches, conferences, round tables, improvisations, music and exhibitions are giving poets and artists of all ages and styles an opportunity to perform their work in the language of participants, most frequently English, French, Spanish, Romanian and even Ancient Greek. (www.flaviacosma.com) This anthology will take you on a journey reading the work of international writers from so many different countries and cultures.
Contributors: David Brême, Alan Britt, Christopher Bowen, Gordon Bradley, Philip Brunst, Julie Burtinshaw, Claudia Cáceres Franco, Luis Raúl Calvo, Rodica Gabriela Chira, Flavia Cosma, Carmen Doreal, Hélène Dorion, Sharl Dubé, Louise Dupré, Denis Emorine, Adrian Erbiceanu, Anna Louise E. Fontaine, Jacobo Fijman, Antoine Gravel-Bilodeau, Talleen Hacikyan, Eva Halus, Diana Haïk Hambardzumyan, Hugh Hazelton Louis-Philippe Hébert, Clelia Ifrim, Jeanne Jutras, Anna Levine, Ana López, Frédérique Marleau, Gilles Matte,Felicia Mihali, Ljubica Milicevic Gertrude Millaire, Gloria Mindock, Michael Mirolla, Pierre Mondou, Ofelia de Santos, Mel Sarnese, N. A'Yara Stein, Czandra Mostly Luminita Suse, JÜRI TALVET, Patricia Gonçalves Tenorio, Jeremiah Wall, Cheryl Antao-Xavier
$17.00 | ISBN: 978-0-692-28317-2 | 122 Pages
---
New Release September 21, 2014: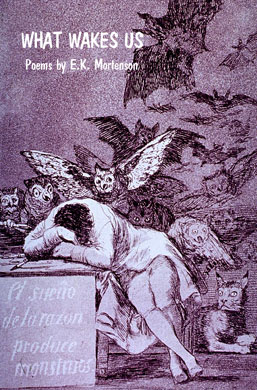 E. K. Mortenson is the author of the chapbooks, The Fifteenth Station (Accents Publishing, 2012) and Dreamer or the Dream (Last Automat Press, 2010. His work also appears in both print and online journals as well as anthologies. He was the 2008 recipient of the Leslie Leeds Poetry Prize, the 2012 Accents Publishing Chapbook Award, and is an instructor in the MFA in Creative and Professional Writing program at Western Connecticut State University. He writes and teaches in Pennsylvania where he lives with his wife and two children.
---
Answer: Attention, which is a kind of compassion.
[Somewhere between Charles Wright's obsession with the shadows where the physical and the spiritual worlds meet and David Kirby's laughably brilliant ability to find the gut-rooted humor in both worlds, we find E. K. Mortenson's poems of celebration and grief, of laughter and agony, of people in dreams and people in our arms, all recycling: the hands of a lost grandfather come again in the hands of a toddler fascinated with water; the world refashions itself as another day, every day; what's out there is born again in the brain, and that loop makes a mind and something at least like a soul.]
Q: What is the central energy in the universe?
—Brian Clements, author of And How To End It and Jargon
E. K. Mortenson's What Wakes Us is a delightful exploration of the world at hand. The poems experiment with lineation – seeing what's possible both with the fractured line of Ferlinghetti's early poems, and with a more sustained line reminiscent of C.K. Williams. The final section of the book abandons the device of lineation altogether in a sequence of prose poems. But throughout the book, there are pleasures to be found. There is the startling comparison of eyes "the blue / of the continental shelf / on a pull-out map / from one of his National Geographics / with which I would wallpaper my room." There is the worry of a father holding a sick child, who is "terrified to wake you, / to spill the overfull cup of your sleep." And there is the accuracy of moments like this: "Small boats creak in the harbor, with only a token strain at their mooring lines, dangling kelp and dulse and carrageen." The reader of Mortenson's work will find many such pleasures.
—Charles Rafferty, author of Appetites and A Less Fabulous Infinity
$17.00 | ISBN: 978-0-9910091-3-8 | 72 Pages
---
New Release August 12, 2014: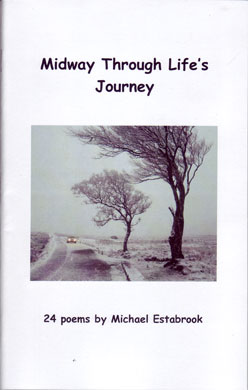 After 40 years of working for "The Man" and sometimes "The Woman" Michael Estabrook is finally free. No more useless meetings under florescent lights in stuffy windowless rooms. He can concentrate instead on making better poems and on pursuing his other interests including: history, art, music, theatre, opera, and his wife who is still the most beautiful woman he has ever known.
---
Midlife Crisis
Wasn't until my mid-fifties
that Sam-the-Tattoo-Artist
from Cambridge, Massachusetts, etched
my first tattoo onto my left shoulder:
a pair of red roses encircling one another
on a mat of shimmering green leaves.
Robin, our youngest daughter,
was in cahoots with me,
driving me to the tattoo parlor,
in the room watching the whole while.
Our other daughter, Laura,
was excited and gleeful, yelling
to her husband, "Chris come and see,
you're not going to believe it,
my Dad got a tattoo!"
On the other hand, my son
was stunned, dumbfounded,
not sure what to say.
While my wife, my poor wife,
she's away on business, hasn't seen it yet,
doesn't know of it either. But she can't
be too mad, I reason, seeing as this tattoo
was drawn by her, not as a tattoo,
of course, but as an embellishment
for a book of my poems. So she can't
be too upset because it's her art and,
as Laura said, "it is such a romantic thing
to have Mom's art on your body, forever."
$7.00 | 35 Pages
---
New Release July 30, 2014: Herding by Anne Harding Woodworth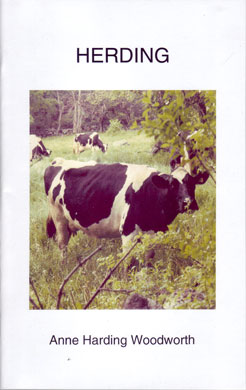 Anne Harding Woodworth is the author of five books of poetry and three chapbooks. She lived on a farm in New York State during much of her childhood, where her fondness for cows began. It has stayed with her in spite of living in New York City; Detroit; Athens, Greece; and Frankfurt, Germany. She now divides her time between a cabin in the mountains of Western North Carolina and a home in Washington, D.C., where she is a member of the Poetry Board at the Folger Shakespeare Library. (www.annehardingwoodworth.com)
---
In Herding, cows rush in where angels fear to tread, as Anne Harding Woodworth finds the human in the cow and the cow in the human. Cows serve as figurative and literal witness here, be they standing by during a speaker's contemplative walk through a country morning or dressing up as a contest winner's best man, "forced to masquerade / as a bull masquerading as a best man // wearing a tailor-made bovine tuxedo." Woodworth's poems are funny and even ridiculous at times, but don't be fooled into thinking this is light verse. Here, we find the essential: our place on and of the earth, and in the immediate and more general human relationships that make up our personal herd.
—Ruth Foley, Managing Editor of Cider Press Review and author of Dear Turquoise
$7.00 | 32 Pages | In Stock
---
New release July 29, 2014: Fugitive Hope by Bruce Lader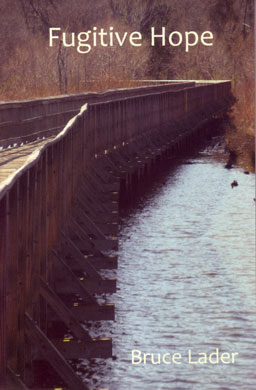 Bruce Lader is the author of four other volumes of poetry, most recently, Embrace (Big Table Publishing, 2010) and Landscapes of Longing (Main Street Rag Publishing, 2009). Discovering Mortality (March Street Press, 2005) was a finalist for the 2006 Brockman-Campbell Book Award. Winner of the 2010 Left Coast Eisteddfod Poetry Competition, his poems have appeared in Poetry, New York Quarterly, Confrontation, The Humanist, New Millennium Writings, Fulcrum, Harpur Palate, Against Agamemnon: War Poems anthology, and over 100 other magazines and anthologies. He has received a writer-in-residence fellowship from The Wurlitzer Foundation and an honorarium from the College of Creative Studies at UC-Santa Barbara. Formerly a Special Education teacher, he is the Director of Bridges Tutoring, an organization in Raleigh, North Carolina, educating multicultural students. His author Website is www.BruceLader.com.
---
Bruce Lader's new collection, Fugitive Hope, begins with attractive, jazzy pizzazz and over four sections deepens, broadens, and sweetens, as a pastoral symphony might, into gratitude for life, nature, and his wife, who bears the mysteries of faith and hope. In the lovely "Hide & Seek," the speaker is only "certain of this abracadabra / moment ludicrous with / giddy freedom." Witty and cutting, "Memo from Another Planet" imagines Earth's quick, quiet capitulation to conquest. Near book's end, we are listening to "covert concerts in these woods," and in "Vision of Uncertainty," the poet dreams of seeing spring's advent in his wife's eyes after his death. It is an astonishing journey, beautiful and hopeful.
—Kelly Cherry, The Retreats of Thought: Poems
In Fugitive Hope, Bruce Lader is an adept guide covering the vast territory of this fresh, lively collection. He offers compelling, sympathetic portraits of a wide range of individuals, from soldiers to judges, from Diogenes to Orpheus. A skilled craftsman, he knows just when to pull up at the end of his poems, put on the brakes, and send us flying.
—Jim Daniels, Having a Little Talk with Capital P Poetry
These are tightly structured, tightly controlled poems profuse with passion and a sometimes hidden but always savage lust for life, formed of "the legacy of gargoyle and...of cherubs hovered in balance."
—Jared Smith, The Collected Poems of Jared Smith: 1971-2011
$17.00 | ISBN: 978-0-9910091-8-3 | 81 Pages | In Stock
---
A new book from Muddy River books: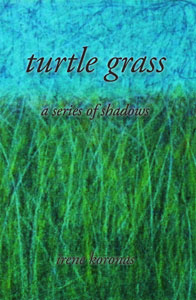 Irene Koronas has a fine arts degree from Mass College of Art in Boston, MA. She is a multi-media artist working with paint, collage, mono-printing, artists books, poetry and photography. She is poetry editor for Wilderness House Literary Review. Her poetry has appeared in journals, magazines, and online zines. Her poetry is in eight anthologies, and she has two full length books, self portrait drawn from many (Ibbetson Street Press), pentakomo cyprus (Červená Barva Press) and two chapbooks, Emily Dickinson (Propaganda Press) and Zero Boundaries (Červená Barva Press). Cover art: Irene Koronas

---

Experimental, intelligent, and environmental, turtle grass, a series of shadows, April 12, 2014; ISBN 978-1-304-97193-7, ($17.95) is Irene Koronas' third full length book of poems. Her language resonates, melts into the past and jointly falls forward. Her verse includes traditional form, informational writings on nature, and romantic musing; she remains true to her own style, eclectic. She is a well known local poet and painter, a Mass College of Art, graduate. The poems stroke the page with pigments; like green field paintings, poems float across the pages. Grass is an ordinary plant, it grows everywhere, from high ranges to dry land. Grasses are so common, often overlooked by pedestrian and poet. The poems stem from this ordinariness. Her experiments are found in the direct use of descriptions, definition as poetry. Personal experiences blend with the tender shoots, underwater broad-blade grass, and flat grasses. The poems grow from a nurtured environment, and sing from an inner verse. Zvi A. Sesling
Muddy River Books
Brookline Massachusetts
muddyriverbooks@gmail.com $17.95 | ISBN: 978-1-304-97193-7 | 88 Pages | 4 copies
---
New from Muddy River Books: Pleasure Trout by Gloria Mindock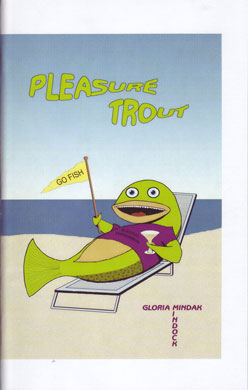 Gloria Mindock is founding editor of Cervena Barva Press, editor of the Istanbul Literary Review based in Istanbul, Turkey, and one of the USA editors for Levure Littéraire in France. She is the author of La Portile Raiului (Ars Longa Press, 2010, Romania) translated into the Romanian by Flavia Cosma, Nothing Divine Here (U Šoku Štampa, 2010, Montenegro), and Blood Soaked Dresses (Ibbetson, 2007). Gloria's poetry has been translated and published into the Romanian, Serbian, Spanish, and French.
Widely published, her work has appeared in Murmur of Voices, Vatra Veche, UNU: Revista de Cultura, and Citadela in Romania. Other literary journal publications include: Arabesques, Poesia, Phoebe, Poet Lore, Blackbox, River Styx, Bogg, Ibbetson St., WHLR, Web Del Sol, Lost in Thought, and in the anthology Hildagards Daughters (Belgium). Her flash fiction has recently been published in Thrice and Thunderclap. She has work forthcoming in Bliss.
Gloria has had nominations for the Pushcart Prize, St. Butolph Award and was awarded a fellowship from the Somerville Arts Council. She was co-founder of Theatre S & S. Press, Inc. and was one of the founding editors of the Boston Literary Review/BLuR from 1984-1994. Theatre S. received grants from the Polaroid Foundation, The Rockefeller Foundation, The Globe Foundation, NEFA, Massachusetts Cultural Council, and the Somerville Arts Council.
Gloria works as a social worker and freelances teaching workshops. She facilitates events in her Cervena Barva Press studio, located in the Center for the Arts at the Armory in Somerville, MA.
NOTE FROM THE AUTHOR
The poems in this chapbook are all mistranslations taken from poems in languages unknown to me. Sometimes a foreign word would remind me of a word in English. I wrote what I thought the poems were saying knowing that I was wrong in my interpretation. The whole purpose was to write as quickly as I could while looking at the foreign language. I mostly used poems written in Romanian, Serbian, Italian, Spanish and Polish. This is one of my favorite ways to write. This is a work of fiction. Don't try to understand what is written here. Just enjoy the nonsense.
$7.00 | 42 Pages | In Stock
---
Some pictures from the Muddy River Books Chapbook Launch for
"Pleasure Trout"
by Gloria Mindak/Mindock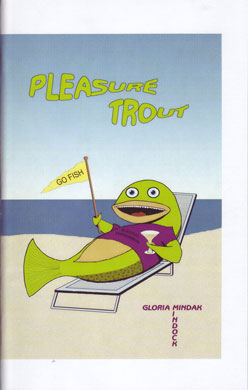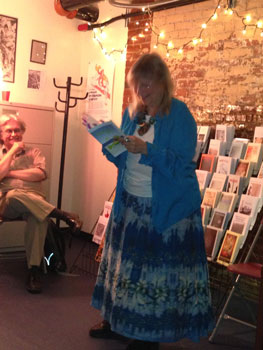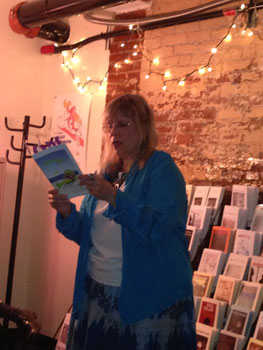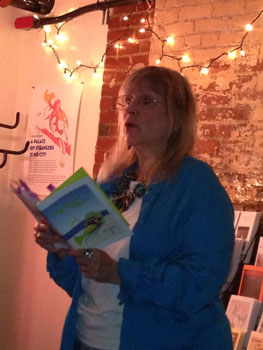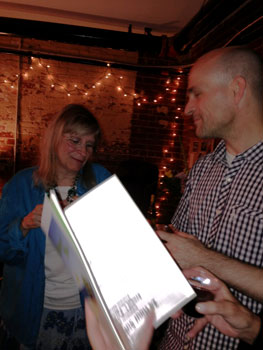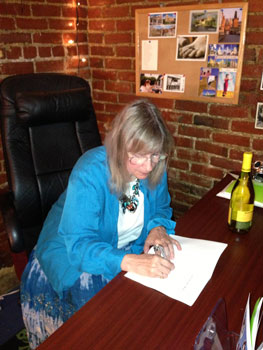 Pictures courtesy of Zvi Sesling
Editor, Muddy River Books
Gloria Mindock interviewed by Rodica Draghincescu
in the new issue of Levure Litt&eacuteraire.
Please check it out.
There are many photos of Červená Barva Press authors included.
The interview is also translated into the French by Cécile Oumhani.
http://levurelitteraire.com/gloria-mindock-2/
ABOUT THE PRESS
ČERVENÁ BARVA PRESS was founded in April of 2005. The press solicits poetry, fiction, and plays from various writers around the world, and holds open contests regularly for its chapbooks, postcards, broadsides and full-length books. I look for work that has a strong voice, is unique, and that takes risks with language. Please see submission guidelines for current information. I encourage queries from Central and Eastern Europe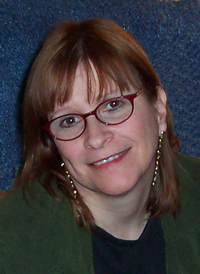 Gloria Mindock is editor and publisher of Červená Barva Press. In 2007, she took over as editor of the Istanbul Literary Review, an online journal based in Turkey. In 2010, she co-founded an experimental journal, X Peri, with Irene Koronas.
She is the author of two chapbooks, Doppelganger (S. Press), Oh Angel (U Šoku Štampa) and is the author of three books, Blood Soaked Dresses (Ibbetson St. Press, 2007), Nothing Divine Here (U Šoku Štampa, 2010), and La Portile Raiului (Ars Longa Press, Romania, 2010), translated into the Romanian by Flavia Cosma.
Gloria has been published in numerous journals including River Styx, Phoebe, Poet Lore, Blackbox, Ibbetson St., WHLR, Poesia, Arabesques, and Bogg. In Romania, her poems can be found in UNU: Revistă de Cultură, Gând Românesc, Citadela and the anthology Murmur of Voices (Cogito Press) with translation by Flavia Cosma. Other anthologies include: Bagel With the Bards No.1 and No. 2, WHLR Anthology # 1, and City Lights.
Recently, she was interviewed by Luis R. Calvo and Flavia Cosma in the literary magazine, Generación Abierta (Buenos Aires, Argentina). The interview was translated into Spanish by Flavia Cosma.
Gloria has been nominated for a Pushcart Prize, St. Botolph Award and was awarded a fellowship from the Somerville Arts Council.
From 1984-1994, she edited the Boston Literary Review/BLuR and was co-founder of Theatre S & S. Press, Inc. Theatre S. received grants from the Polaroid Foundation, The Rockefeller Foundation, The Globe Foundation, New England for the Arts, Massachusetts Cultural Council, and the Somerville Arts Council.
With an extensive background in theatre, Gloria has written and performed numerous performance pieces including BIG BOMB BUICKS, WHERE DID ALL THOSE BIRDS AND DOGS COME FROM?, I WISH FRANCISCO FRANCO WOULD LOVE ME, and SKIN CELLS, MAGGOTS, AND OTHER POINTS OF INTEREST. Her poetry collection called Doppelganger was a text of a theatre piece of the same name performed by THEATRE S. A review by STAGES stated she took great liberties with Poe and "captured the romantic desperation of "William Wilson," a tale of self-destructive double-identity."
Gloria has performed, acted, composed music, and sang in the theatre. Her newest performance piece is called WALKING IN El SALVADOR. Gloria works as a Social Worker and freelances editing manuscripts and conducting workshops for writers.
Gloria Mindock's Website is currently under construction.
Nothing Divine Here by Gloria Mindock
U Šoku Štampa Press, 2010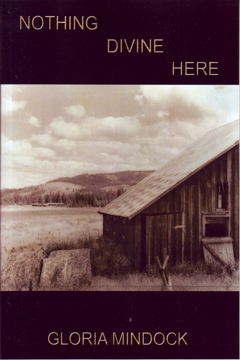 Gloria Mindock is the author of the forthcoming book, La Porile Raiului (Ars Longa Press, 2010, Romania) and Blood Soaked Dresses (Ibbetson Street Press, 2007). She is editor of Cervena Barva Press and the Istanbul Literature Review, an online journal based in Istanbul, Turkey. She has had numerous publications including Poet Lore, River Styx, Phoebe, Blackbox, Poesia, Bogg, Ibbetson, WHLR, UNU: Revista de Cultura, Citadela, Aurora, and Arabesques. She has been nominated for a Pushcart Prize, St. Botolph Award, and was awarded a fellowship from the Massachusetts Cultural Council distributed by the Somerville Arts Council.
---
From the Preface
Passionate and rebellious, Gloria Mindock's poetry jumps forcefully from the page, grabs the reader by the collar of his coat and holds and hangs on to his/her attention.
In unison with the poet's heart, the nature of things is in big turmoil here, forever searching for the elusive Divine Harmony, the only force capable of rearranging the world into one of love and understanding.
In a perpetual state of sadness and grief, these poems descend to the very core of the raw discourse of the soul, devoid of artifice and pose. The stark simplicity of their statement disarms us and leaves us vulnerable in front of the bitter reality of life.
—Flavia Cosma, author of seventeen books of poetry, a novel, a travel memoir, and four books for children
The stunning thing about Mindock's work is its overwhelming sense of the real world in real time. It's "poetic" in its own way, well-crafted, agile, nicely balanced, but in terms of content, you move into Mindock's world and you're suddenly in a basic, essential reality that hardly anyone in the poetry world touches: "I see your skull veiled by a cloud/Eyelids sunk/Hands pressed on knees/Heart gone/A sight of secrets//I think living is brave/Death is a release/The dog knows -- heaven is nothing but a frill." ("Dog Dance," p.41). An interesting mixture of existential toughness crowned by an ultimate sense of final nothingness.
It's interesting how Mindock's world-view combines a dispairing sense of expanding out into the horrific Now with a vision of everything eventually dissolving into nothingness: "Living on this earth is/one big nightmare.,/This landscape frightens me./Too much death./Think about it.//I refuse to fall short of detail so/ here it is: Death of emotion/Death of love/Death of skin...//I'm going away to where I really belong./To me, this is uplifting." ("Aftermath," p.63).
Very few style-games here. This is poetry as a minimalist Declaration of Finality. And the very fact that Mindock doesn't play style-games makes her vision a thousand times more effective/powerful than the word-game players who turn poetry into a kind of syntactical basketball.
—Hugh Fox
In Nothing Divine Here, Mindock invokes a resurrection, the power of love to spring eternal from the hurt we all know. She looks at the personal and the political, that haunting polarity, and weaves a gentle but brave hopefulness between them.
—Afaa Michael Weaver, Simmons College
Gloria Mindock is a fearless poet. She gets right in the face, in the very nostril of death. She confronts her past lovers, her dreams, dashed or otherwise, not with cool detachment, but with a visceral lyrical and emotional engagement. She has made her pain into high art, into the high holy. Mindock, is a force to be reckoned with, so watch your back!
—Doug Holder, Arts Editor The Somerville News, Founder Ibbetson Street Press
---
Review by Michael Parker at Unlikely Stories: http://www.unlikelystories.org/blog/
$15.00 | ISBN: 978-0-578-04760-7 | 87 Pages | In Stock
Blood Soaked Dresses by Gloria Mindock
Ibbetson Street Press, 2007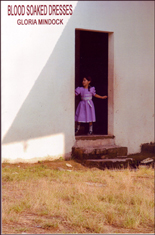 In her fascinating poem cycle, Gloria Mindock jolts back into memory the roots of El Salvador's present day violence. Mindock coaxes to the page the voices of the dead who lie, less in peace, than in restless obsession with the atrocities they suffered. She brings forth as well the voices of the living who seem startled to find that they died somewhere between the horrors they witnessed and the grave they have yet to lie down in. Blood Soaked Dresses is a beautiful, harrowing first book.
--Catherine Sasanov
Also available at Grolier Poetry Bookstore in Cambridge, MA., and can be ordered online at: Amazon, Barnes and Nobles, and Powells.
For signed copies: order directly from the author at: P.O. Box 440357, W. Somerville, MA 02144-3222 ($13.50 plus $3.00 S/H)
---
"El Salvador, 1983" was translated into Serbian by Berislav Blagojevic:
http://hiperboreja.blogspot.com/2011/05/el-salvador-1983-glorija-mindok.html
Berislav Blagojevic's Blog:
http://berislavblagojevic.wordpress.com/2011/05/17/el-salvador-1983/
To read reviews go to:
Boston Globe review by Ellen Steinbaum
Boston Area Small Press and Poetry Scene Reviews:
http://dougholder.blogspot.com/search?q=lo+gallucio
http://dougholder.blogspot.com/search?q=irene+koronas