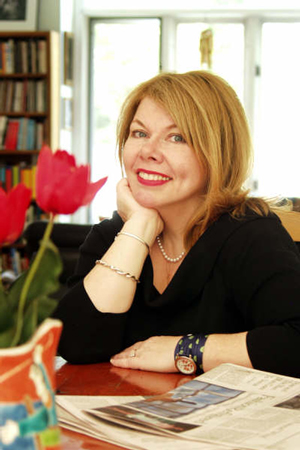 Write a bio.
Jamie Cat Callan grew up in Stamford, Connecticut and graduated from Bard College in 1975 with a degree in literature. She went on to get an MFA in Creative Writing from Goddard College and an MFA in Screenwriting from U.C.L.A.'s School of Film and Television. Over the past twenty years, Jamie has taught writing, worked in the international division of cosmetic company Estee Lauder, and served as a script developer for the actress Meg Ryan's production company at Paramount Pictures. Jamie has published five books and won numerous awards for her fiction, nonfiction and screenplays.
Jamie began her writing career as a young adult novelist. At age 26, Jamie received a New York State CAPS grant and published her first book, Over the Hill at Fourteen, which sold almost half a million copies and went on to become a Scholastic Book Club selection.
Most recently, Jamie's writing has appeared in The New York Times Modern Love Column, The Missouri Review, American Letters & Commentary, and Best American Erotica. Her essays on beauty and fashion appear regularly in Bliss Magazine.
The Writers Toolbox, her kit of writing exercises and games based on 25+ years of teaching creative writing has just been released by Chronicle Books. Writers Marketplace has dubbed it "Julia Cameron's The Artists Way meets Whose Line is it, anyway?"
Library Journal says her relationship book Hooking Up or Holding Out (Sourcebooks 2006) is "empowering and enlightening….not your mother's dating book. Highly recommended."
Jamie's literary awards include The Samuel Goldwyn Award in Screenwriting, The New York State Council on the Arts Grant, First Prize in the Writers Digest Fiction Competition (twice), a Connecticut Commission on the Arts Grant, and the PEN Syndicated Fiction Award, as well as fellowships to the Vermont Studio Center, Virginia Center for the Creative Arts International Fellowship, the Ragdale Foundation, The Djerassi Foundation, The Edna St. Vincent Millay Foundation and the Helene Wurlitzer Foundation.
Jamie teaches writing at Wesleyan University's Graduate Liberal Studies Program. She also teaches writing workshops at Grub Street in Boston and through Media Bistro and NYU.
Describe the room you write in.
I write in a room that doesn't face Waquoit Bay. I cannot see Martha's Vineyard from my office window. I say this because from my living room, I look out on Waquoit Bay here on Cape Cod, and yes, I see Martha's Vineyard from my deck. My writing digs have not always been so lovely. I have written on a Formica table in the kitchen, on a desk crowded into a small space in a New Haven living room where I had to hide my files underneath the dining room table. I once wrote in a corner of an apartment in North Hollywood that was devastated by the Northridge Earthquake.
Perhaps I now write from the one room in our house that doesn't face the water, because so much beauty and luxury would be just too distracting.
My room has a long desk/counter space that was built by a woman who lived here before me. She is a scientist at Woods Hole Oceanographic Institute (like my husband) and she built this space to write her Ph.D. on. Sometimes I feel her influence, but mostly not, because these days the room is filled with hot pink boxes and books on love and creativity and all things girly, such as feather boas, and rhinestone tiaras, images of cats and the Eiffel Tower.
Discuss your new book, Hooking Up or Holding Out: The Smart Girl's Guide to Driving Men Crazy. Why did you decide to write this book?
I've always been a fan of self-help books and I adore relationship/romance books. I collect vintage books on etiquette, fashion and marriage. I wrote Hooking Up or Holding Out as a response to Norrie Epstein's edition of Dorthea Langley Moore's 1929 book The Technique of the Love Affair. I love that book! It's smart and funny and wise and written for first wave feminists, flappers--who are not so different from our third wave feminists, when you think about it. I saw that there was nothing out there to help young women (and not-so-young women) navigate the tumultuous waters of love and sex and romance in this hook up culture.
When I was researching the Hooking Up or Holding Out, I noticed that there are a tons of books out there for men on how to get laid, but most of the books for women are about understanding and communicating and being honest. I'm not suggesting women start playing games like the guys out there, but I am suggesting, we wise up a bit and take back the power of our desirability to get what we really want--not just in the moment, but in the long-run.
You wrote 3 novels for a younger audience. Name this and talk about your experience writing them.
I wrote and published three novels for young adults through New American Library in the 1980's--
Over the Hill at Fourteen
The Young and The Soapy
Just Too Cool
I actually kind of fell into the work. In 1980, I won a New York State CAPS Grant for an autobiographical novel about my teen years. My editor at NAL, loved the narrative voice, but thought the story was too dark for the YA market. And in those days (this is before wonderful books like Janet Fitch's White Oleander or Alice Sebold's The Lovely Bones) they just didn't envision how a 16-year old could be the protagonist of an adult novel. Even Catcher in the Rye was considered young adult fiction!
So, in this climate (Brooke Shields was very big at the time, having just starred in Louis Malle's film "Pretty Baby") I was commissioned to write a novel about a 14-year-old model. The book was a huge success, sold tons of copies, and got fan mail from all over the country--I owe a lot to my NAL editor, Cindy Kane. We were both in our early twenties (practically teenagers ourselves) and she really knew a thing or two about plot and structure and the narrative arc. I still use the things she taught be this very day. She's now a senior editor at Harper Collins and has gone on to edit some fabulous books, but I knew her when she was just starting out.
Once I wrote Over the Hill at Fourteen with Cindy's editorial help, the next book The Young and the Soapy, came fairly easily, and I got to write about one of my favorite subjects--soap operas. When I do school visits, I love to tell the kids about how hard it is to be a writer, how exhausting is it and then I'll say, "to write this book, I had to get up every morning and do my research--sit in front of the t.v. all day, eating bon bons and watching As the World Turns!"
I wrote my third and last young adult novel, Just Too Cool during the mid-80's when punk rock was really blossoming in New York City. It was a strange time for me, because my daughter had just been born a few months before. I woke up every morning at 5 a.m. and wrote, and then I worked during the day at the incredibly glamorous Estee Lauder where everyone dressed as if they were going to a cocktail party and then one night a week I would go out to these wild punk clubs with my agent at the time, Merrillee Heifitz from Writers House. She was great fun and we would hang out at CBGB's, The Pyramid Club, Limelight and all these East Village hole-in-the-walls that are mostly gone now. Just Too Cool has been re-issued thanks to the Author's Guild Back-in-Print program. It now has a new cover that my daughter designed.
Another book you wrote, The Writer's Toolbox, is exercises and approaches in writing. Discuss this book.
The Writers Toolbox is actually a kit of writing games with a book inside of it. The games include tactile writing prompts that I developed from 25+ years of teaching creative writing. I was particularly inspired by my studies in right brain theory with the Connecticut Commission on the Arts and refined the games over the years to create a box that can be used in writing workshops or even improv acting classes.
The Writers Toolbox has just been released from Chronicle Books, so I'll be traveling about hosting free writing workshops to celebrate the launch.
You have an extensive background in teaching. Talk about this. What do you try to teach your students? What do you like to teach?
I started teaching while an undergraduate at Bard College in the 1970's. They had a program where they sent students to Mattewan Prison for the Criminally Insane. My friend Iris and I taught poetry to the inmates. It was an amazing experience and truly changed by life and definitely made me see teaching writing in a whole new way. After college, I won a New York State CAPS grant and as part of the grant, I taught at Mid-Orange Correctional Facility and then spent many years teaching at psychiatric hospitals in New York City. I taught writing at Payne Whitney, Bellevue and Columbia-Presbyterian. I was in my early twenties and this experience shaped me as a writer and a writing teacher. I received an MFA from Goddard in Creative Writing and another MFA in screenwriting from UCLA, but all the while, I vowed that when I taught I would use a gentler technique, rather than the tough love you often get in MFA programs. I'm very sensitive (I've been known to run out of writing classes in tears), so when "Writing from the Right Side of the Brain" or fiction or screenwriting (my three favorite areas--I teach in a style that assumes everyone is just as sensitive as me. But truly, it works. I believe that when writers feel safe and nurtured, they feel free to take literary risks and go into dark and complicated places. I like to serve as a loving and caring guide--and this has worked with a wide range of students--from Yale University upper level classmen to children at risk to senior citizens, cowboy poets, art school students to MFA candidates. I've been called The Earth Goddess of the Creative Writing Classes and you know, I kind of like that.
One of your degrees comes from the UCLA School of Theatre, Film, and Television. How has this helped you with your writing? Do you write screenplays? I'm sure you learned character and plot development. Discuss your experience there.
My MFA in screenwriting has helped me tremendously! Screenwriting and television writing is all about plot and structure. When I teach fiction I find that most writers know very little about plot. Most fiction writing classes talk only about character, theme, language and imagery, and basically ignore plot. I think there's this mistaken belief that plot is somehow dirty or beneath literary writers. I like to show how the most poetic or experimental writer can make their stories stronger by considering the uses of plot and structure.
Yes, I wrote many screenplays while at U.C.L.A., won lots of awards, e.g. The Samuel Goldwyn, and ended up working in script development at Paramount Pictures for the actress Meg Ryan. It was an amazing experience!
Who are you reading now?
Entre Nous, How to Dress like a French woman, Madame Bovary.
List some of your favorite writers.
I love Philip Roth. Lorrie Moore. Julia Cameron. Natalie Goldberg. I always return to my old favorites--Jane Austen, Colette, Fitzgerald, Hemingway.
What are you working on right now?
French Women Don't Sleep Alone. A book about how French women find love.
Any last comments
Well, just this: If you're reading this, and struggling as a writer, hang in there. Keep writing. Send out your work. Make friends in the writing community. Remember that 50% of writing happens when you're not at your writing desk. There are stories unfolding right now while you're on line at the CVS. Just because you're not home writing, doesn't mean you're wasting your time, your story is happening right in front of you. Finally, open your heart.

---