---
THEATRE
---
Welcome to the December, 2006 Newsletter.
Interviewed this month: Ifeanyi Menkiti and Irene Koronas
In this newsletter, you will read about Bagel Bards, a group of writers and some publishers that meet every Saturday morning, by Doug Holder/Ibbetson St. Press Editor.
The Lost Bookshelf will be constantly be adding books so be sure to check out the store regularly.
http://www.thelostbookshelf.com
Please spread the word about the bookstore to those on your e-mail list and to friends. This will be great for the authors and Červená Barva Press if more books sell.
December publications forthcoming by Ian Randall Wilson and Richard Kostelanetz

---
NEAR OCCASIONS OF SIN by Louis Mckee
"Louis McKee makes me think of how much fun it was to put your hand out a car window and make the air carry you into quick adventures and curlicues. He is so adept at turning all kinds of sudden glimpses into good patterns…." --William Stafford
"Louis McKee is one of the truest hearts and voices in poetry we will ever be lucky enough to know." --Naomi Shihab Nye
"I really admire, and like, deeply, Louis McKee's poems. They have two qualities I love -- clarity and candour. And they often tell stories even as they evoke the mystery of being. And they engage a great deal with people: "The Soldier," for example, is stunning for its pure drama. Then, he is a moving, complex love-poet, at once passionate and reserved. McKee's poems are like flashes of spirit rooted in the body. He never hides behind, or in, obscurity. Near Occasions of Sin is utterly unpretentious because his genius (I think he has that) is so real; "I am content with this," he says at the end of "Failed Haiku" -- and this readiness to be himself, in all his complexity and simplicity is, I think, the basis of the appeal of this most unusual and attractive book. Sometimes, McKee talks to his reader and it is like talking to a next-door neighbor (that's what I mean by the candour of these poems). Also, they sound like songs at times -- winged, humane, vulnerable. --Brendan Kennelly
To order:
$15.00
Cynic Press
P.O. Box 40691
Philadelphia, PA 19107
cynicpress@yahoo.com
---
HOOKING UP OR HOLDING OUT by Jamie Cat Callan
Enlightening and empowering...not your mother's dating book, "Hooking Up or Holding Out" is highly recommended." --Library Journal
Sometimes women don't feel great about hooking up, but they're not sure how to go about holding out. And most of the books that recommend holding out also prescribe those old, tired retro games. Jamie Callan's new book "Hooking Up or Holding Out" is a straight-talking guide for smart singles. It shows women how to take back the power of their sex, have a great time with men, enjoy a romance that artful and passionate and just be themselves
.
Jamie's work has appeared in the Sunday New York Times Modern Love column, The Missouri Review and Best American Erotica.
To order her new book go to
http://www.amazon.com/Hooking-Up-Holding-Out-Driving/dp/1402208200/sr=8-1/qid=1163086816/ref=pd_bbs_sr_1/002-9320105-0169616?ie=UTF8&s=books
---
Don Moyer is in the new anthology: FULL MOON RISING: THE BEST OF MOON PRESS, VOLUME II.
Contains the work of twelve poets: Eva Oppenheim, Dennis Camire, Patrick Hicks, Tom Delmore, Don Moyer, Blaine McCormick, Michelle Lewis, Kelly Lombardi, Jay Davis, Marita O'Neill, Annie Farnsworth, and Kevin Sweeney.
Available from their website: Moonpiepress.com.
$10.00
---
MUSIC OF TIME: Selected and New Poems by David Ray
See the book at: www.davidraypoet.com
363 pages, paperback. ISBN 0-9785782-4-4
$25:00
The Backwaters Press
3502 N. 52nd Street, Omaha, Nebraska 68104-3506
e-mail: gkosmicki@cox.net
"In this ample selection, poem after poem is a truly fresh occasion, and some of that variety is owing, I think, to an admirable honesty and recklessness of feeling. If I were to name my favorites in this excellent book, I would start with "Hansel and Gretel Return," and the list would be very long…" -- RICHARD WILBUR
"The whole career of David Ray confirms a distinctive risk-taking aesthetic that will not let him be silent. Ray has, through his art, through his daily struggle as an artist with image, sound, and word, overcome the fear of self-revelation, and also expanded our sense of the human through his empathy for diverse histories." - AMRITJIT SINGH

---
Symzonia Review
"Writing with style and grace Dean Perchik offers us historical memorabilia akin those lost treasures archaeologists long to find. Though the textbooks have not made room for them, Dean has found a way to enlighten and please us." -- Simon Perchik
The memorabilia he finds is so interesting and entertaining. The Review cover is gorgeous. I highly recommend it. --Gloria Mindock
To subscribe: $3.00
Dean Perchik: http://symzonia.blogspot.com
BLTN Press
7103 Third Avenue Ste. 315
Brooklyn, NY 11209

---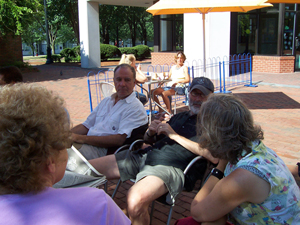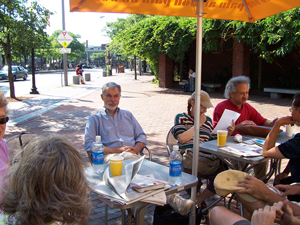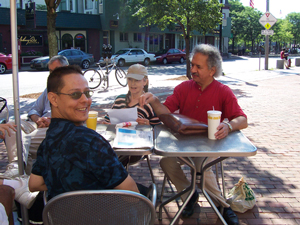 The scene. A lone man or woman. Perhaps a poet. A writer. A romantic notion, no? In the end, every writer and human is profoundly alone. Writers definitely need time alone. But like all warm-blooded mammals; we also need a sense of community. So when I got a letter from Cambridge poet Douglas Worth, about his experiences with the cliquishness of the poetry community, and his feelings of isolation; I decided to speak to my good friend and poetry powerbroker Harris Gardner. We had been meeting for breakfast for awhile at the "Au Bon Pain" in Harvard Square. I called Harris with my idea for a group titled: "Breaking Bagels with the Bards," and like a moth on a cheap suit he was on the bandwagon. We decided to form a casual group of writers and poets that would meet in the basement of a Harvard Square bagel joint "Finagle-a-Bagel." Harris supplied a steady stream of emails, and both of us spread the word with our colleagues and friends. It was slow going at first. But over the months the group started to grow. One member, Irene Koronas, an experimental poet who has a healthy obsession with words, became an official scribe, and sent her "Word catcher," email newsletter out to all members. Steve Glines, a writer, and a computer whiz, was instrumental in creating our online magazine "The Wilderness House Literary Review" http://www.whlreview.com , and our first "Bagel Bard" anthology. The group became populated with folks like Simmons College professor Afaa Michael Weaver, Boston University professor Tino Villanueva, MIT professor John Hildebidle, not to mention poets Tomas O'Leary, Molly Lynn Watt, Ann Cahart, Julia Carlson, Deborah M. Priestly, Linda Haviland Conte, Pam Rosenblatt, Matt Rosenthal, Mike Adamo, Marc Goldfinger, Richard Wihelm, Chad Parenteau, Pat Brodie, Philip Burnham, Tom Daley, Reggie Gibson, David Slavitt, Richard Wollman, to name just a few. Ellen Steinbaum, a Boston Globe columnist, and a member of our group wrote a column about us, and there were articles about the group in the "Cambridge Chronicle," and "The Somerville News." Several publishers joined our organization: Gloria Mindock of the "Cervena Barva press," Jasen Sousa of "J-Rock Publishing," and Shirley Gerald ware of "Fresh," magazine.
Eventually "Finagle-A-Bagel,' closed, and we moved our group to the "Au Bon Pain" in Davis Square, Somerville. By this time the group was large and animated. Martha Boss, our resident artist, painted a group portrait of a number of the Bards, and the painting was on exhibit at the "Fort Point Channel Open Studios" in Boston. (Until I bought it of course!)
Since founding the group many of our members have gone on to publish through people they met in the group and more than a few have gotten reading gigs. A number of the "Bards" read at the grand reopening of the "Grolier Poetry Book Shop," a grand day indeed!
Harris Gardner and I are quite pleased with the results of all this. We think this is a fine example of how grassroots efforts can create community, and bonds among writers and fellow human beings. ----Doug Holder
"Bagel Bards" meets every Saturday at the "Au Bon Pain" in Davis Square, Somerville. All invited.

---
Some interviews to come in 2007 are by: Andrey Gritsman, Gary Fincke, Martha Collins, Don Share, John Amen, Louis McKee, John Bradley, Diana Der-Hovanessian, Larissa Shmailo, David McNamara, Nahid Rachlin, Hugh Fox and others.

---
(Photo courtesy of Doug Holder)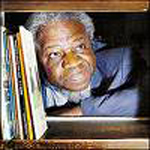 Spotlight on Ifeanyi Menkiti
Ifeanyi Menkiti grew up in Onitsha, Nigeria. He moved to the United States to attend college. He received a B.A. from Pamona College in California, a M.S. from Columbia University, a M.A. from New York University and a Ph.D. in Philosophy from Harvard University. Ifeanyi has been published in numerous literary journals including Ploughshares, New Letters, New Directions, The Massachusetts Review and others. He also published numerous articles on philosophical issues in many journals such as Philosophical Forum, The Journal of Value Inquiry, The Harvard Education Review, and the Journal of the American Academy of Religion. His work has been on NPR and he has received a Massachusetts Council of the Arts Fellowship in 1978 as well as a poetry award from the NEA
In April, of this year, Ifeanyi bought the Grolier Poetry Bookstore from Louisa Solano. Louisa owned and ran this bookstore for 32 years. When I moved out here from the mid-west in 1984, I couldn't wait to go into the store. (I heard about it while living in Iowa City). In Grolier, is where I got to meet and know Louisa. I have such admiration for all that she has done for the poetry world. She was so remarkable in how she kept up with all the new poetry books and poets. Many years ago, she was so kind to put my poetry chapbook, Doppelganger, in the window along with an issue of BLuR. It meant so much to me. I have a picture of it by my desk. It inspires me to keep writing. I am so grateful to Louisa for the many years of friendship. It was difficult I'm sure for Louisa to sell, but I know she is happy to see it continue. Keep the torch going so to speak. Ifeanyi bought the store because he wanted to see such a "cultural institution" survive. He remembers Gordon, the first owner of the store, and has good memories from that time. Ifeanyi felt it was important to take the risk. "Poetry is an important activity inspiring people." Ifeanyi and I spoke about the need for more foreign poetry/translations being available to readers in the US. He plans to bring in more world poetry into the store. His desire for the world to be together is strong. He feels world writing can help. "When a poet "cries," a sadness has to come from the heart. A poet can mourn and readers can pick up the spirituality. Poets see real things and can give access to the individual."
Daniel Wuenschel is the store manager of Grolier. Ifeanyi teaches Moral Theory and Social and Political Philosophy at Wellsley so it is good he has someone to run the store. For all those visiting or in the Cambridge area, be sure to help support the Grolier Poetry Bookstore. It is a great place to buy your books!
In 1971, Affirmations was published by Third World Press. The Jubilation of Falling Bodies soon followed. Ifeanyi's latest book, Altair, the Bright Light was published in 2005 by Earthwind Editions. What a powerful and remarkable book it is. Ifeanyi read sections of it for me during our interview. I could have listened to him read all day from this book. Ifeanyi loved the spoken word since he was a small boy living in Nigeria. He spent his time reading The Old Testament. His vision for wanting world peace stands out. "A world created which we want our children to live in." This can be seen by his poetry. He expresses "peace cannot happen by force. We must show the ideas to live by."
Ifeanyi has been involved with Revels for many years. He spoke so highly of John Langstaff who staged the first Revels in 1957 in NYC. Revels was brought to the Boston area in 1971. Revels entertains and brings generations together by its musical and educational programs, recordings and community celebrations. When I asked Ifeanyi what he was working on now, he told me he is currently working on poems in three sections, Getting to Know the World, Bearing Witness, and Before a Common Soil, to pay homage to the late John Langstaff. "Jack wove his shows around world culture/unity of world sound."
When the interview was over, I felt so hopeful for this world. Ifeanyi is a wonderful person with a beautiful soul. Talking to him was such a wonderful experience. I look so forward to knowing him better. It was truly an honor talking to him.
Thank you so much Ifeanyi for your time, your poetry, and your inspiration!

---
Please note: Punctuation is not used in many answers. This is intentionally done by Irene.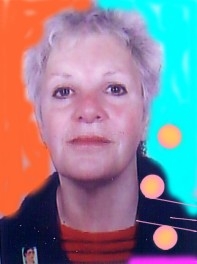 Irene Koronas has a fine arts degree from Mass College of Art Boston. She is a multi- media artist working with paint, collage, mono-printing, artists books and poetry. She is currently the poetry editor for Wilderness House Literary Review. Koronas is a retired teacher, (private teacher), she taught collage and mono-printing. Her poetry has appeared in Lummox Journal, Free Verse Journal, Posey Magazine and online zines such as Arcanam Café, Spearhead, Index Poetry, Unblog, Haiku Hut and Lynx. She has seven chap-books: work among friends, where words drip, perception, tongue on everyday, species, flat house and to speak the meaning of being.
Koronas considers herself an experimental poet who looks at language as meaning not metaphor or narrative, although both may enter her poems. She deconstructs through repetition and the over use of words; through the manipulation of structure the form becomes tantamount to the poem; through an exclusion of punctuation she allows the reader to partake in the breath of the poem.
Describe the room you write in and paint in.
On week day mornings I write in a coffee shop in Somerville for about an hour or two. I then come home and spend at least two to three hours in my studio room on the third floor next to my bedroom. The room walls are covered with art work and Byzantine style icons of Greek saints. My computer is on one side of the room and my easel is on the other side with books and painting materials stashed everywhere. What a mess but I love working here.
What are you working on now?
Presently, I'm trying to write poems without metaphors and narrative, using language and words to say how I play, to let the words speak without interference from my emotional attachment to what I think the words mean. I know it doesn't always make sense. I'm a non-objective painter and I'm now working with words in the same manner as I paint.
Where do you find inspiration for writing?
I keep lists of words and phrases next to me. My interest tends toward over used words like, 'then, it, was, in, to. Also I like to play with words that are no longer used, like, afore, agone, alack, yonder, gadzooks, whereof, my dear reader. So I reckon I'm inspired by words as well as other writers. Right now I'm getting into Gertrude Stein.
What is the strangest thing you've done to find writing material?
For me there is nothing strange about finding material to write about. I ease drop on conversations, seeking those unusual phrases or I'll read an obscure poet in a book I might find at Goodwill stores, those old world rawboned yonder fence faces, the plum tree garden. I pick-up pieces of paper off the street if I think there is writing on it, but mostly, I close my eyes and let it rip, then I revise, revise, revise. Sometimes I use some of my older poetry and collage it. I take a verse from many different poems and try to make them work together. I guess that is as strange as I get, unless you call bobbing for words strange.
Who are you reading now?
I'm reading the Gertrude Stein Reader; John, in the new testament; The History of Color; The Emperor of Scent; The Forest Lover, Emily Carr; by Herself, Women Reclaim Poetry; George Seferis, Waiting for the Angel, a biography; and Bellevue Literary Review.
What writers make you tick? Ones that you read over and over?
Octavio Paz has been a constant inspiration as well as Cavafy, John Ritsos, George Seferis, Gerty baby, Emily Dickinson, and every poet I hear in local venues has something that ticks me off, the tick off is a positive reaction. I love listening to poets read whatever they write is interesting for me (most of the time). What I don't like is un-revised, unconsidered work and work that uses too much profanity.
For years, you worked in the print shop industry, how did this interest come about?
My aunt owned a bindery. When I was 15 years old I started working for her. She also sent her workers to different print shops to help when there was a big job. I learned to collate, work on a computerized machine that cut paper, and all kinds of bindery machinery. It was hard work but it also afforded me the mental time to space out and create images in my head. Working with my hands allowed my mind to go where it needed to go
Explain what Grid Art is and when you started this.
I've been working with the grid for about 20 years. I break the creative surface into squares or rectangles and work within each small space. Years ago I began to notice how many 'things' were in a grid formula, city blocks, sidewalks, windows, rooms, paper products; even people are in-closed within skin and bone, we each live separate and together at the same time; the boundary of the grid touches each other at the same time each grid square is independent
Have you incorporated text into your Grid Art?
Sometimes I put letters or words
Besides Grid Art, speak about some of your other projects.
I've been trying to break out of the grid. Recently, I started writing a series of poems called, 'out of the box'. When I'm not painting or writing, I'm making books; handmade artist books. I play with photography, make my own greeting cards, and make blank Japanese journals
When did you first become interested in experimental writing?
Around 1992 when I was making collages, really large collages on canvas, I would use old book pages, cut them into envelopes or squares and glue them together. That is when I began to get the idea to do the same with poetry. Most of what I was writing was confessional and full of boring references to green trees and red socks so I took my poems and began to cut them up and rearrange them. That was more fun than spitting out the 'truth'.
Your chapbook, flat house, is beautifully done. (Love the cover art). The writing in this chapbook is so powerful, and you definitely take risks. How long did it take for you to complete this chapbook?
Once I get an idea in my head, boom, I'm off and running, so the end product doesn't take more than a few days to a week. It is getting to that point that takes time. I write every day. It doesn't matter what I write as long as I write. Then I either collage poems, or revise them until I come to a place that satisfies me. flat house came after reading about how people thought the world was flat and that truth existed for a long time. I became married to the idea of what flat meant. The word house came after reading about some indigenous people who live in long house, or at least congregate in long houses. That is how the title came after several years of reading. That is also how some of the poems came, thought after thought after reading, listening, rewriting, put words together that might not otherwise be put together. All this takes alota time
From the way you write and present words on the page to your artwork, does visual work come easy for you? It seems like it does because you have such a wonderful eye for detail. Talk about this some.
Yes. Painting comes easy after painting since I was 12 years old and struggling for years to find myself through paint. Nothing (creative) comes without practice and perseverance and hard work and devotion and love and love is not a word I use in any other context. I love to paint, I love to write and play with words, spreading them over the page, off the page, sometimes I eat them with feta cheese crumbled on top. Yum. What a great life I have. Words in the morning, paint at night.
Explain why you stay away from punctuation. I go back and forth with this in my own work. I think sometimes, it can ruin the flow or make the poem pause where you don't want it to. Explain your rationale.
Initially, during the late 60's I started to use the lower case for all words, this was and is a reaction to inequality, it is my way of showing equality. Then I began to study punctuation because I'm not schooled in grammar. It took me many years of practice to understand how to use a semi colon; for instance, even a coma stumped me, sometimes. About a year ago by accident, sentences melted together and instead of deleting what happened I read what happened the snow was falling outside the top floor window and I liked what I saw that one day when I was reading one of the first poems in this manner my friend said it was all about the breath and the breath of the reader this then determines the breath especially after one walks up a flight of stairs words skirt flouncing skipping swishing from side to side.
Talk about some of your other chapbooks that were published.
All my chapbooks are self published except one, 'self portrait drawn from many'. I'm sending this manuscript out into the small press world, looking to be legitimized by 'another press'. There are also chapbooks that are done in quantities of 10 or 20 because I hand make them. "to speak the meaning of being" is a chapbook of poems taken from poets like Shakespeare, Emily Dickinson, and Rilke. I take the 3rd and 7th word from one of those poets poem and create a new meaning from the extrapolated poem. In doing that, I find meanings intended by the poet and meanings intended for me. All part of experimenting with words. That particular play with words no longer interests me.
You go to Bagel Bards every Saturday, like I do. You are our weekly scribe. Talk about your experience so far with this writing/publishing community.
Being in the bagel bard community has afforded me the opportunity to meet, talk, and share experiences, both personal and creative experiences. I'm not too good at small talk, being the scribe, lets me sit back and listen while other converse. Of course, I can't always do that, the other bards will often throw me a phrase to put into my notebook. Doug Holder and Harris Gardner are generous men. They have encouraged and open doors that would otherwise been closed. Like being a scribe for the group and becoming poetry editor for the Wilderness House Literary Review, like being asked to feature at Harris's venue at Borders or being a feature for Doug when he ran a venue. I certainly got a jump start because of Doug.
You are poetry editor for The Wilderness House Literary Review. Discuss the type of work you look for. What is your biggest challenge being an editor?
As poetry editor I look for a fresh, on the edge poems. All poetry is welcome from formal to experimental, from narrative to non-objective. There are so many wonderful voices that need to be heard and I hope to be able to show that wide range and to be supportive of new and older poets. The great challenge is to find enough time to read all the submissions and to consider the poems. Of course I do manage to read and then to respond. Being a poetry editor widens my understanding of how the poem takes form and from where it takes its subject matter or a poem that is purely conceptual without emotion; this is a grand experience and I'm so grateful to be part of the poetry community.
Any last comments?
Thank you for asking me about who I am as a creative person. Your respect and gracious comments over the past year or so have been a welcomed embrace in a world that sometimes rushes by with just a hello.

---
ROTTY WHAT
EAST COAST TOUR
Ben Bennett - percussion
John M. Bennett - words
Jack Wright - saxophone
Friday Dec. 8
The Red Room
425 E. 31st St
Baltimore MD
9 pm
Saturday Dec. 9th
Photo West Gallery
3625 Lancaster Avenue
Philadelphia PA
8 pm, $5 donation
Sunday Dec. 10
Connexions gallery
213 Northampton
Easton PA
7 pm
Monday Dec. 11
Tribes
285 E. 3rd St., 2nd floor
New York City
3 pm
---
McIntyre & Moore Booksellers
hosts the artists involved in Spontaneous Combustion
a special workshop led by local artist/musician Yani Batteau and writer/storyteller Judah Leblang
Thursday, December 7, 7:30 pm
(Somerville, MA) McIntyre & Moore Booksellers hosts the artists involved in Spontaneous Combustion, a special workshop led by local artist/musician Yani Batteau and writer/storyteller Judah Leblang. Thursday, December 7, 7:30 pm at McIntyre & Moore Booksellers, 255 Elm St. in Davis Square, Somerville, near the Red Line. Free and open to all, with a reception following; wheelchair accessible. 15% book discount* for all those attending [*discount available for day of event only]. For information call McIntyre & Moore Booksellers (617) 629-4840 or log onto http://www.mcintyreandmoore.com.
Local artists and writers who took the Spontaneous Combustion workshop will be presenting their sketches/word paintings of Davis Square and the folks who work/play there. Come and see this unique collaboration of visual artists and writers -- and enjoy storytelling by NPR commentator Judah Leblang and banjo playing by recording artist Yani Batteau! The evening will feature music, humorous stories, art, and refreshments!
For more information on the leaders of the Spontaneous Combustion workshop,
log onto http://www.judahleblang.com and http://www.vernonstreet.com/artists/batteau.html.
McIntyre & Moore Booksellers
http://www.mcintyreandmoore.com
On the Red Line, in the heart of Davis Square
Greater Boston's best source for scholarly used books
Open for browsing 7 days a week until 11 pm
---
Artist Randal Thurston Event
Date: Monday, December 11, 2006
Place: O' Neill Branch Library
Address: 70 Rindge Ave.
City: Cambridge
Time: 6:30 - 7:45 p.m.
Cost: Free
Description:
Long-time Somerville resident artist Randal Thurston gives a behind-the-scenes look at the public artwork he created for the recently reconstructed Yerxa Road Underpass in North Cambridge. He shows how he transformed his designs, originally created in delicate cut paper, into sand-blasted tile and laser-cut steel. He also will give a paper-cutting demonstration, and lead a short trip down Yerxa Road to view the project.
All ages are welcome. Free. For more information, call 617-349-4023.
---
A Joyful Christmas from Germany
Musicians of the Old Post Road will perform seasonal cantatas, arias, and instrumental works from the 17th and early 18th centuries by Telemann, Heinichen, Hoffman, Bernard, and others. Featuring mezzo-soprano Pamela Dellal.
December 15, 2006
Emmanuel Church, 15 Newbury St., Boston, 8 pm
December 16, 2006
First Parish, 327 Concord Rd., Sudbury, 8 pm
Tickets are $22 general admission, $17 seniors/students, kids 7-17 come free when accompanied by an adult. To order tickets call 781-466-6694 or on line at http://www.oldpostroad.org
Handel: Apollo e Dafne
Musicians of the Old Post Road will perform Handel's marvelous dramatic cantata which addresses the question: Can the Sun god find true love with a beautiful but mortal nymph who spurns him? Plus fine instrumental works by Handel. With soprano Jayne West and baritone Aaron Engebreth.
February 3, 2007
Emmanuel Church, 15 Newbury St., Boston, 8 pm
February 4, 2007
First Unitarian Church, 90 Main St., Worcester, 4 pm
Tickets are $22 general admission, $17 seniors/students, kids 7-17 come free when accompanied by an adult. To order tickets call 781-466-6694 or on line at http://www.oldpostroad.org
Haydn, Mozart, and the Gypsy Style
Musicians of the Old Post Road will perform beguiling chamber works with a gypsy flair by two Classical masters and their Bohemain contemporaries.
March 16, 2007
First Parish, Boston Post Rd. (Rt 20) at Cochituate Rd. (Rt 27), Wayland, MA. 8 pm
March 17, 2007
Emmanuel Church, 15 Newbury St., Boston 8 pm
Tickets are $22 general admission, $17 seniors/students, kids 7-17 come free when accompanied by an adult. To order tickets call 781-466-6694 or on line at http://www.oldpostroad.org

---
CALL FOR SUBMISSIONS:
Following the great success of Philly Fiction, a collection of short stories highlighting Philadelphia as a city of literary inspiration, Don Ron Books is accepting submissions for Philly Fiction 2. All stories must be written by authors affiliated with Philadelphia and must be set in Philadelphia. Stories cannot exceed 7,500 words; there is no lower word limit. Unpublished and unknown writers welcome; any genre, no language restrictions. Previously published stories okay with permission to republish.
Fiction only; no poetry. Deadline: 31 December 2006.
Send stories to:
Email (preferred): phillyfiction@yahoo.com
Or by post: Philly Fiction 2
P.O. Box 39861
Philadelphia, PA 19106
Provide your address, phone number, and email and enclose a brief bio that includes your affiliation with the city of brotherly love. Authors whose submissions are selected will be expected to work with the editors to fine tune their stories. There is no fee for submission. Selected authors will receive two copies of the book, but will not be otherwise paid. Don Ron Books reserves the right to publish the story in subsequent reprints of the book; authors otherwise retain the rights to their works. For questions please contact phillyfiction@yahoo.com. Stories will be recycled, not returned. We look forward to reading your stuff!
The original Philly Fiction is on sale now at nearly all Philadelphia-area bookstores as well as online retailers. A recent review in the Philadelphia Inquirer raved, "I liked every one of these tales . . . Philly Fiction rocks: Buy your own copy and see."
DON RON BOOKS
publisher of Philly Fiction
P.O. Box 39861
Philadelphia, PA 19106

---
Tom Daley Workshop
Four-week mini poetry writing workshop with Tom Daley
at Lexington Community Education
http://www.lexingtoncommunityed.org
Four Wednesdays, 6-8 pm starting November 29, 2006
Cost $55, $40 for seniors
Classes are held at Lexington High School
251 Waltham Street
Lexington, MA 02421
To register, call (781) 862-8043
Tom Daley is also available for one-on-one tutorials for poets preparing poems for submission to journals and manuscripts for poetry MS contests. For information, contact him at tom.daley2@verizon.net

---
(These readings current as of December 1st, go to the Readings page to see updated listings!)

Saturday, December 2
7:00 pm - Middle East in Central Square will host the Boston Poetry Slam's Individual World Qualifier, a grand slam to establish a representative to the Individual World Poetry Slam. Doors for the show open at 7:00. The all-star poetry showcase will begin at 8:00 and the poetry slam will follow at 9:00. The show is 18+ and tickets are $12, available at the Middle East box office or via Ticketmaster.
The Boston Poetry Slam at The Cantab Lounge
738 Massachusetts Avenue, Cambridge, Mass.
http://www.slamnews.com.
2:30 - 5:30pm - Celebrating the release of new books of poetry by Daniel Berrigan and Jason Shinder, and a collection of essays about Daniel Berrigan's work and life. They will be reading from their books, along with Gail Mazur and Liam Rector reading broadside poems, with a reception to follow.
All of this will be taking place at the Friends Meeting House in
Cambridge, 5 Longfellow Park (off Brattle Street).
7:00pm - Lindsay Pollock - Talk and Signing
The Girl with the Gallery: Edith Gregor Halpert and the Making of the Modern Art Market.
Barnes and Noble at Boston University.
660 Beacon Street, Boston. 617/267-8484.
www.bu.bkstore.com.
---
Wednesday, December 6
7:00pm - Porter Square Books. Writers' Room Reading. Some of our fellows and other members will be reading.
Porter Square Shopping Center,
25 White Street, Cambridge. Tel: (617) 491-2220.
www.portersquarebooks.org
7:00pm - Zoe Trodd, Howard Zinn, and John Stauffer - Talk and Signing. American Protest Literature.
Barnes and Noble at Boston University.
660 Beacon Street, Boston. 617/267-8484.
www.bu.bkstore.com.
---
Thursday, December 7
7:00pm - Charles P. Pierce - Talk and Signing. Moving the Chains: Tom Brady and the Pursuit of Everything.
Barnes and Noble at Boston University.
660 Beacon Street, Boston. 617/267-8484.
www.bu.bkstore.com.
---
Out Of The Blue Gallery
1st SUNDAY of the MONTH! DEMOLICIOUS POETRY, $5, 2PM, Host: John, experimental poetry.
EVERY MONDAY NITE, Stone Soup Poetry (Host: Chad Parenteau), a 35 year old venue, $4, sign up to be a feature - call Bill Perrault at 978-454-7423.
Starts at 7:30PM and don't forget to sign up!
Recorded on local t.v. station.
November 27th: Poet, comedian, artist, and activist Janet Cormier.
December 4th: Paul Hapenny visits Stone Soup before heading back to Hollywood.
December 11th: Enzo Surin brings his new chapbook to his feature.
December 18th: The return of Aldo Tambellini.
USUALLY the 1st FRIDAY of the MONTH! DIRE SERIES-$4, Signup 7:30, Begins 8 PM, Host: Tim Gager.
November 3rd: John Tirman, Michael Rosoovsky, Peter Desmond, Paula Savoy
December 1st: Nick Zaino, Nadine Darling, Chad Parenteau
USUALLY the 3rd FRIDAY of the MONTH! NOLA's TIGH FILI POETRY & OPEN MIC, $5, 8PM, Host: Nola, poems/prose.
EVERY SATURDAY NITE - "OPEN BARK" POETRY/MUSIC/STORIES with Debbie: 8:15 PM, $3-5. (Read your favorite poem-sing your favorite song-bring a friend!), Occasional Features. Sign up.
Out Of The Blue Art Gallery
106 Prospect Street
Cambridge, MA 02139
phone: 617-354-5287
---
Doc Brown's Traveling Poetry Show
at the Lily Pad
Doc Brown's Traveling Poetry Show
at the Lily Pad
(formerly the Zeitgeist Gallery)
Monday evenings from 7:30-9
now through December
Admission $5.
The Lily Pad
1353 Cambridge Street
PO Box 398096
Inman Square
Cambridge, MA 02139
617-388-1168
http://www.lily-pad.net/
See poets perform their own work
about Harleys, hockey, henna,old hardware stores, high school cafeteria fights, and those are just the women! Plus a bunch of butch bards, birdmen, battlers, boygods, B-movie directors, and brash old men. This talented group of journeymen poets do their fast-paced 90 minute show. well-crafted poems, no cheap sitcom one-liners, but poetry, the real thing, performed for your pleasure and pain, thrills and tears with a different show every Monday night at 7:30 for $5.
Contact: Michael Brown
Info: 508-759-2752
michaelbrown2@verizon.net
http://www.myspace.com/docbrowntroupe
Valerie Lawson
SoShorePoet@aol.com
Images & Imagery
---
EMACK & BOLIO
POETRY READINGS:
As usual, there will be two featured poets and plenty of open mic time. Please come and participate!! The series has been running now solidly for over three years as hosted by poet, Marc Widershien. It includes a diverse and welcoming audience and has featured some terrific Boston and nationally known poets. . .
--Carolyn
This fall's schedule of readings for Emack and Bolio's follows below:
November 30th: Michael Sherlock
December 28th: To be announced...
EMACK & BOLIO
2 Belgrade Avenue
Roslindale, MA.
---
Lizard Lounge Poetry Jam presents featured poets
Douglas Bishop & Marc Goldfinger
welcoming you to a poetry party for their birthday!
playing with the Jeff Robinson Trio
Plus: Qualifier for the Individual World Poetry Slam!
Sunday, Dec. 3, 2006
Lizard Lounge Poetry Slam: 8:00 pm/ Feature: 9:30 pm
1667 Mass. Ave., Cambridge
$5 Cover Open Mike: 10:30 pm
---
The Blacksmith House Poetry Series
56 Brattle Street, Cambridge, MA
8:00 pm | $3
Tickets may be purchased 45 minutes prior to the reading.
Readings
Monday, December 4
Jane Hirshfield
Jane Hirshfield reads from her latest poetry collection, After.
Monday, December 11
Elizabeth Arnold and Joshua Weiner
Elizabeth Arnold, author of the poetry collection, Civilization, reads with Joshua Weiner, author of From the Book of Giants.
---
NEW ENGLAND POETRY CLUB READINGS
ALL FREE
***UPCOMING EVENTS***
Monday Dec. 4th 7 pm TERESA IVERSON, CAROLE MUNN, JOAN HOULIHAN
BETSEY HOUGHTON, MICHAEL CANTOR and other winners of NEW ENGLAND POETRY CLUB
prizes will read at the Harvard Yenching Library
2 Divinity Avenue, Cambridge
Free and open to the public
617-491-1955
Tuesday December 12th 7 pm Cambridge Public Library
Central Square Branch
45 Pearl Street, next to parking garage
More New England Poetry Club prize winners and poets KATHI AGUERO and MED KEARNS
speaking about the low residency MFA program at Pine Manor College.
617-491-1955
http://www.nepoetryclub.org/events.htm
---
We are proud to announce the new Autumn, 2006 Chapter & Verse Poetry Series in Jamaica Plain, MA.
PLEASE NOTE NEW LOCATION CHANGE:
(All readings take place from 7:30 to 9:00 pm.)
Chapter and Verse at LORING GREENOUGH HOUSE, 12 South Street in Jamaica Plain. (Loring Greenough House is a beautiful, historically preserved house on a spacious lawn that has hosted numerous musical events over the past few years. We are delighted to have a wonderful new location!!!! Loring Greenough House is easily accessible by MBTA 39 bus line and/or Orange Line T at Forest Hills).
Chapter and Verse is FREE and refreshments are served.
For information contact:
dorothy.derifield@gmail.com (Dorothy Derifield)
or wileysister@yahoo.com (Carolyn Gregory)
Autumn Schedule:
Wednesday, December 6 7:30 pm Elena Harap, Sybille Rex, Marc Goldfinger
Chapter and Verse is free and refreshments are served.
---
CORMIER'S COMEDY MADNESS
host JANET CORMIER
presents WHINE, DINE AND LAUGH THE HOLIDAY COMEDY DINNER SHOW
comedy, poetry and music
Wed December 13 @ All Asia 334 Mass Ave, Cambridge
617 497 1544
showtime 6:30 PM/ admission $5.00
---
Photographs by Valerie Lawson at the Brockton Library Poetry Reading in December.
Buzzards Bay, MA November 26, 2006—Poet/Photographer Valerie Lawson will show photographs, many of them taken while traveling as a poet, as part of the monthly reading series at the Brockton Public Library on Saturday, December 16, 2006.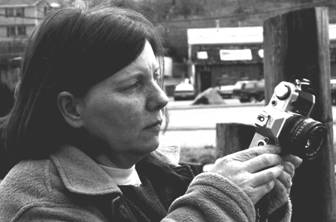 Poet/Photographer Valerie Lawson to show photographs as part of the monthly reading series at the main branch of the Brockton Public Library, 304 Main Street, Brockton on Saturday, December 16, 2006 from 12:00—5:00 PM. Every month, poets gather at the library for a full afternoon of the arts. The afternoon begins with the opening of the art show at noon and remaining open until 5:00 PM when the library closes. Other events include a writing workshop with Tom Daley, an open mic for all poets, and featured readers Martha Collins and Roseanna Warren.
(photo by Michael Brown)
Lawson is normally found behind the microphone reading her work, but this afternoon, she will display her photography. Many of the photographs in this show were taken while traveling as a poet. One of the photos, taken while traveling as part of a multi-media cultural exchange between Massachusetts and Ireland, depicts a man ripping apart the Union Jack in the midst of a demonstration in front of the GPO in Dublin in remembrance of the twenty fifth anniversary of the death of Bobby Sands.
In one series of photographs, taken while at the Swedish Poetry Slam Nationals, Lawson photographed "Silence," a performance by Erikki Lapalainen, one of the founders of the International Poetry Olympics. He is an elegant man in a suit and a blue bow tie who very deliberately turns the pages of a manuscript and silently reads for several minutes on stage. The eloquence of his silence and the grace of his hands is captured in the series of nine images.
Many of the photos are closer to home. There is a photograph of the Zakim Bridge, shot while the convertible she was riding in was stopped on the bridge. In another series, shot in Onset, a broken up piano waited on the sidewalk to be taken away by the trash collector. The poet writes, "They emptied their house of music…" a commentary on lost art.
Valerie Lawson has been involved with the poetry communities of the South Shore and Boston/Cambridge for many years. Lawson's photographs and artwork have appeared in various area juried shows and online magazines. Her poetry, photography, and artwork have been included in the multi-media shows, The Culture of Peace and Next of Kin. Dog Watch, a book of poems by Lawson is due to be released this winter.
Contact:
Valerie Lawson
Images & Imagery
508-759-2752
SoShorePoet@aol.com
http://hometown.aol.com/vmuddypond/imagesimagery.html
---
Brockton Library Poetry Series
Saturday, December 16th, 2006:
Rosanna Warren
Martha Collins
2:15 - 3:30 Open reading
3:45 - 4:45 Features
Featured Artist: Photographer/Poet Valerie Lawson
Saturday, January 20th, 2007, 2-5 PM:
Charles Coe
Jean Monahan
Saturday, February 16th, 2007, 2-5 PM:
Maria Conley
Saturday, March 17th, 2007, 2-5 PM:
Marguerite Guzman Bouvard
Becky Thompson
Saturday, May 18th, 2007, 2-5 PM:
Ryk McIntyre
Brockton Library
304 Main St, Brockton, MA
---
Cambridge Cohousing presents
The Fireside Reading Series
How to get to Cambridge Cohousing:
Cambridge Cohousing is located just north of Porter Square at 175 Richdale Ave. From Massachusetts Ave., turn onto Walden St. Go over the commuter rail tracks and immediately turn right onto Richdale Ave. Cambridge Cohousing is the complex of yellow buildings. Walk through the main gate at 175 Richdale Ave. to the common house. For further information or directions, please contact Jenise Aminoff, 617.576.2004, jenise@alum.mit.edu or Molly Watt, 617-354-8242, mollywatt@comcast.net.
For more information, go to http://www.cambridgecohousing.org/poetry/.
To join our mailing list, send email to poetry-request@cambridgecohousing.org.
Draft to date of Eighth Fireside Series Schedule 2006-7
Tuesday, January 2, 2007
7:30 PM
Readers: Annie Deppe and Ted Deppe
Tuesday, February 27, 2007
7:30 PM
Readers: Fred Marchant and Mala Radhekrishnan
Tuesday, March 27, 2007
7:30 PM
Readers: Jean Alonso and H. susan Freireich
Tuesday, April 24, 2007
7:30 PM
Readers: Steve Glines and Lolita Paiewonski
Tuesday, May 29, 2007
7:30 PM
Readers: Bernadette Davidson and Elizabeth Quinlan

---

92nd Street Y Reading Series
Lexington Avenue at 92nd Street
New York, NY
---
Robert Dunn Poetry Readings
Poetry Reading
Poet to Poet Open Mic
Sunday, December 3rd, 2006 3 pm
Munch Café & Grill
71-60 Yellowstone Blvd @ Dartmouth St.
Forest Hills, Queens, NY
Leigh Harrison, emcee via dunnmiracle@juno.com
Poetry Reading
Poet to Poet Open Mic
Thursday, December 14th, 2006 8 pm
The Vault
90-21 Springfield Blvd,
Queens Village, NY
Robert Dunn, emcee via dunnmiracle@juno.com
Poetry Reading
Poet to Poet Open Mic with Mordy Mandell
Thursday, December 21st, 2006 7:30 pm
Spoken Words Café
226 4th Avenue
Park Slope, Brooklyn, NY.
Robert Dunn, emcee @ dunnmiracle@juno.com
Poetry Reading
Poet to Poet Open Mic with Paul DeCoster
Sunday, December 19th, 2006 3 pm
Munch Café & Grill
71-60 Yellowstone Blvd @ Dartmouth St.
Forest Hills, Queens, NY
Leigh Harrison, emcee via dunnmiracle@juno.com
Poetry Reading
Poet to Poet Open Mic with Mike & Jeff
Sunday, December 31st, 2006 3 pm.
Back Fence Bar
155 Bleecker St, Manhattan. (btwn Broadway & 6th Ave)
$3 adm, $3 min.
Robert Dunn, emcee @ dunnmiracle@juno.com
---
Poetry Reading
Bowery Women/Poems Book Release Party II
Readers-Janine Pommy Vega, Marty Mc Connell, Patricia Spears Jones and others
Sunday, December 3, 2006
2 to 5 p.m.
Bowery Poetry Club
308 Bowery
New York, NY 10003
Contact: Bowerywomen@gmail.com
---
Speakeasy Poetry Series- New York
Frannie Lindsay, Timothy Liu, Malena Morling
KGB Bar
85 East 4th Street
New York, NY
Monday, December 4, 7:30 p.m.
---
Perch December Literary Tuesdays
December 5th 7:30 PM: Barry Wallenstein
He will be joined by muscians Bob Cunningham and Vicent Chancey
December 12th 7:30 PM: Michelle Valladares
December 19th 7:30 PM: 5 Emerging writers: Lynda Curnym, Tracy Marx, Hasanthia Sirisena, Lisa Sklar, Dorthy Spears
December 26th 7:30 PM: Hasaanthika Sirisena
365 5th Avenue Park Slope
F/R Tain to 4th Avenue/9th St. (Between 5th and 6th Streets)
NYC
http://www.theperchcafe.com
---
Donald Lev Upcoming Readings:
December 8
I will be featured with Roberta Gould at Morning Brew in High Falls, at 7 pm.
---
Sunday Salon Readings
All readings are free and take place at 7pm at Stain Bar
766 Grand St. in Brooklyn, NY.
(Take the "L" train to Grand and walk one block west).
Check out the website for reader bios: www.sundaysalon.com
December 10: David Treuer, Charles Salzberg, Katherine Lanpher, Ronna Wineberg
January 21: Tony O'Neill, Lisa Ferber, Joyce Marcel, Matt Cav
February 18: Harlem Writers Guild reading with KC Washington, Grace Edwards, Judy C. Andrews
March 18: Kate Hunter, Mitch Levenberg, Shelly Marlow, Jeffrey Renard Allen
---
Cornelia Street Café
Wednesdsay, December 13 6:00 pm
Intercultural Poetry Series:
Nina Cassian, Dean Costos, Juris Kronbergs & Julia Istomina
Hosted by Andrey Gritsman
www.interpoezia.net
Programs Curator: Angelo Verga
The Cornelia Street Cafe
29 Cornelia Street
NYC
$6 cover gets you a free drink
www.corneliastreetcafe.com
Subway: A/C/E/F to West 4th or 1/9 to Christopher
Nina Cassian is one of the foremost European poets and writers. She writes both in English and Romanian. She was born and lived much of her life in Romania becoming one of that country's most significant writers. After she moved to the United States about twenty years ago, she has published several collections of poetry as well as important essays in English, and now occupies a position of prominence as a major foreign author in American letters along with Milosz, Brodsky and Simic. Nina was a personal friend, colleague and translator of Paul Celan.
Dean Kostos holds a Master's degree in Creative Writing from Antioch University. He is the author of the collection The Sentence that Ends with a Comma (Painted Leaf Press, 1999; it was taught at Duke University, 2003). He co-edited the anthology Mama's Boy: Gay Men Write About Their Mothers (Painted Leaf Press, 2000), a Lambda Book Award finalist. His poems have appeared in The American Poetry Review, The Bitter Oleander, Blood and Tears (anthology) and many others. His translations from the Modern Greek and Spanish have appeared in Talisman, Bomb, and Barrow Street
Juris Kronbergs is a poet, free-lance journalist and translator. He was born 1946 in Sweden, in a Latvian family. He studied Literature, Nordic and Baltic languages at the University of Stockholm, as well as Theory of Translation and 20th Century poetry at Cambridge, England. For ten years he served as a diplomat – as Cultural Attaché at the Latvian Embassy in Sweden. He has been the President of the Latvian PEN centre. He is a honorary member of the Latvian Academy of Science.He has published ten collections of poetry, of them one in Swedish and one bilingual and about twenty books of poetry translations.
Julia Istomina was born in Moscow, Russia and came to the States in 1990. She explores a variety of themes within her work including the nature of cultural associations and language. Her poems, translations,and essays have appeared or are forthcoming in The Cortland Review, Green Integer Review, The Gertrude Stein Awards Anthology 2005/6, Ars Interpres, Rain Taxi, and other venues. She has previously studied with the Australian poet John Kinsella and is finishing her M.F.A at the New School.
---
Mark Pawlak upcoming poetry readings
December 13th 8 PM
The Poetry Project
with Bill Zavatsky
St. Mark's Church
131 E. 10th St.
New York, NY 10003
http://www.poetryproject.com/
---
Readings featuring Thad Rutkowski:
UPCOMING WORKSHOP
"Finishing Touches," fiction writing, will begin on Monday evening, Nov. 6, at The Writer's Voice of the West Side YMCA. The workshop will focus on refining stories, chapters or prose pieces and is open to everyone. Seven meetings. Free for YMCA members. Call Glenn Raucher at (212) 875-4124, or email graucher@ymcanyc.org.
UPCOMING READINGS
Dec. 18, Monday, 8 p.m.
The Coffee Pavilion, 133 E. Water St., Hanover Square, Syracuse, NY. http://www.myspace.com/janecassady
Jan. 1, 2007, Monday 4-6 p.m.
Alternate New Year's Day Marathon. Bowery Poetry Club, 308 The Bowery. Free. http://www.bowerypoetry.com
Jan. 14, Sunday, 6 p.m.
Beat Night with Larry Simon's band. Cornelia Street Cafe, 29 Cornelia St., Manhattan. $6 includes drink. (212) 989-9319.
Jan. 18, 2007, Thursday, 7 p.m.
Drunken! Careening! Writers! KGB Bar, 85 East 4th Street (at Second Avenue). Manhattan. Hosted by Kathleen Warnock. Free.
Jan. 25, Thursday evening.
Reading from my work. St. Lawrence University English Dept., Canton, NY. Free. (315) 229-5125.
Hope to see you somewhere! --Thad Rutkowski
http://www.thaddeusrutkowski.com
---
LALITA JAVA READINGS
3rd THURSDAYS 7-9 PM
HOSTED BY DOROTHY F. AUGUST
Lalita Java
210 East 3rd St.
(Btwn. B & C)
December 21- Holiday Celebration: Bill Zavatsky, Dorothy F. August and Others TBA + Limited Open
Books and CDs will be on sale!
---
Reading/Event: Poets in Nassau First Friday Readings
Date: February 2, 2007
Place:Village Bookshoppe
Address: 7 N. Village Ave
City:Rockville Centre, NY 11570
Time: 7:30 pm
Cost: Free (donations appreciated)
Readers: Barbara Novack and Ann Kenna
---
Reading/Event: Poetry Event at Molloy College
Date: Sunday, March 25, 2007
Place: Molloy College (Multi Purpose Room, 2nd floor Wilbur Arts Center)
Address: 1000 Hempstead Ave.
City:Rockvulle Centre, NY 11571
Time: 3 to 5 pm
Cost: Free
Reader: George Wallace
---
Nahid Rachlin Readings:
DECEMBER
SLEEPY HOLLOW, NY
Sunday, December 10, 4:30 P.M.
Reading, booksigning, PERSIAN GIRLS (memoir)
300 Riverside Drive (in the Philipse Manor residential area), Sleepy Hollow, NY
Information: 914-332-5953.
website: http://www.nahidrachlin.com/
Nahid Rachlin Bio:
Nahid Rachlin, born in Iran, came to the United States to attend college and stayed. She has been writing and publishing novels and short stories, in English. Among her publications are four novels, JUMPING OVER FIRE (City Lights), FOREIGNER (W.W. Norton), MARRIED TO A STRANGER (E.P.Dutton), THE HEART'S DESIRE (City Lights), and a collection of short stories, VEILS (City Lights). She has a memoir, PERSIAN GIRLS, in press at Penguin (october 5, 2006).
Her individual short stories have appeared in about fifty magazines, including The Virginia Quarterly Review, Prairie Schooner, Redbook, Shenandoah. Her essays have been published in, Natural History Magazine, The New York Times Magazine, Contemporary Authors Autobiography Series, and is in press at an anthology, How I Learned to Cook and other writings On Complex Mother-Daughter Relationships, Penguin. She has written reviews for the NEW YORK TIMES and NEWSDAY.
While a student she held a Doubleday-Columbia fellowship and a Wallace Stegner Fellowship (Stanford). The grants and awards she has received include, the Bennet Cerf Award, PEN Syndicated Fiction Project Award, and a National Endowment for the Arts grant. Currently she teaches at the New School University and the Unterberg Poetry Center at the 92nd Street Y. She has taught at Yale University and Barnard College. Presently she is a fellow at Yale.
PERSIAN GIRLS:
(Tarcher/Penguin, October 5 2006) jacket description:
In a story of heartache, ambition, oppression, hope, and sisterhood, Persian Girls traces Rachlin's childhood and coming of age in Iran under the late Shah—and her domineering father—her tangled family life, and her relationship with her older sister, and unexpected soulmate, Pari. A story of promises kept and promises broken, of dreams and heartache and, most important, of sisters, Persian Girls is a gripping saga that will change the way anyone looks at Iran and the women who populate it. "Riveting and beautifully observed, Persian Girls recounts Nahid Rachlin's family epic with the same quietly mesmerizing power that makes her novels and short stories linger in the mind years after we've read the last page." —Dona Munker, coauthor of Daughter of Persia

---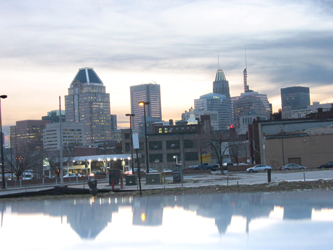 KENSINGTON ROW BOOKSTORE
LYN LIFSHIN PUBLISHING READING
DECEMBER 6, 2006 --7 PM
3786 Howard Ave
KENSINGTON, MD 20895
301-929-9416
FREE

---
Fort Wayne, Indiana Reading
Date: Dec. 2, 2006
Place: One World Cafe, Three Rivers Food Co-op
Address: 1612 Sherman Street
City: Fort Wayne, IN
Time: 7:30 pm
Cost: Free
Readers: John Bradley, Ray Gonzalez, George Kalamaras

---

The Poetry Center's Reading Series LIP
Lip Reading Series
Please join us for Lip, the new reading series devoted to emerging writers and performers at
The Spot
4437 N. Broadway
between Montrose and Wilson,
the Wilson stop on the Red Line.
8 pm Admission $5
Join hosts Joel Chmara and Mary Fons as they present the best emerging poets and spoken word performers from across the city and the country. The venue features an open mic, where both emerging poets and seasoned artists get to strut their stuff, followed by local and national features.
December 7: Mike Salinger (Cleveland, OH), Aaron Enskat

---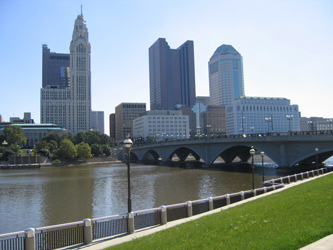 The Poetry Forum at Larry's
The Fall Season
Looking forward to seeing you'all soon for our 23rd season--
Readings: 2 sets about 20-25 minutes each. From:

December 4-- Kevin Griffith
January 15-- Okla Elliot
Okla Elliot will be reading from his new chapbook, Lucid Bodies and Other Poems (out from MSR Press), at the Larry's Poetry Forum, sponsored by the Ohio Arts Council.
All Events Mondays 7pm
2040 N. High St
Columbus, Ohio
All readings followed by a brief open mike.
Funded by the Ohio Arts Council: A state agency that supports public programs in the arts.
David Baratier, Co-coordinator, Larry's Poetry Forum
editor@pavementsaw.org
David Baratier, Editor
Pavement Saw Press
PO Box 6291
Columbus, OH 43206
http://pavementsaw.org

---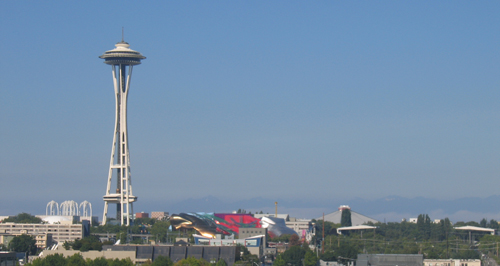 Reading by
Judith Skillman and other Hugo House teachers
Richard Hugo House
11th and Pine St.
Seattle, WA
January, 4th 7:00PM
Free


---
Dance (Dance Theater) / Performance Art
[high res digital images available;
video sample available at http://www.marjoriemorgan.org/mov/LAnima%20.mov]
Water Way Arts and Marjorie Morgan
present the Boston premiere of
L'ANIMA
a new dance theater piece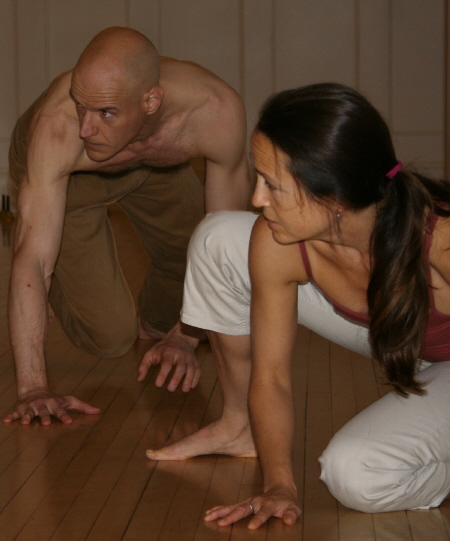 [photo of Jim Banta and Alison Ball
by Whitney Robbins]
"When the wolf comes to us may we kneel at its side."
[taken from the text of "L'ANIMA" written by Marjorie Morgan]
created by Marjorie Morgan
performed by Alison Ball, Jim Banta, Ariella Amshalem,
Marjorie Morgan, Jessica Newman,
Alli Ross, & Janet Slifka
with John Voigt on double bass
December 8 & 9 at 8 PM
December 10 at 4 PM
"Marjorie Morgan makes robust, evocative performance pieces that resonate with rhyming narratives and almost incantatory song, and whose movement rocks with kinesthetic and emotional nuance". (Debra Cash, Boston Globe)
(Brookline, MA) L'ANIMA: a new dance theater piece. Presented by Water Way Arts and Marjorie Morgan. Created by Marjorie Morgan and performed by Alison Ball, Jim Banta, Ariella Amshalem, Marjorie Morgan, Jessica Newman, Alli Ross, & Janet Slifka, with John Voigt on double bass. Friday-Saturday, December 8-9, 8:00 pm, and Sunday, December 10, 4:00 pm. Tickets: $10; $8 for students, seniors, BDA members.
Held at Brookline T'ai Chi, 1615 Beacon Street, Brookline.
Conveniently located on the Green Line (C-train) and accessible by the following MBTA bus lines: 65, 66, 51, and 86; plenty of on street parking. For tickets and information: 617-277-2975 or log onto www.brooklinetaichi.com.
In L'ANIMA ("the soul" in Italian), creator Marjorie Morgan uses movement, text and live music to explore myths about humans and wolves and the contemporary lessons we can learn from these tales. The piece is about fear, mistrust and the need to overcome these destructive forces with fresh solutions. The two ancient tales of Romulus and Remus and Saint Francis and the Wolf are relayed alongside an original version of the oft-repeated urban myth of a child raised by wild dogs. In retelling these stories, we visit the positive aspects of our animal nature and look at the pressing need to learn humility and respect from the animals around us.
Much of the music in L'ANIMA is inspired by the sounding of bells in Italy. Bells ring to mark time, birth, death, marriage and other passages. They are auditory markers for the things that make us human and they touch our animal souls. The music is sung in Italian and English and is accompanied by handbells and double bass.
L'ANIMA is composed, choreographed and written by Marjorie Morgan. Morgan is a New England performance and visual artist whose work combines elements of movement, live sound, music and text. She is fascinated with the territory between composition and improvisation and between narrative and abstraction. With her company of performers, Morgan is investigating how to sing the body and how to move the voice.
The talent, dedication and energy of Morgan's performers, Alison Ball, Jim Banta, Ariella Amshalem, Jessica Newman, Alli Ross, Janet Slifka and John Voigt, have helped shape L'ANIMA. And the majestic main hall of Brookline Tai Chi proves to be the perfect intimate environment for L'ANIMA's soul searching.

---
InterAct Theatre Company's Writing Aloud: Going Forward
Featured Stories & Writers:
"The Bard of Frogtown" by Allison Whittenberg
"Smart" by Benjamin Matvey
"The Bridge Keepers" by Neda Scepanovic
Featured Readers To Be Announced
On the Mainstage at The Adrienne
2030 Sansom St., Philadelphia
Monday, October 30, 2006 at 7:00 p.m.
Tickets are $12.00 for general admission or $6.00 for InterAct subscribers
For tickets or information: BoxOffice@InterActTheatre.org or (215) 568-8079
David Golston
InterAct Theatre Company's Writing Aloud: Going to Pieces
Featured Stories & Writers:
"Bent and Blue" by CJ Spataro
"Smoke" by Robin Parks
"Pablo and the Frogs" by Steven Schutzman
Featured Readers To Be Announced
On the Mainstage at The Adrienne
2030 Sansom St., Philadelphia
Monday, December 12, 2006 at 7:00 p.m.
Tickets are $12.00 for general admission or $6.00 for InterAct subscribers
For tickets or information: BoxOffice@InterActTheatre.org or (215) 568-8079
David Golston
web: http://www.InterActTheatre.org
INTERACT THEATRE COMPANY ANNOUNCES 2006/2007 SEASON OF WRITING ALOUD
Philadelphia, PA - InterAct Theatre Company is excited to announce the eighth season of Writing Aloud, a series of one-night-only evenings of short contemporary fiction written by the region's finest writers and read on stage by professional actors. The 2006/2007 Season will feature a selection of twenty-one short stories by area writers, including New York Times bestselling author Jennifer Weiner. David Sanders, Director of the Writing Aloud program, recently announced the season line-up while adding, "We are thrilled to have received such a high number of outstanding submissions this season, making our eighth season one of our most exciting ever."
---
ABOUT THE 2006/2007 SEASON
---
The 2006-2007 season of Writing Aloud kicks off on October 30, 2006 at 7:00 p.m. with an evening entitled Going Forward, featuring "The Bard of Frogtown," by Allison Whittenberg, "Smart," by Benjamin Matvey, and "The Bridge Keepers," by Neda Scepanovic.
The second installment in the series, entitled Going to Pieces, takes place on December 12, 2006 and features "Bent and Blue," by CJ Spataro, "Smoke," by Robin Parks, and "Pablo and the Frogs," by Steven Schutzman.
Going Down, on February 5, 2007, will be Writing Aloud's first performance in the new year. It will feature the stories "He Did It for Morgan," by Kathryn Watterson, "Loss Prevention," by Marion Wyce, "Child at Play" by Manini Nayar, and "The Captain is Sleeping," by Norman Lock.
The series reconvenes on March 19, 2007 with a series entitled Coming Apart, featuring "The Black Box," by Clare Keefe Coleman, "Feeding the Ducks," by Jim Ray Daniels, "The Embrace," by Niama Leslie Williams, and "Between States," by Greg Downs.
The fifth installment, Coming to Terms, on April 30, 2007, will feature an exciting story from Jennifer Weiner, New York Times bestselling author of Good in Bed and In Her Shoes. Also featured in Coming to Terms will be "The Haircut," by Linda Blaskey, "Dog Whispers," by Randall Brown, and "Make Me Over," by Amina Gautier.
The 2006-2007 Season of Writing Aloud concludes on June 11, 2007 with an evening of stories entitled Coming Together, featuring "Good Providers," by Miriam Fried, "The BVM" by Tree Riesener, and "Measures of Sorrow," by Jacob M. Appel.
Casting for the upcoming 2006/2007 Writing Aloud season has not yet been announced, however, InterAct is in the process of finalizing a line-up of some of Philadelphia's best actors to read the short fictional stories. The recently completed 2005/2006 season of Writing Aloud included twenty-seven actors, including Barrymore Award winners Catharine K. Slusar, Madi Distefano, and Maureen Torsney-Weir, as well as Barrymore-nominated actors Matt Saunders, Amanda Schoonover, Buck Schirner, David Ingram, and Karen Peakes.
Each event in the 2006/2007 Writing Aloud season will be held on InterAct Theatre Company's Mainstage at The Adrienne, 2030 Sansom Street in Philadelphia. All performances are on Monday evenings at 7:00 p.m. Tickets are $12.00 for general admission or $6.00 for InterAct subscribers. Season subscriptions to the Writing Aloud season are available starting at only $10 an event, or $60 for the entire six-show season. Seating is limited, so advance reservations are strongly recommended and can be made by calling InterAct's Box Office at 215-568-8077. Group rates are also available.
---
ABOUT THE WRITING ALOUD PROGRAM
---
Directed by David Sanders, Writing Aloud was established in 1999 to present diverse voices in contemporary fiction by the region's best writers, read on stage by professional actors. Quickly establishing itself as the region's premiere reading series, Writing Aloud has attracted sold-out audiences, has been featured in special broadcasts on WHYY-FM public radio, and is a recipient of Philadelphia Magazine's 2001 "Best of Philly" award.
---
ABOUT INTERACT THEATRE COMPANY
---
Founded in 1988, InterAct Theatre Company is a theatre for today's world, producing new and contemporary plays that explore the social, political, and cultural issues of our time. Lead by Producing Artistic Director Seth Rozin, InterAct is one of the nation's leading centers for new writing in theatre, introducing important contemporary writers to audiences through its world premiere stage productions, developmental residencies, and Showcase of New Plays. The Writing Aloud program extends InterAct's mission of cultivating and presenting diverse artistic voices into the realm of short fiction.
InterAct's 2006/2007 Mainstage Season begins on October 20 with the classic play, KISS OF THE SPIDER WOMAN, written by Manuel Puig and translated by Allan Baker. Directed by Seth Rozin and featuring Philadelphia favorite, Frank X, and 2004 Barrymore nominee, Vaneik Echeverria, KISS OF THE SPIDER WOMAN opens officially on Wednesday, October 25, and runs through November 19, 2006. Continuing the season in the new year will be the world premieres of Thomas Gibbons' A HOUSE WITH NO WALLS (January 19-February 18, 2007) and Sherry Kramer's WHEN SOMETHING WONDERFUL ENDS (April 6-May 6, 2007). The season will then conclude with May 25-June 24 production of SKIN IN FLAMES, the East Coast premiere of a new play written by Catalan playwright Guillem Clua and translated by DJ Sanders.

---
If you would like to be added to my monthly e-mail newsletter, which gives information on readings, book signings, contests, workshops, and other related topics...
To subscribe to the newsletter send an email to:
newsletter@cervenabarvapress.com with "newsletter" or "subscribe" in the subject line.
To unsubscribe from the newsletter send an email to:
unsubscribenewsletter@cervenabarvapress.com with "unsubscribe" in the subject line.

---
Index | Bookstore | Submissions | Newsletter | Interviews | Readings | Workshops | Fundraising | Contact | Links
---
Copyright © 2005-2006 ČERVENÁ BARVA PRESS LLC - All Rights Reserved