July, 2005 Aug. 2005 Sept. 2005 Oct. 2005 Nov. 2005 Dec. 2005 Jan. 2006 Feb. 2006 Mar. 2006 Apr. 2006 May 2006 June 2006 July 2006 August 2006 September 2006 October 2006 November 2006 December 2006 January 2007
---
ČERVENÁ BARVA PRESS NEWSLETTER
Gloria Mindock, Editor Issue No. 20 February, 2007
---
INDEX
---
POETRY READINGS
---
THEATRE:
---
Welcome to the February, 2007 Newsletter.
The writers interviewed this month are Gary Fincke, Andrey Gritsman and Don Share.
I have received numerous queries and asked to see many manuscripts. As of February 10th, the query submission period will be closed. I will put a notice on the Website and in the newsletter when it is open again. All unsolicited queries will be returned. Červená Barva Press will continue to run poetry and fiction chapbook contests. Notice of these will be in Poets and Writers, the Červená Barva newsletter, and the Website.
Červená Barva Press has just published a new fiction chapbook by Ian Randall Wilson called, Out Of The Arcadian Ghetto.
To order this chapbook, go to: http://www.thelostbookshelf.com
The next two chapbooks forthcoming: Bilingual Poems by Richard Kostelanetz and Gothic Calligraphy by Flavia Cosma
Postcard Series: Two, will be out in the spring. Artwork by: Nancy Mitchell
Postcard Series: Three, will be out in Nov.-Dec.

---
Hosted by: Richard Cambridge
Feb 19th, 8:00 PM at Club Passim
Anyone familiar with literary history knows the importance of the small press movement. Poets from Whitman to Frost have cut their teeth in the little magazines and small presses that have traditionally published emerging poets and writers. The small or alternative press can be a means or an end in itself to help poets and writers outside the ivory walls of the academy get published and be heard.
The Boston-area has always been a hub of small presses. From the bigger (small) ones like David Godine, Inc, and Zephyr Press, to three thriving publishers in Somerville, Mass: Ibbetson Street, Červená Barva, and sunny outside, there are always alternatives to the Houghton Mifflin and Random Houses of the world. On Feb. 19 at 8:00 PM at Club Passim, 47 Palmer St. in Harvard Square, Cambridge, there will be a celebration of these three scrappy independent presses across the border from the Republic of Cambridge.
This event will be an invaluable way to acquaint yourself with the publishing community, and the larger literary community as well. Who knows?
"You might make a contact that will lead to a contract."
Feb 19th, 8:00PM
Club Passim
47 Palmer St.
Harvard Square
Cambridge, MA
$10.00
Editors Gloria Mindock (Červená Barva Press), Doug Holder (Ibbetson St. Press), and David McNamara (sunnyoutside Press) will discuss and give information concerning their own small press. Each press will have books from their presses for sale. Readers will represent each press.
ČERVENÁ BARVA PRESS READERS
Catherine Sasanov
Catherine Sasanov is the author of two full-length poetry collections, Traditions of Bread and Violence (Four Way Books) and All the Blood Tethers (Morse Poetry Prize, Northeastern University Press). She is also the librettist for the theater piece, Las Horas de Belén: A Book of Hours, commissioned by Mabou Mines. Her most recent poetry collection is the chapbook, What's Left of Galgani (Franciscan University Press, 2004). In 2005, Sasanov's ongoing interest in religion and the poor in Mexico City took her to the shrine of La Santa Muerte (Most Holy Death) in the neighborhood of Tepito. There she photographed the shrine, its rituals, and interviewed the followers of La Muerte for a poetry cycle she is working on. That same year, she discovered some of her ancestors had been slaveholders in Southwest Missouri. Since then, much of her attention has been focused on researching the lives of these men, women, and children, their descendents, and the persons who held them in bondage. Poems from both subjects have recently been published in the journals Field, Hotel Amerika, and Salamander, and are forthcoming in Sentence.
Mary Bonina
Mary Bonina's poetry chapbook LIVING PROOF will be published later this year by Cervena Barva Press. She has published poetry, memoir, and fiction in literary magazines and on-line journals. THE TEACHER'S VOICE: A JOURNAL FOR POETS AND WRITERS IN EDUCATION recently named her finalist for her chapbook of poems LUNCH IN CHINATOWN, inspired by the experience of teaching English to immigrants in their work places. Several of those poems have appeared in HANGING LOOSE, RED BRICK REVIEW, ENGLISH JOURNAL, and in two anthologies, most recently in VOICES OF THE CITY, published by the Rutgers University Center for Ethnicity, Culture, and the Modern Experience, in conjunction with Hanging Loose Press. Her poem "Afternoon at Nahant" appears in the anthology, VACATIONS: THE GOOD THE BAD AND THE UGLY, published this past summer by Outrider Press. She was also a winner of the Boston Contemporary Authors competition, a public art project, for her poem "Drift" which is engraved on a granite monolith permanently installed at the Green St MBTA Station in Jamaica Plain. Bonina presents workshops and talks on writing memoir and personal essay in libraries and schools. Excerpts from MY FATHER'S EYES: A MEMOIR were published online in GULFSTREAMING and in the 40th anniversary issue of Hanging Loose magazine. She is a fellow at the Virginia Center for the Arts and earned her MFA at the Program for Writers at Warren Wilson College.
SUNNYOUTSIDE PRESS
Jason Tandon
Jason Tandon is the author two chapbooks of poetry, Rumble Strip (sunnyoutside, forthcoming) and Flight (Finishing Line Press, forthcoming June, 2007), and his first full-length collection Give over the Heckler and Everyone Gets Hurt, which was a finalist for the 2006 Kinereth Gensler Award from Alice James Books. He holds degrees in English from Middlebury College and is completing his M.F.A. at the University of New Hampshire, where he teaches literature and composition. Since 2005 he has served as an intern poetry editor at the Paris Review. His poems have appeared or are forthcoming in many journals including, Poet Lore, Columbia Poetry Review, Red Cedar Review, Hiram Poetry Review, Euphony, The Bitter Oleander, Regarding Arts & Letters, and Good Foot.
Nathan Graziano
Nathan Graziano lives in Manchester, New Hampshire with his wife and two children. He is the author of several collections of poetry and a book of short fiction titled Frostbite. His work has appeared in Rattle, Main Street Rag, The Owen Wister Review, and many others. His latest collection poetry, Honey, I'm Home, was released by sunnyoutside press in 2005, and his next collection of poetry, High School Americana, will be released in 2007, also by sunnyoutside press. For more information visit: http://www.nathangraziano.com.
IBBETSON ST. PRESS (Partial List)
Timothy Gager
Timothy Gager is the author of Short Street and Twenty-Six Pack, both collections of short fiction and the e-book, The Damned Middle. His first book of poetry, The same corner of the Bar, is available through Ibbetson Street Press and his most recent, We Needed A Night Out, was released in 2006. He hosts the Dire Literary Series in Cambridge, Massachusetts every month and is the co-founder of Somerville News Writers Festival.
His short stories appeared in Word Riot, Midnight Mind Magazine, Scene Boston, Thieve's Jargon, The Insights Anthology, VerbSap, Swankwriting (83 Words), Story Garden and Write This Magazine. Timothy's poetry has been published in The Ibbetson Street Journal, Poems for All, Right Hand Pointing, GUD, Edifice Wrecked, Erato, Poetry Life and Times, Spare Change, The Somerville News, Generation X National Journal,High Horse, Third Lung Review, 63 Channels and Poesy XXIV. His poetry has been nominated for two Cambridge Poetry Awards.
Timothy is the founding co-editor of The Heat City Literary Review and has edited the book, Out of the Blue Writers Unite: A Book of Poetry and Prose from the Out of the Blue Art Gallery
http://www.timothygager.com
http://www.heatcityreview.com
http://www.somervillenewswritersfestival.com
Ann Carhart
Ann Carhart considers herself to be an old Cambridge poet and psychologist but readily admits being born in Brooklyn and falling in love with poetry while living in the Village and attending NYU. She has an M.A. in Writing and one in Counseling/Psychology from Cambridge's Lesley College and an Ed.D. in Human Development from U.Mass (earned in l998 at age 65).Ann is artist-in-residence at The Noyes School of Rhythm in Portland , Connecticut where she has taught poetry for the past the summer. She has read her poems at Harvard University, The Blacksmith House, The Episcopal Divinity School, The Out of the Blue Gallery, The Fireside Poetry Series and various other local Cambridge and Boston open mic venues. Ann has also read in New York, Connecticut and Seattle. However Ann will always state her most important achievement as being the mom to three daughters and one son and grandma to one grandson.
Her poetry has been published in two anthologies: Cries of the Spirit and Out of the Blue Writers Unite as well as the Heat City Review, Earth's Daughters and The Hartford Courant and Spare Change News and the Lyrical Somerville. Ibbetson Street Press just released her first book: "Sanctus! Sanctus! Sanctus!".
Ann often states: "when you have lived over 70 years, even the short form of your biography consists of too many words and takes up too much space!"
Lo Galluccio
Lo Galluccio is a vocal artist and published writer living in Cambridge, MA.. A former actress, she toured Greece with a LaMama production of "Iphigenia in Tauris" and more recently appeared as Simone in the rock musical "Fire of Life" at the Durrell Theatre in Cambridge, MA.. She's performed locally at the House of Blues, the Zeitgeist, Sculler's and the Acton Jazz Café. Her new band, "Leda's Swan" debuted in the winter of 2005 at Plexus, an Italian human rights festival at St. Mark's church. She's produced two solo CD's: Being Visited (1996), and Spell on You, (2003).
Her first published poetry collection, Hot Rain, was released in Boston in 2004, on Doug Holder's Singing Bone Press. She also serves as Poetry Editor for the Cambridge Alewife and reviews books of poetry for Ibbetson St. Press, including books by Lyn Lifshin and Hugh Fox. "The Ganesha Factor" was first published as a written memoir in The Heat City Literary Review number 2, in 2005. Her poem Millennium (which appeared in Ibbetson St. 19) was nominated for a Pushcart Prize in 2006.
For a more complete bio and bibliography go to: http://www.poetsencyclopedia.com.
Also her Italian website at: http://unofficiallogalluccio.atspace.com.
For blogs and music trax go to http://www.myspace.com/lolagalluccio.
Hot Rain is available through Červená Barva Press at The Lost Bookshelf. http://www.thelostbookshelf.com
Molly Lynn Watt
Molly Lynn Watt will be reading poems from her book "Shadow People" just released from Ibbetson Street Press. Her poems invite you into "the dance of her life" - your own -and have appeared recently in HILR Review, South Carolina Review, Types and Shadows Review, Friends Journal, Spare Change, The Wilderness Literary Review and other places. She edited the "Bagel Bards Anthology 2006". She and Dan Lynn Watt created and perform the reading theater "George and Ruth: Songs and Letters of the Spanish Civil War" also available on CD. Molly leads poetry workshops, hosts the Cambridge Cohousing Fireside Readings now in its 8th season and writes daytrip articles for the Occasional Moose.
Deborah Priestly
Deborah Priestly lives in Cambridge, Mass. and runs a small poetry venue, going strong for nine years now, called "Open Bark" Candelite Poetry. She has been published in many small presses and local newspapers, her favorites being The Ibbetson Street Press, Spare Change, Poesy Magazine, Fresh!, The Boston Poet, The Boston Herald, The Boston Girl Guide and Goddess Dancing. One of her favorite activities is sharing poetry with other local Cambridge poets and the prisoners at the Bay State Prison Program which was formed under Boston University Professor, Elizabeth Barker from Boston, MA. She is the editor and creator of the anthology called Out of the Blue Writers Unite, filled with diverse poetry and prose from over 62 writers in the area. Her last published book of poetry was "The Woman Has A Voice" an eclectic combination of healing poetry and wonderful images of women in transition and spiritual growth. She runs the Out of the Blue Art Gallery of Cambridge, Mass at 106 Prospect Street with Tom Tipton, (founder, owner) seven days a week to promote the passion and nurturing of the arts for artists of all genres and abilities, making art and art activities available to the community of the metropolitan Boston area. She also paints many paintings and takes courses to become a more avid painter!
Phillip E. Burnham
Philip E. Burnham, Jr is a graduate of Harvard College and served as American Vice Consul in Marseille, France. After receiving a doctorate in Medieval History from Tufts University, he taught in public and private secondary schools and colleges in the Boston area. He has published three books of poetry, My neighbor Adam (2003), Sailing from Boston (Ibbetson Street Press, 2003), and Housekeeping (Ibbetson Street Press, 2005). Philip has a new poetry book with drawings, A Careful Scattering, forthcoming in English and French by Červená Barva Press. He lives in Cambridge, Massachusetts.

---
Overnight by Paul Violi
$15.00
ISBN 978-1-931236-78-2
(Excerpt from the back of the book)
OVERNIGHT is Paul Violi's eleventh book of poems. On receiving the Zabel Award from the American Academy of Arts and Letters, he was cited for "bringing the sharpness and surprise of the avant-garde to a poetry that continually impresses by its honesty, its sincerity, and its clarity. One is taken through the solidest and strongest emotional landscapes on a remarkable new road."
Hanging Loose Press
231 Wyckoff Street
Brooklyn, New York 11217
http://www.hangingloosepress.com

---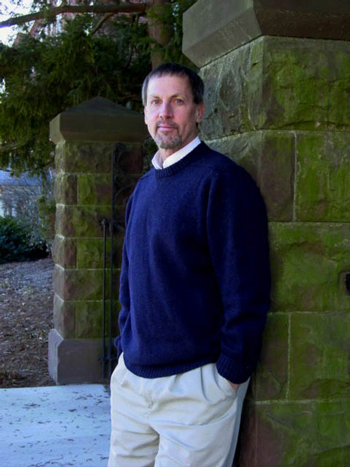 Write a bio:
Gary Fincke is the Writers Institute Director as well as Professor of English and Creative Writing at Susquehanna University. Winner of the 2003 Flannery O'Connor Award for Short Fiction and the 2003 Ohio State University/The Journal Poetry Prize for recent collections of stories and poems, he has published nineteen books of poetry, short fiction, and nonfiction, most recently Standing Around the Heart (poems, Arkansas, 2005), Sorry I Worried You (stories, Georgia, 2004), and Amp'd: A Father's Backstage Pass, a nonfiction account of his son's life as a rock guitarist in the band Breaking Benjamin (Michigan State, 2004). Standing around the Heart was a finalist for the 2006 Paterson Poetry Prize. Michigan State will be publishing his next book, a memoir tentatively titled The Canals of Mars, in late 2007.
Winner of the Bess Hokin Prize from Poetry Magazine and the Rose Lefcowitz Prize from Poet Lore, Gary Fincke has received a PEN Syndicated Fiction Prize as well as seven fellowships for creative writing from the Pennsylvania Council on the Arts. His poems, stories, and essays have appeared in such periodicals as Harper's, Newsday, The Paris Review, The Kenyon Review, The Georgia Review, American Scholar, and Doubletake. Twice awarded Pushcart Prizes for his work and cited nine times in the past eleven years for a "Notable Essay" in Best American Essays, Gary Fincke's essay "The Canals of Mars" was reprinted in The Pushcart Essays, an anthology of the best nonfiction printed during the first twenty-five years of the Pushcart Prize volumes.
Gary Fincke also writes a bi-weekly newspaper column, which is often distributed by Scripps-Howard. Recent columns have been reprinted in the Atlanta Constitution, The Cleveland Plain-Dealer, The Sacramento Bee, and dozens of other newspapers throughout the United States and Canada.
Describe the room you write in.
It's upstairs. My younger son's old room converted into a study. The most distinctive object in the room is a chair with an extended seat (like an open-ended couch) so I can stretch my legs out as I write.
Your write both fiction and poetry. Do you favor one more? Do you write both at the same time?
I don't "favor" one over the other, but for the past couple of years I've written much more fiction. When Sorry I Worried You won the O'Connor Prize, it gave me a shot of confidence, and I wrote nothing but fiction for six months; when Writing Letters for the Blind won its prize, I went back to poetry, so some of my concentration is driven by the response of others to my work. And I only write both at the same time whenever I have pieces that are in the revision stage I can go back to; I never write "new" in two genres at the same time.
Who are some of your favorite writers?
In fiction-Tobias Wolff, Fred Busch, Richard Ford, Dan Chaon; in poetry, Ed Hirsch, Phil Levine, Rodney Jones, Frankie Paino-there are many more, of course, but these are writers who have made an impression and ones I go back to.
Who is one of your biggest influences?
Philip Levine. He's the poet that showed me the importance of working out of the world I knew, that an audience can be moved by the simple, yet complicated, act of getting it exactly right. And since I began as a poet, his influence was absolutely critical.
I have followed your writing for so many years going way back to publishing you in BLuR. It is so exciting to read book after book that you have published. Your writing is so powerful. Some of your book publications are Standing Around The Heart (University of Arkansas, 2005), Sorry I worried You (University of Georgia Press, 2004), Amp'd: A Fathers Backstage Pass (Michigan State University Press, 2004), Writing Letters For the Blind (Ohio State University Press, 2003), The Stone Child (University of Missouri Press, 2003), Blood Ties: Working Class Poems (time being books, 2002), The Almanac for Desire (bkmk Press, 2000), Emergency Calls (University of Missouri Press, 1996), Inventing Angels (Zoland Books, 1994), For Keepsies (Coffee House Press, 1993), and The Double Negatives (Zoland Books, 1992). I have listed these so that the readers can check them out. Please talk about your newest book Standing Around the Heart. Out of the rest of these books, is there one you feel close to?
As always the poems in Standing around the Heart are mostly narrative and grounded in experience. But just as often, they are associative in a way that I hope takes the poems beyond the events and characters and places into something deeper and surprising-I use history, science, pop culture, trivia, and everything that comes to me in an effort to do just that.
I feel closest to Amp'd because it's nonfiction and chronicles four years of following my son's career as a rock guitarist, from being in a bar band to playing arena shows and being on shows like Jay Leno. I went to about seventy shows along the way, and you get close to that world in a way that stays. The next book, a memoir, focuses on my father, so that will certainly be close as well.
You wrote a memoir about your son's rise to fame in a rock and roll band. His band won MTV's Ultimate Cover Band Battle. Share some of the experiences that you had and the whole music industry as you experienced it. How long did you travel and be backstage? Did your son and the band approve of this? Did they know you were writing about them?
Odd experiences-I saw the drummer of another band die on stage, and I witnessed a sweep of a venue by a dozen or more state police. Early on, the band was playing three one-hour sets in bars and clubs from 10 PM to 2 AM. The music was "aggressive," and so were the fans-lots of moshing and drunkenness and stupid behavior, but it was exciting. Once they were MTV darlings, these places were packed. I wrote about the bouncers and the fans and the guys in the band. That first band was signed but fell apart after one CD; he was signed a second time in another band (Breaking Benjamin), and that one took off, so then I had a different world to write about. The bands knew I was writing. They approved. I showed them a chapter or two early on, but I was there so often that I could "disappear" into their world and allow their behavior to be natural.
You currently are the Director of the Writers Institute and Professor of English at Susquehanna University. You have been there for a long time. How many years? How do you balance your time and find the time to write? Share any secrets you have on this!
26 years at Susquehanna. The Writers Institute is 13 years old; the creative writing major is 10 years old, so my job has changed significantly from time to time. I write early in the morning, nearly every day-early means I'm usually writing by 6 AM-otherwise I wouldn't be able to work at it the way I do; by 10 AM I'm ready to deal with teaching and administration-I work a lot of hours and nearly every weekend, but it's what I love to do, so that's not an issue-I coached tennis here for 21 years, but I did give that up five years ago. Writing is one thing for which I have a great deal of discipline. The secret is making myself available each day.
What are some of the things you try to teach your students about writing? about reading? What are some challenges you face as a Director of a writing program?
Observe. Take in the world through your senses. Reach for the audience's heart in your writing. Go as deep as you can, then go deeper. Ask yourself "What if?" Don't anticipate where your poems and stories and essays are going-discover it as you write. I don't think any of those are secrets, but they need to be said. As for reading-do more of it. Students, even the best of them, don't read enough. Read as a writer---listen to the sound of the poems, the rhythm of them-read them aloud. The challenge-and the joy-is that the program has grown to over 100 creative writing majors at a school with 1850 students. It's a job I never anticipated, but one that I welcome-the Writers Institute is endowed; there are four writers in tenure-track positions; we publish four magazines, etc.
What are you working on now?
A new collection of stories. A new collection of poems. A novel. The novel is based on the Kent State National Guard killings-I was a student there at the time-I have an agent who is just this month beginning to try to sell it. And I'm trying to sort though all of my poems to compile a "selected poems" collection.
Thank you so much Gary for letting me interview you. Do you have any last comments you'd like to share?
Thanks for asking. And your support way back when.

---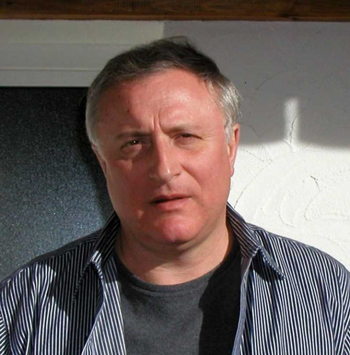 CURRICULUM VITAE
ANDREY GRITSMAN
Andrey Gritsman is a native of Moscow, Russia, immigrated to the US in 1981, lives in the New York City area, works as a physician.
He is a poet, essayist and translator and writes in English and in his native Russian. Mr. Gritsman is the author of five volumes of poetry in Russian: No Man's Land (Petropol, S.-Petersburg), Double (Hermitage, New York), Transfer (Arion, Moscow) and Island in the Woods from the Pushkin Foundation Publishing House in S.-Petersburg. Book of essay on poetry Poet in Intercultural Space was published in Moscow in 2005. Andrey is the author of many publications in Russia, in Israel and in Europe in prestigious literary periodicals.
Bilingual book in English and in Russian View from the Bridge (Poems and Essays) was published by WORD in New York in 1999. New collection Long Fall: Poems, Texts and Essays in English was put out by Spuyten Duyvil Press in New York in 2005.. Poetry collection In Transit in English with Romanian translations was published in 2004 in Bucharest, Romania. Andrey's poetry was translated into several languages. As a translator Mr. Gritsman is focused on translations of modern Russian poetry into English and poetry of the Russian Silver Age: Akhmatova, Mandelstam, Blok.
Poems and essays in English have appeared in Richmond Review (London, UK), Ars Interpres (Stockholm-New York), Poetry International, Manhattan Review, New Orleans Review, Bayou, Confrontation, New Press, Poetry New York, Berkshire Review and many others and were anthologized in Modern Poetry in Translation (UK), in Crossing Centuries (New Generation in Russian Poetry) and in The Breath of Parted Lips: Voices from the Robert Frost Place, CavanKerry Press.
Andrey's work was nominated for the Pushcart prize twice in 2005 and in 2005 he was shortlisted for the PEN/American Center Joyce Osterweil Poetry Award for 2005.
Mr.Gritsman received the Master in Fine Arts degree in Poetry from Vermont College. He runs Intercultural Poetry Series in a popular literary club Cornelia Street Café in New York City and edits an online international poetry magazine INTERPOEZIA.
Describe the room you write in.
This question is hard to answer because I usually don't write in one special room. Poetry is written anywhere and everywhere: my office at work in the hospital, between cases, telephone calls and such, whenever I am in the mood. The other possibility is when I am traveling, waiting at the airport gate, and especially at medical conferences, particularly when the lights are out and a presentation is in progress. Editing and putting the finishing touches-is a different story. This is usually done on the computer, in my study at home or in my office at work. Nonfiction and some short stories are usually dictated on a microcassette recorder and then submitted for typing. This an important point because naturally I do most of my writing from the voice, so to speak, as a variant of live speech, and not really as written word. Anyway, the room where I work is a regular study with a computer, bookshelves with some necessary literature, dictionaries, etc.-some shelves have materials for the magazine Interpoesia and correspondence-and a beautiful, large window looking out onto the shady street with trees, tree branches looking into the room.
Do you write your poetry in Russian first? What is your process?
I write my poetry in Russian when I write in Russian. This usually starts with some sound, line, a couple of words, or some fleeting idea. Usually there is an underlying working idea in my head that later takes form of a poem. Depending on the mode and situation and the starting point, poetry in English comes pretty much the same way. I virtually never write in Russian first and then translate and vice versa. These are, if you will, two different poets, sort of virtual Siamese twins. Twins, however, with one soul, which for some strange reason is capable of speaking and telling its own story in two languages. Afterwards, I might translate some of the poems into a different language, but typically these are two separate processes, writing in Russian and English.
Where do you find your inspiration for writing?
I think that writing poetry is an autonomous process, not very much related to external life or events. Having said this, however, some event or turn in life's path may trigger a poem, but usually this is mostly an internal process. It is mostly related to the life of a soul, its inner development and its inner workings. Many times a poem could be a remote echo or reflected light from a faraway object, event, or another soul, a person who has been close to me or, sometimes, unfortunately had been close to me.
What are you reading now?
I am always reading several books at the same time: some in bed before I go to sleep, some I listen to while driving my car, some I have on my night table, and I read pieces from these books. Over the last several years I have read a lot of books while driving, and I find this very soothing, calming, and very inspiring. Right now I am reading-listening to-Dead Souls by Nikolai Gogol, a fascinating, brilliant book, which is very connected to today's life in Russia. In terms of mentality, sensibility, and characters, not much has changed since the 19th century. Another interesting book that I am reading is Moscow, 1941 by a British historian: a very interesting history of the city which I am from, Moscow, and the tragedy of the German invasion of 1941. I also have a couple of books by Michel Houellebecq, a brilliant French writer, very controversial, but very interesting to me. I continue looking into a couple of his recent novels and re-reading some pages, such as The Possibility of an Island and 2002's Platform.
What is the writing scene like in Russia?
I should say that it is unhealthy right now. The censorship is pretty strong now in Russia as it is gradually becoming what is an increasingly totalitarian state again. But it is mostly concerned with TV, newspapers, and mass media. They haven't really touched literature yet, since it does not now have such mass appeal. But there is still governmental, industrial complex influence on literature by virtue of handing out various awards, giving money for publishing books, etc. So there is some unhealthy agitation around various awards, formation of groups, rivalries, etc. But there is really no huge, bigger than life name in prose or in poetry now. The popular writing, such as thrillers, some historical thrillers, etc. is flourishing in Russia, and sales are high. The real prose exists, but again there is no current, modern Russian "Dostoevsky." Poetry is gradually becoming similar to American poetry, which is probably a natural process. I mean that it is becoming more decentralized with a number of various groups, publications, etc. The Internet has tremendous penetration in Russia, in terms of publications and group publications, perhaps even more than in the West. This certainly has changed the face of contemporary literature, because texts become readily available; there are plenty of them, in fact too many on the Internet. A lot of this information is unnecessary and even hazardous.
The Russian literary system, however, created an unprecedented Internet portal, called The Reading Room (http://magazines.russ.ru), which combines most of the important, live literary journals and Internet projects. This is published under the umbrella of the so-called Russian Journal, a big project combining already mentioned Reading Room, periodical publications of the literary magazines, current events, announcements, etc. It comprises about 30 to 35 magazines, all on the same Web page, and in most of them virtually the entire contents available for review and printing. We are fortunate that our Russian version of Interpoesia is included into this project. This combines both long-living and well-established magazines such as New World (Novyi Mir), Znamya, Oktyabr, and others, as well as the new, more modern, more Internet-oriented publications like our Interpoesia and some others. There is really no such publication available in English or, as far as I know, French language literature, and this is unfortunate. Can you imagine such an Internet portal combining the New Yorker, Poetry, Georgia Review etc., as well as such wonderful and interesting Internet projects as your Červená Barva Press and our Interpoesia?
You are editor of Interpoesia, an on-line literary journal in Russian and in English. When did you start this journal? What type of work do you look for? What are some challenges you face? How many issues come out a year?
I started the project Interpoesia (www.interpoesia.net or .com) in 2004. As it usually happens, the situation developed in a different way than I thought it would at the inception of the project. This worked out to be two different, separate magazines, one in Russian and one in English, living their own separate lives. Gradually there is some developing connection between them, in terms of translation of some interviews, discussions, and gradually increasing number of poems translated from Russian into English or from English into Russian. However, the literary cultures are still quite different, and therefore Interpoesia in English became basically an annual Internet publication with a plan to publish periodic anthologies. One such interesting project is called Stranger at Home, Contemporary American Poetry with an Accent. In other words, this will be a large anthology of poets for whom English is not a native language and who live in the U.S. and are published American poets. This call had a very good response, and the portfolio is full of very interesting, fresh poetry from all over the United States from a multicultural and multilingual literary community. This will be published in 2007 on-line as an issue of Interpoesia Internet magazine as well as a published book-Anthology. As I mentioned before, Russian Interpoesia has become one of the leading poetry journals in Russian language and is presented on the main literary site in Moscow, Russia. It now will be published quarterly on-line with an annual Anthology, "The Best of Interpoesia" in Russian, if you will.
We are looking for quality poetry, not related to a certain genre, not written by a certain group or by authors living in some geographic area, etc. We are not at all looking for obligatory big names to claim them as our authors. We are looking with great interest at the emerging writers or writers with an interesting bend in their art and/or in their creative biography. We are interested both in poetry and in short prose, mostly prose poetry, as well as poetry related nonfiction, essays, interviews, and such. The main challenge that we face is, first of all, time. As you know, I have another profession. I am a physician and am very busy in the hospital. I have some people who help me, but there is no well-defined editorial office and full-time salaried editorial employees, and such. So this project requires tremendous concentration, focus, and self- determination. I should say that I have no problem finding good writers and quality poetry. Unexpectedly, one of the problems turned out to be lack of a sufficient number of translators, those capable of doing quality translations both from Russian into English and English into Russian. This is especially true of the translation of Russian poetry into English. There are very, very few poets capable of doing this and who would be able to produce quality poetry, not distorted and not rewritten poetry in American English with some weak reflection of what it has been in Russian.
You run a poetry reading series at the Cornelia Street Café in NYC. How long have you been doing this? Talk about what this experience has been like for you.
The Intercultural Poetry Reading Series at the Cornelia Street Café, a literary club in New York, started more than five years ago. As you might know, there are several cultural poetry series in New York: Italian-American poets, Greek-American poets, and so on. Curiously enough, considering the powerful image of the Russian literary and artistic culture, there was no Russian-American poetry reading series in New York. So about six years ago, I was asked to run one. But in a short period of time, it turned out to be that the reading series had outgrown itself. There were many more interesting international writers in New York being translated and also writing in original English, as well as interesting American poets keen on the cosmopolitan flare of New York. So we started combining them and renamed it into an Intercultural Poetry Series. Now this is a popular venue in New York, and a lot of brilliant writers read there. Recently we also began thinking about adding some music, a combination of poetry and jazz musicians in our series. Gradually it has become the same project as Interpoesia, and one complements another. The most important experience for me in running this Series has been meeting interesting and very gifted people. So I have been blessed to a certain degree to be in the center of this process, the growing intercultural poetry mix in New York. It has become so popular and busy that now we will be running it once a month. I will have a wonderful co-host poet, Laure-Anne Bosselaar. She is a brilliant poet who writes in English. She is Belgian with two native languages, Flemish (Dutch) and French, and she was writing poetry in French. It adds a different dimension to the project.
Your newest book, Long Fall: Poems, Texts and Essays (Spuyten Duyvil), came out in 2004. This book is just amazing. Definitely one of my favorites. I especially love the poems Seven Cards, Magritte: Dominion of the Light, and Caedmon's Song. Please talk about this book.
This book Long Fall turned out to be a pleasant accident. I had another manuscript in mind that was already lined up and was turned down by a couple of publishing houses. And then, all of a sudden, after some readings together and seeing each other's work, the editor of Spuyten Duyvil, Tod Thilleman, casually invited me to put together a book for his publishing house. As we talked about this, it turned out that it is possible to combine poems with nonfiction and some personal essays. I became fascinated with this idea because I think that it really reflects on the author's sensibility. Those are essays, personal essays and nonfiction, written over the past ten to 12 years, particularly during my years at the MFA program in Vermont College. I did a thesis on the poetry of Paul Celan, Joseph Brodsky, and some others. It is a relatively unusual project in terms of poetry manuscript and nonfiction, and it was important for me as a first book by already a mature author writing for a number of years and of a certain age.
I really appreciate your attention and interest to those three poems. They are very dear to me, written in different times, reflecting different approaches to a poem for me. Seven Cards is a mystery, imaginative poem, somewhat impressionistic and, to a certain degree, cryptic. I found there a certain approach, method, if you will, and this is an example of where this system or method carries through and allows one to do a wholesome poem. Magritte: Dominion of the Light is an attempt to do a poem on the visual art theme. As a matter of fact, it is about this particular painting of Magritte. I like Magritte very much and thought how would it be possible to reflect a painting in a poem. It took me quite a while to find the method. And then I realized that the system of repetitive circles, going in three lines, probably reflects the inner energy and enigma of this particular painting. It is an interpretation of the painting and at the same time, in my opinion, not simply the use of language but a sound reflection of the inner rhythm of this painting. It is for the reader to judge if this succeeded, but I am personally very interested in this poem. Caedmon's Song is an older poem. I am a big lover of recorded books, recorded poetry. So when I came to this country, over a few years I had listened to many poetry recordings in English by great American poets and such. So I was so carried away by listening to the poets themselves reading their poetry, such as Robert Frost and Wallace Stevens. This energy that comes from the voice reading the author's lines-it just gives me an incredible feeling, almost the "creeps." So this poem is about that. Obviously there is Robert Frost, and one of my main early mentors in poetry, Amy Clampitt, as well as related to the recordings of Joseph Brodsky, who was alive at that time, and a few others.
Andrey, other books you have published include No Man's Land, Double, Transfer, and The Island in the Woods. Talk about these books.
All of the books that you mention are published in Russian and reflect my Russian poetry experience. My first book in Russian, No Man's Land, was published in Petersburg, more than ten years ago, and Transfer was published in Moscow in 2003 and is somehow a collection summarizing the experience of about ten to 15 years, including a few longer poems. The Island in the Woods is a collection of more recent poems, the last three to four years. I think that my style and approach have somehow changed. Rather not a style, but perhaps an inner landscape, somehow a different light lights up the landscape. You know, half moon, full moon, etc.
One book of yours, A View from the Bridge, is published in English and Russian. Talk about this book. Does the Russian or English lose anything in translation?
A View from the Bridge I think is an interesting book as an experiment of publishing poems in parallel, face-to-face onto consecutive pages. Unfortunately the editorial work on this book has some deficiencies, and the production was also not the best. However, there are some interesting examples of what I call parallel poems, written in parallel. Some of my poems are written both in English and in Russian on the same theme or on the same emotion, and some of them are close to mirror images. There were also two poets who translated some of the poems; Jim Kates and Alex Cigale, both well-known poets-translators from Russian. Yes, in general it is customary to think that a poem loses something in translation. However, I believe that in the book A View from the Bridge, it happens rarely. It is because in my own experiences of re-writing a poem in one or another language, it is a newly created poem, rather than directly translated. And I believe that this actually describes the best, a successful experience with translating poetry, therefore recreating a poem in another language with deep feeling of the original emotion and original inspiration of the poem in its original language.
In Transit was published in Romania with Romanian translations. Talk about how you feel when you see your work translated into another language. It must be a wonderful feeling to reach across language boundaries and have your poetry read. I feel the literary community needs more translations. What are your thoughts on this?
I was very fortunate to receive this generous offer to publish this book in Romania. I found the experience to be fascinating, particularly when I worked with the translator, Doris Sangeorzan, and the book editor, the well-known Romanian poet, Carmen Firan. There were several extremely interesting discussions about the metaphors and translating metaphors and poetic idioms from one culture into another and from one language into another. Some of my work has been translated into French and is being translated into Ukrainian. Not knowing the language, it is hard to judge the quality of translations of your own poetry, but from the reaction of people when I presented this book, and from the sound, I find that this book is very successful. What is especially interesting, what I have noticed, especially in Romanian, is that because of the shared sensibilities, some of the things in your own poetry come through, sometimes better in a different cultural landscape, a different language. I have a feeling from talking to some people who have read my translations in Romania that some of the things came through better and in a more interesting way just because of the better understanding of my sensibility by some Romanian writers than sometimes here by American writers.
I do feel that the literary community needs more translations; however, I would very much caution against spitting out mass productions of translations because they give the reader or literary community nothing but a vague knowledge of the name and topics of the writer in a different language. Translations should be very measured, quality-oriented, and it is an absolute necessity for the translator be as serious and gifted a poet him or herself. The person may know a language brilliantly and deeply, with all of the idioms and knowledge of the culture, however may be lacking at poetic intuition. Such a person would never understand deep enough the metaphor of a gifted poet in another language. So, in my opinion this is really a prerequisite for successful translations so that the translator would be a significant poet him/herself.
What are you working on now?
Besides what I have already talked about, a magazine, reading series, I am working on two or three manuscripts simultaneously. I have a book offer from a friend of mine, an American fiction writer and a poet, Yanina Gotsulska, who runs Numina Press in California. We are going to be doing a more eclectic or esoteric book of shorter poems, more philosophical poetry, if you will. I am also working now on the completion of a larger manuscript called Family Chronicles. This is a series, a kind of memoir, poems about my childhood and family in Russia with some poems also written at various times over the years related to family topics, tied together by "footnotes" written in the form of the prose poetry. So this is sort of the manuscript of the poetic memoir. Some of the literary friends that I have talked about mentioned to me that it sounds like a new genre, and I am very interested in putting this manuscript together. And I have a bunch of poems written through the years which were published in many good magazines over the last two or three years. That actually comprises a third manuscript that I would like to do. So the only problem is the time to do all this, and since I seem to be moving a lot over the last number of years, it is also a problem of space. So I am changing "space all the time," probably chasing my own tail, which poets do with themselves all the time anyway.

---
Bio:

Don Share is Curator of the Poetry Room at Harvard University, where he teaches and is Poetry Editor of Harvard Review; he also teaches in the M.F.A. program in Creative Writing at Lesley University and is Editor of Literary Imagination: the Review of the Association of Literary Scholars and Critics, an Oxford Academic Journal. His new book of poems, Squandermania (Salt Publishing), was finalist for the Dorset Prize in Poetry and his previous book, Union (Zoo Press), was finalist for the PEN-New England Winship Award for outstanding book. His other books are Seneca in English (Penguin Classics); I Have Lots of Heart: Selected Poems of Miguel Hernández (Bloodaxe Books), which received the Times Literary Supplement/Society of Authors Translation Prize; and a critical edition of Basil Bunting's poems, forthcoming from Faber and Faber. He grew up in Memphis.

Photo: Jennifer S. Flescher
Are you the only writer in your family?
I'm the only writer in my family, except for my wife, Jacquelyn Pope, who for me is il miglior fabbro, as Eliot said of Pound. Her book is called Watermark, which was chosen by Marie Ponsot for the Marsh Hawk First Book Award.
Describe the room you write in.
I really don't write in any particular room or place. I work wherever and whenever I can, quite often on the train: some people read the newspaper or talk on cellphones when they commute, but I carry around books of poems and try to work. I write on scraps of paper, in notebooks that are supposed to be for other things, address books-whatever's at hand. It's old-fashioned, I guess: I don't even own a notebook computer (yet). I've written in every kind of place from the banks of the Mississippi in New Orleans (where the water bobbled up and washed away a week's worth of work) to waiting rooms of doctor's offices after I'd broken an ankle and got stuck with lots of physical therapy. Sooner or later, I piece together what I have on the page and in my head... and then labor for ages over drafts.
Your new poetry book, Squandermania, is forthcoming by Salt Publishing. I love the title. Please talk about this book.
Squandermania is a word that jumped into my head when I was trying to think about the frenzied energy and unreal depression of living in a world at war not only with terror, but ultimately with itself... about the struggle to do things the right way despite the irresistible tendency to maniacal squandering and destructiveness. It's a real word, by the way: people keep asking me if I made it up. Anyway, I'm a moralist at heart-a relatively timid one, alas, though not sanctimonious, I hope; words have, and ought to have, real meaning, and when we squander our language-along with other the essential resources we've been given-everything goes, literally, to the Devil. We puzzle over things like depression, family and school violence, but notice how we speak and write: our communication is off-kilter-it consists of elliptical e-mails and text messages, cell-phone nattering, political and advertising rhetoric designed to flout meaning of any kind... it's as if we write with our thumbs, read just to pass the time, and can only half-hear anybody or anything because our ears are stuffed with buds so we can drown out whatever's around us. How the heck are we supposed to receive illumination? (See: I'm already hectoring everybody. My epitaph should read, "Don't get me started!") One of Dickinson's poems starts, "Musicians wrestle everywhere," and another one begins, "Artists wrestled here!" In those poems, both struggle and repose wrestle together in music, on the easel, on the page. There's something almost comic in that wrestling (as there oddly is in the Biblical image of Jacob hand-to-hand with the angel; in Old Testament days, warfare was already pretty sophisticated, so that image was almost nostalgia for simpler times), as in much, one forgets, of Dickinson. The tragicomedy of these images helped me visualize how I had to work: the poems in this new book wrestle with themselves because that what our thoughts and our language do: in fact, that's what they're for. We have kids, dreams, hopes, and wishes that keep us looking forward; at the same time, we're destructively and self-destructively fixated on wounds, grief and grievances from the past, sometimes the inherited past. Where is it all headed? Larkin says, "Man hands on misery to man." The saving grace, if there is any, turns out to be that this all takes on not just an intensely and necessarily angry tone, but inevitably also and simultaneously a comic one. Squandermania has a few bits in it from Burton's great Anatomy of Melancholy, which consists of about 1,000 pages of possible cures for depression, none of which work; it's a supremely moralizing work, yet one filled with many exuberant and comic moments. Magical ones, too, like the cures made from the dust of ground-up gems. Burton's book has ups and downs, just like we do in our daily lives, so despite trying to be taxonomical and scientific it's really very emotional. Best of all, it's almost entirely made up out of quotations and anecdotes, so it led me to all sorts of things: early English lapidary verse, old sayings that aren't said anymore, obscure Latin and Greek philosophy and poetry, among much other stimulating exotica. I thought I was doing something very serious... and then I read the title poem at a poetry reading ("Squandermania; or, Falling Asleep over Delmore Schwartz"): people laughed, thank goodness! Even better, it was that brittle, nervous laugh you hear in the dark during the ridiculously queasy scenes in horror movies. There's a gruesomely thin line between fear and comedy.
Your book Union (Zoo Press, 2002) was the only book of poems to be recognized for the Boston Globe/L.L. Winship-PEN New England Award in 2003. Talk about your book which breathes so much emotion/conflict.
Union was a book that tried to map out some things that are uniquely American in our emotional and historical conflicts. For me, grief and pain are not solely in the realm of the individual, but are related and correlated to history and tradition. Marriages fall apart, families fall out with each other, but then whole countries and cultures get reshaped around those who live in them-so it's no surprise that our domestic life takes on a certain cast, by extension. Nothing lives or dies in complete isolation. The past hurts, and that's the one thing we all share. The past binds us together, no matter who we are or how different we are. We fight with ourselves and among ourselves. For all that, the poems in the book are love poems, in the end: love for those no longer here, but also love for the odd things that have vanished from Memphis, where I grew up. Somehow, this leads to song. I really started writing those poems in response to the kinds of music that was around me. You could see Elvis and Isaac Hayes driving around town; everybody I knew was in a band, and their relatives could sit on the porch and remember old, old songs. But the crystallizing moment was when I saw a blues singer, Lilly Mae Glover aka Ma Rainey II, who sat in a wooden throne while she sang, stomping out emphatic beats with her foot that seemed almost to fight with the melody. I started to hear variable two- and three- beat lines as a mode of both embodying and reconciling conflict, and that prosody ended up in my poems.
Other books by you include Seneca in English (Penguin, 1998), I Have Lots of Heart: Selected Poems of Miguel Hernandez (Bloodaxe Books, 1999), and one forthcoming called The Poems of Basil Bunting. Please say a few things about each book.
Well, the Seneca book was a project for Penguin Classics-I tracked down all the translations into English I could find of that great Roman poet and realized that here was someone who influenced writers from Queen Elizabeth I (a poet and translator herself) to T.S. Eliot, Ted Hughes, and even Dana Gioia! He lived in and wrote about violent times, and would no doubt have recognized lots about what goes on in the world today. He was a writer of enormous power, and far more influential in English-language poetry, even contemporary poetry, than I'd realized. As long as people combine words and political power to inflict suffering, Seneca will be with us. The Hernández book came from my adoration of that poet, whose work I came across in the original Spanish. I kept telling people, you've got to read Hernández! But hardly anyone I knew had heard of him (though he's a household name all around the Spanish-speaking world), and at the time, the few translations there were of his work were out of print. I tried to translate a few of his poems for friends, and when my mentors, Derek Walcott and George Starbuck, saw the drafts, they both insisted that I do a book of them. I did, and after years of work, it won the TLS Translation Prize, and led to other editions of his work, which makes me very happy. I still read his famous "Lullaby of the Onion" at readings, and it's such a powerful poem that I have trouble getting through it sometimes. He only lived to be 31, and died in one of Franco's prisons: he fought the good fight, for his family and his country, yet he felt till the end that the spirit can never be defeated, that what is right can never be lost. Both he and Seneca found out the hard way how dangerous it can be to write poems, something we seldom have to think about in American literary culture; and Hernandez was one of the most courageous poets who ever lived.
The Basil Bunting book arose from, of all things, my doctoral dissertation! But he's the furthest thing from an academic poet. When I started to write about him, his amazing poems very hard to get hold of, but now he's back in print, and my book is designed to collect his poems properly (Bunting was published by small presses much of his life, and his poems weren't always printed correctly), and especially to show the amazing web that connected Bunting with such poets as Pound, Eliot, Zukofsky, and Lorine Niedecker. It'll be published by Faber and Faber next year, and was a labor of much love.
You currently are Curator of Poetry for the Woodberry Poetry Room at the Lamont Library at Harvard University. When did you take over as Curator. What are some of the gems you discovered there? I remember years ago browsing in there for hours. It's definitely a place where writers and lovers of poetry should go to when visiting the area. (A picture ID is all that's needed to get in) Talk some of your experiences being Curator. You also run a reading series there which is wonderful. Please share some of the poets who have read there.
I became Curator of the Poetry Room in 2000. There are countless gems in the collection-books, manuscripts, artwork by all the great modern poets-and so many talismans and touchstones for poets. But the ones I adore most of all are the amazing sound recordings of poets in our archive. My favorites are Eliot's almost rap performance of "Fragment of an Agon," Pound's hilarious recording in 1931 of "Cantico del Sole" ("The thought of what America would be like / If the Classics had a wide circulation / Troubles my sleep...), and Patrick Kavanagh's singing, possibly under the influence, "On Raglan Road" to the tune of the old air, "The Dawning of The Day." I'm also overly fond of Amy Lowell's cigar, given to the collection to prove that she really smoked them, and some terrific photos of Robert Lowell.
I've put on so many readings now I can't really choose highlights from them all, but among the most memorable were Seamus Heaney, Franz Wright, Tom Pickard, Linda Gregg, Tess Gallagher, Geoffrey Hill, Michael Harper, Jay Wright, Lyn Hejinian, Samuel Menashe, and a tribute to Pablo Neruda. One of the privileges of my job is that I can host an amazing variety of poets.
The Harvard Review and The Partisan Review are two literary journals you were editor of. How long for each one? What was that experience like for you? Challenges? What type of work did you look for? How did you find time for your own writing?
I was the last Poetry Editor for the old Partisan Review when it folded just a few years ago-I'd worked my way up from errand boy (we weren't even allowed to use the bathroom in the office!) to a Contributing Editor, which was a great privilege. What an education it was! PR had published so many of the great modern poets-Eliot, Lowell, Bishop, Dylan Thomas-and one of my heroes, Delmore Schwartz, had been a poetry editor there. I was heartsick when it all ended, but I've been Poetry Editor for Harvard Review since 2001, and just became Editor of Literary Imagination: the Review of the Association of Literary Scholars and Critics. As an editor I've never looked for any particular kind of work... only whatever surprised me. I don't publish things just because I like them, but rather when I learn something from them, or imagine that other people with different tastes from mine will. Frost says: no surprise for the writer, no surprise for the reader. Something like that goes through my mind when I read submissions. The main challenge is that I have to keep things a long time to make sure I'm reading them fairly and properly. I know it's not right to keep writers waiting, but if it takes a long time to return work, in my case, it's because I read and reread and worry over everything that comes in. Even then, with great reluctance, I have to turn most poems loose, though I know the good ones will find a home.
I don't have much trouble finding time for my own writing I adore being overloaded with work, and because really, life comes first. I write when I'm turned on and ready to go, and when I'm not, I'm just not. Writing for me isn't like working out, something that's good for you if you do it every day. I'm paraphrasing the Irish poet, Paul Durcan, but I figure my job as a poet is to be here, which I am--not to lay some kind of impressive curate's egg. Because being a good reader is ancillary to being any good at all at writing, I have to study hard, as much as I can, and that's what I do whenever I have time.
What writer's inspire you and that you read over and over?
I do as much rereading as reading: Hopkins, Milton, Dickinson, Bishop, Moore, May Swenson, Robert Lowell, poets I never stop learning from. Then I dig around a lot in used bookstores; I recently found a great set of Sir John Davies of Hereford ("If there were, oh! an Hellespont of cream / Between us, milk-white mistress, I would swim / To you, to show to both my love's extreme..."), an old edition of Traherne, a reprint of Tottel's Miscellany. Incredible stuff. As for contemporary poets, I'm keeping an eye on John Hennessy, whose new book of poems is called, Bridge and Tunnel; Hennessy writes as if he's a sort of Dante who's been exiled from New Jersey. Speaking of exiles, I also admire Philip Nikolayev's Letter from Aldenderry and Katia Kapovitch's Gogol in Rome. Those three are poets whose work I loved and admired before I got to know them, and I feel lucky that they're all in this area. Lately, I've been interested in two fine Scottish poets, Don Paterson, who read for us a while back, and Kathleen Jamie, who's coming to read this spring. I guess I'm constantly on the lookout for what Rosanna Warren recently described so very well: work that "floodlights the true oddness of life in the crafted oddness of language."
What are you working on now?
I'm working on my next book of poems, which is called, The Devil Box. The Mexican poet, Pura López Cólome, referring to Pandora's box at a reading I hosted, called it a devil's box! She's very spiritual, and my new poems are partly stimulated by her musical devotion to life: she's a cancer survivor and an unusual talent, and I feel like I have wings when she reads her poems in Spanish. That book will be for her.
Any last comments or something else you would like to share in this newsletter?
I don't have any last comments, because I've already gone on too long. Typical.

---
(These readings current as of February 1st, 2007- go to the Readings page to see updated listings!)

The Bay State Underground Series
236 Bay State Road/in the basement
Boston, MA
Thursday, February 1st, 7:30 PM
Readers: Mary Bonina and others from The Writer's Room of Boston and the Writing Program at Boston University Doors and wine bottles open at 7:00 PM
---
Jabberwocky Bookshop
Friday, February 2, 7:00PM
Award-winning author Katherine Hall Page for a reading and discussion of her latest Faith Fairchild mystery, THE BODY IN THE IVY.
Friday, February 9 7:00PM
Jabberwocky Bookshop
Author: Chuck Hogan for a reading and discussion of his latest thriller, THE KILLING MOON.
Jabberwocky Bookshop
50 Water St. ,Tannery
Mill #1, Newburyport, MA 01950. (978) 465-9359
http://jabberwocky.booksense.com
---
Out Of The Blue Gallery
Dire Reading Series /Out of the Blue Gallery/
Cambridge, MA
February 2nd
Jamie Cat Callan, Jeanette Angell, Meg Kearney
March 2nd
John L. Shepard, Evan Manderay
1st SUNDAY of the MONTH! DEMOLICIOUS POETRY, $5, 2PM, Host: John, experimental poetry.
EVERY MONDAY NITE, Stone Soup Poetry (Host: Chad Parenteau), a 35 year old venue, $4, sign up to be a feature - call Bill Perrault at 978-454-7423.
Starts at 7:30PM and don't forget to sign up!
Recorded on local t.v. station.
USUALLY the 3rd FRIDAY of the MONTH! NOLA's TIGH FILI POETRY & OPEN MIC, $5, 8PM, Host: Nola, poems/prose.
EVERY SATURDAY NITE - "OPEN BARK" POETRY/MUSIC/STORIES with Debbie: 8:15 PM, $3-5. (Read your favorite poem-sing your favorite song-bring a friend!), Occasional Features. Sign up.
Out Of The Blue Art Gallery
106 Prospect Street
Cambridge, MA 02139
phone: 617-354-5287
---
Grolier Reading Series
Monday, February 5
7:30 pm - Joan Houlihan and Ander Monson will read for the new Grolier Reading Series at
45 Mount Auburn Street
Cambridge, MA 02138
(The "Democracy Center" between Deadalus Books and St. Paul's Church.)
Wednesday, February 7
7:00 pm - PEN New England/ Hotel Marlowe Reading Series invites you to a reading by Michael Lowenthal author of Charity Girl (Houghton Mifflin, 2007).
6:15 p.m. to 7:00 p.m. during the Hotel Marlowe's Wine Hour, which begins at 5:00pm.
The Hotel Marlowe is located at
25 Edwin H. Land
Boulevard, Cambridge
For more information
617-824-8820
pen_ne@emerson.edu
---
Doc Brown's Traveling Poetry Show
at the Lily Pad
Doc Brown's Traveling Poetry Show
at the Lily Pad
(formerly the Zeitgeist Gallery)
Monday evenings from 7:30-9
now through December
Admission $5.
The Lily Pad
1353 Cambridge Street
PO Box 398096
Inman Square
Cambridge, MA 02139
617-388-1168
http://www.lily-pad.net/
See poets perform their own work
about Harleys, hockey, henna,old hardware stores, high school cafeteria fights, and those are just the women! Plus a bunch of butch bards, birdmen, battlers, boygods, B-movie directors, and brash old men. This talented group of journeymen poets do their fast-paced 90 minute show. well-crafted poems, no cheap sitcom one-liners, but poetry, the real thing, performed for your pleasure and pain, thrills and tears with a different show every Monday night at 7:30 for $5.
Contact: Michael Brown
Info: 508-759-2752
michaelbrown2@verizon.net
http://www.myspace.com/docbrowntroupe
Valerie Lawson
SoShorePoet@aol.com
Images & Imagery
---
The Blacksmith House Poetry Series
February 5th
Susan Berne
February 12th
Lee Bricetti and Lisa Seawell
February 26th
New Voices: Emerging Writers
March 5th
Rebecca Goldstein and Ann Harleman
March 12th
Nathaniel Bellows
March 19th
Laure-Anne Bossellar and Kathryn Maris
The Blacksmith House Poetry Series
56 Brattle St.
Cambridge, MA
8:00 PM
$3.00 Admission
---
New England Poetry Club
Cambridge, MA
Monday February 5th 7pm
Members reading
Yenching Library
2 Divinity Ave, Cambridge (off Kirkland, near Memorial Hall)
Tuesday February 13th 7pm
Annual Agni reading
Central Square Cambridge Public Library
44 Pearl Street, off Mass. Ave near Putnam's furniture store
March
To be announced
Monday April 2nd 7pm
Members with new books
Yenching Library
2 Divinity Ave, off Kirkland, near Memorial Hall
Tuesday April 10th 7pm
Ellen Doré Watson, Martha Rhodes
Central Square Cambridge Public Library
44 Pearl Street, off Mass. Ave near Putnam's furniture store
---
CORMIER'S COMEDY MADNESS
host Janet Cormier
presents
FOR LOVERS OF BLACK FOLK!!!!
(Black History + Valentine's Day)
comedy poetry and...to celebrate
Black History
6:30 PM - 9 PM Tuesday nite February 6
All Asia
334 Mass Ave, Cambridge
$5.00 admission
---
Mass. Cultural Council Presents Commonwealth Reading Series
Award-Winning Local Writers Featured in Boston, Northampton, and Provincetown Events
Every two years the Massachusetts Cultural Council awards grants in poetry, fiction, and creative nonfiction to some of the most exciting and talented writers in the state. The prize has been awarded to some of the Bay State's best-known writers -including Jonathan Franzen, Robert Pinsky, Sue Miller, Tom Perrotta, and Mark Doty.
http://masscultural.pmailus.com/pmailweb/ct?d=CfhNUgAWAAEAAABsAAD3Pg
Come hear this year's fellows and finalists read their work in this statewide series.
Tuesday, February 6, 7pm
Featuring: D.M. Gordon, Quang Bao, Lisa Olstein, Kristin Bock
Available Potential Enterprises
Thornes Marketplace
150 Main Street
Northampton
Monday, February 12, 7pm
Featuring: Peter Brown, Elizabeth Graver, Henriette Lazaridis Power, and Samantha Merritt
Newton Free Library
330 Homer Street
Newton Centre
Wednesday, February 21, 7pm
Featuring: Francie Lin, Dawn Lundy Martin, Emily Bloch
Forbes Library
20 West Street
Northampton

Events are free and accessible. For more information visit
http://www.massculturalcouncil.org/artistnews/ReadingSeries.html
http://masscultural.pmailus.com/pmailweb/ct?d=CfhNUgAYAAEAAACXAAD3Pg
---
Chapter & Verse
Wed. Feb. 7th at 7:30 pm - to celebrate Black History month
features Charles Coe, Danielle Georges and one other
(@ Loring-Greenough House, Centre Street, JP)
---
Find Out… BORDERS
Presents
A Tapestry of Voices
Hosted by Harris Gardner
Borders Boston -Downtown Crossing
Corner of Washington and School Streets
Boston, MA
THURSDAY, FEBRUARY 8th, 2007 - 6:30 P.M. -FREE
With an OPEN MIC' to follow
FEATURED POETS:
FEATURED POETS:

Kevin Bowen
Dave Connolly
Paul Hostovsky
Susan Edwards Richmond
Harris Gardner
Director of Tapestry of Voices
website: http://tapestryofvoices.com
---
Tapestry of Voices and the Forest Hills Educational Trust present
Sunday, February 11, 2-4 pm Poetry in the Chapel
Jamaica Plain Poets Presented with Tapestry of Voices
Readings by JP poets Carolyn Gregory, Elena Harap, Audrey Henderson and Sandra Storey.
In Forsyth Chapel at historic Forest Hills Cemetery
95 Forest Hills Avenue, Boston, MA
617.524.0128
Admission: $5
no reservations required
Sunday, March 11, 2 pm Poetry in the Chapel
Presented withTapestry of Voices
Readings by local poets Kathleen Aguero, Meg Kearney, Jan Schreiber, Richard Wollman.
In Forsyth Chapel at historic Forest Hills Cemetery
95 Forest Hills Avenue, Boston, MA
617.524.0128
Admission: $5
no reservations required
Sunday, April 29, 2 pm Poetry in the Chapel
Presented with Tapestry of Voices
Celebrate National Poetry Month with Harris Gardner, Diana DerHovannessian, Thomas Lux, and Ifeanyi Menkiti.
In Forsyth Chapel at historic Forest Hills Cemetery
95 Forest Hills Avenue, Boston, MA
617.524.0128
Admission: $5
no reservations required<
Info: http://www.foresthillstrust.org
---
Newton Free Library
Monday, February 12
7:00 pm - Massachusetts Cultural Council awards
fellows and finalists read from their work.
Featuring: Peter Brown, Elizabeth Graver, Henriette Lazaridis Power, and Samantha Merritt.
Newton Free Library
330 Homer Street
Newton Centre
---
Brockton Library Poetry Series
Saturday, February 16th, 2007, 2-5 PM:
Maria Conley
Saturday, March 17th, 2007, 2-5 PM:
Marguerite Guzman Bouvard
Becky Thompson
Saturday, May 18th, 2007, 2-5 PM:
Ryk McIntyre
Brockton Library
304 Main St, Brockton, MA
---
Gypsypashn's Poetry Caravan at Bestseller's Cafe
Our venue meets the third Thursday of each month at 6:30 PM.
Free refreshments Open Mic.
Readings commence at 6:30 PM. Readings conclude 8:00 PM.
Some dates and readers: To be announced
February 15th: Ryan Travis.
March 16th: Major Retired Thomas E. Convery
April 19th brings the Second Annual ALL LADIES reading
May 17th First all male readers
August 16th- Third Annual Biker Poetry Month Celebration and BBQ afterwards!
Don your leathers, lace up your boots, hop on your scoot, on jump in the car, and head on over to Bestsellers for this Celebration! Biker poets from near and far, and far and wide will be present to read their craft, and take you on the ride of a lifetime. Poet Laureates, K. Peddlar Bridges, Colorado T. Sky, Betsy "Gypsypashn" Lister, Marc "Moshe" Goldfinger, JoeGo Gouveia, J. Barrett "Bear" Wolf, will keep you holding on tight. If you didn't arrive on two wheels, when you leave you'll feel like you just spent the evening with the wind in your hair! After the reading, there'll be a continuation of the celebration of Biker Poetry Month at a BBQ Gypsy's house. This is the third year we've done this, and it becomes bigger and better each year! Don't miss this treat!
October 18th First ever SENIORS Reading.
Gypsypashn's Poetry Caravan at Bestseller's Cafe
24 High Street
Medford, MA. 02155
---
Cambridge Cohousing presents
The Fireside Reading Series
How to get to Cambridge Cohousing:
Cambridge Cohousing is located just north of Porter Square at 175 Richdale Ave. From Massachusetts Ave., turn onto Walden St. Go over the commuter rail tracks and immediately turn right onto Richdale Ave. Cambridge Cohousing is the complex of yellow buildings. Walk through the main gate at 175 Richdale Ave. to the common house. For further information or directions, please contact Jenise Aminoff, 617.576.2004, jenise@alum.mit.edu or Molly Watt, 617-354-8242, mollywatt@comcast.net.
For more information, go to http://www.cambridgecohousing.org/poetry/.
To join our mailing list, send email to poetry-request@cambridgecohousing.org.
Tuesday, February 27, 2007
7:30 PM
Readers: Fred Marchant and Mala Radhekrishnan
Tuesday, March 27, 2007
7:30 PM
Readers: Jean Alonso and H. susan Freireich
Tuesday, April 24, 2007
7:30 PM
Readers: Steve Glines and Lolita Paiewonski
Tuesday, May 29, 2007
7:30 PM
Readers: Bernadette Davidson and Elizabeth Quinlan

---

92nd Street Y Reading Series
Lexington Avenue at 92nd Street
New York, NY
---
LALITA JAVA READINGS
3rd THURSDAYS 7-9 PM
HOSTED BY DOROTHY F. AUGUST
Lalita Java
210 East 3rd St.
(Btwn. B & C)
---
Teachers and Writers Collaborative Radio
WNYE 91.5 FM (New York City)
Thursday, February 1 at 6:30-7:00 PM
Larissa Shmailo presents Exorcism (Found Poem) and other selected work.
(Repeated Tuesday, February 27 at 6:30-7:00 PM)
The poem "Exorcism" appears in the "War on All Fronts" anthology edited by Halvard Johnson in the 2007 issue of Big Bridge at http://www.bigbridge.org/deathlshmailo.htm
---
Sponsered by Poets House NYC
Thursday, February 1, 7:00pm
Strong Is Your Hold: An 80th Birthday Tribute to Galway Kinnell
It's not every day that Robert Bly, E. L. Doctorow, Mark Doty, Cornelius Eady, Edward Hirsch, Marie Howe, Yusef Komunyakaa, Anne Marie Macari, Sharon Olds, Grace Paley, Gerald Stern and C.K. Williams get together in The Great Hall. So, join us as they pay tribute to the beloved poet, teacher and translator Galway Kinnell in a reading that honors his profound impact on generations of writers.
Presented in conjunction with Blue Flower Arts, Cooper Union, Houghton Mifflin, NYU Creative Writing Program and the Unterberg Poetry Center of the 92 nd Street Y. Co-sponsored by the Academy of American Poets, Cave Canem, Poetry Society of America, Poets & Writers and The Plutzik Goldwasser Family Foundation.
@ The Great Hall at Cooper Union
7 East 7 th Street
No reservations required. Doors open at 6:30pm.
Admission free
---
Tuesday, February 6, 7:00pm
BRANCHING OUT NYC: Robert Pinsky on Robert Frost & William Carlos Williams
The former U.S. Poet Laureate explores the shared territory of two major 20th century poets, Robert Frost and William Carlos Williams, whose distinct voices are unified by a common interest in the American idiom and the construction of the American memory.
Co-sponsored by the Poetry Society of America and the Tribeca Performing Arts Center. Funded by the New York Council for the Humanities.
@ Tribeca Performing Arts Center
Borough of Manhattan Community College
199 Chambers Street (1,2,3 to Chambers St. and walk west to BMCC)
$10, Half-price to Lower Manhattan residents
Free to students, Poets House & PSA Members
---
PERCH Reading Series
January Reading Schedule
7:30 PM
FOLLOWED BY OPEN MIC
January 30- Amir Parsa was born in Tehran in 1968 and grew up in Iran and the U.S., while attending French international schools. He is the author of Kobolierrot, Tractatüus Philosophiká-Poeticüus, the multilingual L'opéra minora and Feu L' encre-Fable, among other works. Also in 2006, Editions Caractères in Paris is publishing his Dîvân, Sil & anses and Erre. His literary oeuvre—written in English, French and Persian—constitutes a radical polyphonic enterprise that puts into question national, cultural and aesthetic attachments while fashioning new genres, forms and even species of literary artifacts. His works have appeared in Conciergerie, and he was featured in Artpress Magazine, one of France's leading magazines covering innovative art, literature and culture in 2006. He currently lives in New York, where he is a Lecturer and Educator at the Museum of Modern Art and the Metropolitan Museum of Art.
February 6th: Chet Kozlowski
February 13th: Yura Dashensky
February 20th: June Stein
February 27th: Sarah Beck, Ezekiel Finkelstein, Nikkiesha McLeod, Laura Modigliani, Buzz Poole
365 5TH AVENUE PARK SLOPE
F/R Train to 4th Avenue/9th Street (btwn 5th and 6th St.)
W W W . T H E P E R C H C A F E . C O M
---
GALWAY KINNELL TRIBUTE
Please mark your calendars for Thursday evening, February 1 as the Academy of American Poets joins Poets House in celebrating Galway Kinnell's 80th birthday and the publication of his newest collection, Strong Is Your Hold.
Featured presenters with Galway Kinnell include:
Robert Bly, E.L. Doctorow, Mark Doty, Cornelius Eady, Edward Hirsch, Marie Howe, Yusef Komunyakaa, Anne Marie Macari, Sharon Olds, Grace Paley, Gerald Stern and C.K. Williams.
Presented by Poets House and co-sponsored by the Academy of American Poets, Cave Canem, the Poetry Society of America and Poets & Writers.
GALWAY KINNELL TRIBUTE
Thursday, February 1
The Great Hall at Cooper Union
4 Cooper Square, New York City
7:00 p.m.
FREE ADMISSION
---
Reading/Event: Poets in Nassau First Friday Readings
Date: February 2, 2007
Place:Village Bookshoppe
Address: 7 N. Village Ave
City:Rockville Centre, NY 11570
Time: 7:30 pm
Cost: Free (donations appreciated)
Readers: Barbara Novack and Ann Kenna
---
Phoenix Reading Series
High Chai
Sunday, February 4, 2007, 2--4/5 pm
George Guida, Gerard LaFemina, Sytbil Kollar, Christine Timm
Open Reading Follows--as time allows
One Purchase & Donation
18 Avenue B
NYC
212-477-2424
---
Readings featuring Thad Rutkowski:
UPCOMING READINGS
Feb. 13, Tuesday, 7:30 p.m.
Reading from my work. Barnes & Noble, 1542 Northern Blvd., Manhasset, L.I. Probably free. (516) 365-6723.
Feb. 14, Wednesday, 10:00p.m.
Wife of Bath reading. Bowery Poetry Club, 308 The Bowery, Manhattan. Hosted by Tsaurah Litzky. www.bowerypoetry.com
Hope to see you somewhere! --Thad Rutkowski
http://www.thaddeusrutkowski.com
---
Sunday Salon Readings
All readings are free and take place at 7pm at Stain Bar
766 Grand St. in Brooklyn, NY.
(Take the "L" train to Grand and walk one block west).
Check out the website for reader bios: www.sundaysalon.com
February 18: Harlem Writers Guild reading with KC Washington, Grace Edwards, Judy C. Andrews
March 18: Kate Hunter, Mitch Levenberg, Shelly Marlow, Jeffrey Renard Allen
---
Reading/Event: Poetry Event at Molloy College
Date: Sunday, March 25, 2007
Place: Molloy College (Multi Purpose Room, 2nd floor Wilbur Arts Center)
Address: 1000 Hempstead Ave.
City:Rockvulle Centre, NY 11571
Time: 3 to 5 pm
Cost: Free
Reader: George Wallace

---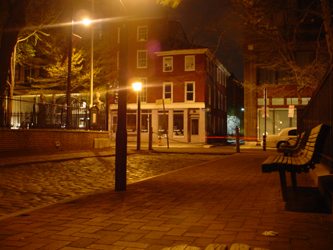 1ST FRIDAYS ON VINE
Hosted by Aziza Kintehg
Every First Friday of the Month
Be part of an Art Extravaganza * Spoken Word * Music Freestyle * Open Mike
Jose Sebourne Graphic Design
1213-15 Vine Street Philadelphia PA 19107
7-10pm $5.00 Cover
Contact info:
The Gallery - (215)564-2554
Aziza Kintehg(215)668-4500
Email: azizalockdiva@...
or check out the website: www.Josesebourne.com
---
Moonstone Poetry Series
Tuesday February 13, 7pm
Moonstone Poetry Series
Presents: Niama Williams & Dan McGuire
Robin's Bookstore
108 S. 13th St.
Philadelphia, PA
215/735-9600
For more information see: http://www.robinsbookstore.com/events/021307.html

---
Reading or Event including Theatre: Valentine's Day Poetry Reading, the Gallery of Founders Hall
Date: Feb. 12, 2007
Place: Guilford College
Address
City: Greensboro, NC
Time: 7:00pm
Cost: free
Readers: Marian Kaplun Shapiro (and others)

---
Wick Poetry Series
Kent State University
Room 306, Kent Student Center 7:30 PM
February 15th
Benjamin Scott Grossberg and Daniel Rzicznek
March 13th
A. Van Jordan

---

Center for the Art of Translation Spring Lit&Lunch Series, 2007
Robert Pinsky on Dante
Tuesday February 13, 2007, 12:30-1:30 p.m.
111 Minna Gallery
111 Minna St., San Francisco
---
Senghor Celebration: The Life and Poetry of Léopold Sédar Senghor
Tuesday, March 13, 2007, 12:30-1:30 p.m.
111 Minna Gallery
111 Minna St., San Francisco
---
Lawrence Ferlinghetti and Jack Hirschman: San Francisco Icons
Tuesday, April 10, 2007, 12:30-1:30 p.m.
111 Minna Gallery
111 Minna St., San Francisco
---
Vietnamese Poetry in Performance: John Balaban & Le Pham Le
Tuesday, May 8, 2007, 12:30-1:30 p.m.
111 Minna Gallery
111 Minna St., San Francisco
---
PIO Spring Poetry Recital
Saturday, May 12th, 2007, 2:30 p.m.
Koret Auditorium in the San Francisco Main Library
100 Larkin Street
San Francisco, CA
(415) 557-4400
PIO students reading their poetry and translations.

---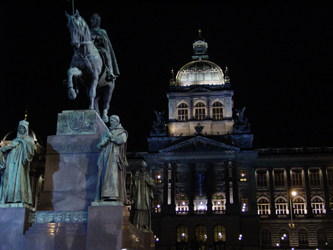 The 2nd Triennial Prague International Poetry Festival

---
BREAD AND PUPPET THEATER
at the
Boston Center for the Arts
CYCLORAMA
February 12-18
as part of the
BCA 2006-2007 Cultural Partners Series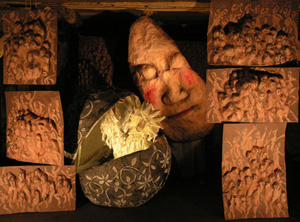 [photo taken by Robert Henry Sturgill]
(Boston, MA) The Boston Center for the Arts co-presents the Bread and Puppet Theater as part of the BCA 2006-2007 Cultural Partners Series. Events run from February 12-18. Performances, Art Exhibit, Symposium and Cheap Art Sale [details below] all held in the Boston Center for the Arts Cyclorama, 539 Tremont St., South End, Boston. Wheelchair accessible. Tickets available for purchase [cash or check] in the Cyclorama one hour before each show and during regular gallery hours. For advance tickets, log onto www.TheaterMania.com or call 866-811-4111 (toll free). For detailed information regarding the week's events, call the Boston Center for the Arts at 617-426-1522 or log onto www.bcaonline.org.
The award-winning Bread and Puppet Theater, featuring Artistic Director Peter Schumann and his troupe of five Vermont puppeteers, will join forces with 25 local puppeteers and the 15-piece locally-based Second Line Social Aid and Pleasure Society Brass Band. Bread and Puppet Theater's residency at the Cyclorama includes two different puppet shows (one geared towards adults and one "family-friendly"), a political art symposium, and a political art exhibit. Each of these events will also include an opportunity to savor Schumann's famous sourdough rye bread, drizzled with garlic-laden aioli, and to purchase the theater's legendary "cheap art."
The following events will showcase the Bread and Puppet Theater's signature powerful imagery, masked characters, and giant papier-mâché puppets. Although all Bread and Puppet events have a seriousness of purpose — a few laughs are always thrown in!
Visual Art Exhibit:
"WALMART EXORCISM" &
"5 EXCERPTS FROM EVERYTHING UNDER THE SKY"
Mon.-Sun., Feb. 12-18
Free and open to all.
Description: Peter Schumann's most recent visual art explorations.
Exhibit details:
Mon., Feb. 12, 5-7 pm: opening reception, with "Voices from the Community: perspectives from local youth participating in the Bread and Puppet residency at the BCA," held from 6:30-7:00 pm;
Tues.-Fri., Feb. 13-16: regular gallery hours (which include the Cheap Art Store): 11 am-6pm [Friday hours extended during show time]; Sat.-Sun., Feb. 17-18: one hour before and after each performance
Political Art Symposium:
"SYMPOSIUM ON SUBVERSIVE PAPIER-MÂCHÉ & OTHER TOOLS FOR CREATIVE DISSENT: 4TH ANNUAL"
Mon., Feb. 12, 7 pm
Voluntary donation: $5.
Description: The SYMPOSIUM features an in-depth interview with Bread and Puppet Theater's Founder and Artistic Director Peter Schumann, conducted by Dr. John Bell (Puppet Historian, Emerson College professor, and author of Puppets, Masks and Performing Objects); followed by a Q&A.
Evening Shows [recommended for ages 12 and older]:
THE BATTLE OF THE TERRORISTS AND THE HORRORISTS
Feb. 15-18, Thurs.-Sun., 7 pm
$12 general admission [students, seniors, & groups of 10 or more $10]
Description: THE BATTLE OF THE TERRORISTS AND THE HORRORISTS is a black and white dance and puppet show with a few colored exclamation marks!! As the U.S. sets out to achieve victory over the terrorists, it becomes necessary to make citizens acquainted with the promoters of victory: the horrorists. Under the banner of the two major divinities who rule over our present day existence — the God of Everything and the God of Nothing — the horrorists demonstrate, with the help of a cardboard citizenry, the progressive stages on the way to victory, including Ice Cold Reality, a dumbshow, which describes a week of horror under the feet of the occupier. The march to victory is a giant sailboat that drowns in stormy seas, and war is genocide. The show ends with an enormous Popol Vuh puppet reciting distorted excerpts from the ancient Mayan Council Book. The show will be performed by the Bread & Puppet Company, along with a large number of local volunteers, including members of the Second Line Social Aid and Pleasure Society Brass Band.
Family-Friendly Matinees:
EVERYTHING IS FINE CIRCUS
Feb. 17-18, Sat.-Sun., 2 pm
$10 / $5 students and seniors / children 2 and under free
Description: The EVERYTHING IS FINE CIRCUS features Pinky (the Federal Emergency Elephant), The Rotten Idea Theater Company, The Axis of Beagle and more. The show will be performed by the Bread & Puppet Company, along with a large number of local volunteers, including members of the Second Line Social Aid and Pleasure Society Brass Band. Take note that if some of the circus acts are politically puzzling to adults, accompanying kids can usually explain them.
BACKGROUND OF THE BREAD AND PUPPET THEATER:
All Bread and Puppet Theater shows, created and designed by Peter Schumann with input from the company, use music, dance and slapstick to get their point across. Their distinctive imagery — featuring puppets (of all kinds and sizes), masks, costumes, paintings, buildings, and landscapes — seemingly breathe with Schumann's distinctive visual style of dance, expressionism, dark humor and low-culture simplicity.
The Bread and Puppet Theater is one of the oldest, nonprofit, self-supporting theatrical companies in this country. Schumann founded Bread and Puppet in 1962 on New York City's Lower East Side. The Theater is now an internationally recognized company that champions a visually rich, street-theater brand of performance art. Its shows are political and spectacular, with huge puppets made of papier-maché and cardboard, a brass band for accompaniment, and anti-elitist dances. Most shows are morality plays — about how people act toward each other — whose prototype is "Everyman." Their overall theme is universal peace.
Besides rod-puppet and hand-puppet shows for children, the concerns of their first productions in New York were rents, rats, police and other problems of that neighborhood. More complex theater pieces, in which sculpture, music, dance and language were equal partners, followed. The puppets grew bigger and bigger. Annual presentations for Christmas, Easter, Thanksgiving and Memorial Day often included children and adults from the community as participants. Many performances were done in the street.
During the Vietnam War, Bread and Puppet staged block-long processions and pageants involving hundreds of people. In 1970 Bread & Puppet moved to Vermont as theater-in-residence at Goddard College, combining puppetry with gardening and bread baking in a serious way, learning to live in the countryside and letting itself be influenced by the experience. In 1974 the Theater moved to a farm in Glover in the Northeast Kingdom of Vermont. The 140-year-old hay barn was transformed into a museum for veteran puppets. "Our Domestic Resurrection Circus," a two-day outdoor festival of puppetry shows, was presented annually through 1998.
Through invitations by Grace Paley, Bread and Puppet Theater became a frequent attraction at anti-Vietnam War events in the '60s and '70s. By the '80s, the puppets had become emblematic of activist pacifism and a sine qua non of American political theater, as exemplified by the massive, ascending figures that are burned into the memory of anyone who marched with or saw the haunting, massive June 12, 1982 Disarmament Parade in New York City.
The company makes its income from touring new and old productions both on the American continent and abroad and from sales of Bread & Puppet Press's posters and publications. Internationally, Bread and Puppet Theater performs massive spectacles with hundreds of participants, sometimes devoted to social, political and environmental issues and sometimes simply to the trials of everyday life. The traveling puppet shows range from tightly composed theater pieces presented by members of the company, to extensive outdoor pageants which require the participation of many volunteers. At most performances, the company distributes bread and aioli (garlic sauce) to the audience.
Peter Schumann was born in 1934 in Silesia. He is married to Elka Leigh Scott and they live in Vermont's Northeast Kingdom. They have five children and four grandchildren. You cannot understand Bread and Puppet's work without acknowledging that it is grounded in dance, but not in formal or classical dance. Schumann's artistic pedigree is a mixture of dance and visual art.
He studied and practiced sculpture and dance in Germany and in 1959, with a childhood friend, musician Dieter Starosky, Schumann, created the Gruppe für Neuen Tanz (New Dance Group), which invented dances which sought to break out of the strict limits of both classical ballet and the expressionist dance tradition.
He moved to the USA with his wife, Elka, and their two children in 1961. His formative years in the Lower East Side during the early '60s were heavily influenced by the radical innovations spearheaded by John Cage and Merce Cunningham. Schumann rejected the elitism of the '60s arts scene and embraced the anti-establishment, egalitarian work of American artist Richard (Dicky) Tyler. He embraced Outsider Art: everyday movement, improvisation, direct momentary composition, and the jazz impulse toward overall creativity. He became a regular at Judson Poet's Theater and Phyllis Yampolsky's Hall of Issues, where puppet shows included making music and marching around. Street Theater productions followed, at rent strikes and voter registration rallies in the East Village, with crankies on garbage cans and speeches by a Puerto Rican neighborhood organizer, Bert Aponte.
He admired the abstraction of Merce Cunningham, and attended lectures at the Cunningham studio, but ultimately rebelled against it. In an interview with John Bell in 1994, he said that what "Cunningham demanded of his dancers was a classical ballet background. He refused to work with anybody who didn't have that. I totally disagreed. I had traveled around in Europe teaching dance; to Sweden, to a dance academy and various places, pretending I was a great ass in dance, and gave them classes. And they took me — I was fresh and I just did it. I said, 'I'll show you what dance really is; what you do is just schlock,' and I tried to liberate them from aesthetics connected to modern dance and classical ballet and to these various modes of existing dance at the time.'" There is dance at the bottom of all of Schumann's work, but since puppet theater is traditionally a "melting pot" of all the different arts, the dance component is frequently obscured.
For more information on the Bread and Puppet Theater, log onto www.breadandpuppet.org.
ABOUT THE BOSTON CENTER FOR THE ARTS:
Celebrating its 35th anniversary, the BCA is an urban, cultural village, incubating and showcasing performing and visual artists through the art of our times. Occupying a city block in the historic South End, the BCA provides Greater Boston a creative "home" for more than 130 working artists, a welcoming, arts destination for more than 200,000 audience members each year, and an arts connection for youth and community.

---
INTERACT PREMIERES GROUNDBREAKING DRAMA INSPIRED BY PHILADELPHIA HISTORY
January 19 – February 18, 2007
Philadelphia, PA - Wednesday, January 24, 2007, 7:00 p.m., marks Opening Night of a groundbreaking new drama making its World Premiere in InterAct Theatre Company's continuing 2006/2007 Season. Written by Philadelphia playwright Thomas Gibbons, A HOUSE WITH NO WALLS dramatizes a fictionalized conflict between liberal and conservative African-Americans who clash over the location of a new American Museum of Liberty which is scheduled to be built on the grounds of the slave quarters of George Washington's Philadelphia home. The play will be a featured production in the first Philadelphia New Play Festival (running from February 8-18, 2007) and is also a sponsored project of the National New Play Network's Continued Life of New Plays Fund, through which the play will be produced in two subsequent "rolling" World Premiere productions at Curious Theatre Company (Denver, CO) and Florida Stage (West Palm Beach, FL).
---
ABOUT THE PLAY
---
Following the extraordinary success of Thomas Gibbons' Bee-Luther-Hatchee and Permanent Collection, Gibbons' newest play, A HOUSE WITH NO WALLS, represents the third and final installment in his "race" trilogy. A HOUSE WITH NO WALLS presents a conflict between two African-Americans: Cadence Lane, a rising star in the world of academia who has just published a startlingly conservative book, and Salif Camara, an ultra-liberal, Afro-centric political activist. The battleground for these two opposing forces is the proposed site for the new American Museum of Liberty, which happens to be on the grounds of George Washington's Philadelphia home, including its slave quarters. This dramatic controversy - inspired by real-life events in Philadelphia (see below) - serves as a springboard for a complex and volatile debate over whether or not African Americans should embrace the legacy of slavery as their primary identity or discard this mantle of "victimhood."
A HOUSE WITH NO WALLS juxtaposes the present-day conflict between Cadence and Salif with the factually true story of two of George Washington's slaves, Ona Judge and her brother, Austin. The action of the play bounces between past and present, sometimes straddling a moment when the two times coexist. As we watch Cadence subtly being wooed by the Republican Party in the present, we see Ona Judge being tempted by a white abolitionist in the past. The lure of a place at the table, a voice on the inside, compels Cadence toward conservatism while the lure of freedom compels Ona toward an act of defiance.
---
INSPIRED BY PHILADELPHIA HISTORY
---
The central conflict of A HOUSE WITH NO WALLS is inspired by the controversy that arose in Philadelphia in 2002 over the construction of the new Liberty Bell Center on the site of the former President's house, including the slave quarters used to house the nine slaves owned by George Washington during his presidency. When pressed about the irony of the proposed location, the National Park Service, which oversaw the design and construction of the center, said that it had no intention of exploring the issue, and that no mention would be made of America's legacy of slavery on the site of one of the world's most renowned symbols of freedom and hope. Following an outcry from the African-American and historical communities, as well as Congressional intervention, the Park Service agreed to a center dedicated to the history of the President's House, including a site dedicated to the slaves living at the house and to the history of slavery in America in general. The process is still ongoing, with the memorial not expected to be completed until July 2007, more than five years after ignition of the debate.
For more on the Liberty Bell Center controversy, visit www.ushistory.org/presidentshouse/.
---
EXPLORING THE ISSUES
---
During the run of A HOUSE WITH NO WALLS, InterAct will present a panel discussion exploring the controversy that surrounded the building of the Liberty Bell Center, incorporating perspectives from several of the key players. The panel will be held on Saturday, February 3, 2007, 4:00 - 6:00 p.m., on the mainstage at The Adrienne, 2030 Sansom Street, Philadelphia. Scheduled to sit on the panel (in alphabetical order): Michael Coard, Esq., founder of Avenging The Ancestors Coalition, a community based group that honors exploited African-Americans; Thomas Gibbons, playwright of A HOUSE WITH NO WALLS; Edward Lawler, Philadelphia historian and archaeologist who has written extensively on the nine slaves kept by George and Martha Washington, as well as the history of the President's House; and Bruce Schimmel, founder, editor emeritus, and current columnist for Philadelphia City Paper, who extensively reported on the controversy. The discussion is free and open to the public.
In addition, InterAct will host several post-performance talk-backs to encourage further discussion on the issues raised in the play. Speaker Sundays, a series featuring invited scholars, community leaders and artists, are scheduled to follow matinee performances on January 28 and February 4 and 11. For a schedule of guest speakers, call InterAct at 215-568-8079. Coffee Conversations, informal discussions with the production's artists and designers, sponsored by Whole Foods, are scheduled to follow performances on January 30 and 31, as well as February 6, 7, 13 and 14. Scheduled to participate in one of the post-performance talk-backs is John McWhorter, Senior Fellow at the Manhattan Institute and author of New York Times best seller Losing the Race: Self-Sabotage in Black America. Mr. McWhorter's work on race and cultural issues has appeared in leading publications such as The Wall Street Journal, The New York Times, The Los Angeles Times and The Washington Post; he also does regular commentaries for NPR's All Things Considered.
---
DATES, TICKETS & SUBSCRIPTIONS
---
A HOUSE WITH NO WALLS runs for 27 performances, January 19 - February 18, 2007, with Opening Night on Wednesday, January 24. Performances are Tuesday and Wednesday evenings at 7:00 p.m., Thursday through Saturday evenings at 8:00 p.m., and Sunday matinees at 2:00 p.m. Individual tickets are available. Tickets for preview performances are $15.00; Tuesday through Thursday performances are $22.00; Friday & Saturday evenings and Sunday matinees are $25.00. InterAct offers discounts for senior citizens and full-time students (with valid I.D.). Group rates are available, and students with proper I.D. may purchase Rush Tickets for $8.00 five minutes before curtain (based on availability). All performances take place at The Adrienne, 2030 Sansom Street, Philadelphia.
Partial Season Subscriptions are now available for the remaining shows in InterAct's 19th Season, ranging from $28 - $48 for a 2-Show Subscription and $41 - $71 for a 3-Show Subscription. Reservations or more information can be obtained by calling 215-568-8079, by dropping by the InterAct Theatre Company box office at The Adrienne, 2030 Sansom St., Philadelphia, PA, or by visiting InterAct Theatre Company's website at www.InterActTheatre.org.
---
NATIONAL NEW PLAY NETWORK'S
CONTINUED LIFE OF NEW PLAYS FUND
---
In addition to premiering at InterAct Theatre Company, A HOUSE WITH NO WALLS will also be featured in at least two other professional regional theatre productions as part of the National New Play Network (NNPN)'s Continued Life of New Plays Fund. Founded in 1998 with InterAct as one of its founding members, NNPN is an alliance of twenty-one not-for-profit professional theatres across the United States that champions the development, production, and continued life of new plays for the American theatre. The flagship program of the NNPN is the Continued Life of New Plays Fund, which is a cooperative venture designed to ensure that new plays will see future productions beyond the initial world premiere. Partnerships of three or more theatres, including at least two NNPN members, are eligible to receive funding that supports multiple productions of the same new play. Because all of the partners commit to producing the play prior to the opening of the initial production, thus reducing the negative impact of critical reviews, each theatre takes part in a "rolling" world premiere that guarantees an opportunity for the play to grow and flourish through contact with a wide national audience.
NNPN established the Continued Life of New Plays Fund in 2003 with InterAct Theatre Company's production of Thomas Gibbons' Permanent Collection kicking off the pilot project. Five NNPN theatres committed to producing the play prior to the official opening of its first production: InterAct Theatre Company, Florida Stage (West Palm Beach, FL), Kitchen Dog Theater (Dallas, TX), Mixed Blood Theater (Minneapolis, MN) and Unicorn Theatre (Kansas City, MO). Since the initial five productions by NNPN member theatres Permanent Collection has gone on to over 16 productions nationwide, becoming one of the most produced new plays in recent years despite never having received a New York run. For more information about the National New Play Network visit www.nnpn.org.
---
THE PHILADELPHIA NEW PLAY FESTIVAL
---
A HOUSE WITH NO WALLS will be featured in the first annual Philadelphia New Play Festival: Where Theatre Begins. Piloted by the Theatre Alliance of Greater Philadelphia, the festival will be held February 8-18, 2007. The festival is a multi-organizational celebration of new work, featuring fully-mounted world premiere productions by eight of Philadelphia's leading theatre companies, plus a variety of readings, symposia, discussions, and more. In addition to InterAct's A HOUSE WITH NO WALLS, this year's line-up will also feature Arden Theatre Company's Dex and Julie Sittin' in a Tree by Bruce Graham; The People's Light & Theatre Company's Anne of Green Gables adapted by Peter DeLaurier from the novel by Lucy Maud Montgomery; Philadelphia Theatre Company's Nerds://A Musical Software Satire with book and lyrics by Jordan Allen-Dutton and Erik Weiner and music by Hal Goldberg; Prince Music Theater's Stormy Weather with book by Sharleen Cooper Cohen and including songs by Harold Arlen, Duke Ellington and Billy Strayhorn; Theatre Exile's Philly Originals by Bruce Graham, Michael Hollinger and Arden Kasswalnut; Walnut Street Theatre's Bookends by M.J. Feely; and The Wilma Theater's Enemies, A Love Story adapted by Sarah Schulman from the novel by Isaac Bashevis Singer. For more information visit www.TheatreAlliance.org.
---
RELEVENT BIOGRAPHIES
---
Thomas Gibbons (Playwright), a Philadelphia native and current resident, has been InterAct Theatre Company's playwright-in-residence since 1993. InterAct has premiered six of his plays, including two that have gone on to rank among the most produced plays of the past few seasons in the United States. Permanent Collection, a searing examination of racial politics inspired by the controversy surrounding Philadelphia's Barnes Museum, set box office records during its 2003 premiere at InterAct. It has since been named by Playbill.com as one of the Top Plays of 2005, as well as winning the 2004 Barrymore Award for Best New Play in Philadelphia, the 2004 Critics' Circle Carbonell Award for Best New Play in West Palm Beach, Florida, and a 2004 nominee for the Leon Rabin Award for Best New Play in Dallas, TX. Bee-Luther-Hatchee, the story of an African-American book editor who publishes what she thinks is the autobiography of a black woman's account of living as a former slave in the deep south, only to ultimately discover that it was actually written by a white man, premiered at InterAct in 1999 and has since gone on to 35 other productions across the United States. InterAct also produced the World Premiere productions of Gibbons' 6221: Prophecy and Tragedy, a docu-drama taken from actual court transcripts and other public records relating to the 1985 MOVE bombing in Philadelphia, as well as Pretending to America, Axis Sally and Black Russian. Gibbon's other plays include The Exhibition and Homer. His plays have been seen at the National Playwrights Conference at the Eugene O'Neill Theatre Center, off-off-Broadway at Blue Heron Theatre, Northlight Theatre, Florida Stage, Unicorn Theatre, Repertory Theatre of St. Louis, New Repertory Theatre, Arizona Theatre Company, Center Stage, Ensemble Theatre of Cincinnati, Kirk Douglas Theatre, Aurora Theatre, Robey Theatre Company and others. He is the recipient of six playwriting fellowships from the Pennsylvania Council on the Arts, a Roger L. Stevens Award from The Fund for New American Plays, two Barrymore Awards for Outstanding New Play, a NAACP Theatre Award, a Barrie and Bernice Stavis Playwriting Award, and a Pew Fellowship in the Arts.
Seth Rozin (Director) co-founded InterAct Theatre Company in 1988 and has since served as Producing Artistic Director. He has directed over 30 productions for InterAct, including this season's critically-acclaimed opener, Kiss of the Spider Woman, Israel Horovitz's Lebensraum (1999 Barrymore Awards for Outstanding Direction of a Play, Outstanding Overall Production of a Play, and Outstanding Ensemble), It's All True (2001 Barrymore nominations for Outstanding Director and Outstanding Overall Production) and Permanent Collection (nominated for Outstanding Overall Production). He has twice been named "Best Director" by the Philadelphia Inquirer for both the world premiere of Thomas Gibbons' 6221 and for Lebensraum. Other favorite productions with InterAct include the Philadelphia premieres of Blue/Orange, Nixon's Nixon, Aunt Dan and Lemon, Lonely Planet, Seascape, and God's Country. Seth has also directed for the Fountain Theatre in Los Angeles, Blue Heron Theatre and the 45th Street Theatre in New York. His regional credits include work with Act II Playhouse, Venture Theatre, Philadelphia Theatre Company, Philadelphia Young Playwrights Festival, and the University of Pennsylvania.
Johnnie Hobbs, Jr. (playing Salif Camara) has appeared on InterAct's stage in Since Africa and Black Russian. Mr. Hobbs was also in the East Coast Premiere of Joe Sutton's Restoring the Sun (Contemporary Stage Company). The three-time Barrymore nominee is proud of his thirty plus year affiliation with the critically-acclaimed Freedom Theatre. Film and television credits include, Up Close and Personal, 12 Monkeys, Snipes, "Hack," "The Wire," Train Ride, and the recently released Rocky Balboa. At present, Mr. Hobbs is a tenured associate professor at the University of the Arts in Philadelphia as the Head of Acting in the School of Theater Arts and serves as advisor to the African-American Student Union.
Tracey Conyer Lee (playing Cadence Lane) is excited for the opportunity to be challenged by another of Gibbons' characters, having performed the role of Kanika in the Florida Stage production of Permanent Collection. A HOUSE WITH NO WALLS marks her debut at InterAct. A New York based actor, Ms. Lee has performed throughout the country and abroad. Favorite theatre credits include seven productions of Constant Star, including the DE Theatre Company production that received 7 Barrymore awards and the Laguna Playhouse (5 NAACP Awards) and Florida Stage (2 Carbonell Awards) productions; Mayme in Lynn Nottage's Intimate Apparel at TheatreWorks (Palo Alto, CA) and Merrimack Rep (Lowell, MA); the Gypsy/Acid Queen in The Who's Tommy both regionally (Pittsburgh CLO) and on U.S. tour; and various roles in the musical Hair regionally (Actors Theatre of Louisville) and on European tour. Television credits include roles on "Ed," "Law & Order: Criminal Intent," "All My Children" and "Guiding Light."
Lavita Shaurice (playing Ona Judge) makes her InterAct Theatre debut in A HOUSE WITH NO WALLS. Ms. Shaurice is a native of Philadelphia where she received her Bachelor of Arts in theater at Temple University. While attending Temple she interned with and performed in works for the Philadelphia Young Playwrights Festival. Favorite roles at Temple include the Apothecary (Romeo & Juliet), Nicole (Spin Cycle) and Little Timoune (Once on This Island).
Seth Reichgott (playing Allen Rosen/Tobias Humphreys) is a Philadelphia-based actor, director, and writer. He is pleased to be returning to Interact where he has appeared in Reinventing Eden, Missing Link, and God of Desire. Other Philadelphia-area credits include The Foocy (Lantern Theatre), Tuesday (Amaryllis Theatre), The Ballad of John Wesley Reed (Theatre Catalyst), Wintertime (Wilma Theater), Stones in His Pockets (Cape May Stage), Interview (Belligerent Muse), The Baker's Wife (Arden Theatre), and Equus (Mum Puppettheatre). He has twice been a co-recipient of the Barrymore Award for Outstanding Ensemble in a Play. Mr. Reichgott tours his solo Greek mythology show, Chariot of the Sun, to hundreds of elementary and middle schools each year in Pennsylvania, New Jersey, and New England. He is also an associate member of the Bloomsburg Theatre Ensemble.
Bowman Wright (playing Austin Judge/Jacob Easton) made a stellar debut at InterAct last summer when he starred in Since Africa. Prior to that Mr. Wright also appeared as Cory in Arden Theatre's production of Fences. He is a graduate of the University of the Arts.
Tim Moyer (playing Steven Gardner/"George Washington") marks his fourth collaboration with Tom Gibbons with this production of A HOUSE WITH NO WALLS - he also appeared in Gibbons' Black Russian, Bee-Luther-Hatchee and Permanent Collection. Previously at InterAct he was featured in last season's Reinventing Eden, as well as Nixon's Nixon (also at Act II), and directed Man Measures Man. Mr. Moyer has appeared in an episode of "Hack," worked on the film The Village, and appeared in The Philadelphia Story at Walnut Street Theatre.
The design team for A HOUSE WITH NO WALLS includes Set & Lighting Design by Peter Whinnery, Sound Design by Kevin Francis and Costume Design by Andre Harrington. The production will be Stage Managed by Michele Traub. Andy Campbell will serve as Technical Director.
---
ABOUT INTERACT THEATRE COMPANY
---
Founded in 1988, InterAct is a theatre for today's world, producing new and contemporary plays that explore the social, political, and cultural issues of our time. InterAct's aim is to educate as well as entertain its audiences by producing world-class, thought-provoking productions, and by using theatre as a tool to foster positive social change. Through its artistic and educational programs InterAct seeks to make a significant contribution to the cultural life of Philadelphia and to the American theatre.
---
WHAT'S COMING UP NEXT AT INTERACT
---
InterAct continues its 2006/2007 Season in April 2007 with the World Premiere of WHEN SOMETHING WONDERFUL ENDS, written by Sherry Kramer, and concludes with the May/June run of the East Coast Premiere of SKIN IN FLAMES, written by Guillem Clua and translated by DJ Sanders.
Due to the nature of live theatre, play selection, performance and casting are subject to change.

---
InterAct Theatre Company's Writing Aloud: Going Forward
Featured Stories & Writers:
"The Bard of Frogtown" by Allison Whittenberg
"Smart" by Benjamin Matvey
"The Bridge Keepers" by Neda Scepanovic
Featured Readers To Be Announced
On the Mainstage at The Adrienne
2030 Sansom St., Philadelphia
Monday, October 30, 2006 at 7:00 p.m.
Tickets are $12.00 for general admission or $6.00 for InterAct subscribers
For tickets or information: BoxOffice@InterActTheatre.org or (215) 568-8079
David Golston
InterAct Theatre Company's Writing Aloud: Going to Pieces
Featured Stories & Writers:
"Bent and Blue" by CJ Spataro
"Smoke" by Robin Parks
"Pablo and the Frogs" by Steven Schutzman
Featured Readers To Be Announced
On the Mainstage at The Adrienne
2030 Sansom St., Philadelphia
Monday, December 12, 2006 at 7:00 p.m.
Tickets are $12.00 for general admission or $6.00 for InterAct subscribers
For tickets or information: BoxOffice@InterActTheatre.org or (215) 568-8079
David Golston
web: http://www.InterActTheatre.org
INTERACT THEATRE COMPANY ANNOUNCES 2006/2007 SEASON OF WRITING ALOUD
Philadelphia, PA - InterAct Theatre Company is excited to announce the eighth season of Writing Aloud, a series of one-night-only evenings of short contemporary fiction written by the region's finest writers and read on stage by professional actors. The 2006/2007 Season will feature a selection of twenty-one short stories by area writers, including New York Times bestselling author Jennifer Weiner. David Sanders, Director of the Writing Aloud program, recently announced the season line-up while adding, "We are thrilled to have received such a high number of outstanding submissions this season, making our eighth season one of our most exciting ever."
---
ABOUT THE 2006/2007 SEASON
---
The 2006-2007 season of Writing Aloud kicks off on October 30, 2006 at 7:00 p.m. with an evening entitled Going Forward, featuring "The Bard of Frogtown," by Allison Whittenberg, "Smart," by Benjamin Matvey, and "The Bridge Keepers," by Neda Scepanovic.
The second installment in the series, entitled Going to Pieces, takes place on December 12, 2006 and features "Bent and Blue," by CJ Spataro, "Smoke," by Robin Parks, and "Pablo and the Frogs," by Steven Schutzman.
Going Down, on February 5, 2007, will be Writing Aloud's first performance in the new year. It will feature the stories "He Did It for Morgan," by Kathryn Watterson, "Loss Prevention," by Marion Wyce, "Child at Play" by Manini Nayar, and "The Captain is Sleeping," by Norman Lock.
The series reconvenes on March 19, 2007 with a series entitled Coming Apart, featuring "The Black Box," by Clare Keefe Coleman, "Feeding the Ducks," by Jim Ray Daniels, "The Embrace," by Niama Leslie Williams, and "Between States," by Greg Downs.
The fifth installment, Coming to Terms, on April 30, 2007, will feature an exciting story from Jennifer Weiner, New York Times bestselling author of Good in Bed and In Her Shoes. Also featured in Coming to Terms will be "The Haircut," by Linda Blaskey, "Dog Whispers," by Randall Brown, and "Make Me Over," by Amina Gautier.
The 2006-2007 Season of Writing Aloud concludes on June 11, 2007 with an evening of stories entitled Coming Together, featuring "Good Providers," by Miriam Fried, "The BVM" by Tree Riesener, and "Measures of Sorrow," by Jacob M. Appel.
Casting for the upcoming 2006/2007 Writing Aloud season has not yet been announced, however, InterAct is in the process of finalizing a line-up of some of Philadelphia's best actors to read the short fictional stories. The recently completed 2005/2006 season of Writing Aloud included twenty-seven actors, including Barrymore Award winners Catharine K. Slusar, Madi Distefano, and Maureen Torsney-Weir, as well as Barrymore-nominated actors Matt Saunders, Amanda Schoonover, Buck Schirner, David Ingram, and Karen Peakes.
Each event in the 2006/2007 Writing Aloud season will be held on InterAct Theatre Company's Mainstage at The Adrienne, 2030 Sansom Street in Philadelphia. All performances are on Monday evenings at 7:00 p.m. Tickets are $12.00 for general admission or $6.00 for InterAct subscribers. Season subscriptions to the Writing Aloud season are available starting at only $10 an event, or $60 for the entire six-show season. Seating is limited, so advance reservations are strongly recommended and can be made by calling InterAct's Box Office at 215-568-8077. Group rates are also available.
---
ABOUT THE WRITING ALOUD PROGRAM
---
Directed by David Sanders, Writing Aloud was established in 1999 to present diverse voices in contemporary fiction by the region's best writers, read on stage by professional actors. Quickly establishing itself as the region's premiere reading series, Writing Aloud has attracted sold-out audiences, has been featured in special broadcasts on WHYY-FM public radio, and is a recipient of Philadelphia Magazine's 2001 "Best of Philly" award.
---
ABOUT INTERACT THEATRE COMPANY
---
Founded in 1988, InterAct Theatre Company is a theatre for today's world, producing new and contemporary plays that explore the social, political, and cultural issues of our time. Lead by Producing Artistic Director Seth Rozin, InterAct is one of the nation's leading centers for new writing in theatre, introducing important contemporary writers to audiences through its world premiere stage productions, developmental residencies, and Showcase of New Plays. The Writing Aloud program extends InterAct's mission of cultivating and presenting diverse artistic voices into the realm of short fiction.
InterAct's 2006/2007 Mainstage Season begins on October 20 with the classic play, KISS OF THE SPIDER WOMAN, written by Manuel Puig and translated by Allan Baker. Directed by Seth Rozin and featuring Philadelphia favorite, Frank X, and 2004 Barrymore nominee, Vaneik Echeverria, KISS OF THE SPIDER WOMAN opens officially on Wednesday, October 25, and runs through November 19, 2006. Continuing the season in the new year will be the world premieres of Thomas Gibbons' A HOUSE WITH NO WALLS (January 19-February 18, 2007) and Sherry Kramer's WHEN SOMETHING WONDERFUL ENDS (April 6-May 6, 2007). The season will then conclude with May 25-June 24 production of SKIN IN FLAMES, the East Coast premiere of a new play written by Catalan playwright Guillem Clua and translated by DJ Sanders.

---
If you would like to be added to my monthly e-mail newsletter, which gives information on readings, book signings, contests, workshops, and other related topics...
To subscribe to the newsletter send an email to:
newsletter@cervenabarvapress.com with "newsletter" or "subscribe" in the subject line.
To unsubscribe from the newsletter send an email to:
unsubscribenewsletter@cervenabarvapress.com with "unsubscribe" in the subject line.

---
Index | Bookstore | Submissions | Newsletter | Interviews | Readings | Workshops | Fundraising | Contact | Links
---
Copyright © 2005-2007 ČERVENÁ BARVA PRESS LLC - All Rights Reserved