July, 2005 Aug. 2005 Sept. 2005 Oct. 2005 Nov. 2005 Dec. 2005 Jan. 2006 Feb. 2006 Mar. 2006 Apr. 2006 May 2006 June 2006 July 2006 August 2006 September 2006 October 2006 November 2006 December 2006 January 2007 February 2007 March 2007 April 2007 May 2007 June 2007 July 2007 August 2007 September 2007 October 2007 November 2007 December 2007 February 2008 March 2008 April 2008 May 2008 June 2008 July 2008 August 2008 September 2008 October 2008 November 2008 December 2008 February 2009 March 2009 April 2009 May 2009 July 2009
ČERVENÁ BARVA PRESS NEWSLETTER
Gloria Mindock, Editor Issue No. 47 August, 2009
---
INDEX
Welcome to the August, 2009 newsletter.
Hi Everyone. Hope the summer has been a good to you.
Interviewed this month: Jiri Klobouk and Judson Hamilton
Congratulations to W. R. Mayo. He is flying into NY to be interviewed by Bev Smith about his book, Pretty Little Lies, which was published this summer by Cervena Barva Press. Bev Smith has been seen on CNN, The Larry King Show, Fox News, and is the only African-American to have a nightly syndicated radio talk show. She has interviewed many celebrities such as Bill Cosby, Vice President Al Gore, Senator John Kerry, Dick Gregory, Jesse Jackson, Patti Labelle and the list goes on. She also has interviewed President Obama and First Lady Michelle Obama. This is very exciting and I am so happy for Bill Mayo. I will let everyone know more details about the interview when I hear about it from him. This book has been selling extremely well so we are very happy about this.
Recently Cervena Barva Press authors W. R. Mayo and Catherine Sasanov had a discussion about their books.
It is as follows:
The past is not dead. In fact, it's not even past:
A Conversation Between Cervena Barva Press Authors W. R. Mayo and Catherine Sasanov
| | | |
| --- | --- | --- |
| W. R. Mayo | A native of the Arkansas Delta, W. R. Mayo is the author of Pretty Little Lies (Cervená Barva Press, 2009). Both memoir and family history, Mayo takes on the mythology of Southern nobility that played out in his family. Following a trail of lies, deceit, and betrayal, he lays bare the lives of the Mayos over 300 years, from the family's origins in England, to their plantation life in Southeastern Arkansas, and beyond. | Order here |
| Catherine Sasanov | Catherine Sasanov's most recent poetry collection is Tara (Cervená Barva Press, 2008), a chapbook selection of work from her forthcoming book, Had Slaves. A finalist for the National Poetry Series and winner of the Sentence Book Award, Had Slaves will be released by Firewheel Editions in late 2009. Her 2005 discovery of slaveholding among her Missouri ancestors, and her research into what happened to their slaves, continue to drive her writing. | Order here |
Catherine: In Pretty Little Lies, it seems like your family's past came down to you vocalized and embellished. In my case, except for the mention of a handful of events, the lives of my Southwest Missouri ancestors were shrouded in silence. It was almost as if the past couldn't endure the journey from Springfield, Missouri, to Rockford, Illinois, the city my father settled in around 1950, and where I was born and raised. It was only after stumbling across my ggg-grandfather Richard Steele's will where nine slaves were listed (a real shock for me as slaveholding had never been on my radar as part of my family's history) that I realized how little information there was in regards to my family's past. No treasure trove of documentation and family lore such as Edward Ball had to draw from when he wrote Slaves in the Family, or the extensive information you had about your family and its doings though much of it was, as you say, "pretty little lies." Probably what was scariest for me was how easily I could have gone to my grave without any idea of my family's slaveholding past. Except for two pieces of paper in my family's possession (the aforementioned will and a short interview done years ago with an elderly cousin where the words had slaves appear) there were no other written or spoken traces in our home of my bloodline's involvement with slaveholding. I think about the past a great deal now: how it is remembered, what stereotypes and myths rush in to fill the gaps when it comes down broken. What does the past mean to you now since you found so many discrepancies in your family's history? Were the untruths and distortions that you found there something you'd find as well among the people and landscape where your family lived in the Arkansas Delta?
W. R.: It is interesting that we share a family history of slave ownership; however, yours was hidden, and in the case of my family, out of the closet so to speak. In modern times, the history of our slave ownership was tempered to be more politically correct, but I suspect promoted with a sense of silent pride to some.
For me, now that my family's past has been confronted, it no longer exists for me, at least as it had been presented. My youngest son is still having difficulty in dealing with it although he is now 25 years old. This false past was so much of who we were, it has in fact, I believe, challenged his own identity.
As for the neighboring families, I cannot speak to whether similar circumstances existed behind their closed doors as they did with my family.
Catherine: So what does "past" mean to you? When I went to Southwest Missouri in 2006 to gather information on my family's slaves, to try and find out how they came into my family's possession and what happened to them during slavery, in freedom, the only evidence that seemed to be left of them was words, and most of those stored away in archives, libraries and museums. If I had visited the area and not known already that slavery had been a part of Southwest Missouri's past, I wouldn't have guessed it. I've heard since that a golf course might have the remains of a slave-made wall, and I did find the unmarked graves of some former slaves who were related to my family in one way or another. Perhaps there are other artifacts and traces that I just didn't see, and I am sure there must be stories and items passed down within the black community. But the landscape of the past that both the black and white Steeles lived and worked, right down to the gravesites, seems to be lost beneath subdivisions, tourist sites, big box stores, and office buildings. At the same time, I found it interesting how many manufactured "pasts" are on sale in the area, such as the one offered at Dolly Parton's Dixie Stampede and Dinner Show in Branson. A place where the Civil War is fought on a daily basis, not through guns, but through a series of horsemanship feats, ostrich races, and other contests - Nothing about slavery and nothing to say that the South won't win by the end of the show. And everyone walks out happy afterwards. I was really fascinated by this.
W.R.: The "past" has far less significance to me now, particularly after I finished the book. I am trying to concentrate on the future, and if nothing else I hope for my own family, immediate and extended, that I have put an end to the myths.
As to the lay of the land, the farm or "plantation," as those were inclined to call it, has not changed much in 159 years. It is a very rural area, and the signs that remain from the past are still evident including the remaining slave cemetery with its solitary headstone.
I am less troubled now with the "past" which, in my case, much of it did not exist. It seems that your "past" troubles you greatly. Is that because it was buried, and you have now unearthed it?
Catherine: I think it's both the shock, as a first-generation Northerner, of discovering that slavery was a part of my family's personal history and the horror of realizing how close I came to not finding out about it. The latter probably sounds strange, but it bothers me how off-base I was in recognizing where that particular kind of evil could occur. A Missouri grain farm with a log house and tarantulas mating in the corn was not my idea of Tara. As if slavery couldn't survive outside of an environment rich in moonlight, magnolias, Spanish moss, Southern belles, oak alleys, and the big house. But maybe this is a Yankee problem. As a child, I likely learned more about slavery from Gone With the Wind than from textbooks. How slavery's history has been taught in the U.S. seems a mess best summed up by an old Mighty Mouse cartoon of Uncle Tom's Cabin: Eliza crossing the ice-floes isn't a fair-skinned mulatto but something more like Olive Oil's darker sister. She's chased by the wrong character from the book and doesn't escape across the frozen Ohio to freedom, but runs straight down its middle. Mighty Mouse saves the day, rescuing her from Simon Legree and a waterfall, flying her back to the plantation she was trying to escape from in the first place! Of course she and all of her fellow slaves are overjoyed by this.
So I think it is the educating of myself and the searching out of an actual past, trying to strip away the layers of nostalgia, myth, and stereotype that I, along with the rest of the nation, have been steeped in for decades - This and struggling with how fragmented and incomplete a more authentic past is, especially when it comes to the lives of African Americans - all of it has felt overwhelming at times.
I heard that, at your book signing in Arkansas, you sold over 700 copies of Pretty Little Lies in one evening. To what do you attribute such overwhelming sales? What do you think readers are looking for in the book? Genealogy? Secrets from an old established family? Something else?
W.R.: Frankly, I do not know what the attraction has been to the book, but I do know it is not genealogy. Most comments that I have received are on the issue of dysfunctionality, and its commonality with all families to some degree.
My family has been somewhat fractured, particularly since my father's death in 2004. The odd thing is that the book has brought many of us back together, particularly among children of siblings with whom I am still estranged who have reached out to me and my two sons.
What has been your family's reaction to your book?
Catherine: Well, Had Slaves, won't be out until sometime in December. As far as Tara is concerned, there hasn't been any word back to me from my family, which is pretty small now that my parents and grandparents are dead. But that hasn't surprised me; when I first brought up the discovery of slaveholding to my sisters, their reactions ranged from, Oh, that's interesting to a kind of flustered embarrassment. There may have been some inward groans on their part as well, knowing I'd likely not let the subject go. Both sisters knew I was writing poems but, bless them, they never told me I shouldn't do it.
I did end up meeting a lot of distant cousins I didn't even know I had, along with archivists, historians, librarians, landowners, and slave descendents when I began my research. These folks don't know much, if anything, about my life as a poet as I didn't start addressing the slavery in my poems until later. Originally, I gathered whatever fragments of information I could find on the slaves from primary sources, then organized it into notes and timelines (all of it now on file in the Greene County Archives in Springfield, Missouri). Out of that material I wrote two articles about the Steele slaves that were published in a genealogical publication, Ozar'Kin. It was only after prose wasn't enough for me that I turned to poetry. Its non-linear lens helped me answer some of the questions prose left me with, and it allowed me to formulate answers to questions I didn't yet know I had.
If anything, my family may be the least of it if I hear back from readers at all regarding how the book is perceived. I took what I could find of a fragmented, often untrustworthy past and tried find the lives of the black Steeles somewhere in it. When I could, I used the glue of safe assumption to hold those fragments together. I didn't want imagination to be one more way for my bloodline to own those men and women yet again, but how to make due without it? In the end, the poems were my crude way of asking the dead, Is this what happened? Is this how it went? If nothing else, I hope that the poems are a reminder to others like myself that the past is everywhere, be it in one's own family tree or under the subdivision one calls home. It's interesting how many Northerners have approached me since I started to give readings of the work, sometimes whispering in my ear how their ancestors, too, had slaves.
This month you will see new chapbooks and books coming out by the press. We are back into the swing of things. In September, there will be no new releases. I will be in Italy. Publications and the work on books will resume in October.
I am in the process of mailing chapbook and book contracts out. Over the next few weeks, if you're a Cervena author, look for yours.
---
The Cervena Barva Press Reading series will announce the dates soon. We don't hold the reading series during the summer months. The press solicits only for this series.
---
If any of you have any poetry or fiction readings coming up in Sept., October, November and December, please send me your listing. Check the readings page before sending to make sure it isn't already listed. Send the following information only:
Place of the reading
Address (Be sure to include which state since we list from all over the country)
Date and time
Readers
Admission
It is best to keep the info short so many readers can be listed. Thanks. We have a huge newsletter e-mailing list so your listing will be seen by quite a few people! Any literary event is welcome. If you send us your listing at the last minute, there is no guarantee it will be listed. My Webmaster needs some notice to list it.
---
Thanks to all of you who voted for my sister's music studio. She appreciated all the support. Her studio was nominated for the Nickelodeon "Parents Pick," 2009. Winner will be announced August 17th.

---
New titles by Ahadada Books
Even the dog won't touch me (Audio Book) by Tom Bradley
Audio book (CD)
Pub Date: July 2009
Publisher: Ahadada Books
ISBN: 978-0981170-4-9-7
Price: US $10.00/CAN $11.95
---
Oulipoems 2 by Philip Terry
Cover: Paperback
Pub Date: July 2009
Publisher: Ahadada Books
ISBN: 978-0-9811704-5-9
Price: US $16.95/CAN $17.95
---
Poor Manners by Adam Halbur
Cover: Paperback
Pub Date: July 2009
Publisher: Ahadada Books
ISBN: 978-0-9811704-8-0
Price: US $16.95/CAN $17.95
To order/read more about these books and other great Ahadada publications, go to:
http://www.ahadadabooks.com/

---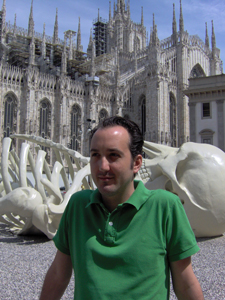 Write a bio.
I grew up outside of Houston near the Gulf of Mexico and attended the University of Texas at Austin where I studied English and Philosophy. Afterwards I took the requisite 'grand tour' of Europe before doing a three year stint in Seattle then I moved to Poland and have been here ever since.
Describe the places you like to write.
These days I write where I can: on the tram to work, at the kitchen table early in the morning or late at night, in the occasionally conference room or at a coffee shop. Serious work requires a modicum of silence and an uninterrupted hour which basically means early Saturday and Sunday mornings.
How long have you been living in Wroclaw, Poland?
I've been living here for six years now. I came here for work, liked it, decided to stay another year, and one thing led to another….
What Polish writers influence you? Name other writers whose work you respect.
I can't say that there are any Polish writers who have influenced me aside from Bruno Schultz whose work I admire. At various periods of my life I've been influenced by or interested in: Gaddis, Pynchon, Nabokov, Amis (Martin not Kingsley), William Gibson, China Mieville.
What other things have influenced you as a writer?
Travelling, music: (post-rock, electronica) also certain periods of history: (Soviet, 18th and 19th century European), art: (modern mostly - abstract and installation) and film (mostly European mostly black and white). As a child I read sci-fi & fantasy novels and comic books by the truckload. I also watched a ton of cartoons, and animation still interests me.
What are the differences in writing there as opposed to US writing?
I honestly don't know if there are any.
Describe the writing scene in Wroclaw.
This interview is as close as I've come to a writing community. I'm pretty much a lone wolf - not necessarily by choice but writing in English in a non-English speaking country doesn't lend itself to community-building.
I am very happy to be publishing your chapbook, Celebrity Slumbers. Talk about these poems. I find these poems absolutely amazing.
I'm flattered by your enthusiasm Gloria. I was having some dreams with celebrities in them and I wrote them down in a journal which I was keeping at the time. There was something I liked about them - their abruptness, their inherent logic, and the atmosphere which pervaded them. I wrote them quickly upon waking; making only minor changes later. It was only after I'd collected over half of them that it dawned on me that I could make a book out of them. All in all, it took about eight months to complete.
Do you write in other genres?
I've written a few short stories, one of which was editor's choice over at www.thievesjargon.com.
How long have you been writing? Talk about when you knew you were going to write seriously.
I started writing seriously when I came to Poland. There was a great deal of tortured juvenilia before that.
Who are you reading now?
I've just finished 'Darkmans' by Nicola Barker. And I highly recommend it to anyone who is interested in the modern novel; I've never read anything like it.
What is your favorite book and why?
I wouldn't want to single out just one. But there are only a handful of books I've read more than once 'Watership Down', The Secret History', 'Pattern Recognition', 'The Once and Future King' and 'Madame Bovary' come to mind.
Any last comments?
I'm both thrilled and honored to have Cervena Barva Press publish 'Celebrity Slumbers'. Thank you for the opportunity.

---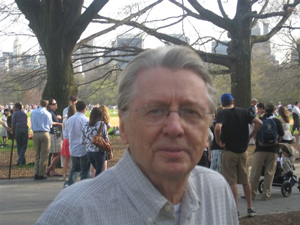 Where did you grow up and where do you live now?
The small Moravian town where I lived for the first 20 years was part of Czechoslovakia (now the Czech Republic). I divide those 20 years into three segments depending on the social-political circumstances: age 0-6 capitalism, 7-12 Nazism, 13 and up - Communism. Discovering jazz after WW II changed my life forever. I improvised blues and boogie-woogie on piano, imagining that my living room was a smoky bar in New York with black girls singing, swinging and puffing on cigarettes. Evidently New York was my destiny. I now live on the Upper East Side.
When did you start writing?
I served in the army, briefly studied medicine, and worked in coal mines. I could not carry the piano with me so I replaced it with a portable typewriter, pretending to play jazz on the keyboard. When I read William Saroyan's "The Daring Young Man on the Flying Trapeze" I evolved from musician to jazz inspired writer. (My first novel is appropriately called "JAZZ 2:Parents"). Later on, my occupation as a cameraman in Prague television made me visualize the world through a camera lens which influenced my fiction. One critic noted: "In his writing we could feel the rhythm and see things from unexpected angles."
What was your first published work?
It was a radio play aired on Prague radio in 1963. I've always been a devotee of the power of radio drama imagery. Unfortunately, this is now practically extinct. In a different media, as a participant in a contest for a television play in 1965, Vaclav Havel got 3rd prize and I got 4th.
You emigrated to Canada in 1968. What it meant to you, as a writer, to leave your native tongue behind and enter the English language territory?
Your question inspires another question: Is something more important to a writer than language? I was 35 and didn't speak English, except for some jazz related vocabulary. The longer one lives in a country where a different language is spoken the more proficient one becomes - but only to a point. Those years of childhood, adolescence and adulthood can never be relived in a foreign language. The native tongue becomes more and more distant as you continue speaking the new language. Furthermore, the mother tongue continues to evolve with you being absent from the process. In Canada I enrolled in an English immersion class but continued writing in Czech without any prospect of getting my work published in the Communist country I escaped from. Only my radio plays were produced internationally - mainly in Germany, Finland, England and Canada.
But life consists of the unexpected and after twenty years in exile, came the dismantling of the Berlin Wall and the fall of Communism. I dusted off my old manuscripts and since 1989 my books have been steadily published in the Czech Republic. All together about 12.
Describe your favorite place to write.
For seventeen years I lived on a 100 acre farm in Ontario, secluded from the rest of the world - except for the birds, deer, bears and occasional plane flying overhead. A true paradise for a writer.
Do you write everyday? How disciplined are you?
I don't have to discipline myself to write every day, it comes naturally, and it is an internal necessity. On the farm I walked with my dog and wrote radio plays in my head. I listened to the voices until they had nothing more to say. Then I registered the dialogue on paper. That was the past. Now I fear having a "tempting" idea since I no longer have the feeling of unlimited time needed to complete a larger project.
To which book you wrote you feel most attached.
"My Life With Blondie" is a novel I wrote in the 90's and will be published in Prague for a second time in September. I enjoyed going through the emotional turmoil of the protagonist, Harley Davidson. He is evidently a nutty guy, pursuing his dream to meet the girl he fell in love with at age seventeen after seeing her on a magazine cover in Vienna. Now fifty and married twice, he has two adult children and a pregnant girlfriend. Yet Blondie never leaves his mind despite her advancing age. Harley's story tells us that although we are consumed by daily reality, our parallel life is composed of dreams, which will likely survive until we die.
You had a collection of short stories, "American Wife" published recently in Prague.
Although novels dominate literature and attract the majority of readers, five pages are often more powerful than 500. On a small canvas the short story writer can depict a portion of life in a most meaningful way. Last fall I was in Prague to launch my new book,"American Wife," which covers my short stories from 1968-2008. Many of the stories appeared in English translation in various US literary magazines. For "Winter Wolves", published in Mid-American Review, I received the title of an "outstanding writer" in the 1985-86 The Pushcart Prize edition. I certainly enjoyed the five minutes of fame.
What about your poetry and essays?
My only book of poetry, "Music After Midnight," contains events and flash backs of things past. Whenever I had some "excess" paragraph or sentence while writing fiction, I saved it in a file. I later re-shaped the material into a new form with a different connotation thinking that this would be some experimental text rather than poetry.
The book of essays: "Anti-communist Manifesto (1975)", resulted from the seemingly unstoppable post-war spread of Communism. My frustration culminated in 1975 when Soviet expansionism engulfed most of Europe, South America and Africa. It was also the year of American defeat in Vietnam. The English Edition of this book sells well in the Museum of Communism in Prague. To walk through the display is to step inside a nightmarish past of a nation, which even after twenty years of democracy and freedom has not completely recovered from the trauma. Most rewarding to me was a letter I received from a visitor who came to the museum from Chicago: "I was fortunate enough to enjoy a visit to the Communist Museum in Prague last week, and even more fortunate to choose to purchase your book. I devoured every word and find it the most relevant work even today to someone interested in finding checks and balances and limitations on the anti-terror national security state that is growing daily in America. The price you paid for the experience to know to write your words was very, very steep, and I thank God you understood what was happening and you were able to describe its essence for posterity-and thank you!"
You belong to the Writer's Guild. Has belonging to this benefited you?
I have tended to avoid groups all my life. However, I feel privileged to belong to the Writer's Guild, which is an organization of American Writers. Reading American fiction in my formative years made me the kind of writer I am. I spent years trying to understand how they developed their craft and established a close affinity with many of them - the exceptional masters.
Who are some of your favorite writer's? Why?
After Saroyan comes a list of my literary heroes - Hemingway, Faulkner, Caldwell, Steinbeck, Fitzgerald and foremost Salinger. Of course I am omitting many others. Among the Europeans I include Joyce, Beckett, Camus and Kafka. What distinguishes these writers from others is a literary mastery when more is said between the lines than within the lines.
Have you read any of Vaclav Havel's plays? Some of them are strange which I love.
Havel is certainly different, combining elements of absurdity, black humor and his personal experience dealing with a brutal regime. If worst came to worst, the authorities jailed him to shut him up. They simply did not know what else to do with him. I became acquainted with his plays produced on stage and television or from reading.
When the Czech Republic became free in 1989, where were you?
The events shocked everyone. I was living in Ottawa and taped the happenings from the television screen. I no longer posses the tapes. Twenty years later in 2009, the Communist Party is still in existence trying to influence the direction of Czech politics - very disappointing.
On Dec.10th, 1989, Vaclav Havel was sworn in as President. What were your first thoughts?
That after 20 years I would be able to see my friends and my elderly mother and enjoy a Czech meal in a Prague pub. Also that I would hear the sound of the language I was cut off from for so many years. I wrote a letter to Havel that Czechoslovakia, under his guidance, should become a cradle of culture to which artists would come to create and celebrate art. I also wrote that Samuel Beckett, his patron who died soon after Havel became president, was undoubtedly pleased that a former prisoner-playwright was elected. Godot finally arrived and the waiting was over.
I recently published a book of poetry by the Czech poet, Jaromir Horec, with translation by Jana Moravkova Kiely called Anezka Ceska (Agnes of Bohemia). Vaclav Havel read one of his poems during Prague Spring. Agnes of Bohemia is so important to the people of Prague. Would you like to talk some about this. All this is such an important part of history. Do you ever write about this?
Jaromir Horec is approaching ninety - an event by itself! My first encounter with his writing had a connection with music. He wrote the lyrics to many post WW II songs that we danced to. I later came to know his poetry. One can only praise you for publishing of "Agnes of Bohemia." To cope with obstacles and difficulties, Czechs always reach for the great moments in their history. Please forgive me for disappointing you - I am truly a miserable Czech patriot. If I find myself in some kind of "trouble" my preferred Saints I turn to are Ella Fitzgerald or Billie Holliday.
Recently, when Jamomir Horec received his books, he could not understand why a Czech press is in the USA. I know when you queried me about the press, you were interested in why. I get asked this many times. There are many reasons I chose the name Cervena Barva Press. It is to honor the Czech people, the Velvet Revolution, Prague Spring, Vaclav Havel, the fall of communism, and all the wonderful Eastern European writers I have read over and over and have met. The name for me is political of course. I have a strong love for the Czech Republic. The bravery of so many during those Communistic times, I feel in my soul. What are your thoughts when I answered you about my press?
The producer of my radio plays at the CBC in Toronto, John Reeves, literally fell in love with Emil Zatopek. He was a Czech long distance runner and world record holder many times over in the 1950s'. John Reeves not only started running marathons but also devoured everything that was Czech, perhaps including the fatty sausages. To encounter an American publisher who would give her press a Czech name - "Cervená Barva", as you did - underlines your devotion and concern about the fate of a small country in central Europe, which endured so many adversities throughout the centuries. "God bless you!" for all you have done. I wish you all the best in your future endeavors, Czech or American. After all the first Czech president elected in 1918 had an American wife.

---

---
If you would like to be added to my monthly e-mail newsletter, which gives information on readings, book signings, contests, workshops, and other related topics...
To subscribe to the newsletter send an email to:
newsletter@cervenabarvapress.com with "newsletter" or "subscribe" in the subject line.
To unsubscribe from the newsletter send an email to:
unsubscribenewsletter@cervenabarvapress.com with "unsubscribe" in the subject line.

---
Index | Bookstore | Submissions | Newsletter | Interviews | Readings | Workshops | Fundraising | Contact | Links
---
Copyright © 2005-2008 ČERVENÁ BARVA PRESS - All Rights Reserved