July, 2005 Aug. 2005 Sept. 2005 Oct. 2005 Nov. 2005 Dec. 2005 Jan. 2006 Feb. 2006 Mar. 2006 Apr. 2006 May 2006 June 2006 July 2006 August 2006 September 2006 October 2006 November 2006 December 2006 January 2007 February 2007 March 2007 April 2007 May 2007 June 2007 July 2007 August 2007 September 2007 October 2007 November 2007 December 2007 February 2008 March 2008 April 2008 May 2008 June 2008 July 2008 August 2008 September 2008 October 2008 November 2008 December 2008 February 2009 March 2009 April 2009 May 2009 July 2009 August 2009 September 2009 November 2009 December 2009 January 2010 February 2010 March 2010 April 2010 May 2010 June 2010 July 2010 September 2010 October 2010 November 2010 December 2010 January 2011 February 2011 March 2011 April 2011 May 2011 June 2011 July 2011 September 2011 October 2011 December 2011 February 2012 April 2012 June 2012 July 2012 August 2012 October 2012 November 2012 February 2013 May 2013 July 2013 August 2013 October 2013 November 2013 April 2014 July 2014 October 2014 March 2015 May 2015
ČERVENÁ BARVA PRESS NEWSLETTER
Gloria Mindock, Editor Issue No. 90 September, 2015
---
INDEX
Welcome to the September 2015 Červená Barva Press Newsletter!
Hi everyone-
Welcome to the September newsletter. It has been awhile since we sent one out. Starting in 2016, it will be monthly again. Right now, I am concentrating on publishing books and catching up. There are so many books to get out into this world. Our last newsletter was in May so there is so much news to share.
---
New books this Summer!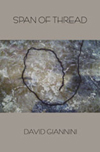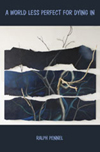 In June, Červená Barva Press released "Span of Thread" by David Giannini
and "A World Less Perfect for Dying In" by Ralph Pennel.
Order Span of Thread here...

Order A World Less Perfect for Dying In here...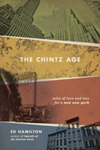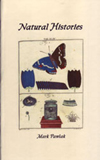 In July, we released the galley of "The Chintz Age" by Ed Hamilton for reviewers only. The book will officially be released November 2nd.
We also released in July a chapbook called, "Natural Histories" by Mark Pawlak.
Pre-order The Chintz Age here...

Order Natural Histories here...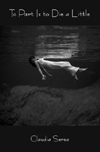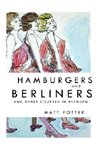 In August, we released "To Part Is to Die a Little" by Claudia Serea,
and "Hamburgers and Berliners and other courses in between" by Matt Potter.
Order To Part Is to Die a Little here...

Order Hamburgers and Berliners and other courses in between here...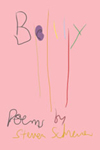 This month, we just released "Belly" by Steven Schreiner
and "Becoming An Ancestor" by Lucy Lang Day will be released shortly.
Order Belly here...

Becoming An Ancestor will be released soon!
There is more to come out in September. As you can see the press has been very busy. This fall will be no exception. There will be books, books and more books to follow. It is very exciting!
---
We had two launch parties this summer. One was for Ralph Pennel and the other was for Matt Potter, who was here from Australia. What fun book launches! Here are a few photos for you to enjoy. You can view the rest on my FB page and soon the photos will be on the Cervena Barva Press FB page.
Ralph Pennel Book Launch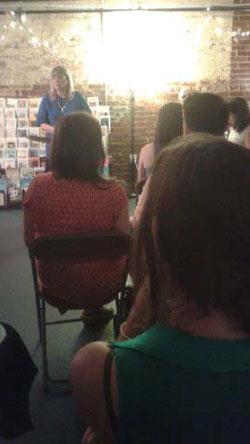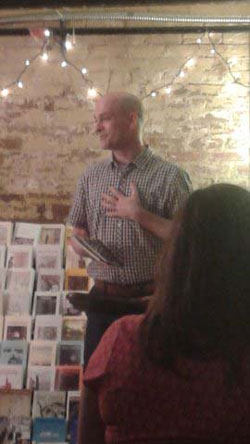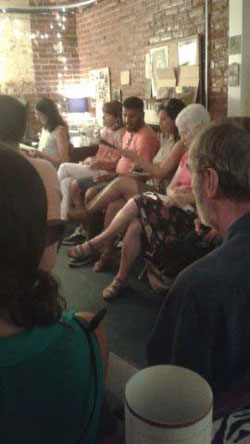 ---
Matt Potter Book Launch and Pure Slush Reading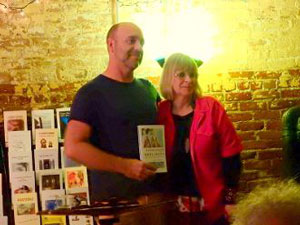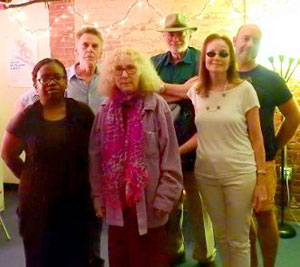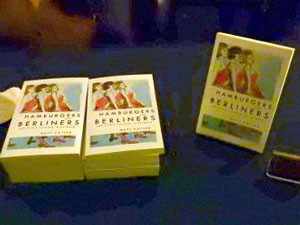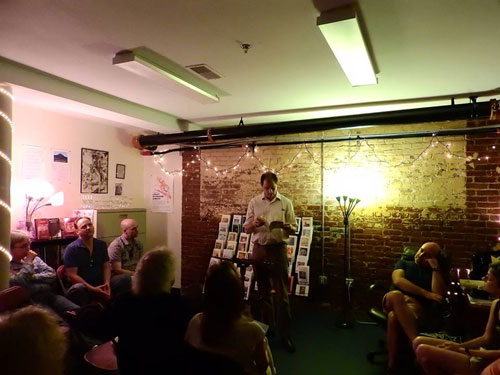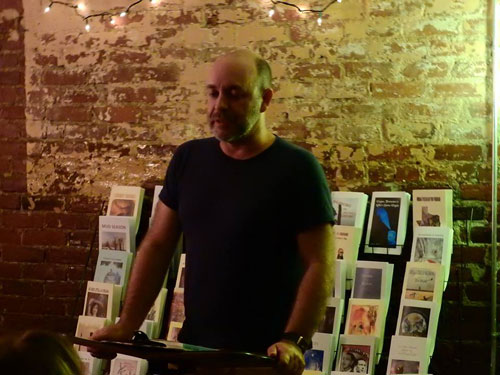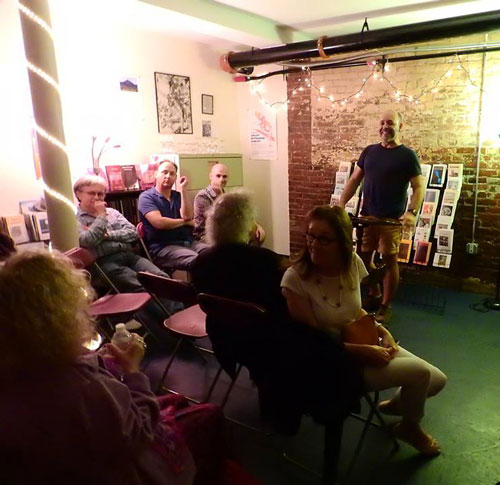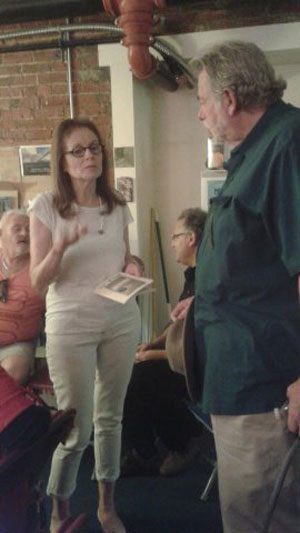 ---
This week, I am working on a play by John Dufresne, a poetry book by Gulnar Ali Balata, and Bill is working on a chapbook by Milorad Pejic with translation by Omer Hadziselimovic. I also will be getting 4 other books ready for publication. They are already laid-out but need final things done.
---
I would like to welcome my new intern, Olivia Bush, from Simmons College. Thanks to Doug Holder for sending her my way.
---
My reviewers, Irene Koronas, Pui Ying Wong and Tim Suermondt have been busy reviewing books so there will be quite a few in this newsletter. I would like to thank them for all their work on this. I get many books for review but have to be selective. I am sorry I cannot give my reviewers everything I receive.
---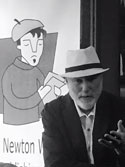 Doug Holder, received the Allen Ginsberg award in August from the Newton Writing and Publishing Center. Congratulations! It was a wonderful time.
---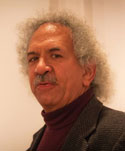 Harris Gardner will be receiving the Ibbetson Street Lifetime Achievement Award on September 15th in the Café in the Arts for the Armory building. This ceremony will be part of the First and Last Word Poetry Series. It will be hosted by Doug Holder (Ibbetson St. Press). Doug, Harris and I will all be reading. I received this award in December, 2014. It will be a fun night so join us at 191 Highland Avenue, Somerville, MA at 7:00PM on September 15th!!! Mark your calendars!!!!
---
For those of you on the Cape, I am excited to be reading with Annie Pluto, Melanie Braverman, and Kathi Aguero. Join us at the Eldredge Public Library, Thursday, September 24th, 564 Main Street, Chatham, MA from 6:00-8:00PM sponsored by the Voices of Poetry, hosted by Neil Silberblatt. Music will be provided by the very talented singer/songwriter Kathleen Healy. This event is FREE & open to all.
---
X-Peri Blog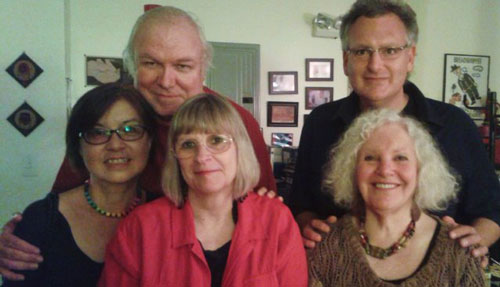 I would like to mention the start of X-Peri. Years ago, Irene Koronas and I were going to start a magazine by this name but it never happened. It is now official, X-Peri is born!!! Staff include: Irene Koronas, Daniel Y. Harris, Pui Ying Wong, Tim Suermondt, and Gloria Mindock
Right now, you can check out our blog at: X-Peri.blogspot.com and like our group and page on FB at: https://www.facebook.com/pages/X-Peri/831287630322995
https://www.facebook.com/groups/1642782676006824/
We also will be starting a magazine soon by solicitation only. The website has to be done yet.
---
Portrait of An Artist as a Young Poseur: 1974 to 1983 by Doug Holder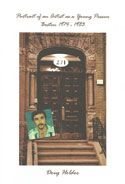 If you haven't bought Doug Holder's new chapbook, you should. I loved it. Doug has such a way with words and telling about his experiences. Here is a description about it that Doug wrote. It is available from Big Table Publishing at: http://www.bigtablepublishing.com/ Portrait of An Artist as a Young Poseur: 1974 to 1983 (Big Table Publishing, 2015)
I think when we are young, in our twenties, and just out of college--we try on a lot of identities. And I think in the 60s and 70s we had more time to do that. Now with expensive rents, high tuition, and the rapid change--the next new thing coming at us every minute-- young people have to be more focused. In my twenties, I lived a sort of bohemian existence--going from job to job, posturing as a writer, a poet, and living in seedy rooms in old Brownstones in Boston. Later, more or less-- I became a writer and poet, with a local following and to a small extent across the country among small press poets and publishers. This book hopefully brings back a Boston, with its unique brand of eccentric characters, poseurs, stumble bums, beautiful and not so beautiful losers, that I encountered and lived with in my early days in Boston. It is impossible to rent a room for 38 bucks a week in a Brahmin Brownstone these days, but the cheap flats, the cafeterias, and the long -gone Boston made it possible to chase a dream on the cheap. The book consists of short snippets that I culled from my journals that date back almost 40 years ago, as well as old poems, and an increasing faltering memory. Some people may remember some of the places and folks I describe, others not, but it is my hope that all can relate to a rather amorphous young man, taking on some sort of shape--some outline that would define his life in years to come.

---
I have been publishing writers since 1982. Since this time, I have published so many great writers. It is a long time of reading work, corresponding, editing, and publishing. It has been so rewarding. I would never change any of the experiences. Every writer has been nothing but professional. I am very lucky. Many editors and publishers have shared their bad experiences with me.
I try to always be kind to my authors and want them to have a good experience with me and Cervena Barva Press. I am still behind schedule but working hard to catch up. This is easily seen by all the books released lately. Every author has stuck with me despite me being behind. I really want to thank them all for this. I really care about the books I publish and my authors. I work hard at what I do for the love of it.
As you read in a previous newsletter, Flavia Cosma joined Červená Barva Press as an International Editor last year. I admire Flavia so much and she is such a great friend, it is an honor to have her. We both know many writers from other countries and with her help, I will be taking the press into publishing more translations. This year, Pui Ying Wong, Irene Koronas and Tim suermondt have become my official reviewers. I am so happy to have them be a part of the press and Daniel Y. Harris will be joining the press too in some capacity. I am very excited to have all of them join me. William J. Kelle does so much for me and has been a part of the press since the beginning. I would not have all the things I have for the press if it wasn't for him. He is just amazing!
I work full-time working in addictions and have been in the field for over 34 years. When I get home from work, I put hours into the press. Červená Barva Press has grown so much in its 10 years of existence. I receive over 100 e-mails daily. I answer my e-mails right away usually. I try to get this done as much as I can while at my day job. Irene Koronas and I plan the events in the Červená Barva Press Studio so as you can see, I am very busy. I love it!
Since 1982, I have only 2 people in my blacklist folder. Not because they were difficult. It is only because I was sent messy manuscripts and it was very difficult to figure out. I still love their writing and I still like them both very much. They will never know they are in my folder. Well, unfortunately, I just added a 3rd person to the folder, not because the person is trouble, but because of their whining. That is all I am going to say on the matter. It saddens me but I will never publish this person again. I know some editors and publishers who have quite a few in their blacklist folder. I really don't want anyone else in mine. So yes, I have 3 people in my folder in 33 years.
Some of my authors have been waiting a long time for their books to come out. I am truly sorry about that. Like I said above, I am getting there and it is so exciting to see a light at the end of a tunnel. These past 4 years, I have had bad injuries etc… and it is amazing I got anything done at all. Right now, I am trying to avoid surgery on my right arm. So thank you to my authors for sticking with me and for all your patience. All of you are the best and I am so proud to publish you. None of you are just a number in a pile with me. You are writers and quite wonderful.
Starting in 2016, you will notice some changes with the press. I am very excited about it. Much is in the works so stay tuned. I will keep you up to date. Also in 2016, the newsletter will be monthly again.
So this is not really a rant except for writing about the blacklist folder in a tame sort of way.
Bill and I appreciate all of our authors, our readers, supporters, and friends. Thank you for making Cervena Barva Press such a big success. Wow! We are going to town!!! (I love that expression!)

---
Remembering Chris
Rosalie Calabrese
Poets Wear Prada - Hoboken, New Jersey
ISBN: 9780692303795
2015
"Huddled onshore while the waves churn
as if coming and going at the same time
I remember how my stormy Chris
broke water breached against the tide
and how resistance to the natural flow of things
can cause more turbulence than one might expect."
Calabrese's poems are about memory. She weaves her son Chris's life into the present with strong threads a pattern forms. The poems clothe us for life is often as deep and blue as any mourning. "your shadow lingers like the scent of mint." Each word relates what we grieve in our own lives. Traveling from birth to death the poet carries her verse and offers the reader simple courage about loss and comfort, comfort spread out on a solid ground we partake and are filled by the poetic flow.
"...an easy separation of rendered parts
that once made up a whole.
No, not so fast, not yet,
if ever..."
Irene Koronas
Poetry Editor: Wilderness House Literary Review
Reviewer: Cervena Barva Press
---
Review of Michael C. Keith's THE NEAR ENOUGH
Michael C. Keith's short stories in THE NEAR ENOUGH are a lively, good read. The stories are grounded in our everyday lives, but often with a wicked and whacky delightful twist that takes these stories out of the mere mundane.
While it's not possible to comment here on every story, the world of Michael C. Keith makes its announcement in the first story of the collection Snow Job: the residents of Hartford, Connecticut-the ones who are able to do so-migrate to Florida to escape the rough Northeastern winter in what Keith calls the "Great Departure". And those left behind who have been struggling take over the houses and jobs of the ones who've fled South, improving their lives almost overnight-a win-win for everyone.
And in Christopher Lee's Eyes, our protagonist, who has been unnerved by those eyes since he saw them in a movie when he was a boy, begins to resemble Lee more and more until he just about looks like Lee himself-even down to the dangerous eyes and the strong desire to bite the neck of a beautiful co-worker. Those of us who've loved Lee's Dracula aren't a bit surprised that this could indeed happen.
I especially liked as well the beauty mark on a young girl that gets smudged and resembles a bug (Beauty Marked)-the ending as creepy as much of the beauty industry itself. And speaking of industry, Keith does a nice takedown of the publishing houses in The Long and the Short of It.
Both thought provoking and entertaining, THE NEAR ENOUGH offers ample evidence as to why the often maligned short story is having a comeback.
Tim Suermondt, Reviewer
Cervena Barva Press
---
STRANGE THEATER
Poems by John Amen
To read John Amen's book of poems "Strange Theatre" is indeed like being in one, you'll encounter a cast of characters. There are friends and acquaintances, also a dream reader and drag queen, chanteuse and mannequin, ape and robot. With keen eyes, he writes of an array of people in their predicament. One goes to a party and disappears, some with so much ambition they are like "a killer posing as a confidante". And then there is the scene describing the aftermath left by a self-destructing father in the poem "everyman":
"… the planet unravels
yank a nail from a wall
the son tumbles through space…"
the poem ends in a place where
"…everyman after everyman
sporting his dull hatchet & broken talking stick
father after father
with the nerve to claim me as his own".
The title poem makes me ask if this a theatre of macabre where "you" is being led to death, maybe a spiritual death? The reader will ponder on this haunting, surrealistic poem with its potent mix of sex, domination and nightmare. But the poems in this collection are not all about dark and gloom, and puzzlement to life's theatre is only one response. Amen also writes of longing for peace and renewal, and occasionally for the ballerinas. There are a number of self-portrait poems, and here are excerpts from one particularly poignant yet affirming poem "self-portrait in spring":
"at some point you realize
the scaffolding's gone
the wheel has kept turning
cardinals nest in the trees
hills are flushed with new color
you didn't think it was possible
to sing again…"
"…you whisper yes I'm still here yes
this is what I've chosen
this is what was chosen for me…"
Pui Ying Wong, Reviewer
Cervena Barva Press

---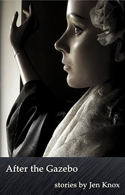 After the Gazebo by Jen Knox, Rain Mountain Press, 2015
$15.00
http://www.rainmountainpress.com/

---

---
If you would like to be added to my monthly e-mail newsletter, which gives information on readings, book signings, contests, workshops, and other related topics...
To subscribe to the newsletter send an email to:
newsletter@cervenabarvapress.com with "newsletter" or "subscribe" in the subject line.
To unsubscribe from the newsletter send an email to:
unsubscribenewsletter@cervenabarvapress.com with "unsubscribe" in the subject line.

---
Index | Bookstore | Our Staff | Image Gallery | Submissions | Newsletter | Readings | Interviews | Book Reviews | Workshops | Fundraising | Contact | Links
---
Copyright © 2005-2014 ČERVENÁ BARVA PRESS - All Rights Reserved