July, 2005 Aug. 2005 Sept. 2005 Oct. 2005 Nov. 2005 Dec. 2005 Jan. 2006 Feb. 2006 Mar. 2006 Apr. 2006 May 2006 June 2006 July 2006 August 2006 September 2006 October 2006 November 2006 December 2006 January 2007 February 2007 March 2007 April 2007 May 2007 June 2007 July 2007 August 2007 September 2007 October 2007 November 2007 December 2007 February 2008 March 2008 April 2008 May 2008 June 2008 July 2008 August 2008 September 2008 October 2008 November 2008 December 2008 February 2009 March 2009 April 2009 May 2009 July 2009 August 2009 September 2009 November 2009 December 2009 January 2010 February 2010 March 2010 April 2010 May 2010 June 2010 July 2010 September 2010 October 2010 November 2010 December 2010 January 2011 February 2011 March 2011 April 2011 May 2011 June 2011 July 2011 September 2011 October 2011 December 2011 February 2012 April 2012 June 2012 July 2012 August 2012 October 2012 November 2012 February 2013 May 2013 July 2013 August 2013 October 2013 November 2013 April 2014 July 2014 October 2014 March 2015 May 2015 September 2015 October 2015 November 2015 August 2016 March 2017 January 2019 May 2019 August 2019 March 2020 April 2020 May 2020 July 2020 October 2020 January 2021 February 2021 August 2021 January 2022 February 2022
ČERVENÁ BARVA PRESS NEWSLETTER
Gloria Mindock, Editor Issue No. 108 April, 2022
---
INDEX
Happy National Poetry Month! This month Cervena Barva Press is 17!!!!!
Wow! I cannot believe it. Thank you to everyone who has been there for me and the press. Thank you to all my amazing authors and the amazing staff for everything. I am so grateful!
---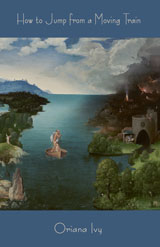 How to Jump from a Moving Train by Oriana Ivy is at the printers. It is available for pre-ordering.
Check out the book trailer at: https://youtu.be/AMiyUEZpZeo
---
Recently released: Our Best Defense by David O'Connell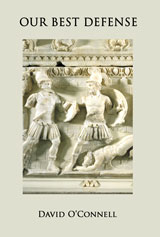 David O'Connell's chapbook, A Better Way to Fall, was awarded the Philbrick Poetry Award from the Providence Athenaeum. His poetry has appeared in New Ohio Review, The Cincinnati Review, Poet Lore, Copper Nickel, and North American Review, among other journals. He has received fellowships in poetry from the Rhode Island State Council on the Arts and earned his MFA at Ohio State University. David lives in Providence, Rhode Island with his wife, the poet Julie Danho, and their daughter. More of his work is available at davidoconnellpoet.com
---
An Earth Day Celebration
If you missed this reading on Friday, April 22nd, here is the video of the reading
https://youtu.be/jp3ZeWJnxb0

---
Interview with Alisa Velaj by John Wisniewski
Translated from the Albanian by Arben P. Latifi
1. When did you begin writing, Alisa?
I started writing at an early age. I was a 10 y.o. girl when I composed my first poem, "The Sea." Born and raised in the coastal town of Vlora, it was only natural for me to have the sea as a first and life-long inspiration in my poetry.
2. What inspires you to write?
I am the type of person who lives life with maximum intensity. I experience everything profoundly, oftentimes painfully-be it love, despair, disappointment, someone's ingratitude. Such extreme joy/sorrow-inducing conditions inspire me and reflect in my verses.
3. Any favorite poets?
There is quite a list of them. I love Constantinos Kavafis, Giuseppe Ungaretti, Salvatore Quasimodo, Eugenio Montale. I love French and Russian poets as well. Walt Whitman, Carl Sandberg, Sylvia Plath, Maya Angelou, Robert Pinsky, of course; I sharpen my pen with their poetic acuity. Among Albanian poets, I pick aside Migjeni and Fatos Arapi. In my personal assessment, they both belong to the elite of other world master-poets. I feel like clarifying this point a bit further: a poet's international "fame" is often conditioned by the fate of the nation he/she is an offspring of. A simple argument to refer to, for instance, is how colonial expansion for Britain, France, Spain, Portugal translated-besides political power and economic wealth-into a parallel expansion in terms of culture, literature, language. It is significant to note that, in our case, language directly implies population size [Portugal: 10.3 million. Portuguese-speaking Brazil: 210.5 million]. And population size affects two more potential sub-factors: size of authorship and readership. Unlike the above countries, my Albania has had a centuries-long tragic fate of struggling for national survival under Roman, Slav, Ottoman and Greek invasions. Trying mightily to preserve their own language against assimilation. Just imagine, I know of no other country being surrounded by herself-territorially and ethnically [Montenegro, Kosovo, North Macedonia, and Greece]. This means a smaller authorship and readership. Political censorship was a killer under the communist rule [1944-1990]. In addition, "international fame" for such brilliant Albanian poets sounds like a dream as long as government cultural [sic] institutions will remain utterly corrupt, negligent, incompetent, and unwilling to support their translation into those bigger languages that provide world-wide readership.
4. What was it like growing up in Albania? How did it inspire you?
What was it like? Well, between my childhood and my adulthood two different political systems are involved, communism and democracy. I was 8 when the changes occurred. My generation have had to do a lot of hard thinking, analyzing, comparing, drawing conclusions, choosing alternatives. Speaking as an eye-witness that insists to be true to herself, my answer is: I have seen an Albania of daily realities-untwisted, undoctored. I have no story to tell of personal/family persecution under the dictatorship. My dad and mom were not into politics, minded their business working as an accountant and a teacher, caring about my and my brother's grades and conduct. We were a happy family. I loved reading and that also brought a passion for writing.
Going through high school and university, I consider myself lucky to have been around people that instilled in me critical thinking.
I love my country and people whole-heartedly, even though it is a painful, dramatic experience. It is a corrosive, sickening disappointment to see bad governance, to see democracy progressing at a snail's pace, to see corrupt politicians sharing the same bed with organized crime, to see the very core of freedom ignored, to see massive emigration, high unemployment, poverty. I wish we had here a leader like the late Vaclav Havel, whom I like to compare to President Lincoln, "Honest Abe." I have decided not to run away from this drama, but to face it as a citizen doing my best in my field as a literary scholar and writer of poetry.
I don't intend at all to sound all doom and gloom. I cannot lose sight of the other Albania, of my people with a wonderful heart, people of virtues and decency, people who are the same in every country and nation and whom I would proudly call true citizens of the world. Regardless of the dismal conditions, there are among this class of fine people those who cherish a love for arts and offer their support, be it moral, material, or financial.
So, there are two Albanias, as I perceive it: the official one and the spiritual one.
5. One of your poems is an imaginary dialogue with Garcia Lorca. What do you like about his work?
I need to start off with an explanatory note: Lorca is among a galaxy of world-renown writers who, for some paradox, were translated into Albanian over the communist era, i.e. under conditions of political control and censorship by the state. A generation of talented professional translators, although poorly paid, put into use their knowledge, skills, and courage and made it possible for the Albanian readers to access a quite large part of the best world literature. Apparently, no dictatorship may wall out freedom, love, wisdom. Sadly, present-day translators, under totally different conditions of freedom, lack by far the merits of the previous generation. One reason is that publishers are commercially driven in choosing authors and titles. A second one is that everybody speaking a foreign language light-mindedly claims to be a translator?!
Lorca is widely known and highly esteemed in Albania, both as a poet and playwright. I love his Granada, the wonderful lyrics of Mediterranean landscapes, the guitars, the evening knights, the love lyrics and everything else running through his profound, meditative poetry that captures the essence of life and its dramas. Lorca's poetry brings in front of my eyes vivid, alluring, thrilling paintings that tend to roll out of the frame and carry me across the waves of the Mediterranean, the sea that we both share.
6. Could you tell us about writing your poem "I am a non-EU national"?
It's not the first time that I am asked about this poem to satisfy the curiosity of an English readership. My Albania is an applicant to join the EU, but it's not yet a member country. So, this poem refers to real, personal encounters with EU citizens; everything in there is true. A few years ago, while in Paris, I heard a beggar under a Seine bridge claim that the whole collapsing situation in his France was caused by immigrants. Because of them, he had been cut off the welfare assistance that he had been living on for years. They, apparently, were the reason that his government was low on funds. He called them non-Europeans. Actually, he was not the first and only blamer of the kind. On my travels to Germany, Denmark, Sweden, alongside wonderful people, I have also met plenty of complainers who liked to go by the division into EU- and non-EU citizens. They hold non-EUs to be irresponsible, the root cause of their lowering standard of living, etc. Say, as if social policies are determined by individuals and not by governments or other law-making and law-executing institutions. We like it or not, the spirit of humanism and its proper imbuing to the common people leaves much to be desired. The popular belief is that a German person is worthier than an Albanian, Armenian, Bosnian or Kurdish one, just because he bears a better-respected passport and does not need to emigrate elsewhere for a better life.
We are currently experiencing tragic war days in Ukraine. Pain, drama, and a kind of solidarity and sympathy that have brought together nations and countries across the world. It's the right time for EU countries to educate their citizens not to discriminate against European people coming from countries without a EU member status [yet]. There are not worthy and unworthy nations. There are only morally decent and caring governments that make their people happy and corrupt governments that don't care about their people and make their countries hard places to live in, like my Albania and Ukraine, regardless of their dramatic, centuries-long history of national fragmentation and invasion. Denial of national identity and freedom, life-threatening poverty are the primary cause that forces people to flee from their own homeland. Otherwise, please tell me, what man ever happily chose to dance on a bagpipe and emigrate leaving behind his terrified and maimed family under a roof ruined by bombshells?!!
7. Any future plans and projects, Alisa?
I have been very busy lately. In my heart and mind, my passion for writing poetry and doing research work as a literary scholar have never run separate. I just completed a monograph about Fatos Arapi-the chief-poet I hold close to heart. Happy to say the book is out of print already. I am now collecting my studies and articles written over years, with the intent to publish them all under the title "Trends of Existentialism in Contemporary Albanian Literature". Meanwhile, I am eagerly looking forward to attend a poetry scholarship in Ireland, which was postponed due to the Covid-19 pandemic.
8. Are there any Albanian poets that you like?
Of course. Many. Both old-days and present-day ones, likewise. Poetic talent and sharp wit are my only criteria. My greatest favorites, however, remain Migjeni [1911-1938] and Fatos Arapi [1930-2018]. The latter, I believe, is a name of national Albanian pride. My hometown man, a son of Vlora and my neighbor, sang to the same sea, to love, and to freedom [or lack of it, for most of his life] with a passion rare to be found among Albanian poets. In 2008, he was the winner of the Golden Wreath Medal in the Struga Evenings International Poetry Competition [North Macedonia]-a top prize an Albanian poet has ever been honored with.
Migjeni is another colossus that I love dearly. Both are poets that deserve to be translated into the world's main languages. They are my spiritual Albania, which I won't allow anyone on earth to scratch out, even unintentionally. Because first and foremost and beyond that, I take pride in my Albanian blood and roots.

---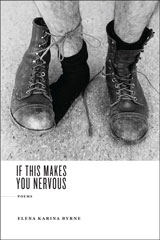 If This Makes You Nervous
Author: Elena Karina Byrne
Published by: Omnidawn Publishing, Oakland, California (November 2021)
Paperback: 99 pages.
Poetry.
Former Regional Director of the Poetry Society of America, Elena Karina Byrne is a freelance editor and lecturer, Poetry Consultant and Moderator for The Los Angeles Times Festival of Books, poetry programs curator for the Craft Contemporary Museum, and Literary Programs Director for the historic Ruskin Art Club. Recent publications include No Don't (What Books Press, 2020) and Squander (Omnidawn, 2016). If This Makes You Nervous is her fifth full-length collection.
Let's begin with the title. Here, Byrne is already communicating with her readers. The first word is redolent with possibilities. The half sentence begs to be completed: 'If this makes you nervous...look away now', or 'If this makes you nervous...wait till you read / see this'. It is an invitation, more than that, a challenge to the reader and it has drawing power. The words in italics are my own but when the title finally tumbles out at the end of Byrne's poem 'Ed Ruscha First Blew the Dirty Whistle' it is expressed in yet another way: 'Honk if this makes you nervous or troubles that positive side of aggression'. There is an added dimension here given that 'Honk' happens to be the title of one of Ruscha's works. This is wholly unexpected and not at all what I originally had in mind, thinking that the title referred to the cover art instead. It is yet another example of how Byrne's poems spring surprises. Ruscha, who is the subject of this poem, is an American artist associated with West Coast Pop art. Like Byrne, his works provide a new way of looking at and thinking about what constitutes the American scene. While Ruscha connects the verbal with the visual, Byrne connects the visual with the verbal.
This collection of poems is divided into three sections of twenty-two poems each making sixty-six in all. The sections are marked 'Rock', 'Paper', and 'Scissors' after the children's game of chance played to settle disputes between two people. The game usually starts with scissors but, again, Byrne confounds us by ending it that way. Rock, paper and scissors are also materials / tools used by artists for the purposes of sculpture, painting and collage.
In these poems Byrne draws inspiration from sixty-six artists creating lyrical episodes of beauty and terror that are both personal and political with language that, at times, breaks the rules of syntax and, nearly always, linear narrative. Byrne, who once confessed that she wanted to be an artist until she was 13 years old....and then a poet, is clearly immersed in the world of art. Her father, Herbert Jepson was an artist and designer and she grew up among the artists of his generation. Her knowledge of the contemporary art scene in America is formidable and it forms the basis of the poems in this collection.
For the purposes of this review I have chosen to home in on one or two poems from each of the three sections to give readers a foretaste of what a Byrne poem looks like. Out of 'Rock' I have chosen 'A Walkabout in Andrew Wyeth's Painting', and 'William Wegman's Weimaraner William'.
*
Andrew Wyeth was an American visual artist who worked mainly in a regionalist style. His favourite subjects were to do with the land and the people around him in his hometown of Chadd's Ford, Pennsylvania and the place where he spent his summers on Southern Island, Maine. Many of his paintings caught Byrne's focal attention as did the title of one of them that is called 'Squall'. Wyeth's painting makes connections with the ocean because, on the day that he painted it, his wife had gone out to watch a Friendship Sloop race. her absence from the house under a threatening sky became the inspiration of the composition. In the helpful notes at the back of the book, Byrne admits that she spent much of her life near the ocean and that, in her words, 'it was the implied emotion, overall color-feeling of longing and depression that was carried there, sometimes like a guilt-ridden memory'. 'Running / before a storm's roiling, [she] / learned to jump wide spaces, roof to roof' but, in the middle of this poem, she slips in a personal memory of guilt:
..........After giving
directions, I watched the woman, crossing our street, hit by a car the color
of dusk and she sank
at once, as if into a hole. I carried
that hole in my stomach for years. A sinkhole, also known as swallow hole,
a doline caused by some depression, by some form of ground collapse.
The imagery in the poem inhabits the territory of quicksand, ground collapse, ditches, war holes and numberless graves. Notice the double meaning inherent in the word 'depression' in the above quotation. Innocence is tempered by experience. 'When you are a child you can be anyone' but, when you are fully grown, the implication is that you can only be you and you have to live with whatever life throws at you and deal with it in the best way possible.
*
The second of these two poems refers directly to the cover art: William Wegman's Untied On Tied Off, 1973. The reference to Weimaraner in Byrne's title is a nod to Wegman's fascination with this breed of dog and the way in which these dogs became a central figure in his photographs and videotapes. The poem itself, however, focuses on shoes although there is a moment when, glancing at the pair of shoes which she took off at a party and left with others by the door, she sees 'their Weimaraner-brown obedient mouths'. The vowel sounds in that phrase alone are memorable, let alone the image. Four or five lines in, Byrne poses the question about the extent to which a person can be identified by their shoes. Do shoes reveal something about your personality? What do your shoes 'say' about you? Can you judge people by the shoes that they wear? There is a sense in which shoes become a part of you. They accompany you everywhere. A comfortable pair can journey with you through life. So much for the adult viewpoint. Now to the children. 'Children / love or hate shoes as they do dogs teach them- / selves how to tie them up keeping / left & right side by side well-behaved / by the bed...' Another reference to the dogs comes barking back at us.
*
From the middle section 'Paper' I have chosen to comment on 'If Contents In / Joseph Cornell's Box' and 'Where Is Dead Artist Jack Goldstein?'
Joseph Cornell was an American visual artist and film-maker, one of the pioneers and most celebrated exponents of assemblage. Influenced by the Surrealists, he was also an avant-garde experimental filmmaker. Cornell was a recluse who used his signature glass-fronted 'shadow boxes' in which he deposited found objects as a kind of escape mechanism to express his recurrent themes of interest such as childhood, space, and birds. Even though he hardly ever ventured beyond New York State, he travelled through his creative imagination far and wide.
In Byrne's title, the word 'contents' carries several layers of meaning (a summary of things, insurance against loss, the distinct aspects of a work of art or, following the medieval Latin contenta, 'things contained'). There is a play on the terms 'shadow box' and 'shadow boxing'. Artistic expression is seen as a form of sport. The artist is sparring with the idea of travel whilst avoiding any direct engagement with it. he is sparring with it because, in his view, humble everyday objects are worth fighting for and preserving. The vocabulary used in the poem plays upon the tension that is inherent between the artist's reclusive nature and his interest in travel. It oscillates between these two opposing poles in several ways through the language of containment (box, home, skirt,) and openness (star, planet, universe, light, wanderlust) and also between small objects ( tortoise, doll, keys, coins, matches, bird) and large objects (champagne glass, boxer's gloves). How much of the world - its cork balls, metal springs, exotic birds and Renaissance portraits- can we contain in our imagination? Byrne places her words carefully on the page in much the same way that Cornell calibrated the arrangements of his objects in order to express his art. Something of the lyricism of Byrne's writing comes to the fore in these lines from the poem:
I can't find a contagion of wanderlust the plumage-distance in a red
bird's body now aviary-flown because we knew how long it would
take an apothecary's colors to come bottling home'
*
Goldstein (1945-2003) was a Canadian-born, California-based performance and conceptual artist turned painter prominent during the 1980's art boom. In Byrne's title, the word 'dead' carries some significance on several counts. It references some of the artist's most celebrated work depicting streaking fighter jets, bombing raids and a performance piece entitled 'The Six-Minute Drown' in which the agonizing sounds of a drowning man reverberate for six minutes in total isolation. In the text that follows, Byrne writes about the time when Goldstein buried himself alive with a stethoscope attached to his chest, breathing air from plastic tubes while a red light above ground flashed to the rhythm of his heartbeat. She also references Goldstein's well-known Metro-Goldwyn Mayer film, a two--minute loop of the film studio's roaring lion mascot on a blood red field. The word 'dead' in her title is also a reminder of how an artist's work may not survive him for posterity and it is also a reminder of the tragic fact that Goldstein committed suicide.
........'In his films: the far white door slams over &
over just before a man, running, gets there, the MGM lion roars, roars.
One light bulb flickers in the grassdark, with his heartbeat six feet above
ground, above the buried man, him, listening, a bare pipe from which
to speak down like the ear canal of God. Jack's name is repeated over
& over, out loud. This intimate reaction repeats, repeats all night.'
*
From the final section, 'Scissors', Byrne's poem 'Without Hokusai's Great Wave 1760 - 1849 There Would be No Modern Art' attracted my attention. The alternate long and short lines (the long lines are very long and the short lines are very short) mirrored the great length of Hokusai's wave and the small space given over to the three boats and their tiny human figures. In each case, the one threatens to engulf or overwhelm the other. Byrne's poem is awash with sea water: words like backwashed, ravine, flood, sea spray, wave, ash wash and rain permeate the poem. These are the words she chooses to use in order to whip up a storm which in turn, after the build-up, leads on to another of Hokusai's works in which he depicts a murdered actor, Kohada Koheiji, who rises from the dead to spook his wife and her lover. Hokusai depicts him as a skeleton with skin and hair still clinging to his skull. Hokusai's use of the recently introduced Prussian blue pigment was to revolutionise painting since it was hailed as being the first stable, long-lasting blue pigment to be discovered after Egyptian blue.
*
I began this review by mentioning Ed Ruscha. Ruscha once said "Art has to be something that makes you scratch your head," and Byrne fulfils this statement by writing poetry that makes you think. There's no denying that the reader has to work hard at these challenging poems but so much is discovered along the way that the reward is worth it.

---
With closing the space and bookstore in the Armory, I have so many Červená Barva Press books. I need to cut them all down on what I have available especially since Bill and I live in a small space. To celebrate 17 years, I am offering up to 15 full-length books at a discount for the authors at $4.00 each of their own book. I am extending this offer for the month of May also. After May, all books go back to their original price with the author discount.
You MUST email me if interested. I then will tell you if I have enough of your books to sell them to you. Some books I do not have many. I will also tell you how to pay to get the discount.
See you next month will more news!

---
Červená Barva Press Staff
Gloria Mindock, Editor & Publisher
Flavia Cosma, International Editor
Helene Cardona, Contributing Editor
Andrey Gritsman, Contributing Editor
Juri Talvet, Contributing Editor
Renuka Raghavan, Fiction Reviewer, Publicity
Karen Friedland, Interviewer
Gene Barry, Poetry Reviewer
Miriam O' Neal, Poetry Reviewer
Annie Pluto, Poetry Reviewer
Christopher Reilley, Poetry Reviewer
Susan Tepper, Poetry Reviewer
Neil Leadbeater, Poetry Reviewer
William J. Kelle, Webmaster
See you next month!

---

---
If you would like to be added to my monthly e-mail newsletter, which gives information on readings, book signings, contests, workshops, and other related topics...
To subscribe to the newsletter send an email to:
newsletter@cervenabarvapress.com with "newsletter" or "subscribe" in the subject line.
To unsubscribe from the newsletter send an email to:
unsubscribenewsletter@cervenabarvapress.com with "unsubscribe" in the subject line.

---
Index | Bookstore | Our Staff | Image Gallery | Submissions | Newsletter | Readings | Interviews | Book Reviews | Workshops | Fundraising | Contact | Links
---
Copyright @ 2005-2022 ČERVENÁ BARVA PRESS - All Rights Reserved