July, 2005 Aug. 2005 Sept. 2005 Oct. 2005 Nov. 2005 Dec. 2005 Jan. 2006 Feb. 2006 Mar. 2006 Apr. 2006 May 2006 June 2006 July 2006 August 2006 September 2006 October 2006 November 2006 December 2006 January 2007 February 2007 March 2007 April 2007 May 2007 June 2007 July 2007 August 2007 September 2007 October 2007 November 2007 December 2007 February 2008 March 2008 April 2008 May 2008 June 2008 July 2008 August 2008 September 2008 October 2008 November 2008 December 2008 February 2009 March 2009 April 2009 May 2009 July 2009 August 2009 September 2009 November 2009 December 2009 January 2010 February 2010 March 2010 April 2010 May 2010 June 2010 July 2010 September 2010 October 2010 November 2010 December 2010 January 2011 February 2011 March 2011 April 2011 May 2011 June 2011 July 2011 September 2011 October 2011 December 2011 February 2012 April 2012 June 2012 July 2012 August 2012 October 2012 November 2012 February 2013 May 2013 July 2013 August 2013 October 2013 November 2013 April 2014 July 2014 October 2014 March 2015 May 2015 September 2015 October 2015 November 2015 August 2016 March 2017 January 2019 May 2019 August 2019 March 2020 April 2020 May 2020 July 2020 October 2020 January 2021 February 2021 August 2021 January 2022 February 2022 April 2022 June 2022 August 2022 September 2022 December 2022 February 2023
ČERVENÁ BARVA PRESS NEWSLETTER
Gloria Mindock, Editor Issue No. 114 April, 2023
---
INDEX
Cervena Barva Press April Newsletter, 2023
Hi everyone!
The big news is that Cervena Barva Press is celebrating 18 years as of April 1st.
Yes!!! April Fools Day!!!! Hahaha! I am so excited and can't believe it has been 18 years. We still are going strong! The press has published books by writers all over the world and I am so happy to bring you work from so many countries.
Our other big news is that Renuka Raghavan has been named assistant editor of the press. She still will be doing the beautiful reading and publicity flyers for the press. I am so happy to have her in this new role with the press.
---
Since January, we have released 4 books. For April-June, many more books will be released. Pictured here are our four releases.
You can purchase these books at: http://www.thelostbookshelf.com/index.html
Bathed in Moonlight by Vassiliki Rapti
Translated from the Greek by Peter Botteas

Video link for Bathed in Moonlight by Vassiliki Rapti, Translated by the Greek by Peter Botteas
https://youtu.be/9CG9-Dx5IkA

Saying Goodbye
by Andrew Stancek (Flash-Fiction)

Un-Silenced poems by Elizabeth Lund

Video link for UN-SILENCED by Elizabeth Lund
https://youtu.be/CHmRiWwJzB0

Heaven with Others
by Barbara Molloy
---
I am planning a poetry and fiction summit for September 30th and October 1st so mark your calendars! All the presenters will be pre-recording their sessions but the chat will be live. More details soon on this exciting event!
I will be doing a talk on "Self-esteem and Woman Writers" and "Marketing Made Easy." Details soon about registering for these.
To celebrate 18 years, there will be many events happening, freebies given, and a free chapbook or book enclosed with every order starting on April 1st and continuing until June 1st. The press will pick out the free book. In June, more things will be announced.
I want to give a big shout-out to all my staff for all the work they do. I am so grateful to all of you. You all are the best! So happy to have you be a part of the press. Thank you Bill Kelle, Renuka Raghavan, Karen Friedland, Helene Cardona, Andrey Gritsman, Juri Talvet, Miriam O'Neil, John Wisniewski, John Riley, Susan Tepper, Christopher Riley, Annie Pluto, Neil Leadbeater, Flavia Cosma, and the late Gene Barry.

---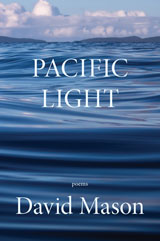 Pacific Light by David Mason
Reviewed by John Riley
Red Hen Press, 2022
In Pacific Light, his newest volume of poems, David Mason proves again that he is a poet whose roots are deep in the mountains and oceans and the time—present, past, and future—they contain. Many of these poems find a way to know a day placed solidly in the present, only to then remember, again, there is no present. That there is no life or object, regardless of age or apparent sturdiness, that isn't being measured in moments.
Mason writes in "Painting the Shed" that the shed
...will surely rot one day
or be blown out by the indifferent god
of a bush fire. Yet it stands, completed
and, like everything else, incomplete.
To know that nothing remains the same is a wisdom that has been around at least since Hesiod or Genesis. It is also the easiest wisdom to forget, and Mason is a poet that exists, at least partly, to remind us. "Words for Hermes," the poem placed before "Painting the Shed," begins:
Where will it end?
Night is leaving and it is not night.
The dawn is coming but it is not dawn.
It's something in between. Not yet decided.
This is not to say that the poems in Pacific Light all come from the wise man in the village, the sage. That they drum drum their way across the page. Any idea, any reminder, is enclosed in beauty, as though to remind us that awareness and care for the vanishing now is not gloom, that it may even be the most sublime joy:
Rhapsody in Blue
To say it began at dawn is not quite true.
It began in the struggle of night escaping dreams
when the bounded world encountered infinite space.
Out of doors the shyest creatures moved
under the high holy vault and Milky Way,
bringing their young to the fresh grass, the spring.
In short, the poem is so contained in the beauty of how it tells us what it sees that when it does return to the "unending sneer and grimace, the demagogue/and the mob" our meditation does not vanish. The skill needed to both coax us into the moment and to then reveal the destruction of those who fly blindly from hate to hate is a movement on display in almost every poem.
As a reviewer I inevitably, perhaps, wonder if I should say more and not quote as much. But it is almost impossible to review this book without being seduced into quoting from poem to poem. What is gained by writing of the themes of transience and inevitable death and inevitable continuance when the poet has written of them so well? Pacific Light is a book that the poet apparently views as coming late in a long career. In the first poem, "On the Shelf," the narrator comes upon the skin of a "huntsman spider" and then remarks:
Perhaps you'll come upon my own shed skins in houses where my name has been removed...
or find some words of mine in an old book. I meant them.
It is also a book that deals with events in the poets life-divorce, moving to a distant country with a new love-and memories of parent's divorce and family death. But these topics are filtered in through the beauty of the language and imagery and the consolation of time, both infinite and finite. This is why the urge to quote is so powerful. But I'll stop now and leave it for you to read and feel and have when you pick up your own copy of Pacific Light.

---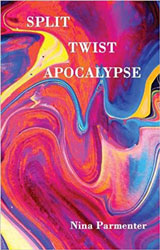 Split, Twist, Apocalypse by Nina Parmenter
Indigo Dreams Publishing, 2022
Reviewed by Neil Leadbeater
Born and raised in Somerset, England, Nina Parmenter now lives in rural Wiltshire where she divides her time between writing, work and motherhood. Her poems have been published in numerous journals including The Honest Ulsterman, Atrium Poetry, Allegro Poetry and Ink, Sweat and Tears. In 2001, she won the Hedgehog Poetry single poem contest and was nominated for the Forward Prize. 'Split, Twist, Apocalypse' is her debut collection.
If I had to sum up this collection in one word it would be 'surreal'. In an interview (Fevers of the Mind, 30 July 2021), Parmenter reveals that she will often put her more troubled or challenging thoughts slantways into a surreal poem rather than address them directly.
Several poems have an edgy feel to them. In the opening poem, 'Heading to Martock' everything seems to hinge on the four letter expletive placed strategically in the centre of the poem with a line all to itself. 'Night Rails' reads like a Hopper painting with its memories of early adulthood 'looping / from Coventry to Castle Cary / destined only ever to change / at Reading'. In 'London Terminal' Parmenter comes up with the most apposite of words to express or describe a specific moment being 'hot-nosed into a coffee shop / with the wolfpack.' Faced with being told to mingle with strangers in 'Meanwhile in the Grasmere Conference Suite' Parmenter offers us a telling description of the shyness that such awkward moments can bring. We have all been there!
'Tides' is an intriguing list poem that sets out in four numbered stanzas a series of 'recipes for panic'. The wide-ranging list covers such things as 'objects too close to the face,' 'high heeled shoes,' and the word 'pension' while 'speed, death and tubes' are repeated like a fearful constant throughout the whole poem.
In 'Ease and the Ether' Parmenter imagines herself rising above reality:
Far above the flick-flack of tongues
and the dull tug of duty
I cruise the dewy sky-trails
watching the pedestrians lessen.
In keeping with several of her poems, Parmenter takes us here, through alliteration and verbal soundscapes, into a state of otherworldliness.
Several poems are made up out of the vocabulary of body parts: shoulders, hips, skewed vertebrae, bone, tissue and spleen all get a mention. The human anatomy looms large.
Two poems that particularly caught my attention were the curiously titled 'Upon Reading That You Share 50% Of Your Genes With Various Fruits and Vegetables' and 'Blooming'. In the former, the opening lines 'Now you understand / why you have always felt like a monkey's lunch' set the tone for a poem full of wit and originality. In the latter, Parmenter treats us to a vocabulary that often surprises, is full of zest, and drives the poem to an energetic conclusion. Here is the opening stanza:
A celandine went first,
and if we had ever looked, we would have known
it was a freeze-frame of a live firework,
we would have expected
the violence that sparked from the inside out,
the heat pedalling sweetly,
each stamen springing a hellmouth.
Another poem that intrigued me was 'The Committee on Rebuilding Concludes' whose beginning and ending suggest a new genesis for Creation:
And so it is decided:
The hummingbird will paint the sky blue
to show off her plumage, the fox
will stir the earth brown
with his forepaws and brush.
In the stream the minnows will mix shades
of sand and heaven, while the trees
will draw the living green from the sun,
and later, its blush.
....
We don't remember how it was before.
But this seems right.
Whether she is writing about Robin Hood's bower in Longleat Forest, motherhood or photophobia, rapid eye movement or a walk round Dilton Marsh, in traditional form and in free form, Parmenter always pleases us with fresh imagery and vocabulary.

---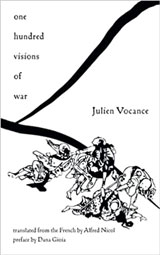 Julien Vocance: One Hundred Visions of War, (translated from the French by Alfred Nicol)
Wiseblood Books, 2022.
ISBN: 9781951319373
Reviewed by Miriam O'Neil
Here is Julien Vocance's description of a moment in the trenches during World War I.
Shells come crashing in
shy of our trenches-breakers
that don't reach the shore. (23)
Here is his reality and his translation of that reality-his experience and his way of removing himself from that experience, at least in retrospect. As Dana Gioia, in his Preface to this translation by Alfred Nicol explains, unlike those poets of World War I who wrote in "hypnotic [ ] traditional meters" or in "the avant-garde glorification of violence-with its priapic cannons and flowering explosions" (viii), "Vocance sought clarity not enchantment. He found a moral stance without any taint of moralism by adopting a radical form into French, the Japanese haiku...." (viii).
Alfred Nicol explains that, whereas the traditional subject matter and themes of haiku are the nature's beauty, changes of season, and such, Vocance's adoption of the form to his poems about World War I create a "tension between the traditional subjects and themes [ ] that serves to heighten the expressive power [of his Visions]" (xi).
And anyone who has seen an even remotely adequate film about the trench warfare of World War I will recognize these images, such as this brief verbal sketch: "We get a quick look/ around when bursts of gunfire/ light the horizon." (12) is followed by "Fireworks fill the sky./ Yet another sacrilege/ over these mass graves." (13).
In the nightmare of battle, the natural world has its human imitation when "Black birds in wild flight/ gaining speed, com[e] this way,/ shells swoop down." (75). Vocance notices the quotidian in the horrific "Blood spilled, washed with rain,/ muddied, dried...Bright crimson blood,/ so colorless now."(78). And as those horrific images accumulate, the speaker also moves us from the first experiences of 'rookies' in the trenches, to the nighttime grave digging for that day's dead, to a field hospital where he notes a patient, "All swaddled in white,/ dressed for the sarcophagus:/ no hands, feet, or face." (88).
Each set of (mostly) 17 syllable poems placed against the white field of its page enlarges the emotional impact of that verse, insisting on a kind of lingering, a momentary stay before the next image or scene insists on its own presence. And, thankfully, as Vocance's one hundred visions arrive at their conclusion, the reader is returned to the world beyond the trenches, to "The young nun [who] is thrilled/ to have a sketch of Jesus/ the soldier gave her." (94) and the "consul's wife" who makes her required visit to the hospital coming and going in silence. Toward the end of this small, sequenced collection, the war begins to take its place in the past, just barely and we learn that for Vocance, "This is the realm where/ shadows feel their way along/ through an endless night."(98). In other words, wars end in the world but not within the warriors-there, they may continue for a lifetime.
For all that World War I was conducted along lines of demarcation between armies, it too had all the hallmarks of a world gone temporarily insane. "Two rows of trenches," wrote Vocance, "Two lines of barb-wire fences:/ Civilization." (102).
In that war there was the surface inference of order and means and something similarly (if insanely) at stake for both sides, some sense that each government and its representatives on the battlefield and had right on their side. There was an answer to the question, "Why?". And in looking back, via his "visions," as readers we survive the horrific and emerge back in the light of our own lamps in our own homes. But now, thinking about the citizens of this world facing the unsought atrocities of wars and/or persecution waged upon them in places like Yemen, Myanmar, Ukraine, the Uighurs of Xinjiang Province in China and elsewhere, I wonder what Vocance would write of their suffering; how would he or could he speak to the involuntary horrors those citizens face. It seems that in those places, where people wanted only to live their lives in peace, 'the shadows' still insist on feeling their way along. We are more than a century beyond World War I, the 'war to end all wars,' and we are still in the trenches, still blinding and bloodying, torturing and killing our fellow beings.
And then there is this-this slim volume of poems written in French in a form borrowed from the Japanese and translated into yet another language. The poems allow a slow building of impressions. A familiarity we realize we cannot ignore settles in. It is a small collection of images that asks us to see again and again, to be cognizant and compassionate and unflinching in our gaze. We need this reminding.

---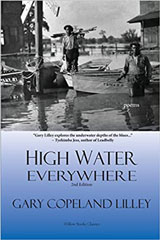 High Water Everywhere by Gary Copeland Lilley
Willow Books, 2022
Reviewed by John Riley
High Water Everywhere is a second edition of one of Gary Lilley's best books. It may even be his best in a list that includes The Bushman's Medicine Show, a book of poems from the mouth of an everyman who emerges from music to reveal a life deep in the Southern blues. High Water Everywhere comes from the same place, an actual place in the lowland of North Carolina's northern Atlantic coast. A mostly rural wet land lying perilously close to the Great Dismal Swap.
In tune with the land and the theme of the book it begins with a flood. But this isn't just any flood. In a series of prose poems, written in the voices of African Americans native to the soil, Lilley narrates the experience of a flood that came amidst the slaughtering of hogs. All is slaughter and destruction, which fits deeply into the experiences, current and historical, of the black families who live there. In "1202 Low Ground Road," a just-so-perfect title, the narrator starts by lamenting:
Everything gone, birth certificates, the high school diplomas, my grandmother's portrait, the family Bible, everything that was a record of who we were, gone to fire.
The vicious flood becomes a fire that wipes out documentation not only of the family history but more critically it destroys the documentation of their very existence. When a people and their family goes through centuries of not being allowed to own a home, something denied first by the slavery of the master, followed by the slavery of Jim Crow and the weight of its poverty, the Authentication is not just of property owned, it's documentation of their very existence.
The second section addresses the black experience a little more directly. At times this is uncomfortable. In the opening poem, "The Blue Highways," the narrator loses his friendship with a childhood friend named Monk (an allusion to the jazz great Thelonious Monk, who was from eastern North Carolina) because his daddy kicks Monk's daddies' "ass." But the heart of the poem is when we learn the narrator and Monk bonded as children because their skin was darker than most of the other boys. The ever present racism permeates even the people it's directed against.
The final section, "Cape Fear," begins with a note explaining how Lilley learned about the Wilmington Race Riot of 1898. The label given to the violence, a so-called "Race Riot," came from the men who attacked the black community. It wasn't a riot, it was a massacre directed by the White Supremacy Campaign that took root at the end of Reconstruction. The poems, however, are not essays, they vibrate as they narrate how the experience effected those who went through it. In the poem "The Fire, November 10, 1898," a white supremacy group of two thousand men who called themselves The Red Shirts, a name that confirms their fascism and is an indication of what will happen in the future, when the hate consumes the haters, burn down the Charity Hall, where a black newspaper was printed. Finally a "grandmother dropped to her knees" on the street "in front of the African Methodist church" and "called on her God to destroy these white men." But God wasn't listening, just as he wasn't listening through all the centuries before, and when the flames move to he neighborhood school "the colored children broke/from the school screaming and ran through the streets."
The poems in this final section are informed by history, but they are filled with a radiance of experience that can't come historical records. These are the narrator's relatives, the ancestors of the people who make the poet, and we are never allowed to forget it. The history that informs High Water Everywhere leads us through the experiences, the pain, of the people who lived the history. It is a fitting close to a book lifted from the swamps, the postage stamp of the world the poet knows best. You can read it to learn and leave it to feel. What more can we ask from poetry?

---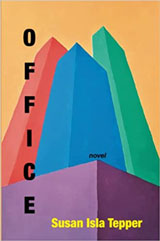 Office by Susan Isla Tepper
Wilderness House Press, 2022
Reviewed by John Riley
If you didn't live in New York City during the worst of the Covid pandemic it's impossible to know what it was like there. This is something I realized while reading Office. The book is satire, complete with a boss of a marketing company who is gone when the book starts but later on builds a tent in the office's reception area and never comes out of it. There is room for a tent because few people come into the office to work. They say they're working from home, but there is no work to do. Their biggest client, the one the boss was overly enthusiastic about, makes ear swabs. Yes, ear swabs. When I first read that I remembered what my ENT told me not very long ago. NEVER STICK A SWAB IN MY EAR! She's a nice, professional lady but when she warned me away from swabs the look on her face was probably what her children see when she is frustrated with them. Having swabs be the product the company is marketing with all their pale enthusiasm is a perfect parallel to life in New York City during the worst parts of Covid. Everything, absolutely everything, is falling apart.
As in any classic satire, this little book is full of memorable characters. Only the first-person narrator remains unnamed. There is Quinn, who is of Irish descent although he is a native New Yorker. He talks incessantly about "returning" to Ireland and has described the potato famine to the narrator in horrid detail. Quinn spends most of his time preying on women and coming up with money-making schemes. At the beginning of the book, he tries to set the empty office up as a BNB. It doesn't work. Then there are the women, Tanya and Stella with beautiful dark hair, who start a "grooming" business, what was once called a beauty shop, in the front room of the office. They bring in a series of young women to have their hair and make-up done and in the process, they roll out chaos like a freed car tire flying down a freeway. There's DeGrande, who comes and goes but is always taking time to sexually harass the women. Kenny is always on the edge of blowing his top. Other characters come and go, each one playing their roles, but never with subtlety. Everyone and everything is over the top, as it should be.
The story bounces from one absurd thing to another. It reminded me of Catch 22, the way Joseph Heller drew out the absurd humor in the tragedy of a senseless war. Tepper manages to portray how Covid rolled through her home city, killing people with much more efficiency than the Viet Cong, while turning over the lives of those who survive. If it doesn't kill you it'll make you crazy is what Office reminds us as we settle back into our "post-Covid" lives and try to return to normalcy. But we now know and can never forget, regardless of how hard we try, that the world has changed forever. Only a fool, and we know there are plenty of them, can think Covid was a one-time thing. There is more to come and a book like Office is not going to allow us to forget. It's a valuable brick in the effort to give clear information and it does that with some of the best satire I've read in a long time. It does what satire is supposed to do. We laugh and grimace and tell ourselves we are not like those crazy characters, knowing all along that isn't true. I suggest you read it if you are ready for a sharp little book that would hate to see you go.
"Office" is the perfect book for those who made it through Covid with their sanity intact, even if it hangs in your head a little more loosely than it did before. Read and learn how, as usual, Tepper caught a period of time and made it hers own."

---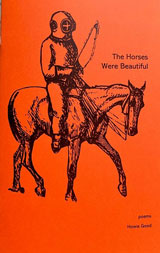 The Horses Were Beautiful by Howie Good
Grey Book Press, 2022
Reviewed by John Riley
I am excited that prose poems are becoming a bigger part of many poets's work. It's not only new poets writing them. Many of the most heralded poets-Anne Carson comes quickly to mind-use the form. (Carson's "Hegel Says Merry Christmas" is a brilliant example of prose poetry.) Prose poems often seem to unleash the imagination in ways lineated poems don't. Obviously, there are exceptions but when I think of the late James Tate and compare his use of the prose form to his traditional poetry, for example, it's clear that he found freedom outside the line.
Often this freedom comes from how the images are born and die and wrap around other each other, or how the language pierces through what we expect. This is very often brilliant, but there is room, even a necessity, for prose poetry that goes in unexpected directions more from the subject and narrative than from the style and syntax. Poems that allow our the imagination to be engaged in what the poem says as much as how it is said. Howie Good is an example of a prose poet who uses narrative and the unexpected to surprise us as much as he uses style. That doesn't mean his style is lacking, but that its his use of both that gives his work its presence.
The Horse Were Beautiful is a bright example of Good at his best. It is a short book that contains many surprises. In "Stairs To Nowhere," a professor is late for his class. When he dashes into the building and begins up the stairs "[t]he stairs grew noticeably steeper the higher I climb." At the top, as he gasps for breath, he finds he had "arrived on the outskirts of a country one only hears about when there is a coup or an earthquake." The professor, by his own efforts, has left the comfort of middle-class life in the United States and now finds himself in a place where "a virus crosses the species barrier from animals to humans." Forgive the worn and weary cliche, but he isn't in Kansas, or Massachusetts, anymore.
"Death Be Not Proud" uses narrated death experiences from Buzzfeed to leave us with the sad reality that even death can be trashed by popular "journalism." In the three parts of "Re: Vision" a man is fired by a "gargoyle from HR" and on the street he encounters Jesus who "looked nothing like his picture." Another man encounters a woman with fangs and a mustache at McDonalds. In other poems, dreams are outlawed, or a man remembers his birth and that the doctors didn't know how to assemble him. Almost all the poems in The Horses Were Beautiful take us in these unexpected directions.

---
Bucharest-born Diana Manole immigrated in 2000 and is now proudly identifying as a hyphenated Romanian-Canadian scholar, writer, and literary translator. In her home country, she has published nine creative writing books and earned 14 literary awards. Her recent poetry was published in English and/or in translation in eleven countries, including the UK, the US, China, France, Spain, and Canada. Praying to a Landed-Immigrant God, her seventh collection of poems, is forthcoming in 2023 from Grey Borders Books in a dual English-Romanian edition.
Mom loves red.
With love, to all seniors who struggle with senile dementia
She doesn't wear it, she venerates it. She fishes out the
tomato slices from each salad, places them on lace coasters,
and baptises them, using the church calendar-
the bright red ones get names of saints and martyrs, the others what's left,
made-up names without history. She feels sorry for them, but can't help it-
there aren't enough gods for all the tomatoes nor people in the world.
She saves all the cherry pits in a clear plastic bag, zips it, and shakes it,
a made-up tambourine.
"The red sings," she says and moves her shoulders in a chair dance.
Mom asks for apples at each meal but never eats them. She cuts out the peels
and sews them together with silk thread - a necklace! She calls me,
puts the apple peels around my neck-
"Red will protect you of envy and deochi," she winks.
She threads cranberries, raspberries, and strawberries on her drinking straws,
bends them in circles and squares, and then spends hours squaring the circles-
"Mathematics of Berries," reads the label, calligraphed with a trembling hand,
proof that nature knows no impossibilities
where science bows.
When we have watermelon, she carves its flesh with her plastic knife-
"This is you, but prettier," she says, pointing at a juicy lump
with seeds for eyes, a piece of rind for a mouth, and a pointy nose.
"This is your sister when she wore pigtails, this is dad the way
I met him over sixty years ago, and this...Who's this?" she wonders,
gazing at her fourth watermelon sculpture, not recognizing herself.
Mom's dozes off smiling-
a housebound Michelangelo, dreaming of all those who come
to admire her red art show.

---
Červená Barva Press Staff
Gloria Mindock, Editor & Publisher
Renuka Raghavan, Assistant Editor, Publicity
Flavia Cosma, International Editor
Helene Cardona, Contributing Editor
Andrey Gritsman, Contributing Editor
Juri Talvet, Contributing Editor
Karen Friedland, Interviewer
Miriam O' Neal, Poetry Reviewer
Annie Pluto, Poetry Reviewer
Christopher Reilley, Poetry Reviewer
Susan Tepper, Poetry Reviewer
Neil Leadbeater, Poetry Reviewer
John Riley, Poetry and Fiction Reviewer
William J. Kelle: Webmaster

Gene Barry (In Memoriam)
See you next month!

---

---
If you would like to be added to my monthly e-mail newsletter, which gives information on readings, book signings, contests, workshops, and other related topics...
To subscribe to the newsletter send an email to:
newsletter@cervenabarvapress.com with "newsletter" or "subscribe" in the subject line.
To unsubscribe from the newsletter send an email to:
unsubscribenewsletter@cervenabarvapress.com with "unsubscribe" in the subject line.

---
Index | Bookstore | Our Staff | Image Gallery | Submissions | Newsletter | Readings | Interviews | Book Reviews | Workshops | Fundraising | Contact | Links
---
Copyright @ 2005-2023 ČERVENÁ BARVA PRESS - All Rights Reserved